Daytona Bike Week
Story and Photos by Michael Dapper
Wednesday, March 7, 2018 - 10:00

Michael Dapper, co-author of the upcoming book, Victory Motorcycles 1998–2017, will be at DAYTONA BIKE WEEK 2018.

On Thursday morning, March 15, he'll be signing EXCLUSIVE ADVANCE COPIES of the book at Volusia Motorsports in New Smyrna Beach prior to the dealership's Victory Ride at 10AM. On Friday March 16 from 6–8PM, Dapper will be at Volusia's Victory Bike Night held at BJ's Brewhouse on Int'l. Speedway Blvd. 
In honor of the annual Daytona Bike Week, Dapper chronicles Victory's presence at the event throughout the years, with special appearances by some of Victory's most tried-and-true riders. Check back next week for more insider stories of Victory Motorcycles design, development, marketing, and sales on the Octane Fuel Blog. [The above photo was taken at the Victory owners' party at Daytona Bike Week 2016 by the author.]
          From 1999–2016, Daytona Bike Week was a major event for both Victory riders and the Victory corporate marketing team.  
If memory serves correctly, Victory first offered demo rides at Daytona in 1999. That year, the rides were based downtown near Beach Street. Starting in 2000, the demos were based at Daytona International Speedway until the final year of riding, 2016.  
Along with offering demo rides, Victory staged product displays for several years, first on Beach Street, and later in a parking lot on Main Street adjacent to the river.  
Victory also started to host parties for its customers early on. Victory owner lunches, parties, rides, dinners—you name it—were held at: a Holiday Inn on A1A, in the speedway infield, on the green space by the Beach Street display, at the Hilton on A1A, at Bethune Point Park, at Flip Flops in New Smyrna Beach, at the Blue Lagoon, in St. Augustine, and finally, in 2016, in the speedway parking lot. At the parties and the demo site, Victory gave its bike owners free commemorative lapel/vest pins each year.  
Arlen and Cory Ness made the most appearances at Victory displays or parties. They hosted autograph sessions as far back as 2003, and were always in-demand and extremely gracious. There were no better ambassadors for the brand. "The Gunny," actor R. Lee Ermey, made appearances for Victory at three or four Bike Weeks from around 2012 to 2015. I got to be his wrangler his last two years and we had a ball. (You can find my adventures with "The Gunny" in full detail, 
here
.)   
Victory introduced the first Magnum X-1 at a full-volume party on Main Street at Bike Week 2015. I was not working for Victory that year, but instead working for Victory's logistics (i.e., can do anything) vendors, Larry and Ann Meservey. To secretly stage a pair of X-1s for the Saturday night reveal, we hauled them to the Full Moon Saloon on Main Street at 5 a.m. We wheeled them into the bar and they were forklifted onto platforms, then covered until that evening's reveal.  
In 2016, Victory's final year of glory at Daytona, the brand brought it full throttle. At the speedway, Victory had a huge fleet of demo bikes, including about 24 Octanes. It was the first public opportunity to ride this new, smaller Victory, and it was hugely popular. Plus, next to the demo site was a large static display and a big corral that hosted Victory Police Motorcycle riding demonstrations and the Victory Stunt Team of Tony Carbajal and Joe Dryden.  
Shortly before Bike Week, Joe had used an Octane to set a Guinness World Record for the world's longest motorcycle burnout—2.23 miles—at Orlando World Speedway. Bike Week 2016 was the first time Joe and Tony used Octanes in their stunt shows, and the results were epic.  
In the morning of the 2016 Victory owners' event, riders met in the speedway parking lot, and Urs "Grizzly" Pedraita, the legendary endurance rider, led the group on a lap of the speedway track, which was a great experience. After that, the riders followed Griz across town as he supposedly began his around-the-world ride in pursuit of a world record.  
Except, he wasn't. He was actually leaving the next day. So at an intersection north of Daytona, while the group waited for a green light to turn right, Griz rode by in the left turn lane, waving good-bye. It was like the Wizard of Oz floating off unexpectedly in his balloon. From that point on, the group activity was done. Riders drifted off on their own without brand guidance in what was almost a precursor to January 2017.  
The Victory display at Bike Week 2017 was like a group wake at an outdoor funeral home. A dozen Victory models were on display in the speedway parking lot. It was about three months into the brand's announced 18-month "winding down."  
I staffed the Victory display for a few days and had been given a script to use when meeting Victory owners. The message was one of gratitude for those who invested in the brand. I didn't use the scripted message. Rather, I did what bikers do: Talked bikes, talked about how great Victory motorcycles are, and learned how people had customized their rides. There was still some anger—and it's a good thing it wasn't Polaris CEO Scott Wine staffing the display—but the discussions were all civil, just as you would expect from the awesome world of Victory riders.
As I like to say: Great bikes, even better people.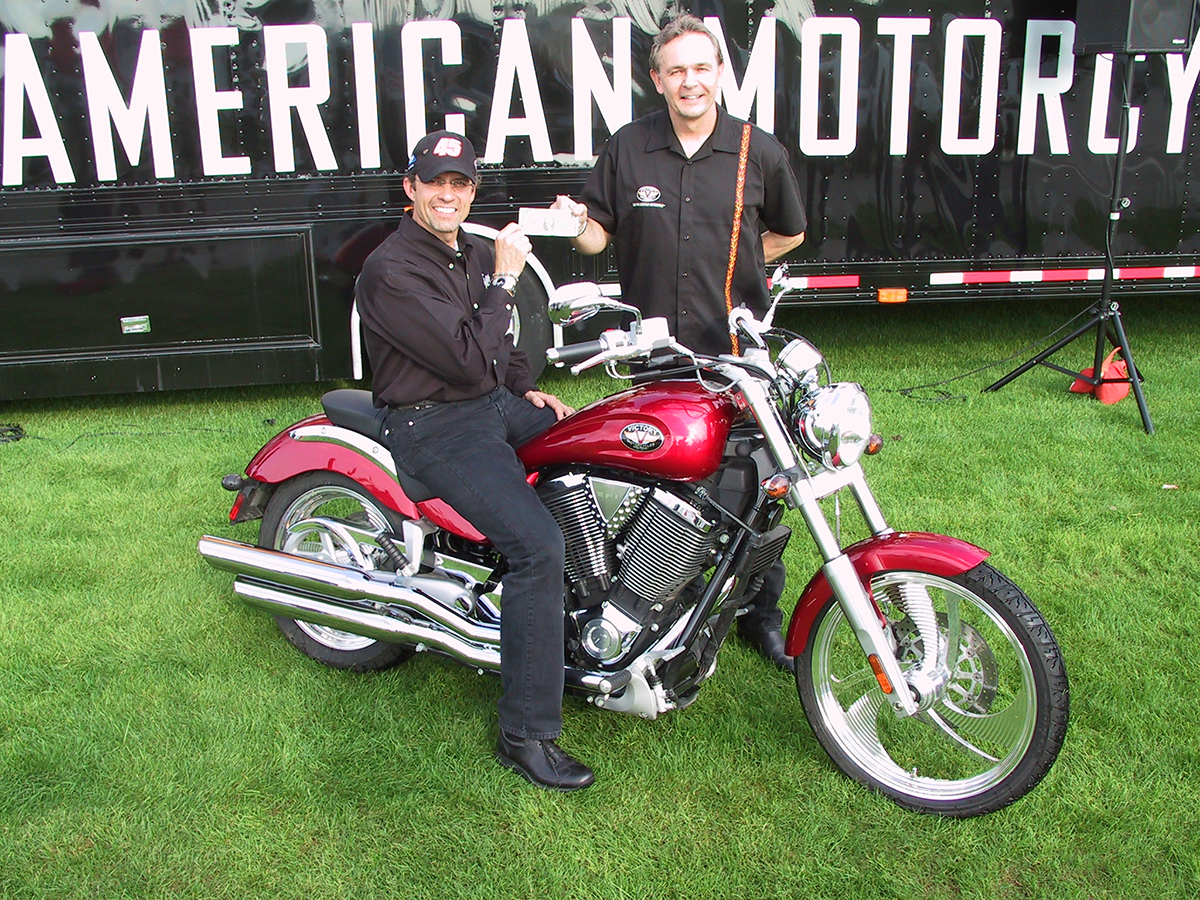 Then-NASCAR driver Kyle Petty accepted a symbolic dollar from Victory General Manager Mark Blackwell at Bike Week 2003. The money represented Victory's pledge to donate $1 per demo ride to Petty's Victory Junction Camp for children.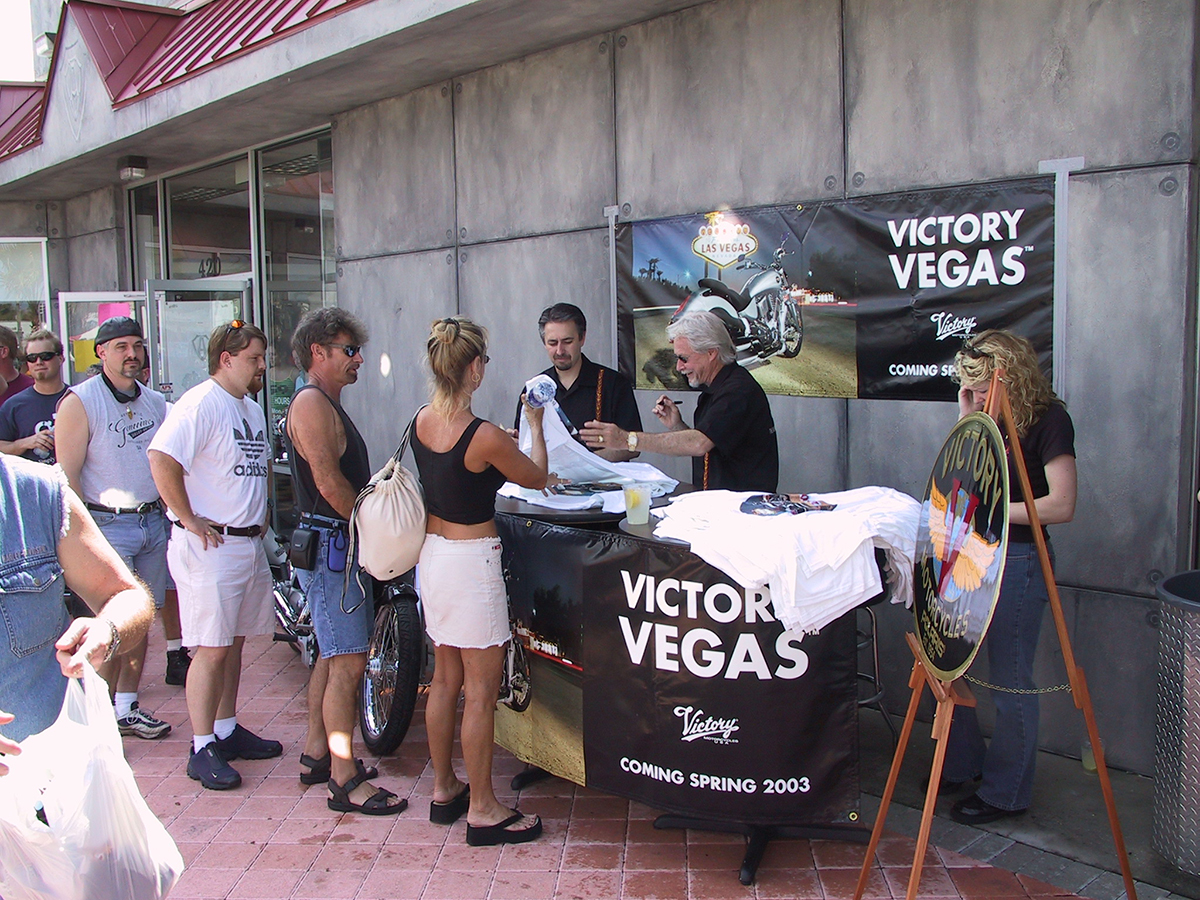 At Bike Week 2003, Cory and Arlen Ness autographed T-shirts outside what was then the Arlen Ness dealership (actually owned by the late Bruce Rossmeier) on Beach Street. The Nesses were constants at Victory's Bike Week events, and were the brand's best ambassadors.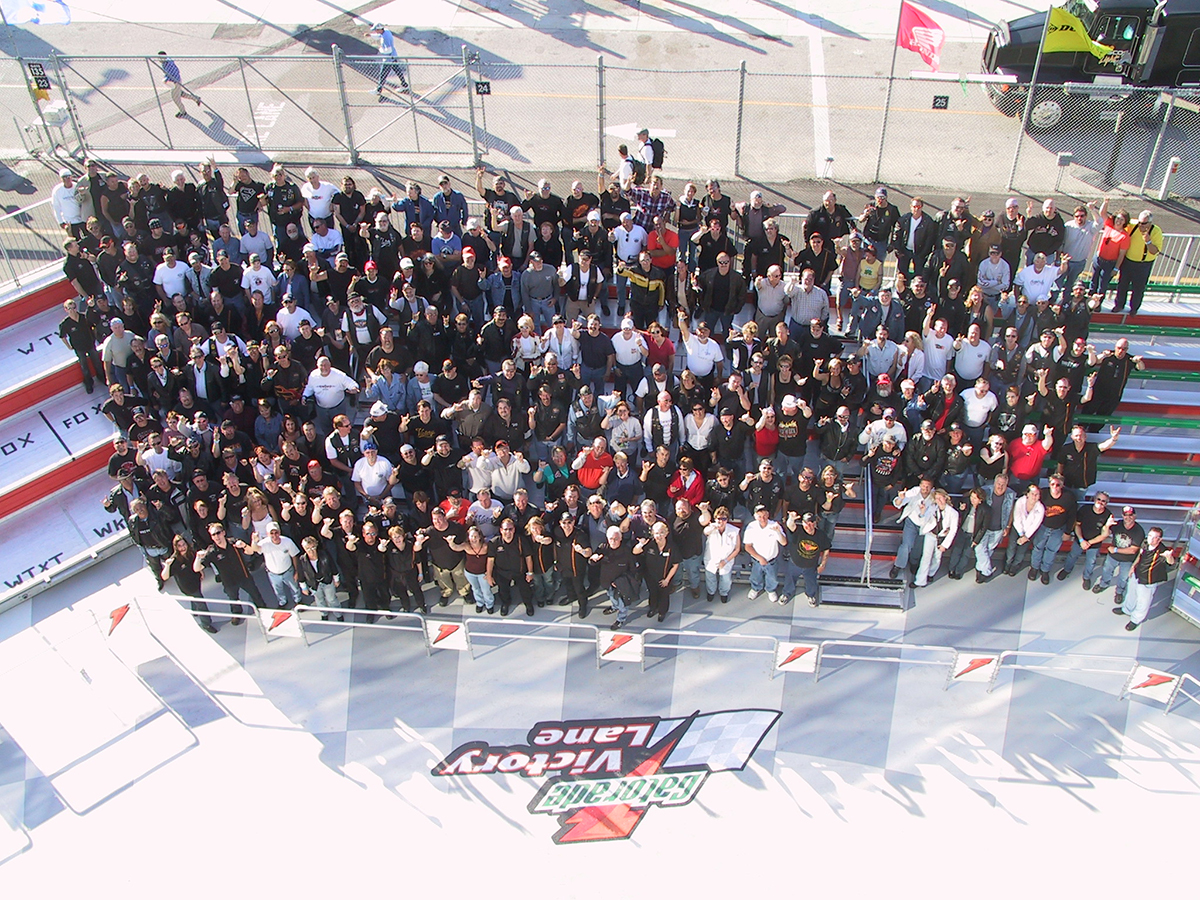 Victory riders attending the 2005 owners' party in the speedway infield posed for a group photo in Victory Lane.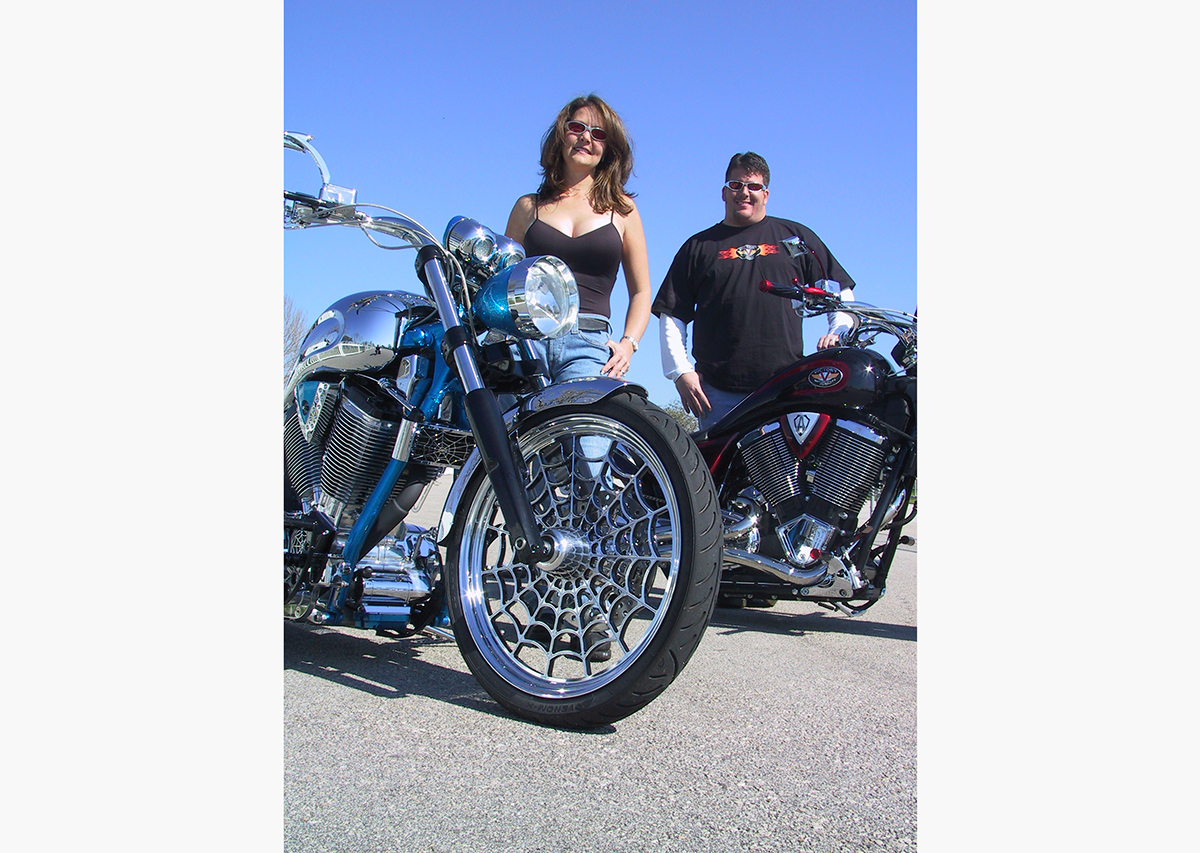 In 2005, I shot this photo of Georgia Victory riders Christy and her husband Apollon Constantinides in the speedway parking lot near the demo site. Their custom bikes were amazing. When the photo was used on the cover of Victory Rider magazine that year, Victory marketing personnel made magazine designer Emily Nemecek use Photoshop to raise Christy's shirt so it covered more of her.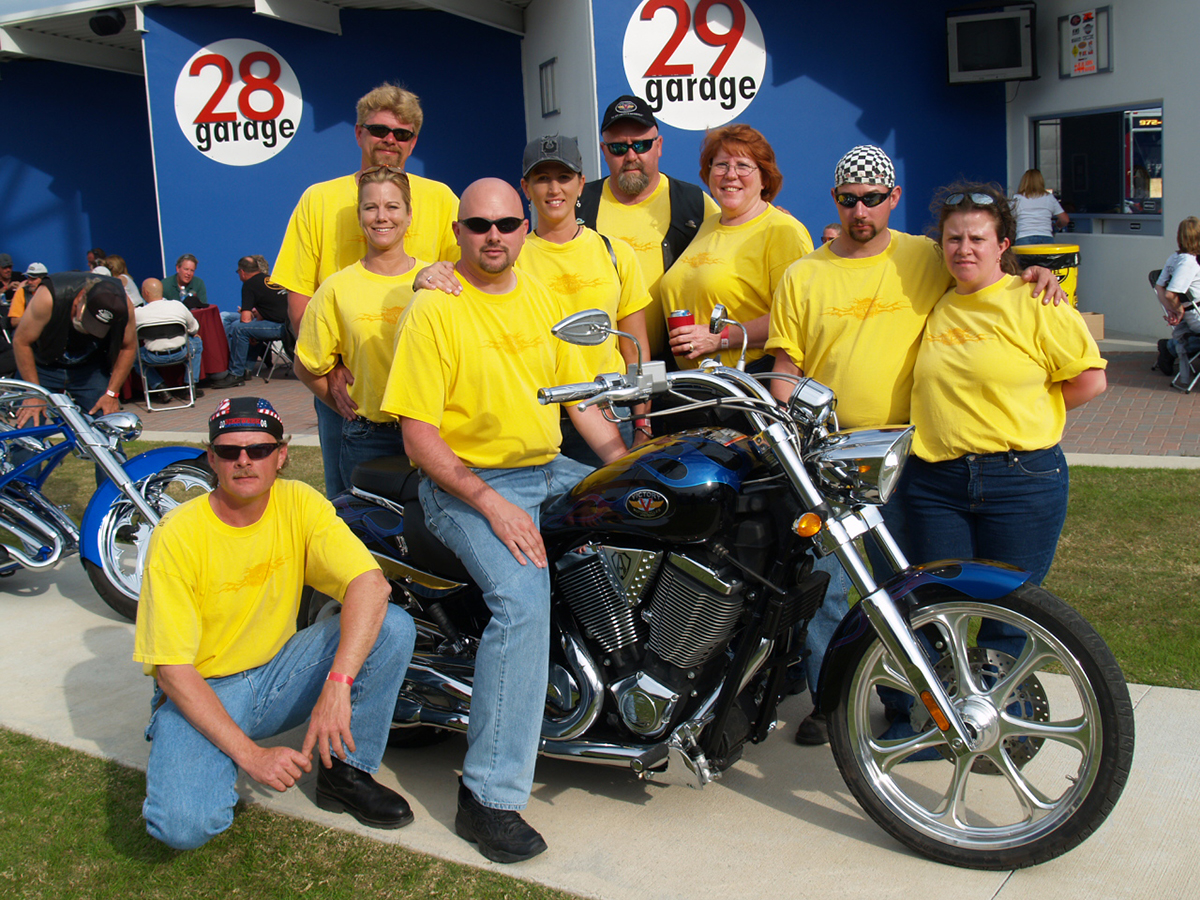 The youthful crew from Coastal Victory in Murrells Inlet (Myrtle Beach), South Carolina, posed for a photo at the 2006 Victory owners' party. That's Coastal's Tim Sutherland on the Cory Ness Jackpot, with his wife Sondra right behind him.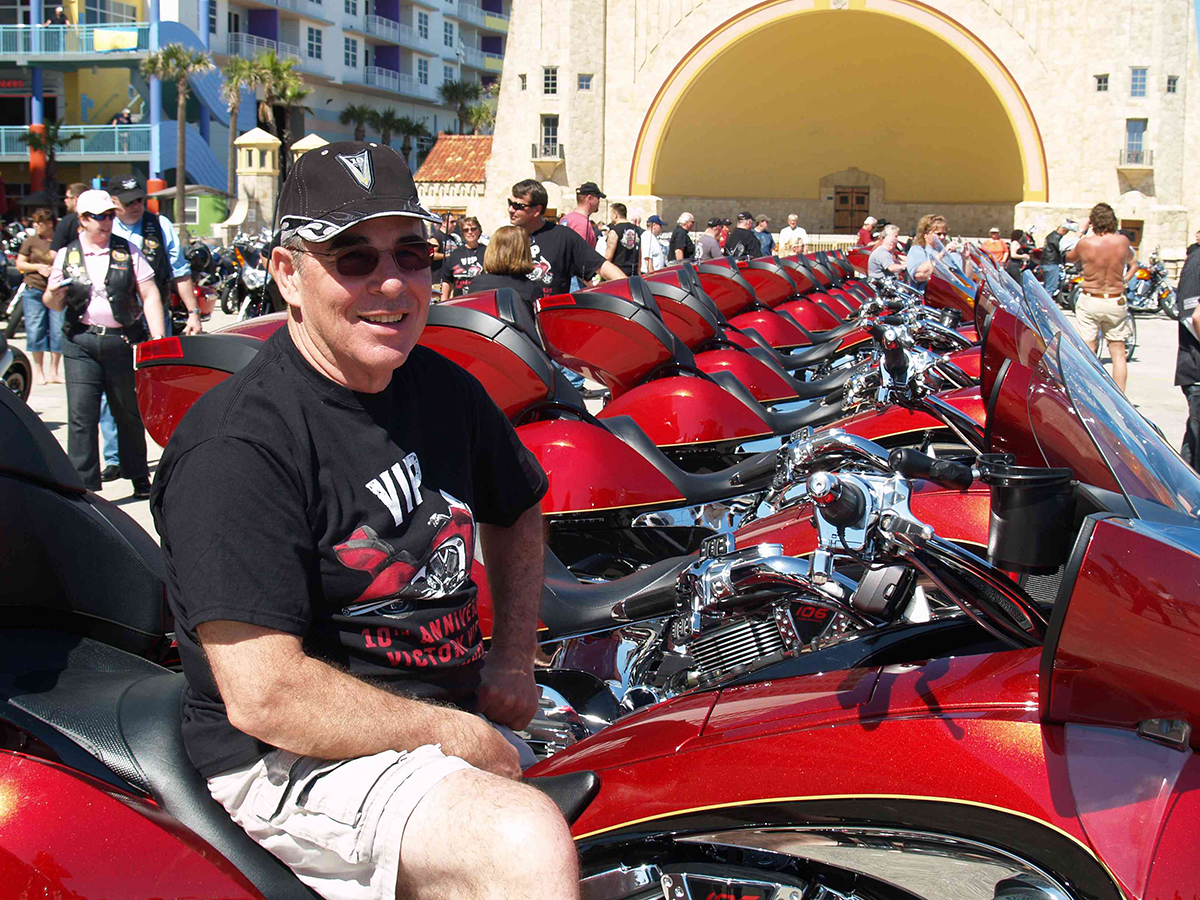 That's Stan Gregory of Nebraska, a legendary owner of numerous Victory models, on his 10th Anniversary Victory Vision. The 100 buyers of this special bike were hosted by Victory during Bike Week 2009. Several of them parked their bikes by the bandshell the day of the Victory owners' party at the Hilton on A1A.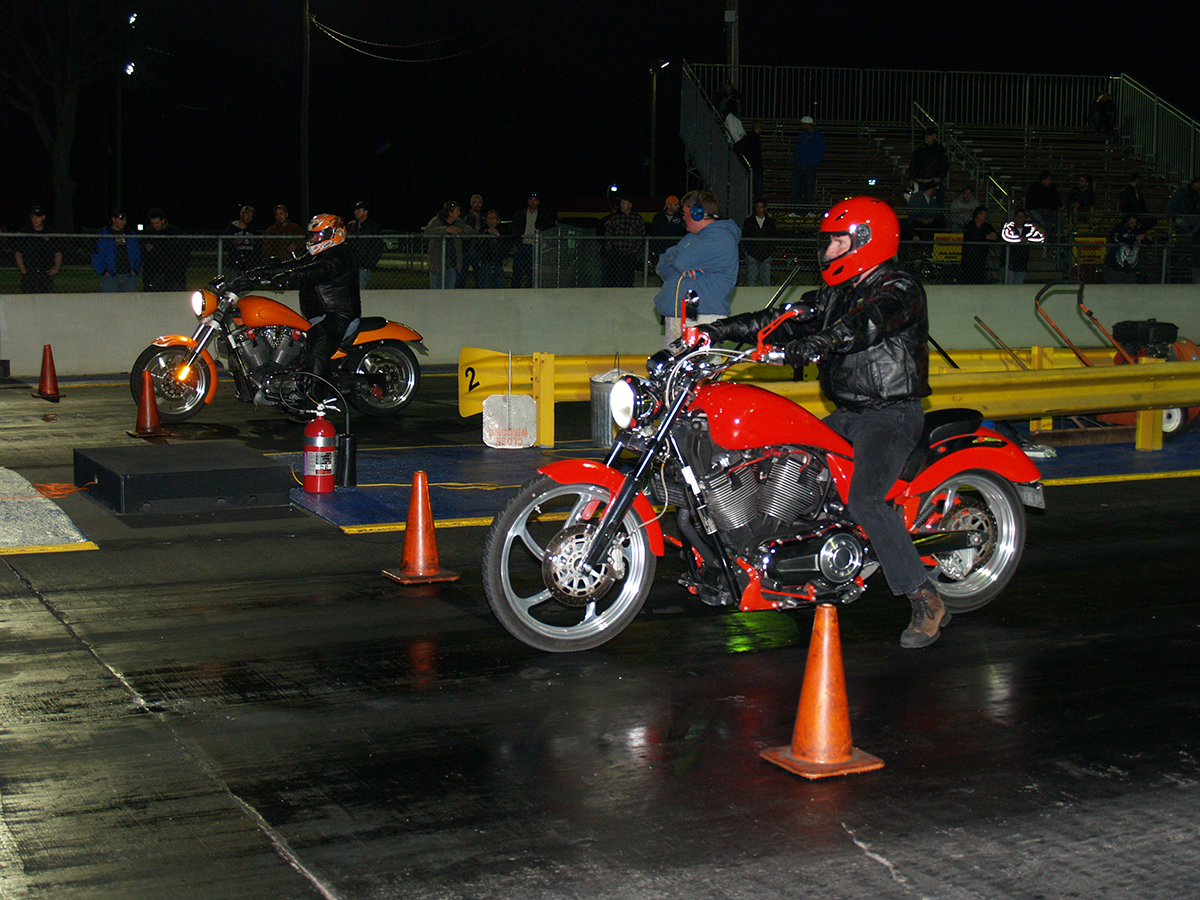 A pair of Victory owners get staged before making a run at Orlando Speed World Dragway in 2009. For several years, Victory owners went to the strip on Wednesday of Bike Week to run on test-n-tune night, which was open to the public. Those were the good old days, and the camaraderie among riders at the track was unmatched.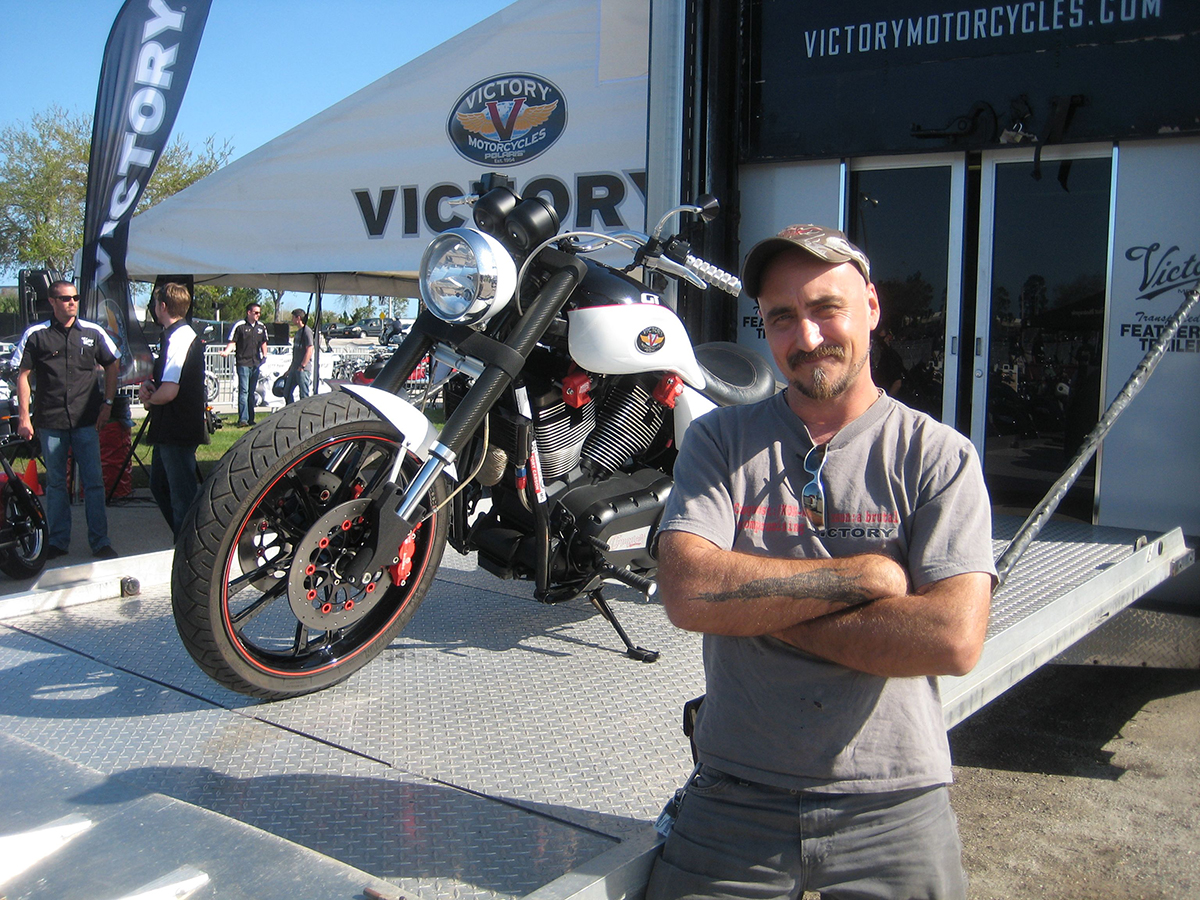 Among the many legendary Victory riders through the brand's history is Scott Kietzmann of Conquest Customs. Here he is at the Victory demo site at the speedway during Bike Week 2012 with his then-latest creation, GT.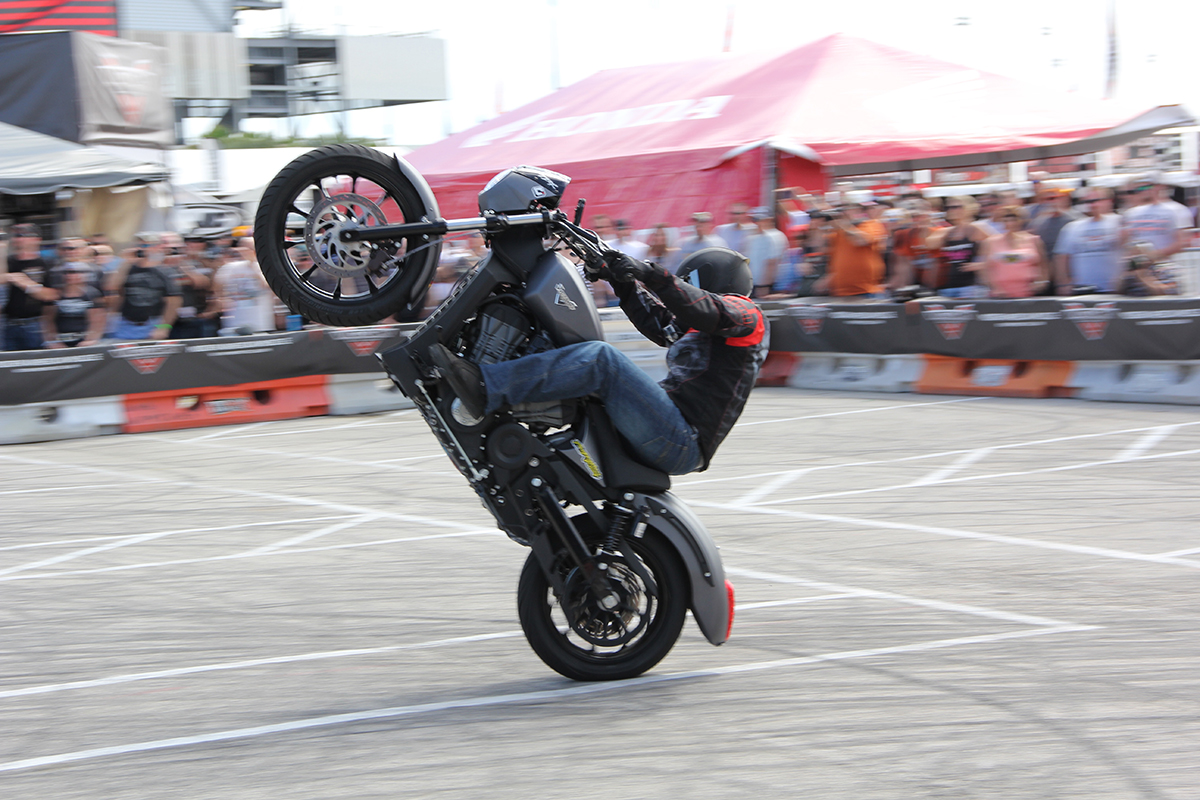 Tony Carbajal conserves front tire rubber on this Octane during the 2016 Victory stunt show. You can tell this bike is almost brand new because it still has a taillight. The way Tony and teammate Joe Dryden wheelied the Octanes, the rear fenders took a pounding.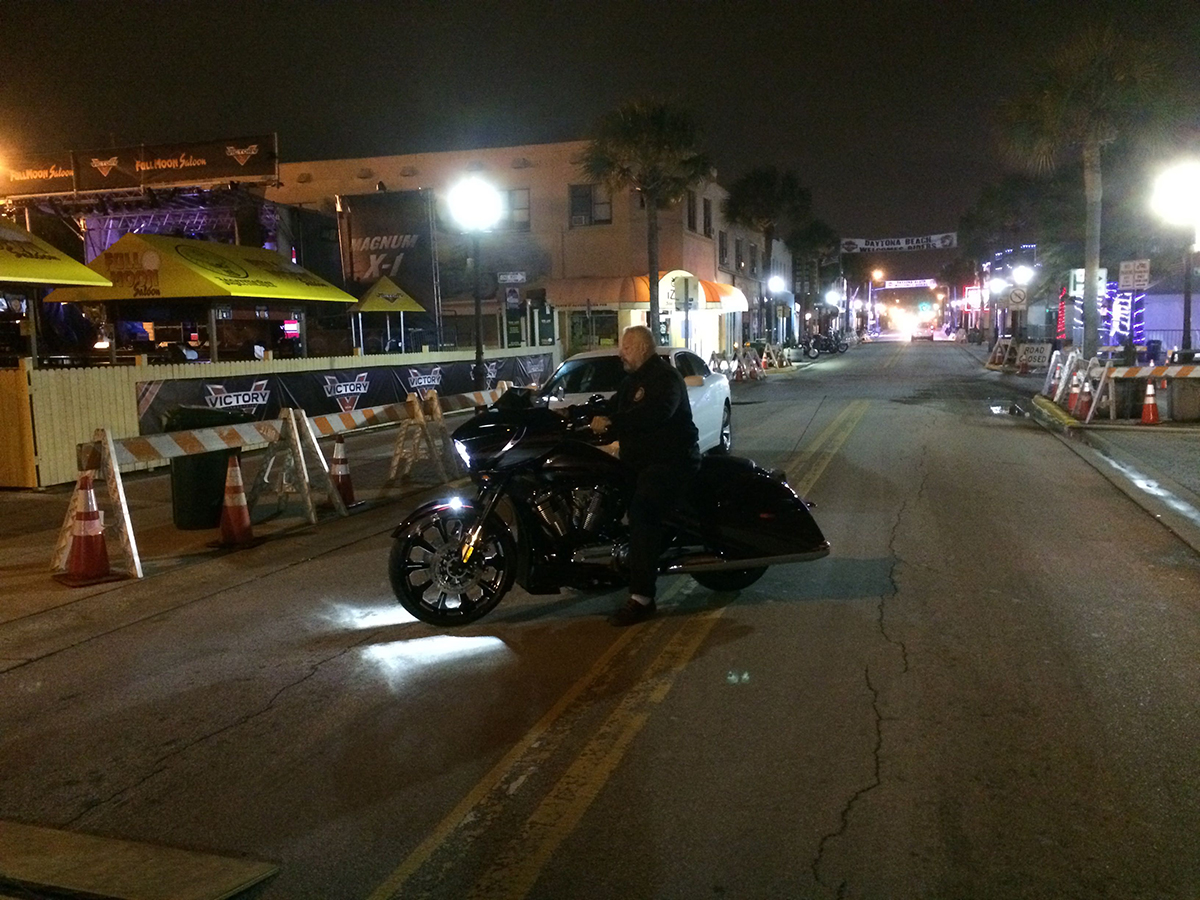 At 5 a.m. on Saturday, March 7, 2015, Larry Meservey unloaded a new Magnum X-1 from an enclosed trailer and wheeled it into the Full Moon Saloon on Main Street. That night, the band Godsmack performed at the raging X-1 reveal party. Crowds on Main Street packed the area around the bar in such numbers that police shut down vehicle traffic on Main Street.
Check back next week for more insider stories of Victory Motorcycles design, development, marketing and sales, on the Octane Fuel Blog. And grab a copy of the book, Victory Motorcycles 1998–2017, available now for preorder!