Noteworthy Victory Vegas Models
By Michael Dapper
Wednesday, January 31, 2018 - 08:45

In his decades-long career with Victory Motorcycles, author Mike Dapper witnessed the groundbreaking creation of The Vegas, the model that would later be called "The Bike that Saved the Brand." In this original article, Dapper details a handful of special appearances made by the Vegas throughout the brand's fiercely exuberant marketing efforts to revive the Victory name.

Since we couldn't fit it all in Victory Motorcycles 1998–2017, we included it here on the Octane FUEL Blog. Check back for upcoming posts on the making of Victory Motorcycles, with original articles and insider interviews you won't find anywhere else—not even in the book. (Banner image courtesy of Victory. )
------------------------------
          The Vegas was a very special Victory model. Introduced for 2003, it relaunched the brand, establishing that Victory would not be bound to dated, retro cruiser styling. A timeless model, it was in the Victory lineup in one form or another from 2003 to the very end in 2017. In fact, the last Victory motorcycle ever built in the Spirit Lake, Iowa, factory was a red Vegas finished at 9:36 a.m. on Jan. 10, 2017.  
The Vegas was the model that best represented the brand's spirit, character, and commitment to progressive styling. It was featured in several promotional and special-edition initiatives throughout its enduring run.  
1. Fantastic Four (2005 movie):
          As an unidentified woman sped down a dirt road in her convertible, Johnny Storm (actor Chris Evans) pulled alongside her car on a Vegas so he could lean over and kiss her—at speed! During shooting, the bike was on a mount next to the car. The scene was shot in British Columbia, Canada, and the Canadian Victory dealer who retrieved the two Vegas models from the filmmakers said the bikes were so beat up they were virtually totaled. (Based on recent research, the description and names used in the magazine article was way off. Research shows the woman in the car was
not
Jessica Alba. In fact, the driver was reportedly never seen again after this scene.)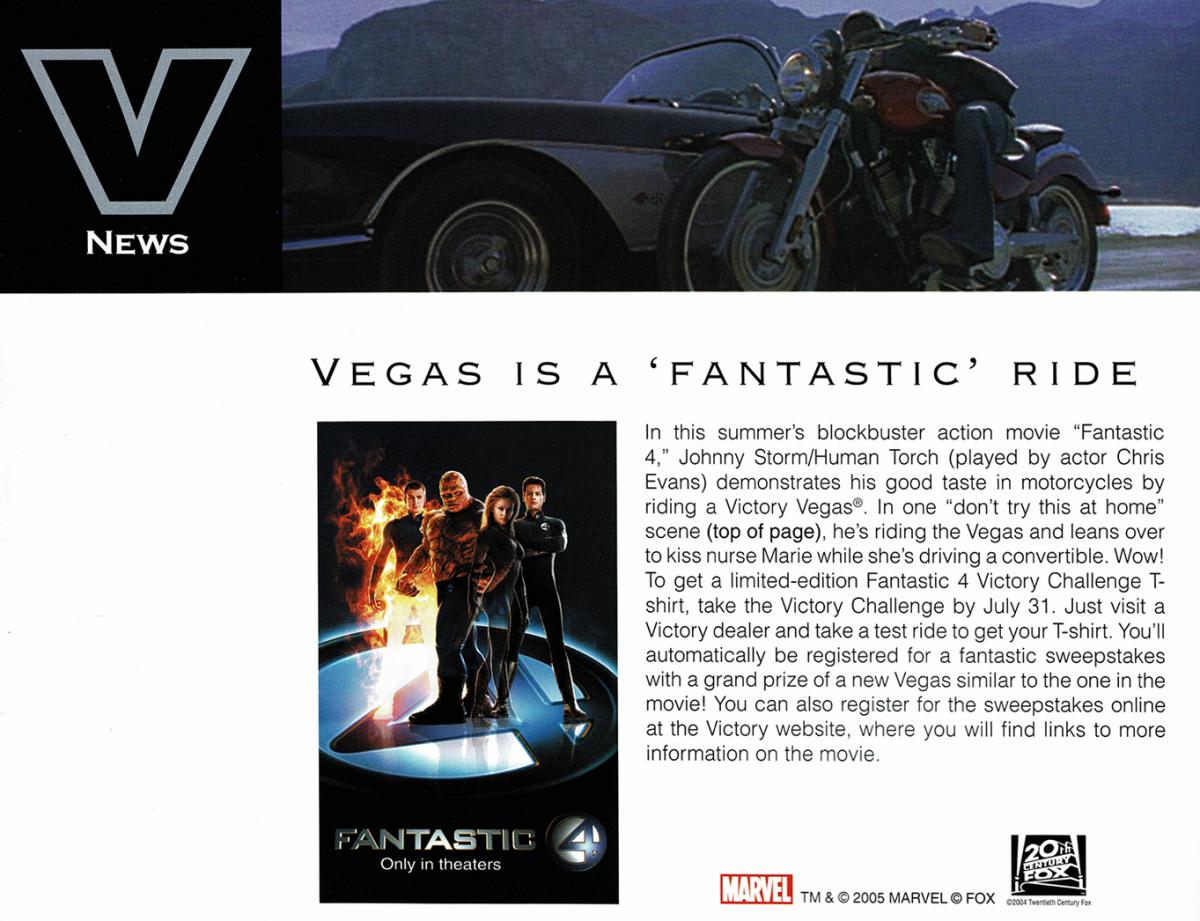 The actual photo is lost to the ether, so here is a shot of the photo as it appeared in a 2005 issue of Victory Rider magazine. During the shoot, the Vegas was attached to the car, or, more likely, to the trailer or truck bed on which both vehicles were mounted. Victory featured the movie in a free T-shirt promotion, but 20th Century Fox had such a long list of demands that nothing about the movie tie-in was very fun.
Michael Dapper
2. Kyle Petty Charity Ride Cow Bike:
          Victory and Chik-fil-A were major sponsors of the Kyle Petty Charity Ride (KPCR) for several years. On the 2005 ride, a Vegas was painted in black-and-white cow paint and had Chik-fil-A and KPCR logos. Kyle rode it on a few legs of the ride, and it was auctioned off at the end of the ride to raise funds for Petty's camp for kids, raising about $45,000.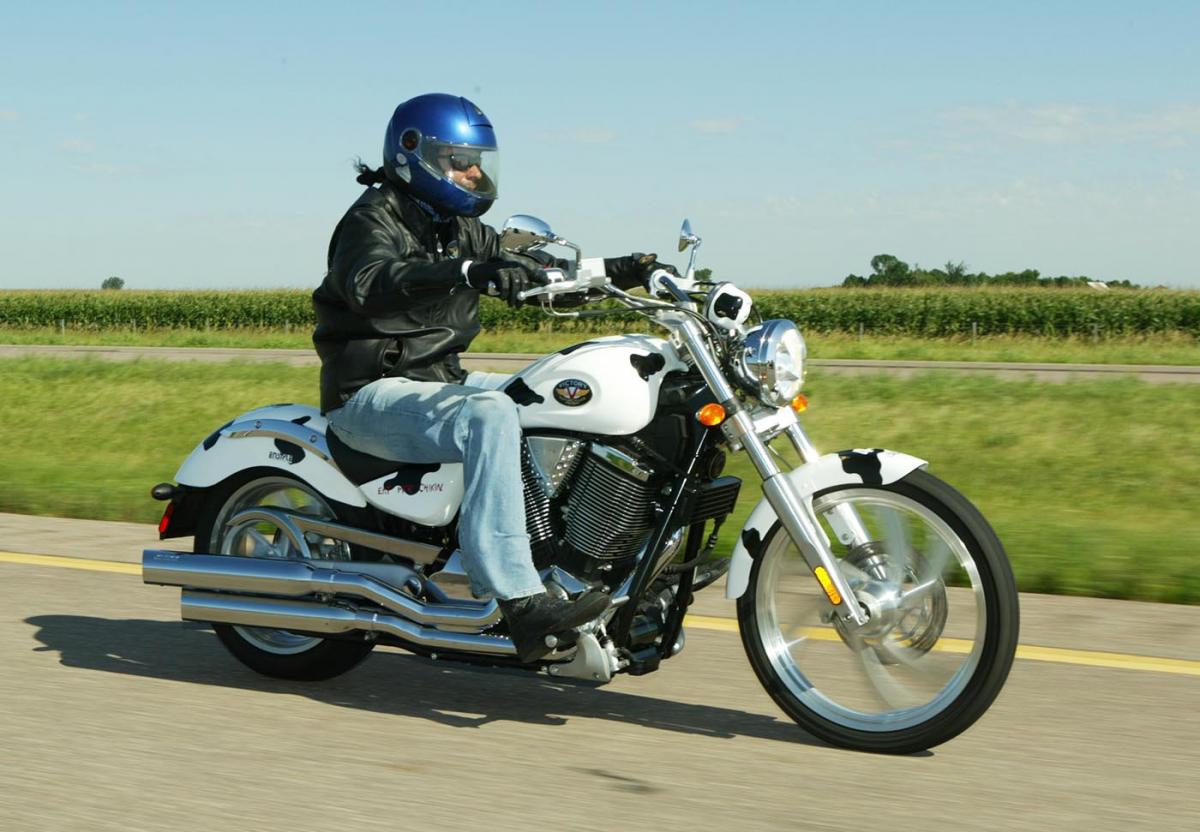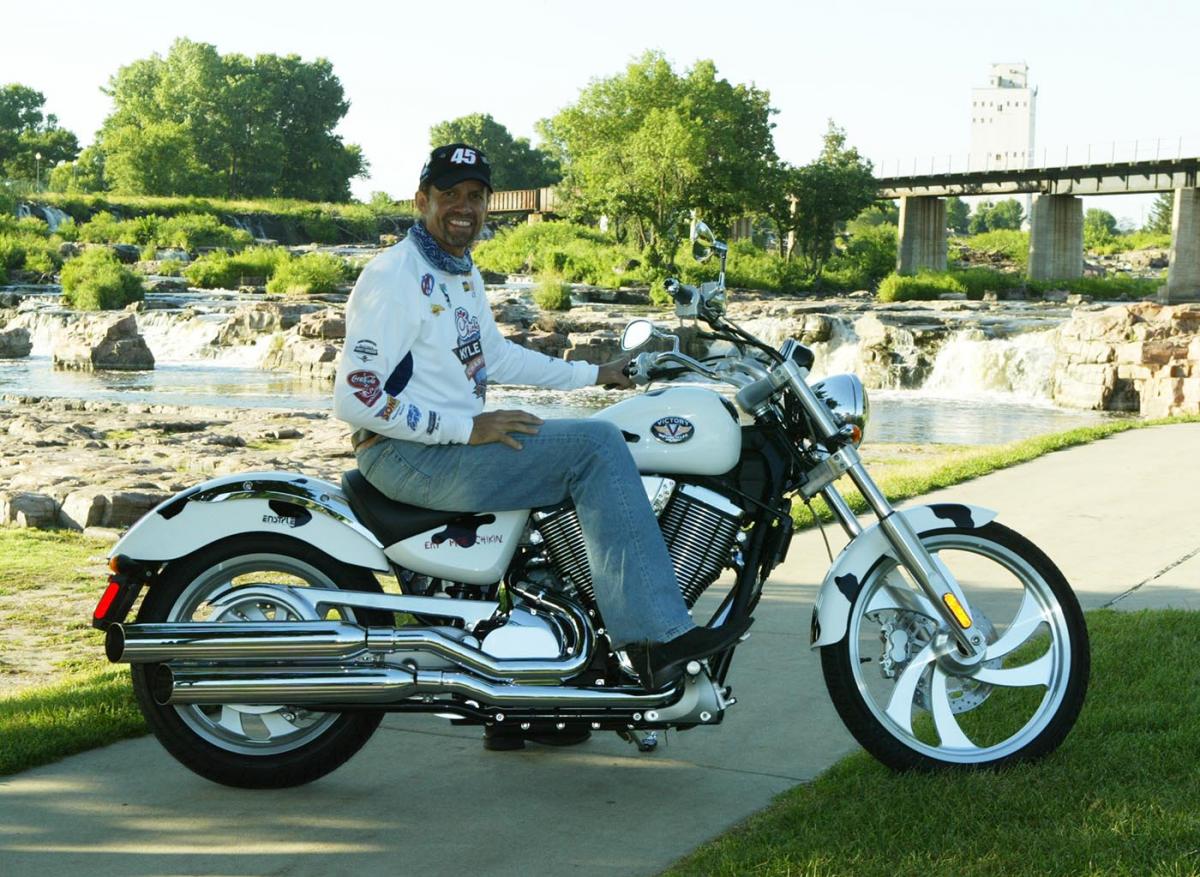 Kyle Petty flew down I-90 in southern Minnesota on a leg of his 2005 charity ride. This Vegas was custom painted in a cow print on behalf of ride sponsor Chik-fil-A. The bike was unveiled at the charity ride's stop in Sioux Falls, S.D., and Kyle rode it to that morning's first stop, the Victory factory in Spirit Lake, Iowa.  
KPCR  
3. Minnesota Wild Bike:
          Polaris is a corporate sponsor of the Minnesota Wild NHL team, and in 2004 the company donated a custom-painted Vegas for an online fundraiser auction. The bike featured Wild-themed colors and logos, and the gold accents were 24-karat gold leaf.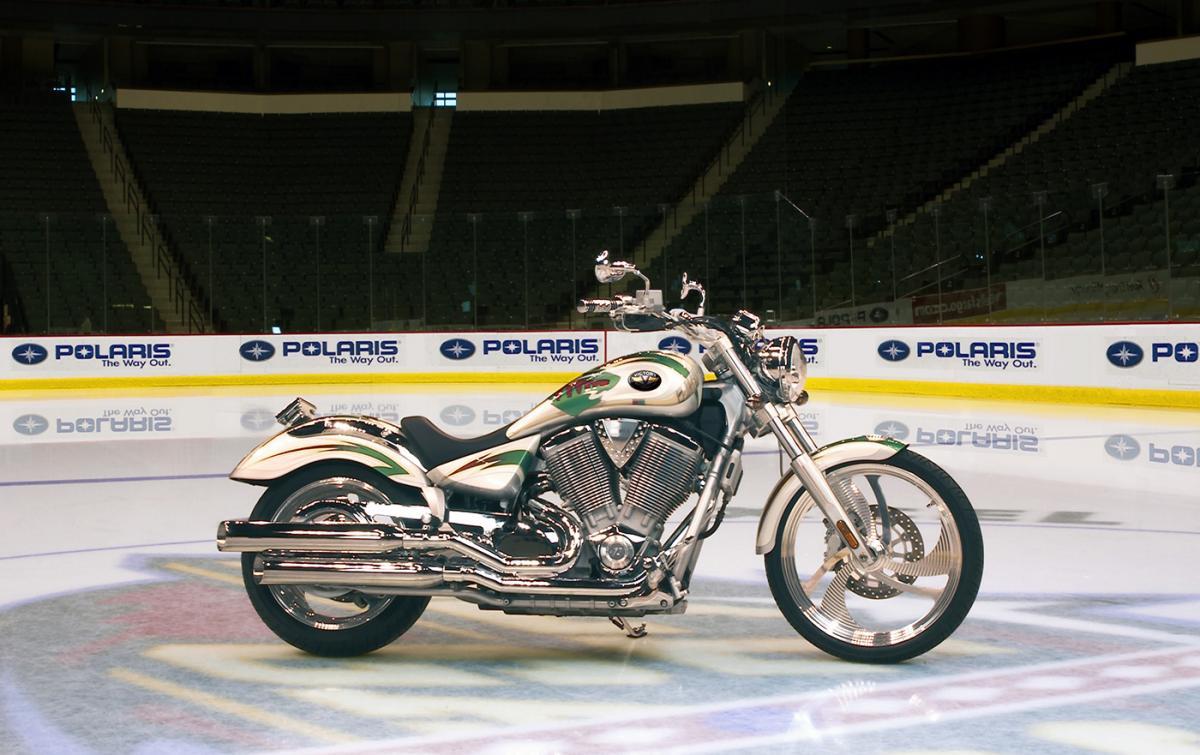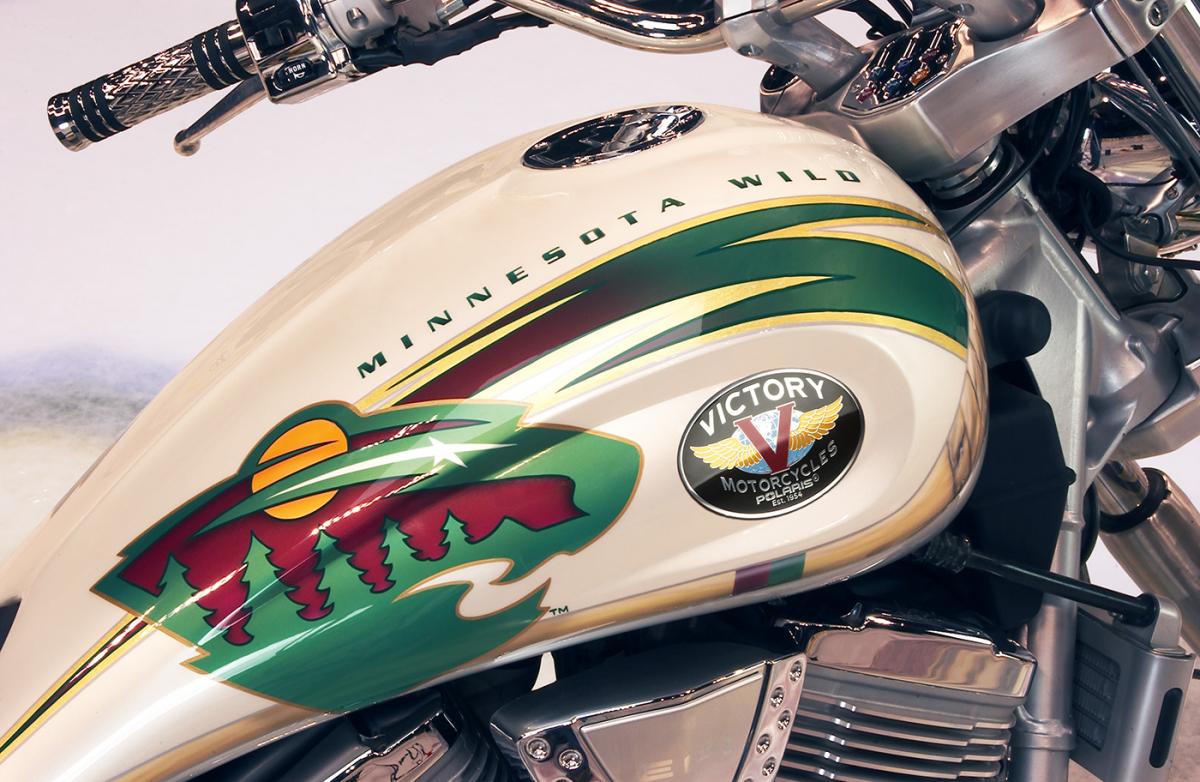 This Minnesota Wild Vegas looked great, but hockey fans want to buy signed jerseys, not motorcycles. Victory donated the bike, which was sold through an online auction to raise funds for a Wild charity program. The bike drew almost no bids, and sold for its minimum, which we recall as $20,000.
Victory
4. First Arlen Ness Signature Series Model:
          Arlen Ness and his son Cory made their first trip to the Spirit Lake, Iowa, Victory factory in the fall of 2003 to witness the manufacture of the first-ever Arlen Ness model. They followed the first Ness model's assembly, and Arlen rode it on the test dyno once it was completed. While production Ness models had replica signature graphics on the side covers, Arlen and Cory hand-signed several sets of side covers. They also signed autographs for the factory staff, and took a motorcycle ride in the Iowa countryside.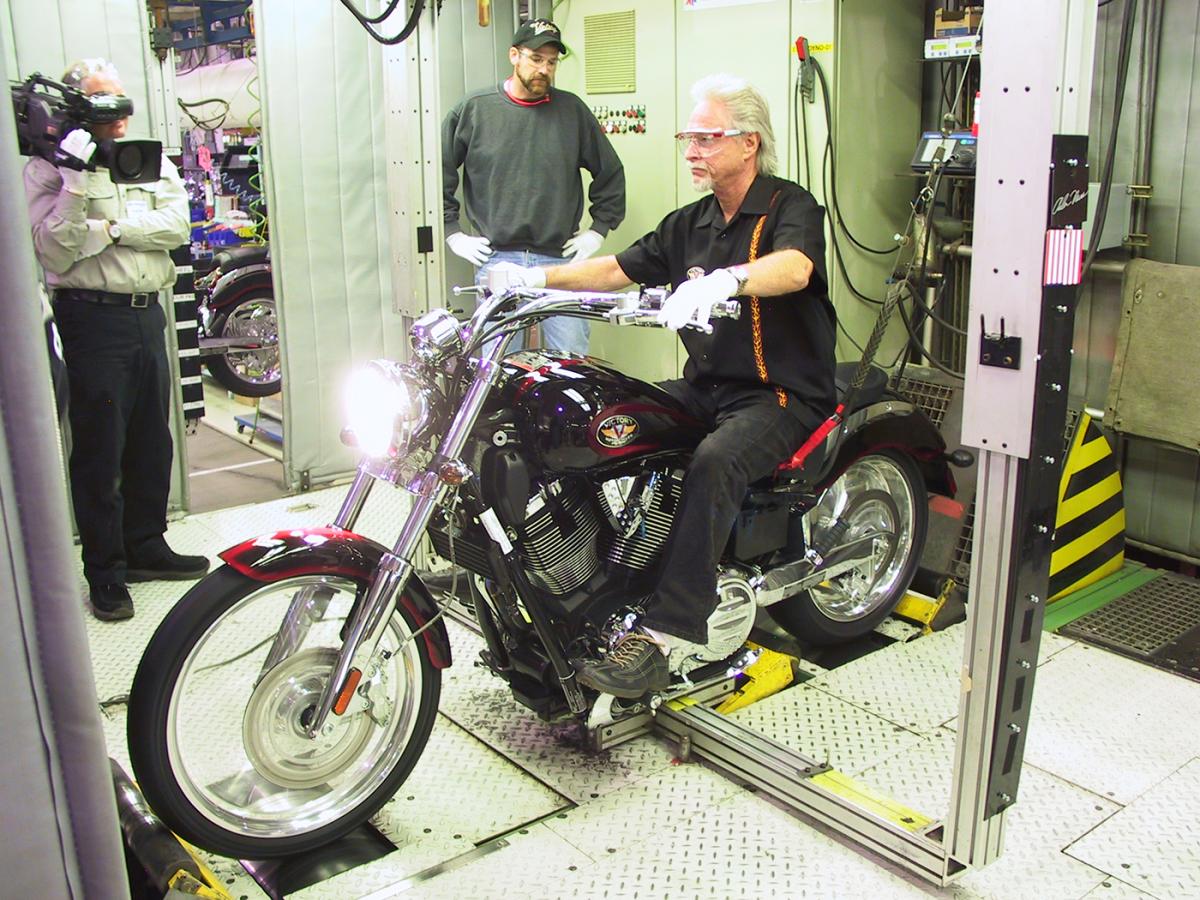 Arlen Ness puts the first-ever Arlen Ness Signature Series Victory Vegas through its test paces on the dyno inside the Spirit Lake factory.
Michael Dapper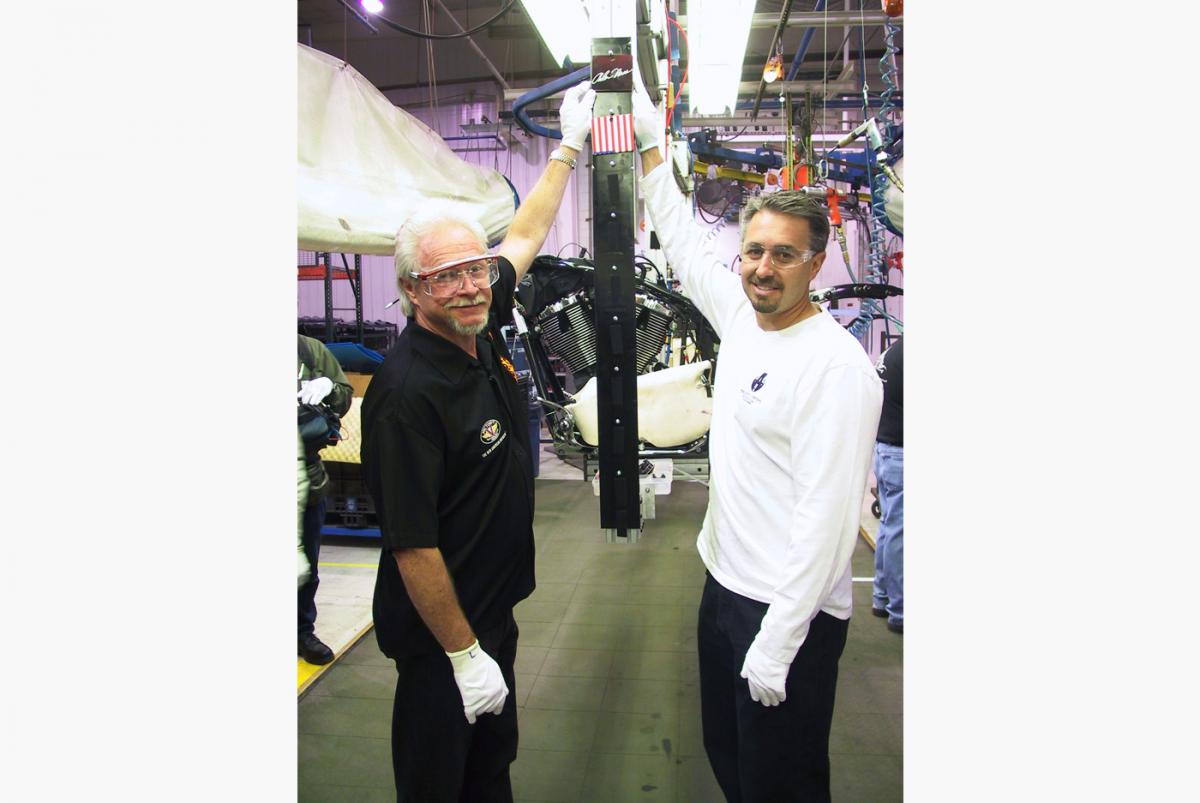 Arlen (left) and Cory Ness point out the tag atop the assembly cradle that indicates the model being built is an Arlen Ness Signature Series Victory Vegas. Ness bike No. 1 was on the cradle early in the assembly process.
Michael Dapper
5. Polaris 50th Anniversary Edition:
          A Vegas was one of three 2005 Victory models (along with the Kingpin and Touring Cruiser) made into Polaris 50th Anniversary Edition models. Each featured blue and Vogue Silver paint with gold accents, and 50th anniversary badges. The Vegas had always looked great with two-tone paint schemes, and Graphic Designer Steve Leszinski created a gorgeous anniversary Vegas.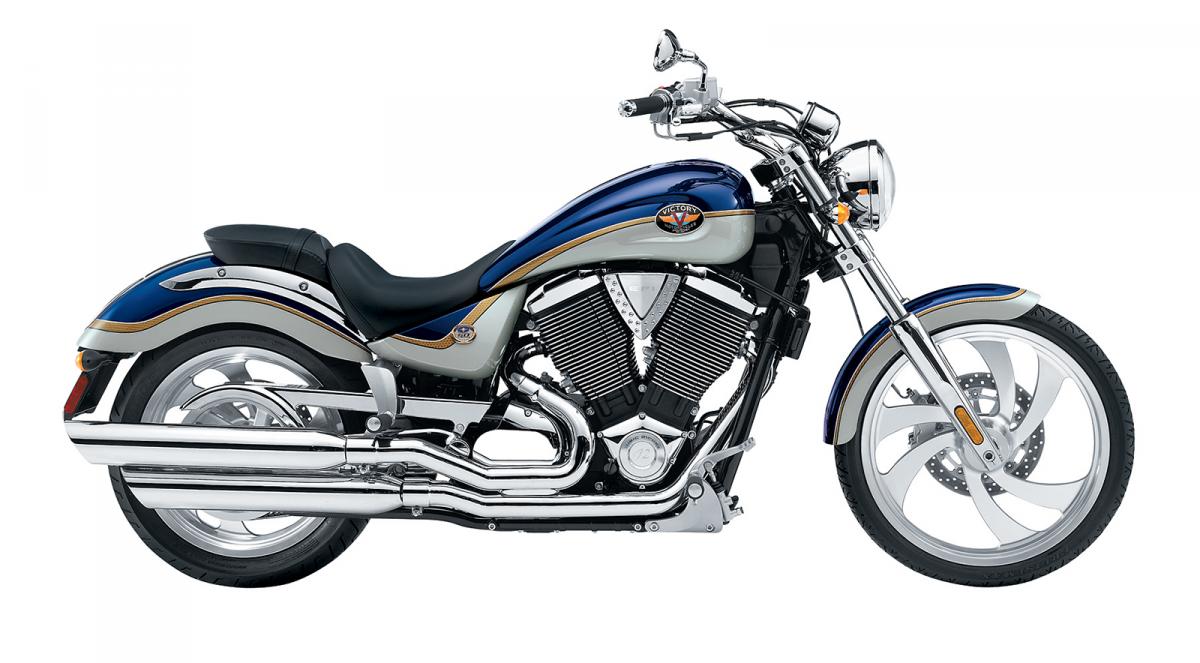 This rendering shows the color scheme of the Polaris 50th Aniversary Edition Vegas, a 2005 model. The bike has a smart two-tone paint scheme with gold accents and anniversary badging on the side covers.
Victory
6. Mark Blackwell's Snake River Canyon Jump Bike:
          My personal favorite is the Vegas that then-Victory General Manager Mark Blackwell used to, ahem, jump across the Snake River Canyon—something Evel Knievel couldn't accomplish—in 2004. Victory issued an April 1, 2004, press release announcing Blackwell would make the jump that summer during the Polaris 50th anniversary celebration. The press release noted Blackwell had made several successful practice jumps, and his only fear was that the bone-stock Vegas was so powerful, he might overshoot the landing ramp.
          Note the date the press release was issued. I pitched the idea of an April Fools publicity stunt, and it was approved by then-Marketing Manager Darcy Betlach, Blackwell, and then-Polaris CEO Tom Tiller. My feeling was Victory could issue a similar press release every year and "own" April Fool's Day. I felt people would look forward to it and wonder what Victory would (claim to) do next. But the following year, the marketing manager who succeeded Betlach rejected the idea–with vigor.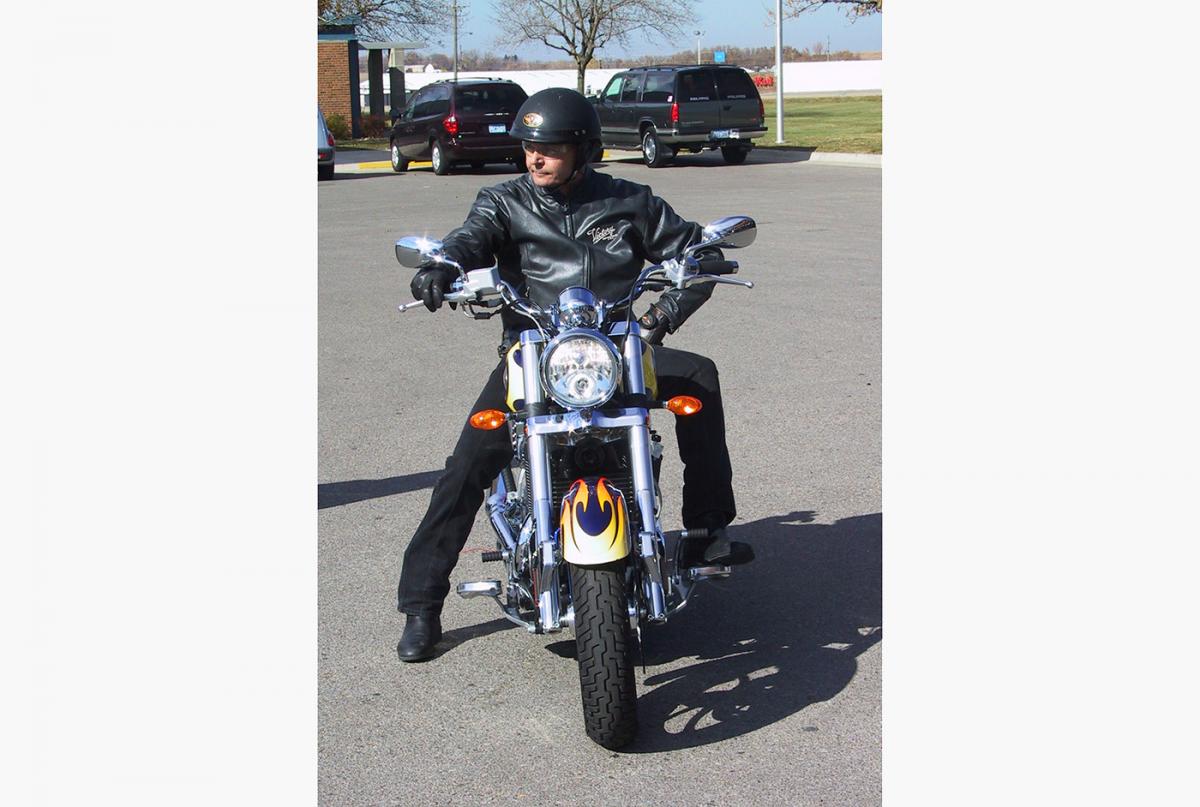 Victory General Manager Mark Blackwell is on a Kingpin here, not a Vegas, which he purportedly would use to jump the Snake River Canyon. This shot was taken at the Spirit Lake factory the day the first Arlen Ness Signature Series Vegas was produced. After that bike was built, Arlen and Cory Ness, Blackwell, and other Victory personnel went for a ride.
Michael Dapper  
Here is the press release Victory distributed on April Fools' Day 2004:
Victory to Celebrate Polaris 50th Anniversary with Jump Over Snake River Canyon; GM Mark Blackwell to Jump Victory Vegas Over Legendary Canyon

MEDINA, MN, April 1, 2004–Victory Motorcycles is going to new heights to celebrate the 50th anniversary of its parent company, Polaris Industries, by having the bike division's General Manager, Mark Blackwell, jump the Snake River Canyon on a Victory Vegas.
Blackwell will make the jump on July 24, 2004, and it will be televised live to the crowd attending the Polaris 50th Anniversary Celebration in St. Paul, Minnesota.

This is the same canyon that motorcycle daredevil Evel Knievel attempted to clear in the X-1 Skycycle on September 8, 1974. Knievel did not clear the 1,580-foot canyon but he landed safely as a parachute slowed his vehicle's descent.

"This Victory jump will be doubly memorable because it celebrates the Polaris 50th as well as the 30th anniversary of Evel's attempt," said Blackwell. "We're doing it to pay tribute to Polaris and entertain the company employees, dealers and customers as they celebrate back in Minnesota."

While Knievel was inside a rocket-like vehicle with two wheels, Blackwell will be on a nearly stock Vegas. "We've removed a few parts to reduce the bike's weight, and I'm using hard-compound tires, but that's about it," said Blackwell, who won the AMA's first 500cc motocross national championship in 1972 and was inducted into the AMA Hall of Fame in 2000.

Knievel launched the Skycycle off a steep 300-foot ramp and had hoped to land about 400 feet beyond the far edge of the canyon, making his goal a leap–or, more accurately, a "flight"–of about 1,980 feet.

"I've cleared 2,000 easily on practice jumps, and I even overshot the landing ramp a time or two when I built up too much approach speed," Blackwell said. "The key to a smooth jump is throttle restraint on the run-up ramp. The ponies in our Freedom™ V-twin like to run, but I've got to make sure I don't exceed my target speed. Once I'm airborne, I'll just sit back and enjoy the ride."

Victory and a national broadcast network are currently discussing the possibility of airing the jump live. Details such as the broadcast time and network will be announced once plans are finalized.

"It will be great viewing for motorsports enthusiasts at home, and for me, it's a great riding opportunity," Blackwell said. "When the idea was first suggested, I said, 'I love it. I hope you're not fooling!'"
 
About Polaris
Information about the complete line of Polaris products is available from authorized Polaris dealers or from the Polaris homepage at polarisindustries.com. 2004 marks the 50th Anniversary of Polaris Industries. Celebrations will be held in Roseau, Minnesota, birthplace of Polaris, on June 18-19, 2004 and a worldwide celebration will take place in St. Paul at the Minnesota State Fairgrounds on July 24, 2004. Visit polarisindustries.com or call 1-800-POLARIS for more information. Happy April Fools!!