Victory and "The Gunny"
By Michael Dapper
Monday, February 19, 2018 - 15:15

In this original article, Victory Motorcycles author Michael Dapper shares priceless memories from his time spent backstage and on the road with "The Gunny": a Kansas-born farm boy, Marine veteran, Hollywood star, and Victory's greatest spokesperson. Since we couldn't fit it all in Victory Motorcycles 1998–2017, we included it here on the Octane FUEL Blog. Check back for upcoming posts on the making of Victory Motorcycles, with original articles and insider interviews you won't find anywhere else—not even in the book!Header image caption:
 Riding a 15th Anniversary Victory Cross Country Tour, Gunny checks to see if he can pull into the Pentagon parking lot prior to the 2013 Rolling Thunder run through Washington, D.C.
 Michael Dapper
---------------------------------
          Millions know R. Lee Ermey as a famous movie star. But I got to know him as a fellow Victory rider, a traveling partner, and guy who was still a Kansas farm boy at heart, despite being rich and famous.  
          Ermey, better known as "The Gunny" or just "Gunny," was the most popular and effective celebrity spokesmen ever employed by Victory. During his final years with Victory, approximately 2013 through 2016, I was his "wrangler," his driver and the guy who made sure he made it to all of his public appearances. Gunny and I were on different ends of the political spectrum, but we got along famously. We spent time together during events in New York City, Washington, D.C., Daytona Beach, Sturgis, and Spirit Lake, Iowa. I learned to find secret exits so we could leave an appearance site the instant he was done. I also learned to drink his version of coffee, which he called "a quad": a latte with four shots of espresso.  
          We rode bikes together in the D.C. area (for dealership appearances and Rolling Thunder) and in Spirit Lake during the 2013 American Victory Rally. (His favorite Victory was the High-Ball.) We spent hours in cars together, him preaching politics and me asking for every detail about the making of his most famous film, 
Full Metal Jacket.
 In no particular order, here are some of my favorite Gunny notes and memories:  
• Gunny grew up on a Kansas farm with a taskmaster father and a loving mother. His father so strongly—and at times violently—instilled discipline in Gunny and his brothers that when Gunny enlisted in the Marines, boot camp was not that grueling; he had experienced worse.  
• Gunny was brilliant. Upon retiring from the Marines after 11 years of service, he moved to Southeast Asia because he knew the area would soon become a hotbed of post-Vietnam war movie production work. He first got hired as a military consultant, and filmmakers quickly made him an actor in their productions.  
• Gunny has more than 125 film and television credits, including his Golden Globe-nominated role as Gunnery Sergeant Hartman in 
Full Metal Jacket,
 and voice work as a prison warden in 
SpongeBob SquarePants.
• Gunny doesn't drink alcohol. Yet he is an investor in a brewpub not far from his home in California. And when I asked him if he was ever approached about running for political office, he said: "Oh, hell, I could never get elected," because he used to run a brothel and a bar in Southeast Asia.  
• In May 2016, Gunny and I were in Virginia on the Saturday of Rolling Thunder weekend. I received an urgent message from Gunny's agent and a representative of Make-A-Wish America. Long story short: That evening, Gunny used my phone to FaceTime with a teenager who was dying from an incurable disease. The youth was a huge fan of Gunny and 
Full Metal Jacket,
 and it was his big wish to meet the star. The family wasn't confident the boy would live long enough to do so, thus the immediate phone connection. The boy was barely responsive, but Gunny spoke to him at length, offering encouragement and pledging to try to visit him. It was touching and heartbreaking, and the boy's family was tremendously appreciative.  
• In August 2016, Gunny made an afternoon appearance at the Victory Owners Party at Sturgis, then had several hours to kill before a late-night appearance for Victory onstage at the Buffalo Chip. I took Gunny to the house Victory had rented for those of us working the rally, and he spent a couple hours in the living room, a blanket pulled up to his neck, napping and watching 
COPS.
 Then-Victory demo truck driver Scott Jarland convinced Gunny to join the gang for dinner. He ate a great home-cooked meal and loved being treated like a regular guy, not a movie star.  
• Gunny made his appearance at the Chip that night, then we exited the grounds immediately. We had made an even better quick exit in Spirit Lake during the 2013 American Victory Rally: Gunny met the Friday night concert headliner and his wife on their tour bus, then went onstage to introduce him. I had my car backed up against the backstage fence and Gunny came offstage, climbed in, and we were down the road without hearing a single note from the musician, Grammy Award nominee Josh Turner.  
Yes, Gunny was paid to work for Victory, but he also genuinely loved the bikes. When he started working with Victory, he sold all of his other motorcycles except one Harley that had been customized just for him. He loved the High-Ball and Cross Country Tour, loved Victory riders, and generated a lot of positive exposure for the brand.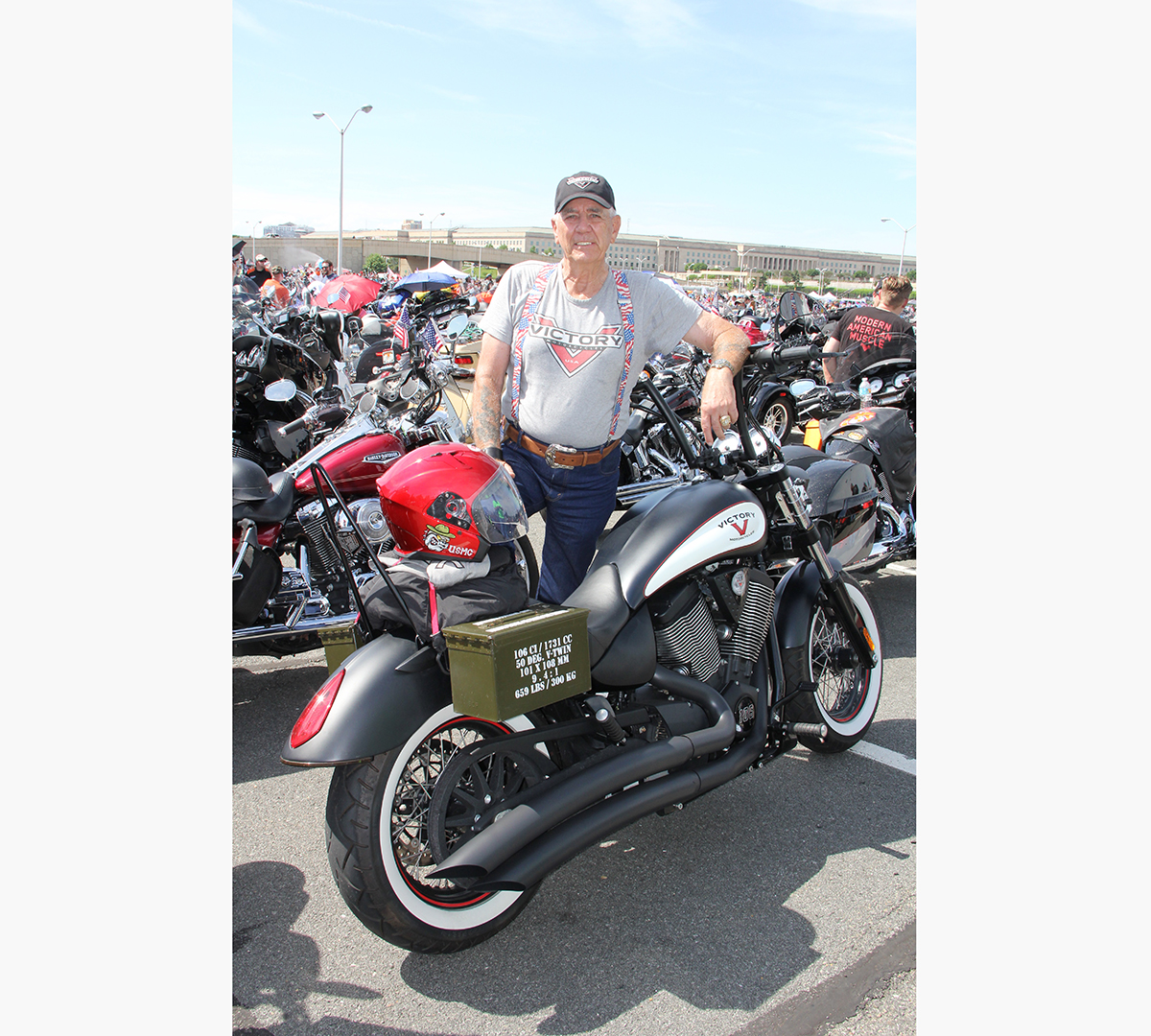 Gunny is shown at the Pentagon waiting to ride through the city during Rolling Thunder 2016. He's leaning on the outstanding High-Ball custom of Cody Pullins, who was a Victory sales rep in the D.C. area at the time. 
Michael Dapper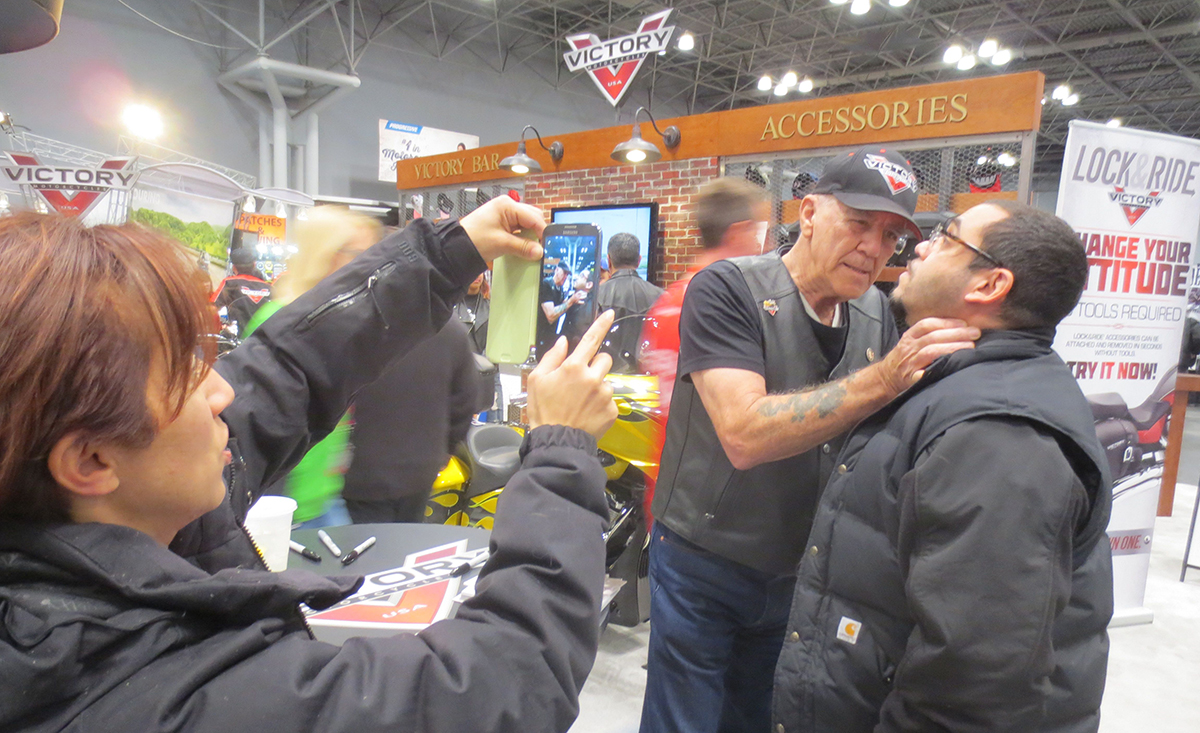 This was not unusual. At his autograph sessions, people would ask Gunny to chew them out, gunnery sergeant-style, or choke them, as this guy requested so his friend could shoot a photo. This was at the bike show in New York City in 2013. 
Michael Dapper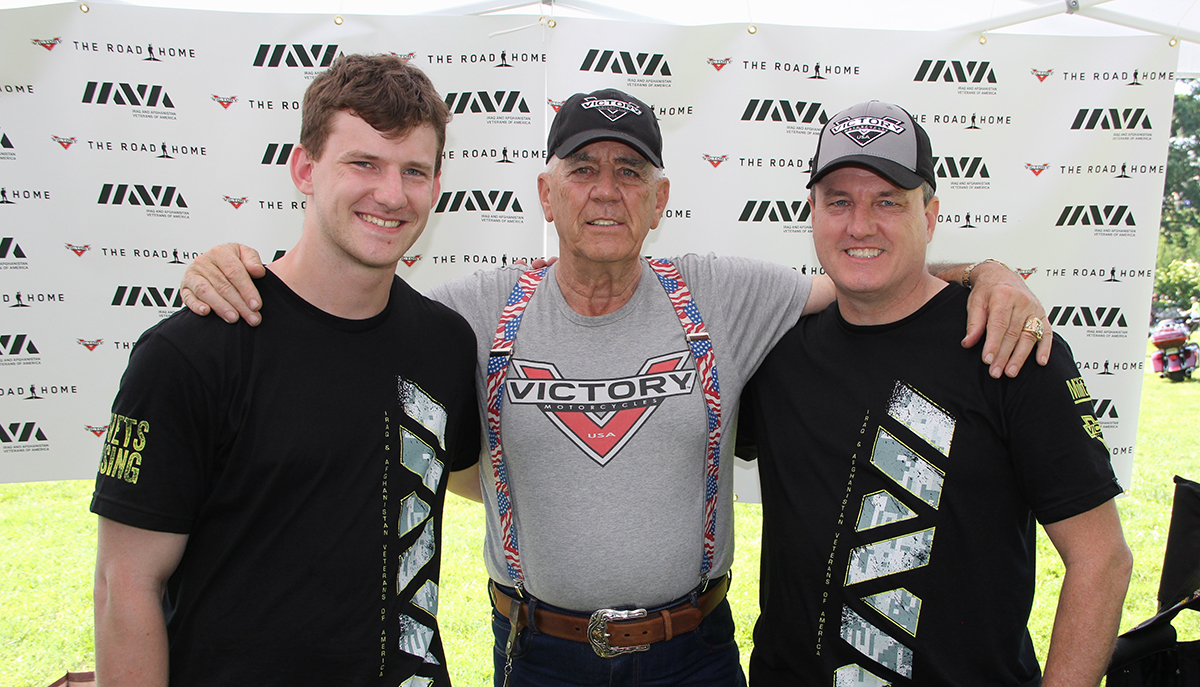 Gunny with two great guys at the National Mall in Washington, D.C., the day before Rolling Thunder 2016. On the left is Zachary Dickerson, who is currently serving in the U.S. Navy, and on the right is his father, Navy and Army veteran and invaluable IAVA representative David Dickerson. 
Michael Dapper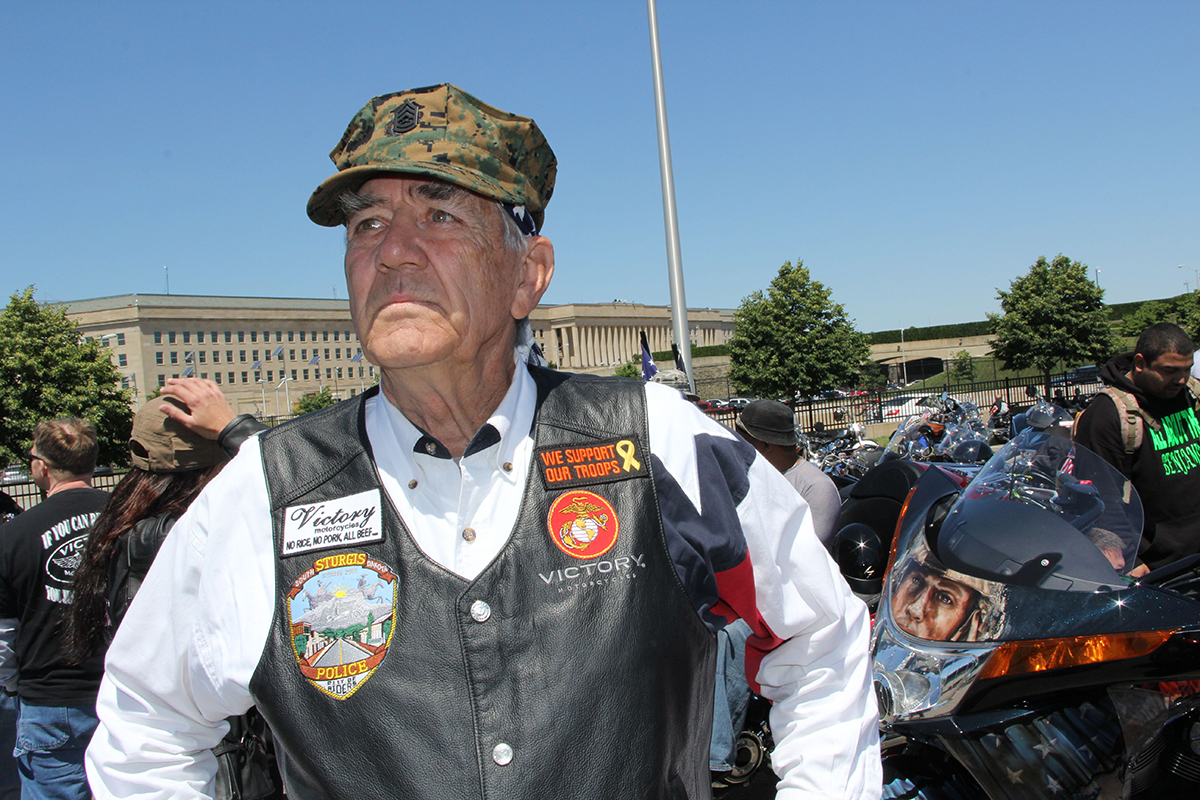 Gunny at the Pentagon waiting to start riding during Rolling Thunder 2013. His eyebrows are like two full mustaches, and I once asked him why he didn't trim them. Hell, he snapped, those are my trademarks, I can't cut them. 
Michael Dapper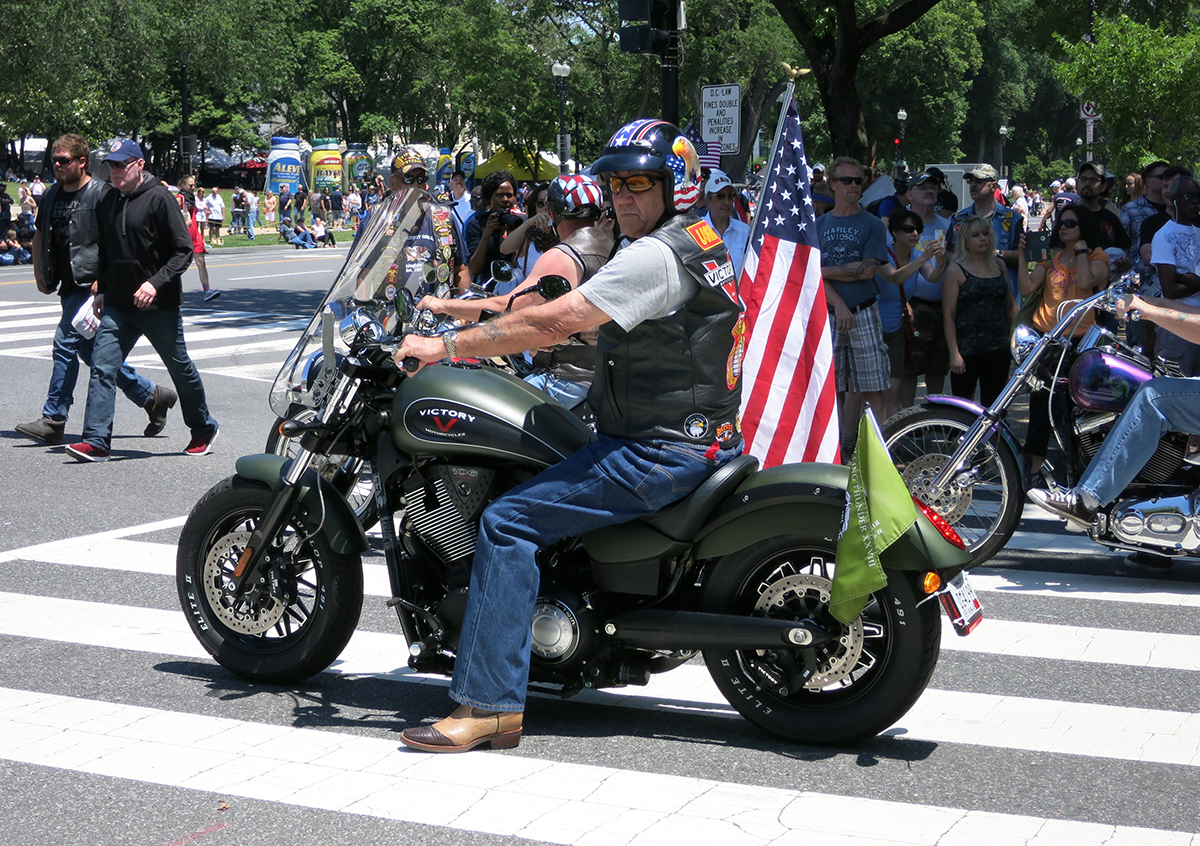 Here's Gunny on a Suede Green Metallic Gunner, the bike that Victory typically used in its projects supporting Iraq and Afghanistan Veterans of America (IAVA). He's waiting to turn onto Constitution Avenue during Rolling Thunder 2015. 
Savannah George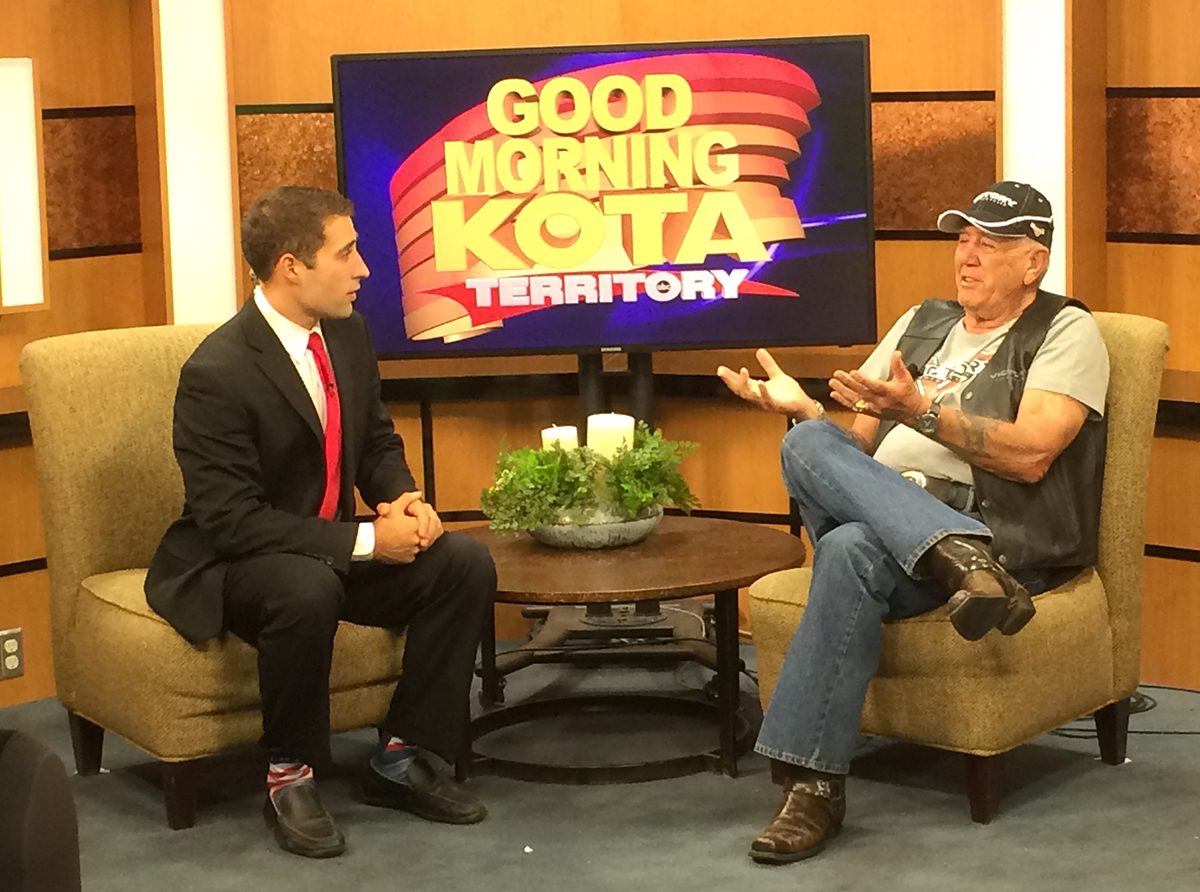 A classic, from August 2016. I booked Gunny on the KOTA morning show in Rapid City, S.D., and the host asked a generic first question like, "What brings you to the Sturgis rally?" Gunny went off on a 5-minute diatribe against the Veterans Administration. Gunny told how he flew into town seated on the plane next a VA official whom Gunny roasted for 90 minutes because of the VA's poor treatment of veterans. Gunny's monologue ate up his entire TV segment, and he never once mentioned Victory or motorcycles. The host was unfazed, and the instant they went to commercial, he asked for an autograph. 
Michael Dapper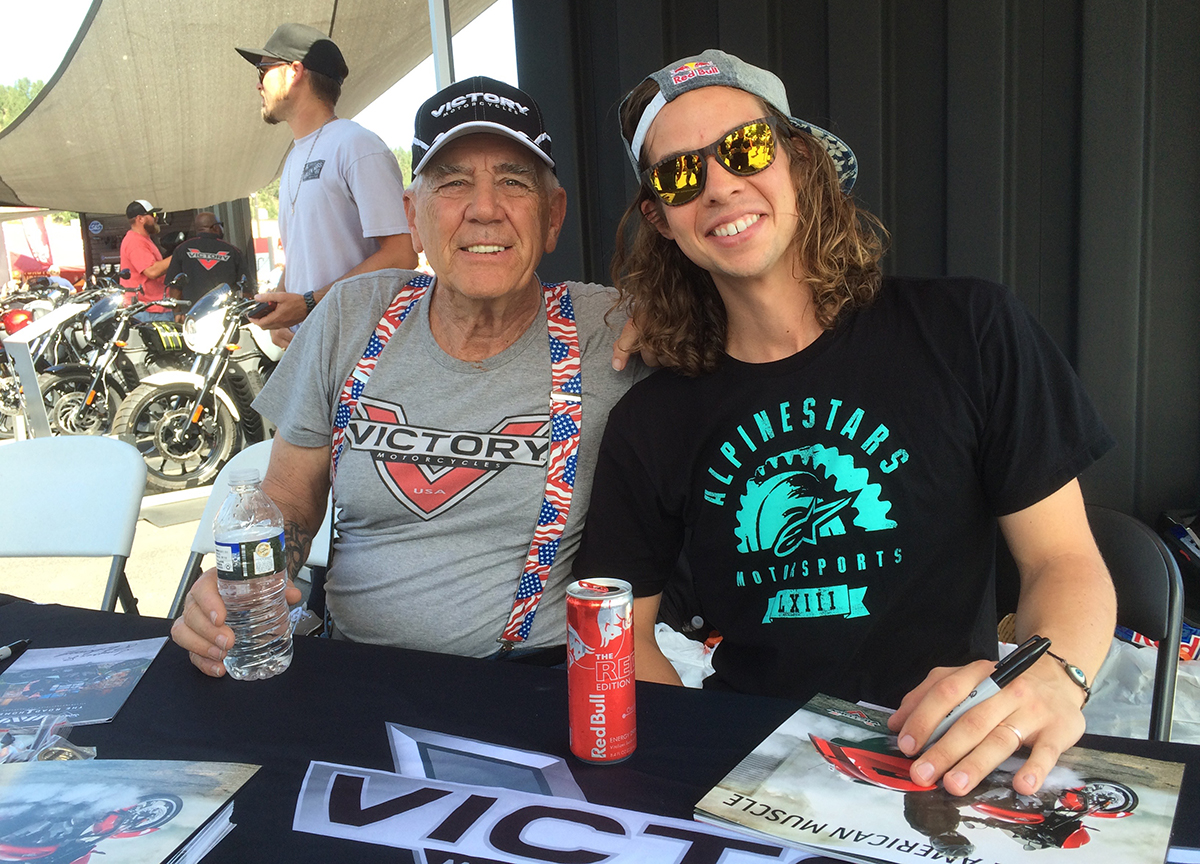 On the surface, they would seem an unlikely duo, but Gunny and freestyle rider Aaron Colton had a ball seated next to one another during a 2016 Sturgis rally autograph session. 
Michael Dapper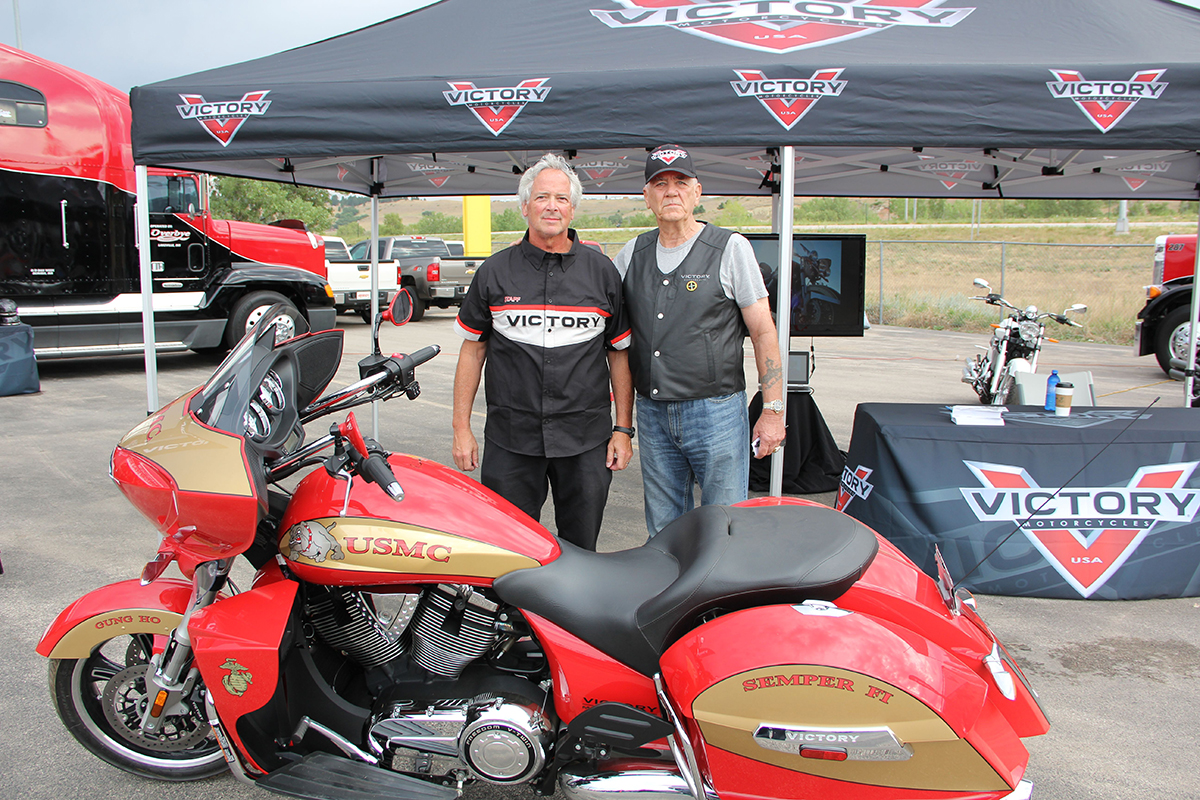 That's a younger Dapper with Gunny at the 2012 Sturgis rally. He stopped by the demo ride site for an autograph session attended by, well, nobody. That's because no one came to the site unless they wanted to ride, and he should have been appearing at Victory's downtown Sturgis display. I was not yet his wrangler, but started doing so in 2013.
Meggan Rice  
Victory Motorcycles 1998–2017 is available for preorder now!