The Octane Press Story
A Book Company Born in Baja
The inspiration for Octane Press appeared on a rugged, moonlit mountain road that runs from San Javier to Loreto in Baja California. Well, that's the moment the company started. My relationship with books is deeper. Since I was about four, I was happiest when left alone with a book. I read the entire science fiction section of my hometown library in Rice Lake, Wisconsin when I was 11 or 12. I love reading and books and working on them to me is as natural as breathing.

The other thing that hooked me at a young age is machines. When I was five years old, I fell in love with a kid-sized Indian 50cc motorcycle sitting at the local chainsaw repair shop. Six years later, my dad finally relented and grudgingly parted with $25 to buy a Honda CT70 for me. I've been riding ever since, and wrenching on and ripping around with muscle cars, old trucks, and bicycles as well.

In 2002, when I was on that mountain road, I had found my niche as a gearhead publishing geek. I was working as a book editor during the day, writing books on the side, and working for magazines on occasion.

I was in Mexico on assignment for Dirt Rider magazine, trekking across Baja California on a Suzuki off-road motorcycle with two good friends, Mark and Jeff. That day, we became horrendously lost crossing the uncharted stretch of beach and off-road trails that run from San Ignacio to San Juanico. The map shows not one single road, but local guides had told us you can ride between the two. You can, of course–but there are no signs and almost endless places where the road splits.

We had 90 miles to cover, and about 100-110 miles of range with the fuel we were carrying. We burned up about 20 miles being lost.

We didn't have enough fuel.

We didn't handle this calmly.

Long story short, we followed a guy in a truck to a town and bought fuel from a kid with 50-gallon barrel full of gasoline. $120 for roughly 12 gallons as I recall.

We made it to San Juanico in the afternoon with 125 or so miles on the clock, had some lunch, and headed out. We had planned to stay in San Juanico, but we were so jacked up from getting lost, so focused on moving forward, that we forgot the itinerary and kept going.

The next leg was roughly 100 miles, and it was a road that crossed the mountain range on Baja. The road was narrow, winding, and brutally rough. We passed through a few tiny, amazing little towns, including Comondú, which had narrow stone-walled streets and felt like a step back to the Middle Ages.

We were not moving quickly, averaging maybe 20 mph on the rugged road. By the time we were treated to our first look at the turquoise waters of the Sea of Cortez, the light was  gone from the day.

We had spent more than 16 hours riding. The first half we were lost in the desert, and the second half we were getting beat to hell on a narrow, rocky trail through the mountains. We were exhausted, physically and mentally.

The ride culminated with us picking our way down a few miles of narrow mountain road as the sun set. I stopped to take a photo once we spotted the sea of Cortez glimmering in the fading light, and something inside me snapped. I felt close to the mountain, like it was an old friend. Some trigger or brain receptor clicked into high gear and I was hit with a euphoric high. Maybe it was the light on the sea below, the glorious sunset, or simple exhaustion from stretching my limits beyond where I thought they could reach. The end result changed me.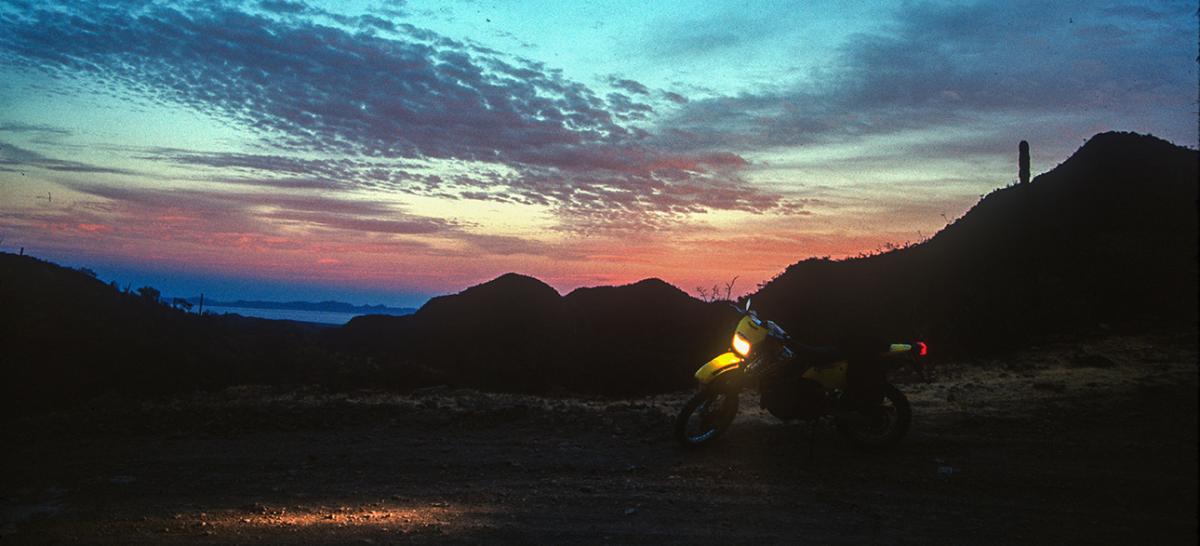 The next day, while riding along the easy stretch of pavement and gravel that led us to Santa Rosalia, the emotional impact of the previous day's experience created a powerful compulsion. Riding, exploring, taking photographs, and writing about it all felt like what I was born to do. Right there, I made a decision: I would quit my day job and find a way to make photos and tell stories like this one full-time.

I worked hard to build my freelance business from that day forward. My employer, Motorbooks, let me work four days a week, and freelance on Fridays. By 2006, I had enough work and regular outlets to quit my job at the book publisher and go indie. I wrote, shot photos, and edited out of an office I built in my garage.

The move was one of the best decisions of my life. I made enough to pay the mortgage, worked like a dog, and loved every minute of it.

I also saw how the publishing world was changing. Magazines lost revenue and pay for freelancers dropped off. Book publishers cut back on lists, sold fewer books, and paid less as well. I came to believe the only way for me to continue to do what I loved was to control the message. To publish my own work.

I also came to believe that the mid-2000s was a great time to start a publishing company. Technology was changing, mid-sized presses were cutting back, and books could be sold online without all the investment and complications of big distributors. I could pick up some great titles and build a company out of nothing but pocket change and sweat equity. So I founded a book publishing company.

I busted my ass for five years, pouring all the profits from our new titles back into the company.

The result? Octane Press. We have more than 50 titles in print, and publish 6-12 new projects each year.

While the company was founded so that I can keep writing and photographing, our growing list of great authors has made the company so much more than just that. Partnerships have formed, some that I expect to last for a long time.

I've also found other independents who provide design, editing, public relations, and more.

All of us are independents in the same boat. Our goal is simple: publish books with care, make a little money, tell a great story, and reach readers through direct sales, social marketing, shouting on street corners or writing blogs. Whatever gets the job done.

Running Octane Press is an adventure, a metaphorical equivalent of riding a Suzuki DRZ across untracked desert. Every day brings a new challenge.

I'm doing it my way, with people I trust and admire. And I wouldn't be here if not for that long day getting lost and found on the road to Loreto.

With this company, I intend to visit more remote places with a camera and a notebook in hand, and live a life rich with explorations of new territory.

Right now, the challenge is getting this great list of books out into the world so people can enjoy them.

That's my mountain today, and I'm happy to be on it.

Lee Klancher
January 8, 2013