Victory Iron Butt Legends
Article and Photos by Michael Dapper
Thursday, March 8, 2018 - 08:15

Victory Motorcycles 1998–2017
author Michael Dapper presents a list of Victory Iron Butt record holders—those who tested not only their bikes but themselves to achieve feats of endurance and gall. Check back next week for more insider stories of Victory Motorcycles design, development, marketing and sales on the Octane Fuel Blog.
Victory Motorcycles were made to be ridden 'til the wheels fall off, so it's no surprise Victory riders have piled up hundreds, if not thousands, of Iron Butt rides.  
An Iron Butt is a long-distance ride certified by the Iron Butt Association (IBA). The base model, so to speak, is a SaddleSore 1000, a ride of at least 1,000 miles in less than 24 hours. There are also "extreme" rides, such as the 48 States in 10 Days (just what it sounds like; you can also do a 49-state version by riding on to Hyder, Alaska).  
The IBA website has complete lists of Victory riders' certified rides, so here we'll highlight some noteworthy Victory Iron Butt accomplishments and riders from throughout the brand's history.  
I welcome corrections, but the first SaddleSore 1000 I found in the IBA lists was Russ Downing's 1,035-mile run completed on March 6, 2001, on a V92C. On April 28, 2001, Steven Strickstein of Troy, Michigan, completed a 1,091-mile SaddleSore 1000 on a V92SC, a SportCruiser.  
In June 2007, a team of riders from Victory engineering rode an early production-level Vision—Serial Number 2—on a 12-day, 11,000-mile trip around the country. The route included the towns in Washington, California, Florida, and Maine required for an IBA 4 Corners Ride. Three participating riders submitted paperwork to certify their legs as SaddleSore 1000s, while Senior Development Technician Darin Vought rode more than 1,000 miles, but didn't seek certification. The bike's final stop on the home stretch to Minnesota was a photo op at Harley-Davidson headquarters in Milwaukee.  
The most legendary Victory Iron Butt rider has been Minnesotan Gregor Moe. He has been completing IB rides since the early 2000s, and in 2013, he achieved membership in the ultra-exclusive Mile Eater GOLD Plus Club. (Mile Eater GOLD status requires completing at least 20 certified rides, with at least five in the GOLD or INSANITY level.) Gregor's IB count is well over 30, and he also mentored dozens of novice distance riders by organizing (with Connie Gabrick) annual All-Victory Iron Butt Rides for Victory riders.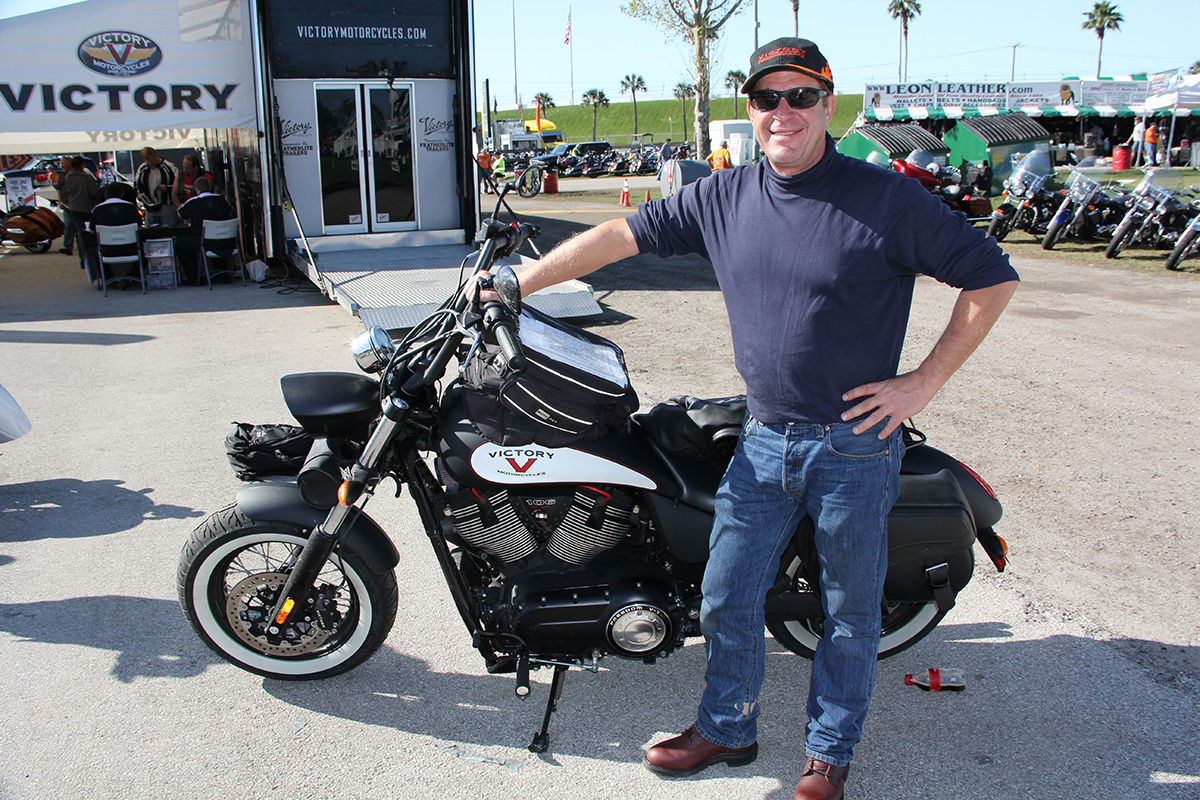 Gregor Moe, who has earned elite Mile Eater status from the Iron Butt Assn., is shown at Daytona Bike Week 2012, just after completing a non-stop run from Minnesota on his High-Ball. It was his second IB ride on the bike, and he would have earned BunBurner GOLD status (1,500 miles in under 24 hours) except he had to stop to tighten his performance exhaust en route.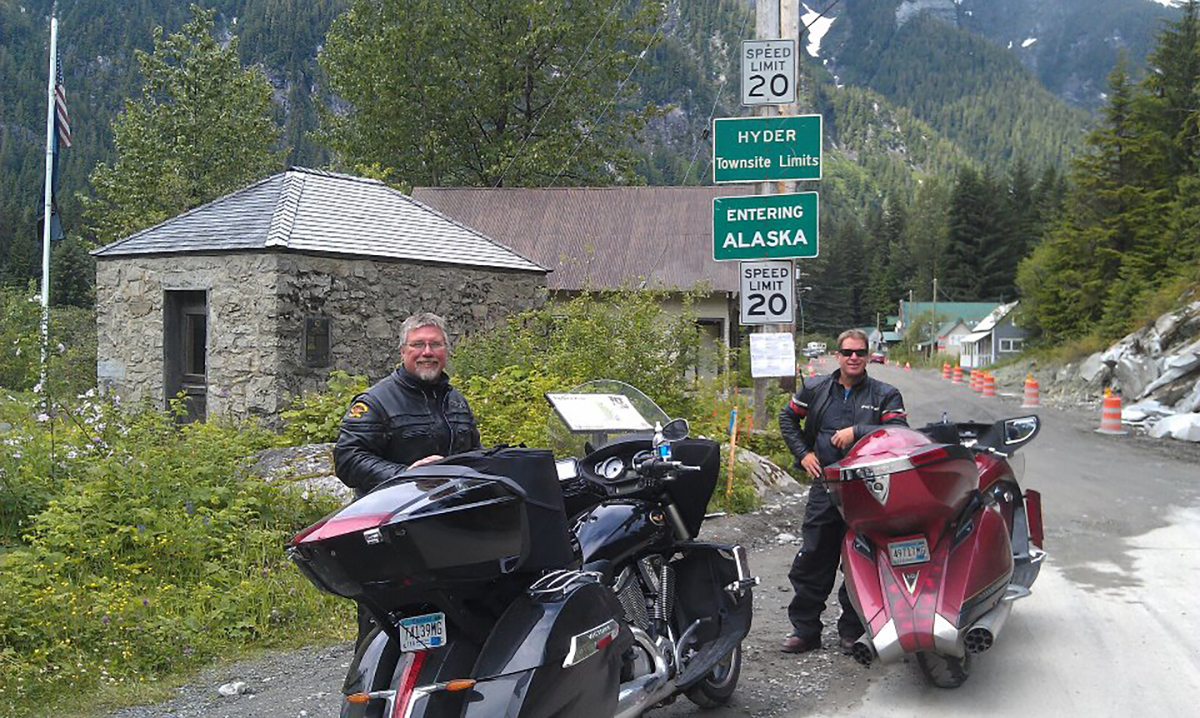 "Happy" Dan Larson (left) and Gregor Moe are shown in Hyder, Alaska, on July 2, 2012, after completing a 49 States in 10 Days IB ride. They encountered such high daytime temperatures in Southwestern states that they caught some sleep in the daytime and rode at night when temperatures dropped slightly.
 Photo courtesy Gregor Moe
Another Victory legend is Steve Rolland of Wisconsin, who completed 21 Iron Butt rides on Victory models between 2006 and 2015. Planning his routes in the winter with the detail focus of an engineer, Steve was the first Victory rider to complete the 48 States in 10 Days ride (2008), and in 2010 he was first on a Vic to finish a 49 States in 10 Days ride (which ends in Alaska). In 2012, he completed the extreme Ultimate Coast to Coast, starting in Key West and finishing with a run up Alaska's unforgiving
Dalton Highway
to reach the shores of the Beaufort Sea.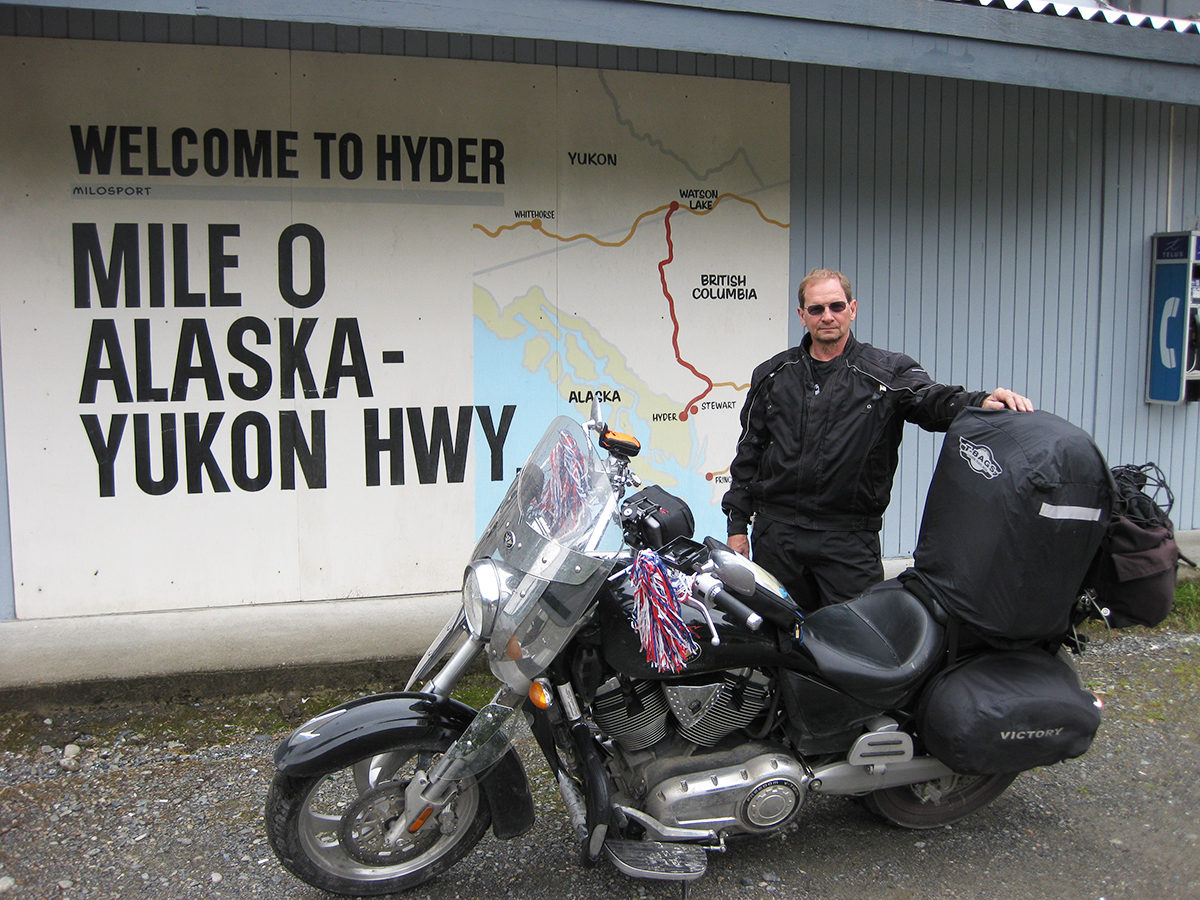 Steve "Rollin'" Rolland earned Mile Eater GOLD status for his numerous Iron Butt rides on Victory models. He was the first Victory rider to complete 48, and later 49 States in 10 Days IB rides, and he was the first to ride a Victory in all 50 states. He completed the 49-state ride on this Kingpin on July 4, 2010, and then took part in the Hyder, Alaska, Fourth of July parade. Unfortunately, the fire truck leading the parade had to cross into Canada to turn around, and Steve, second in line, was stopped at the border for routine questioning as he tried to re-enter Hyder. 
Photo courtesy Steve Rolland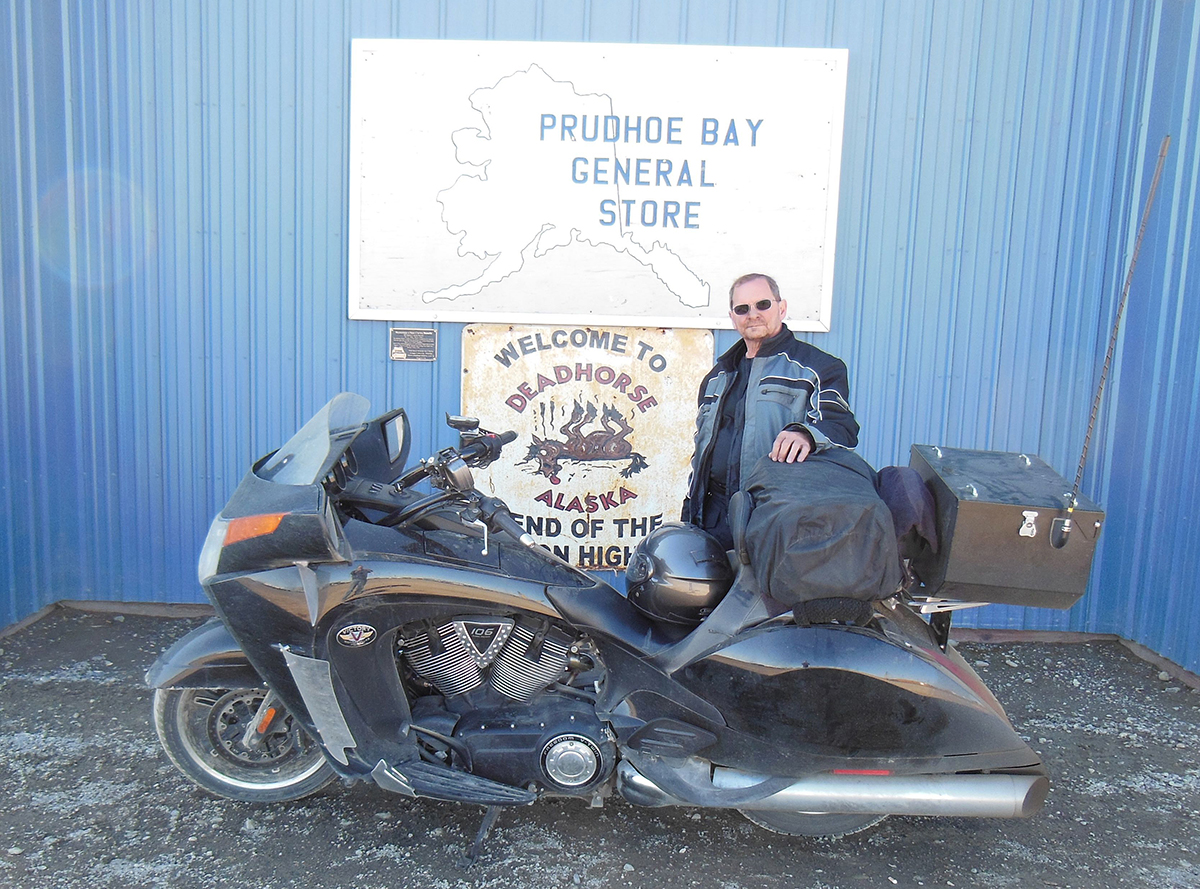 Here's Steve Rolland at the completion of his 2012 Ultimate Coast to Coast IB ride. He rode from his Wisconsin home to Key West to begin the IB ride to Prudhoe Bay, Alaska, the northernmost point accessible by road. But the final stretch of road is Alaska's unpredictable Dalton Highway, so after this photo was taken, Steve retraced the 250 miles of the unpaved highway to get clear of that road before stopping.
 Photo courtesy Steve Rolland  
The Iron Butt Rally is contested every other year among select long-distance riders. It's an 11-day contest in which riders acquire points of varying levels for reaching specific destinations, many of them remote and difficult to reach. To finish is to win, in a sense, and Victory riders have earned medals on four occasions.  
• Andy Mills, a Polaris employee, rode an early Vision on the 2007 IB Rally. He finished 15th, earned a gold medal for his points total, and rode 10,552 miles. In 2009, he finished 14th on a 2010 Vision, earning a gold medal and riding 11,410 miles.
• Connie Gabrick completed the Iron Butt Rally on her 2009 Vision in 2013 (9,295 miles) and 2017 (8,893 miles), earning bronze and silver medals, respectively. Connie has also achieved Mile Eater GOLD status.
• Jim Burriss of South Carolina finished the 2017 rally and covered 9,228 miles on a Cross Country Tour.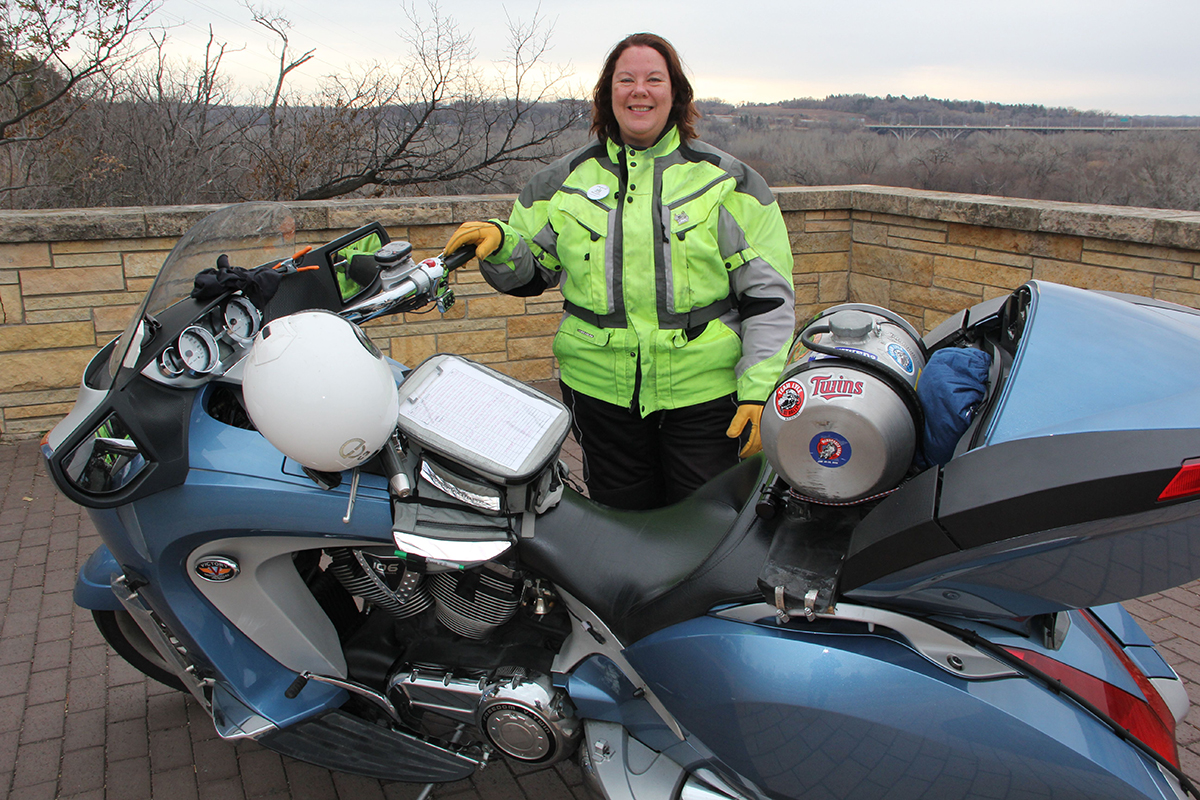 Another long-distance Victory rider who has earned the IBA's Mile Eater GOLD status is Connie Gabrick, shown here in 2013, the year she completed the Iron Butt Rally for the first time. The points she accumulated earned her a bronze medal, and she earned a silver medal for an even more impressive showing in the 2017 IB Rally.
Victory rider Rick Tilbury has completed numerous IB rides, including multiple SaddleSore 1000s on a High-Ball, and two BunBurner Gold 3000s in one month on his Hard-Ball. The 3000 ride consists of back-to-back BunBurner 1500 GOLD rides (1,500 miles in under 24 hours). On Aug. 1, 2012, he completed a 3,051-mile ride, but discovered the second 1,500 miles took him 24 hours—and 20 minutes! The IBA indicated it would certify the ride, but Rick, determined as ever, hit the road again and completed a 3,049-mile ride on Aug. 28 of that year within the allotted time.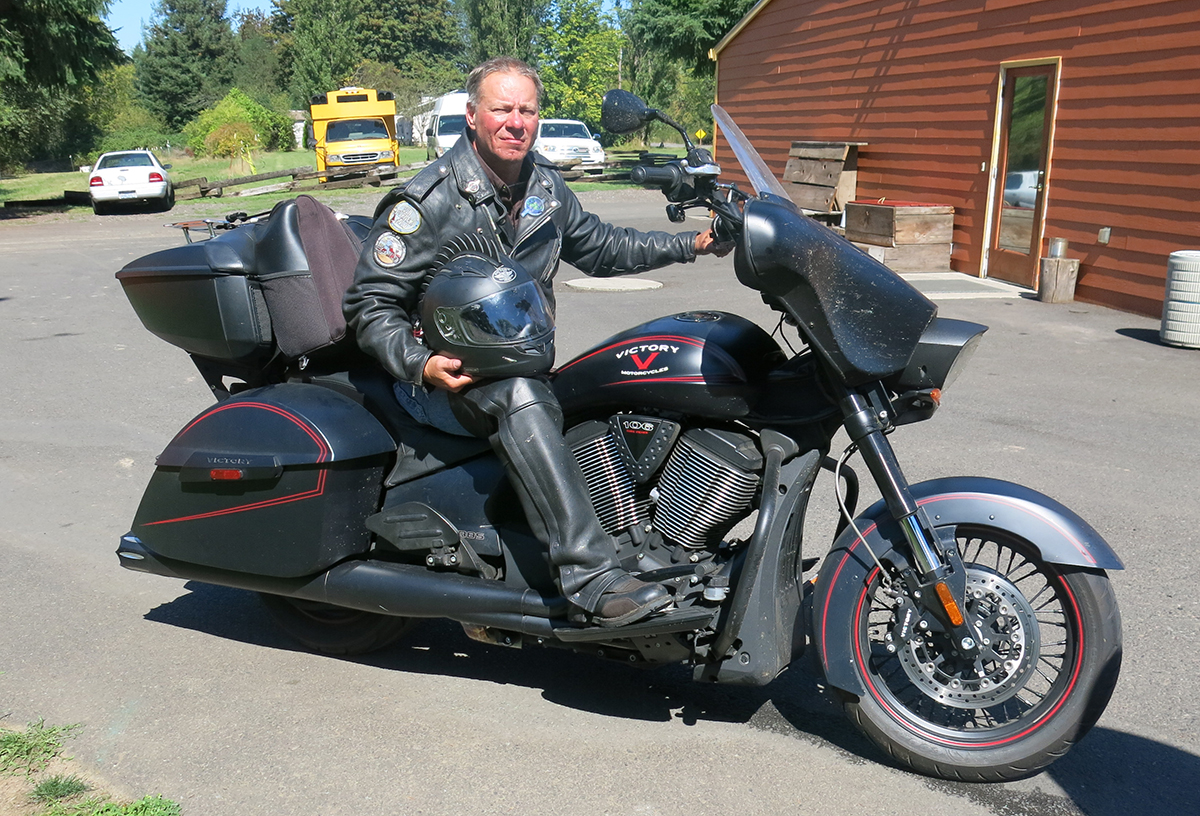 Rick Tilbury has racked up numerous IB rides on Victory models such as the High-Ball and Hard-Ball. Here he is in 2013, looking a little crispy after riding 1,555 miles in 24 hours. At that time, it was the record for the most miles covered in a day by a Victory rider. 
Photo courtesy Rick Tilbury
One Victory group Iron Butt raised eyebrows. To get to the 2003 American Victory Rally in Spirit Lake, Iowa, five riders on four bikes completed a SaddleSore 1000 between Ohio and Iowa. But rider Russ Buckwald needed his daily afternoon nap, so the five—four men and one woman—checked into a single hotel room for a couple hours so he could catch 40 winks. Hotel staffers were puzzled, to say the least.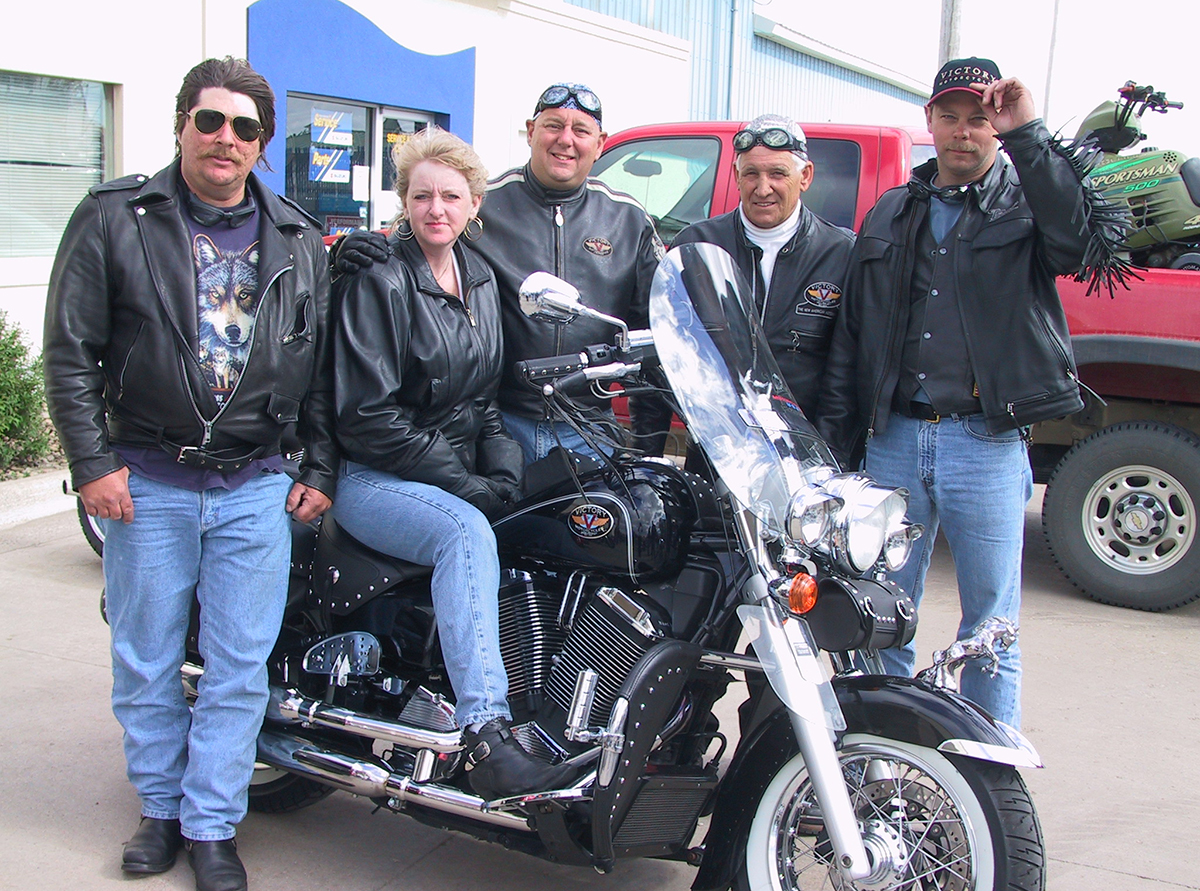 Ohio riders who earned Iron Butt honors while riding to the 2013 American Victory Rally were (from left): Bob Bursley, Jenny Key ("The Girl"), Tom Polley, Russ Buckwald and Scott Hopkins. Because Russ insisted on stopping for his afternoon nap during the ride, the group checked into a single hotel room for a couple hours, which raised eyebrows among hotel staffers.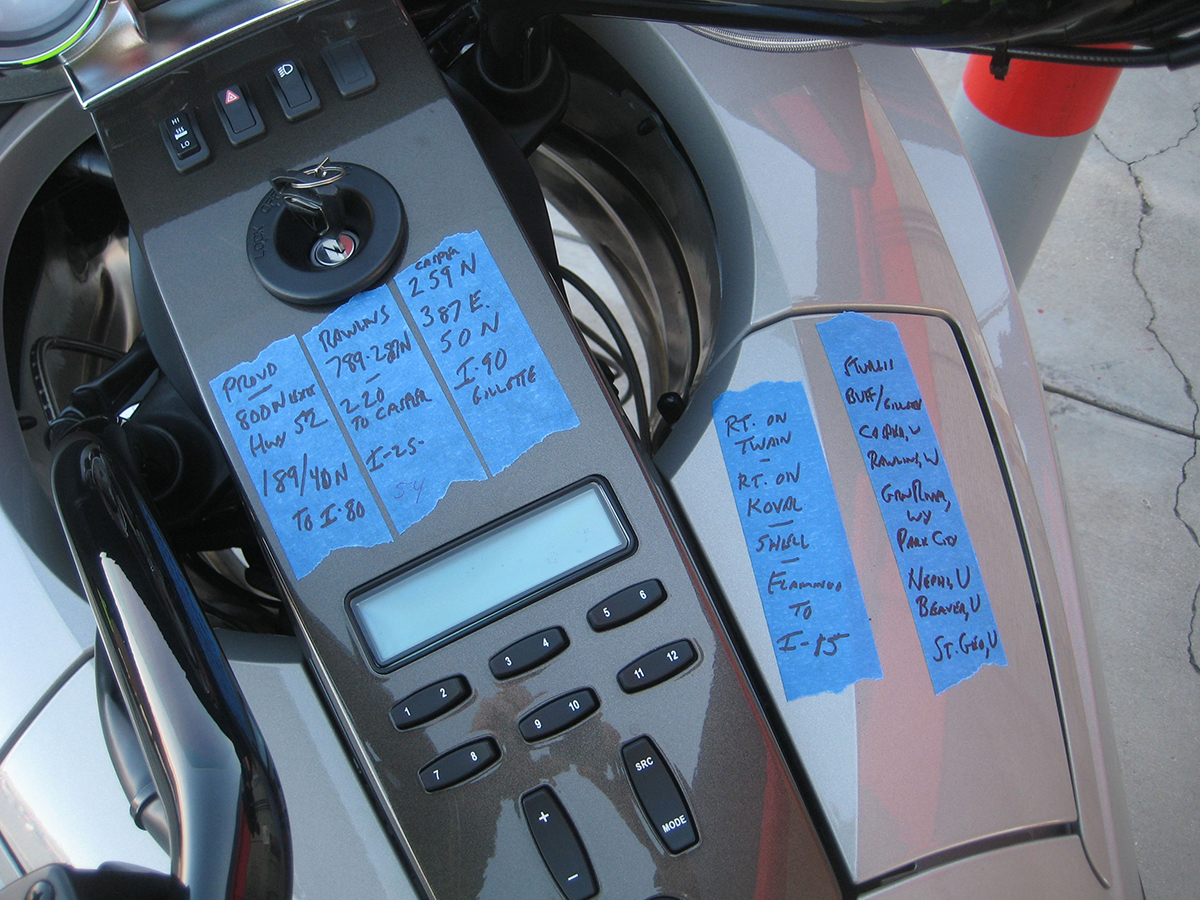 Here's an example of what your author calls his "Hillbilly GPS." In 2012, these directions (starting on the fuel fill lids to the right) directed him from Las Vegas (Victory dealer meeting) to Sturgis (rally), a nice, tidy 1,000 miles on a brand new Vision demo bike.The long awaited VICTORY MOTORCYCLES 1998–2017 arrives April 1st! Unitl then, it is available for preorder on our website here.