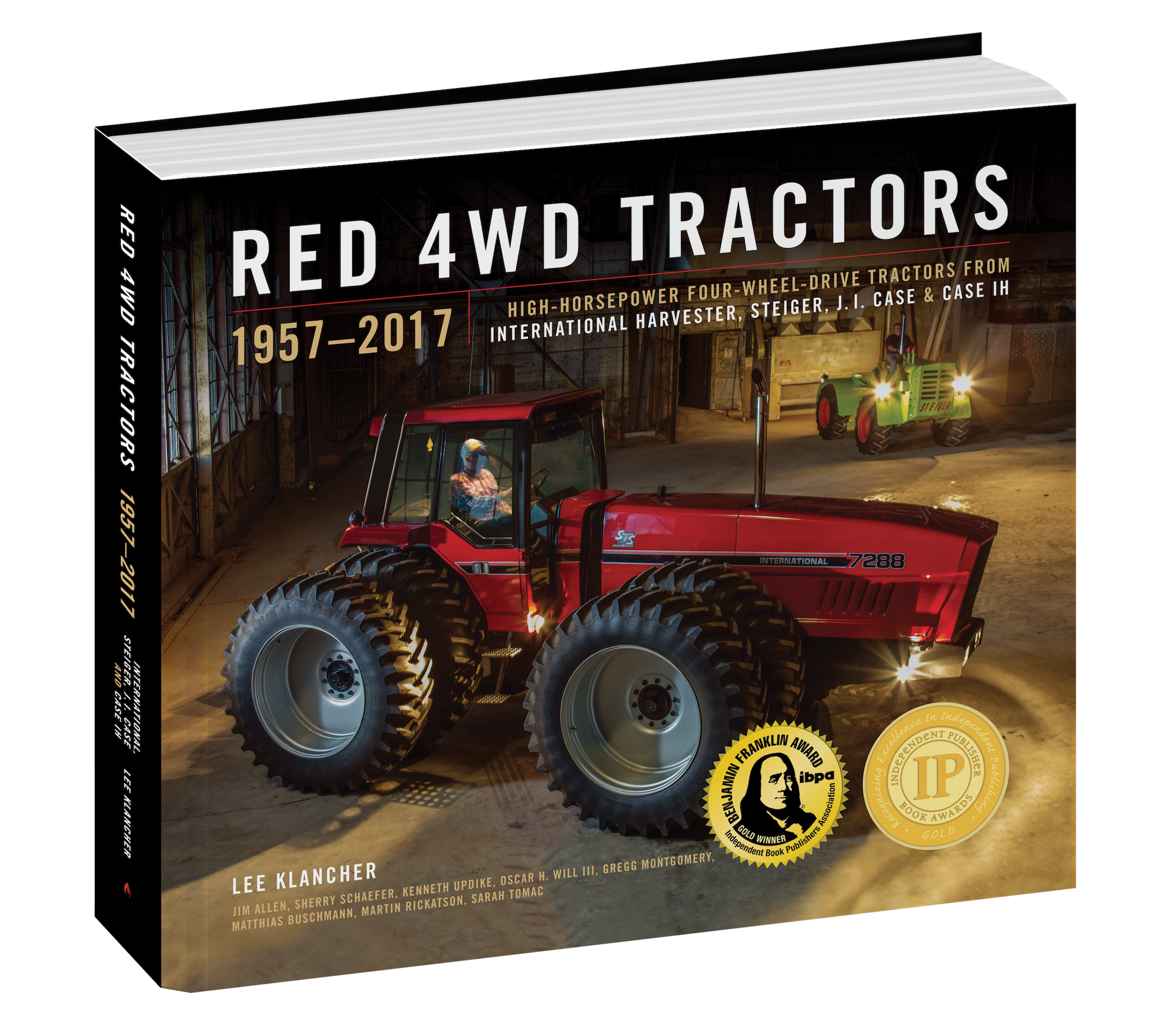 Red 4WD Tractors
$60.00
As seen on the Jay Leno show!

The story of the four-wheel-drive tractors built by Steiger, International Harvester, Case, and Case IH is told in dramatic fashion in this authoritative guide. Starting with the development of early four-wheel-drive systems at International Harvester, the book traces the evolution and design of some of the most powerful and capable tractors of the twentieth century. With fresh detail on the 4300, 4100, Steiger-built IH tractors, and the 2+2 tractors including the Super 70 series, the book offers prototype drawings of several models--including the complete story of the never-before-published Magnum 2+2-- as well as inside stories and backroom drama that is a must for any enthusiast for farm history or tractors. 

Learn the complete story of Steiger tractors, which were originally designed and built in the barn of John, Douglass, and Maurice Steiger located near Red Lake Falls, Minnesota. Containing interviews with more than 50 of the people who built Steiger from its humble origin to a world leader, the book traces the evolution of the lime green Steigers in engrossing detail. The book also covers the J.I. Case 4WD line in great detail. In addition, the book tells the story of how each of these significant players in the industry combined under one banner and—together—created one of the current industry-leading technologies, the Quadtrac. The modern evolution of the Steigers and the introduction of the STX Series (and more) also receive in-depth coverage.

The same team that created the award-winning books Red Tractors 1958–2013 and Red Combines 1915–2015 created this book, and notable new contributors include Sherry Schaefer (editor of Heritage Iron magazine) and noted historian Jim Allen. Contributors include Sherry Schaefer, Oscar H. Will III, Jim Allen, Kenneth Updike, Todd Markle, Gregg Montgomery, Guy Fay, Martin Rickatson, Sarah Tomac, Matthias Buschmann, Jean Cointe, Michael Osweiler, and Johann Dittmer.

Limited quantities of the COLLECTOR'S EDITION  and SERIAL NUMBER EDITION are available.
 
Click here for a sneak peek at the table of contents for Red 4WD Tractors.
Product details
Subtitle:
​High-Horsepower All-Wheel-Drive Tractors from International Harvester, Steiger, and Case IH
Publication date:
Sunday, July 30, 2017
Dimensions
11.8125 × 10.5 × 1.6 in