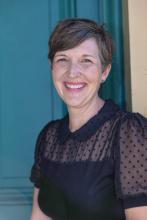 Holly Dufek
Author
Brings Agricultural Education to life through writing, editing, teaching and content development.
Holly began writing as an educational curriculum specialist over twenty years ago, and eventually branched out as a copywriter. In 2013, she was approached to help develop and write a new educational children's book series about modern farming. The first book in the Casey & Friends series, A Year on the Farm, was released in 2014—becoming her first published children's book. Eight books later, Holly's still learning and writing about modern farming! Working with an amazing team to bring agricultural education to life has been a delightful adventure. When Holly's not working on her latest project, you'll find her in the garden or with a good book.
Holly lives in Kenosha, Wisconsin with her husband, Matt, their three children and her canine writing companion, Olive.