The Hodaka Motorcycles Story
The Origins of Hodaka
Thursday, June 2, 2016 - 15:45

This excerpt is from Hodaka Motorcycles by VMX magazine editor Ken Smith. You can find reviews, videos, and more at the book's page. Click to learn more!  
The Pacific Basin Trading Company (PABATCO) was formed in 1961 in Athena, Oregon, primarily as an import business and trading company. PABATCO was created as a subsidiary of another company called Farm Chemicals, which was owned by Ed Miley, Gerry Whitney and Claran Hesp. Farm Chemicals was a distributor for Shell Farm Chemicals (owned by Shell Oil), distributing Shell's various agricultural products.
Well before PABATCO was even established, the owners of Farm Chemicals considered branching out into imports and trading. In 1958, for example, there was concern the farm subsidy might be scrapped if the Republicans were elected. Clearly this would have had a major impact on their business of supplying products to the agricultural market. The owners of Farm Chemicals considered there might be an alternative, such as trading local wheat for products from the Orient. Their first foray into this idea happened in that same year, when Claran Hesp was sent to the Orient to investigate potential products for importation.
After several trips, Claran had identified a few candidates for their import business: boats, furniture and Yamaguchi motorcycles. Gerry Whitney was the driving force behind the idea of importing and distributing Yamaguchi.
The very first Yamaguchi brought over from Japan went to Gerry Whitney and his son Jim.
Yamaguchi was an established brand in Japan and they were keen to break into the American market. Farm Chemicals considered them a quality product and one that could sell in reasonable numbers. So Farm Chemicals pressed ahead and started to establish dealers in the USA and finalize negotiations with Yamaguchi. PABATCO was formed in 1961, and the first shipments of motorcycles arrived in the USA that year.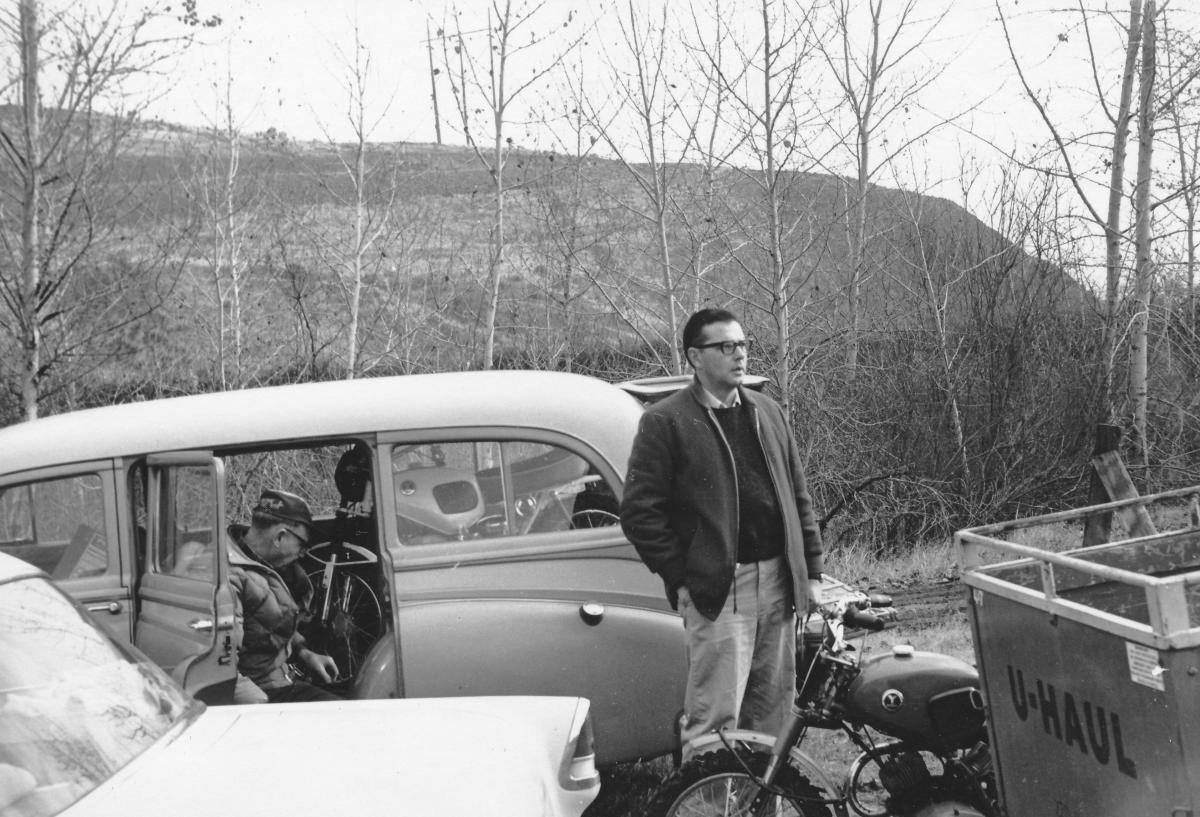 The two Yamaguchi models PABATCO thought showed the most promise were the SPB50 Scrambler and the step-through model. Therein lies the first connection of PABATCO and Hodaka, as Hodaka supplied the engines for the SPB50. Fuji also supplied engines for various Yamaguchi models. Initial sales were encouraging, thanks to both the extensive dealer network that had been established and the bikes' functionality. During 1961 and 1962, 5,000 to 6,000 Yamaguchis were sold in the USA, through 480 dealers. This very large dealer network was created solely due to the valiant efforts of PABATCO's very strong sales force. Limited numbers of a Yamaguchi 125cc street bike and a 250cc model were also imported. Rounding out the imports was a street model called the Ace 55, along with an identical bike with a larger engine with a three speed gearbox called the Ace 80. These were only imported in token numbers.
During 1962, Henry "Hank" Koepke was hired by PABATCO as the general manager of the PABATCO arm of Farm Chemicals. Koepke had assisted in the strong growth of the Yamaguchi brand in the USA. In April 1963, Yamaguchi made the surprise announcement that they were closing their doors. As the story goes, the CEO of Yamaguchi ran the finances of the company into the ground due to the large sums of money he was using to support his daughter's entry into Japan's parliament. As it turned out, the daughter was successful and was Japan's first female senator.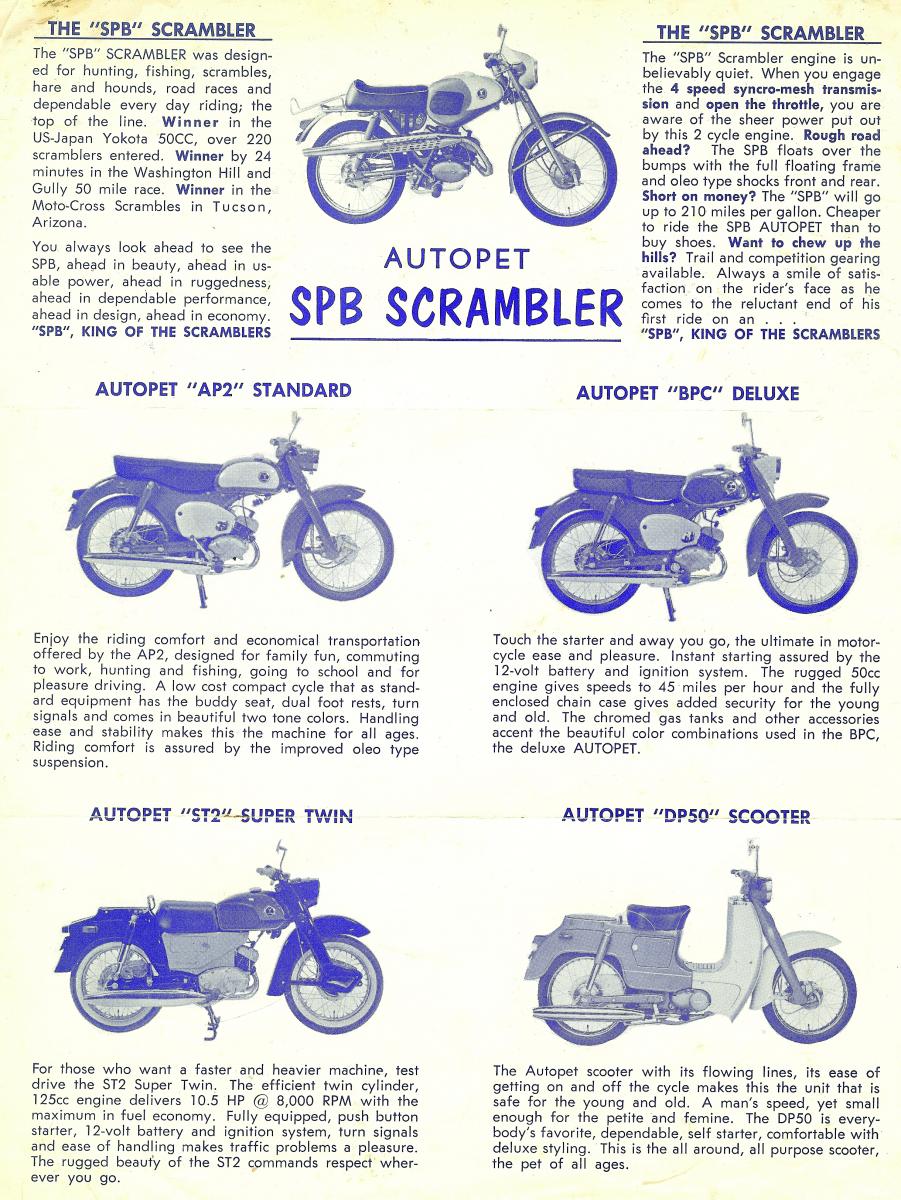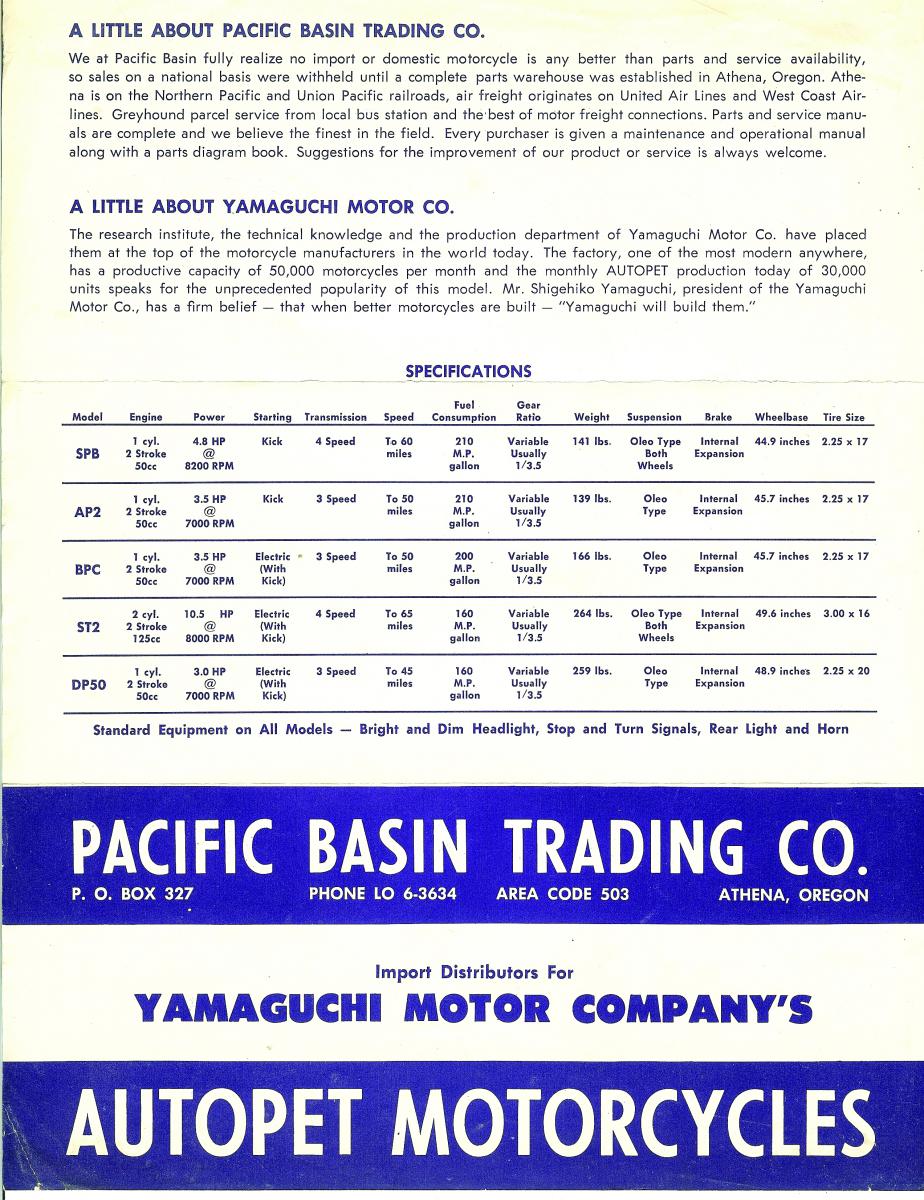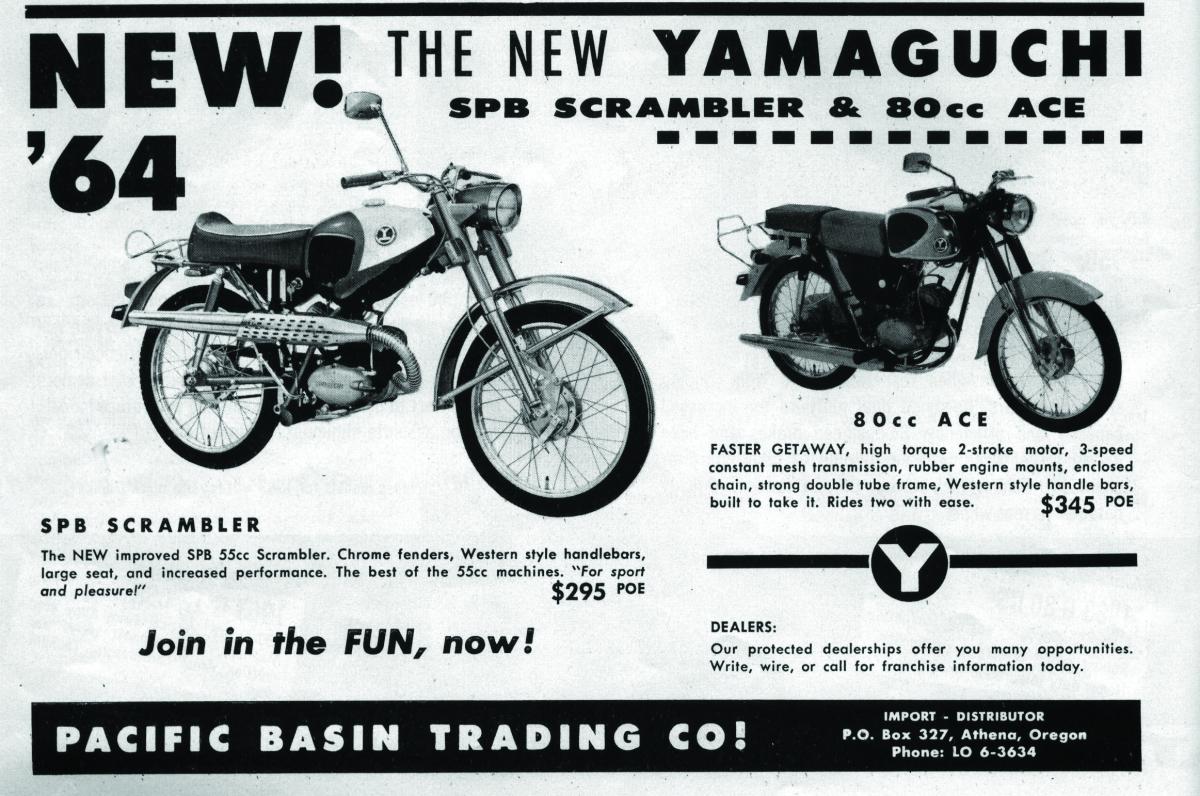 The demise of Yamaguchi left their suppliers—including Hodaka—in dire straits. The owners of PABATCO were also searching for answers. PABATCO wanted to stay in the motorcycle business both on a professional level, as the import of Yamaguchis had been quite profitable, and on a personal level, as they all enjoyed the motorcycling life. Motorcycling was a very big part of Koepke's life and the more they all considered their predicament the more the answer just seemed to crystallize: Let's design and build our own bike.
So the call went out to Hodaka: PABATCO would design and market the bike in the USA and beyond if Hodaka could build a complete motorcycle, not just an engine. Hodaka had only been in operation for a little more than 10 years. Founded in 1951 as Hodaka Industrial Co. Ltd, they started by building transmissions for the Japanese motorcycle trade. As the years progressed they also built a complete four-stroke 150cc engine. Their first contact with Yamaguchi was in 1955, when Yamaguchi commenced purchasing a two-speed transmission for use on a 60cc engine they were using, and by the end of 1955 Hodaka were supplying Yamaguchi with a complete 90cc engine-transmission unit, and, soon after, a 200cc unit as well. A 50cc engine-transmission unit was supplied from 1957 onward, and in 1962 Hodaka supplied them with the 80cc engine-transmission unit that would go on to form the basis for the Ace 90 engine and beyond.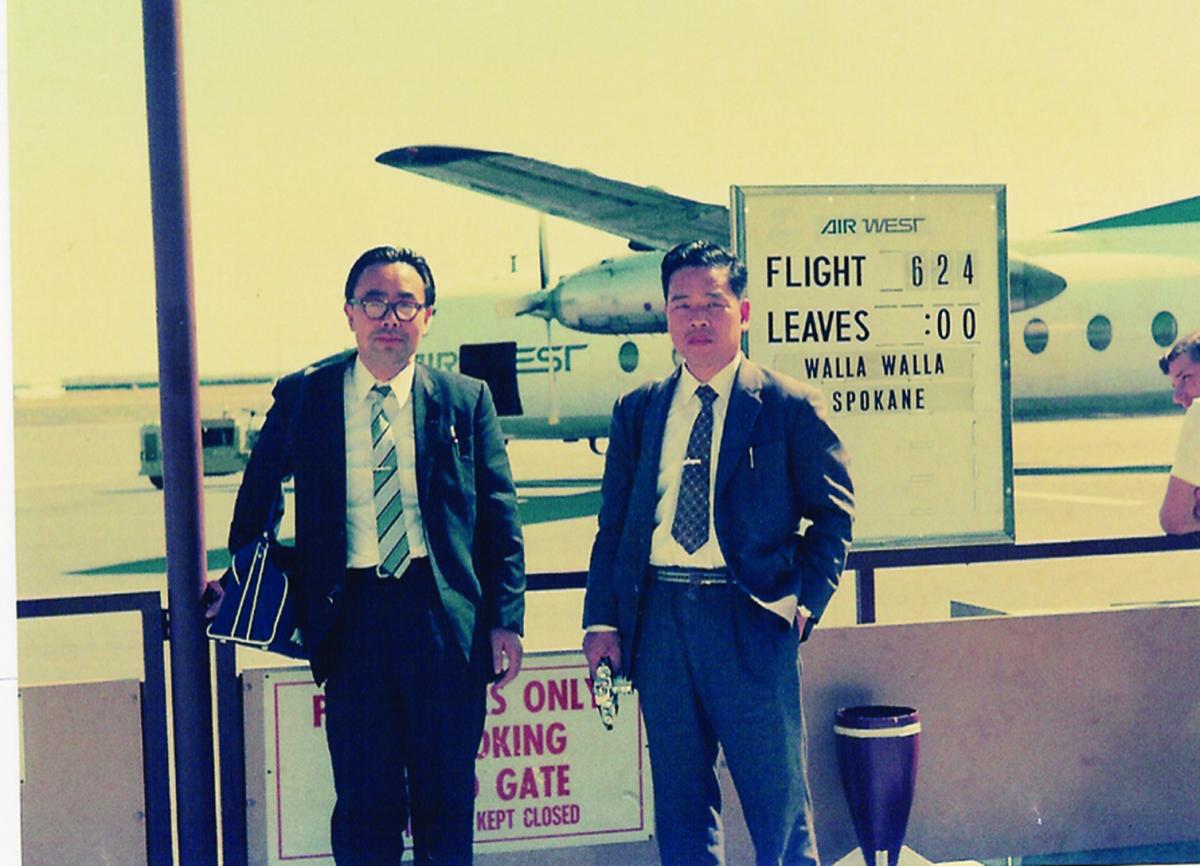 With the loss of Yamaguchi, Koepke didn't exactly sit around waiting for the Hodaka deal to get started. Koepke talked Ed Miley into distributing motorcycles built in Britain by the Cotton Motorcycle Company. PABATCO went on to distribute Villiers, Avon, and Metisse, and continued to distribute all three until 1967. PABATCO was quite possibly the only Cotton distributor in the USA at first and distributed the English brand until 1968.
This excerpt is from Hodaka Motorcycles by VMX magazine editor Ken Smith. You can find reviews, videos, and more at the book's page. Click to learn more!