In this Red 4WD Tractors excerpt, then-Steiger media relations director Scott Westland Anderson describes the brand's entry into the industrial tractor business: a venture that began out on the field as a series of unconventional modifications, and resulted in partnerships with Caterpillar, Magnum, Grouser, Allison, and many more to produce a streamlined series of industrial tractors. Read the full article and many other narratives of Steiger history and development in Red 4WD Tractors 1957–2017.
          Steiger tractors were invented and built by farmers, and their intended use centered on farming well into their development. The tractors were built to plow, prepare seedbed, and plant seed—and they did a raft of it using high-horsepower diesels tying all four wheels to the ground with a unique articulating and oscillating frame. 
Despite being extremely capable machines, some farmers customized their tractors and implements to get even more out of them. A farmer featured in one of the early Steiger promotional films equipped his four-wheel-drive Steiger for one-pass farming in a vertically integrated approach to agriculture by using multiple implements, one attached to another and another, all behind his Steiger. In one trip down the field, he could break up hardpan and clumps and incorporate residue and fertilizer, harrow and seed. Seems if he had a long enough hitch following the seeder, he could have started harvesting in the same pass, too.
Another farmer in the same film used a horizontal approach that turned out to be more popular by teaming up multiple drills side to side. To keep an eye on his trailing expanse during round-the-clock operations, he added more fender- and cab-mounted floods and spots both forward and back to light his Field of Dreams. The electrical power draw at this level required modification of the already large generating capacity that came stock with his unit.   
On-Farm Modification for Off-Farm Work
          Other farmers went still another way, pulling more unconventional equipment or even designing, building, and attaching nontraditional tools. With a front-mounted light dozer blade, the Steiger could clean out drainage ditches, move smaller rocks, uproot brush, and open snowbound roads as well as level the yard and move manure. Equipped with the optional three-point hitch, the unit could not only pull compatible farm implements, but it could lift and pull at the same time, preforming useful work like dragging logs, pipe, and heavy scrap.
While these enhancements were used on some farms, this was the type of work required on construction sites as well. Select contractors began to take notice of these new machines. Like farmers, contractors are driven to get the job done quickly and at lower cost. They began to selectively modify and use these Steiger green machines alongside their traditional yellow equipment.   
Taking On New Markets
          Back at the plant, the Steiger marketing and management folks saw the potential of new markets outside agriculture as a growth opportunity for the young firm. Eyes focused on tracklayers as the primary form of power used in the construction and industrial equipment markets and felt they could compete. After all, the 4WD had knocked tracklayers off the farm in some of the more demanding agricultural applications in the hill country, valley bottoms, and hardpan soils. Why not replace some of them on construction sites as well? Steiger President Jack Johnson spoke to the potential of industrial vehicles possibly contributing a significant portion of total sales in future years, saying in early 1976 that Steiger had "just barely probed the construction market and other industrial applications for our products."
In 1977, company management confirmed the strategic advantage of diversifying into markets that would help offset the cyclicality of the agriculture market and felt long-range prospects were good while not expecting immediate results. Realistic markets ranged at that time from the reclamation of strip-mined land to logging. Steigers were already being used with rotary snowplows in the mountains of Colorado. These markets required applications including scraping, laser land leveling, blade work, compacting, ripping, disking, and water hauling for dust control. Progress was being made in standardizing the units so they could be easily fitted with a variety of components for these applications. Aligning itself with small implement manufacturers, the company began application experimentation trials and engineering modifications. Work in these areas led the company to believe it had something to offer these new markets.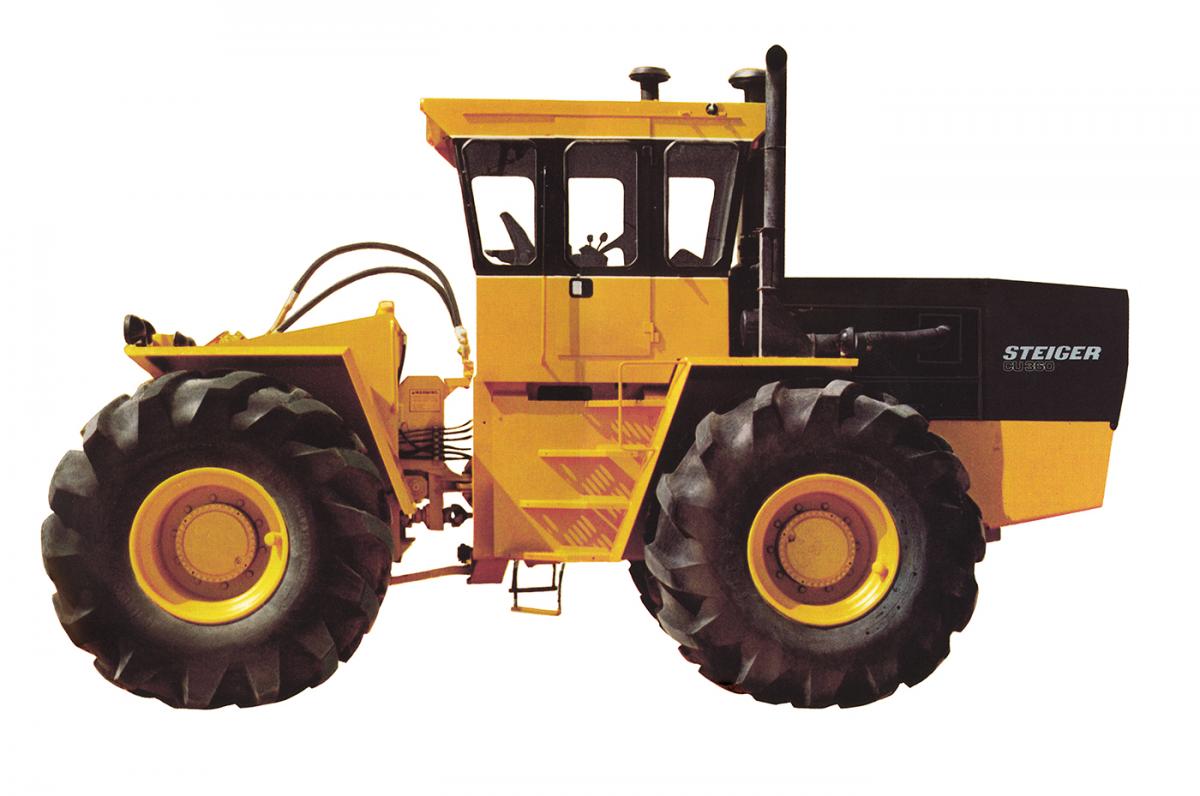 The Steiger Construction / Industrial line was a pretty attractive offering to the right niches in the marketplace.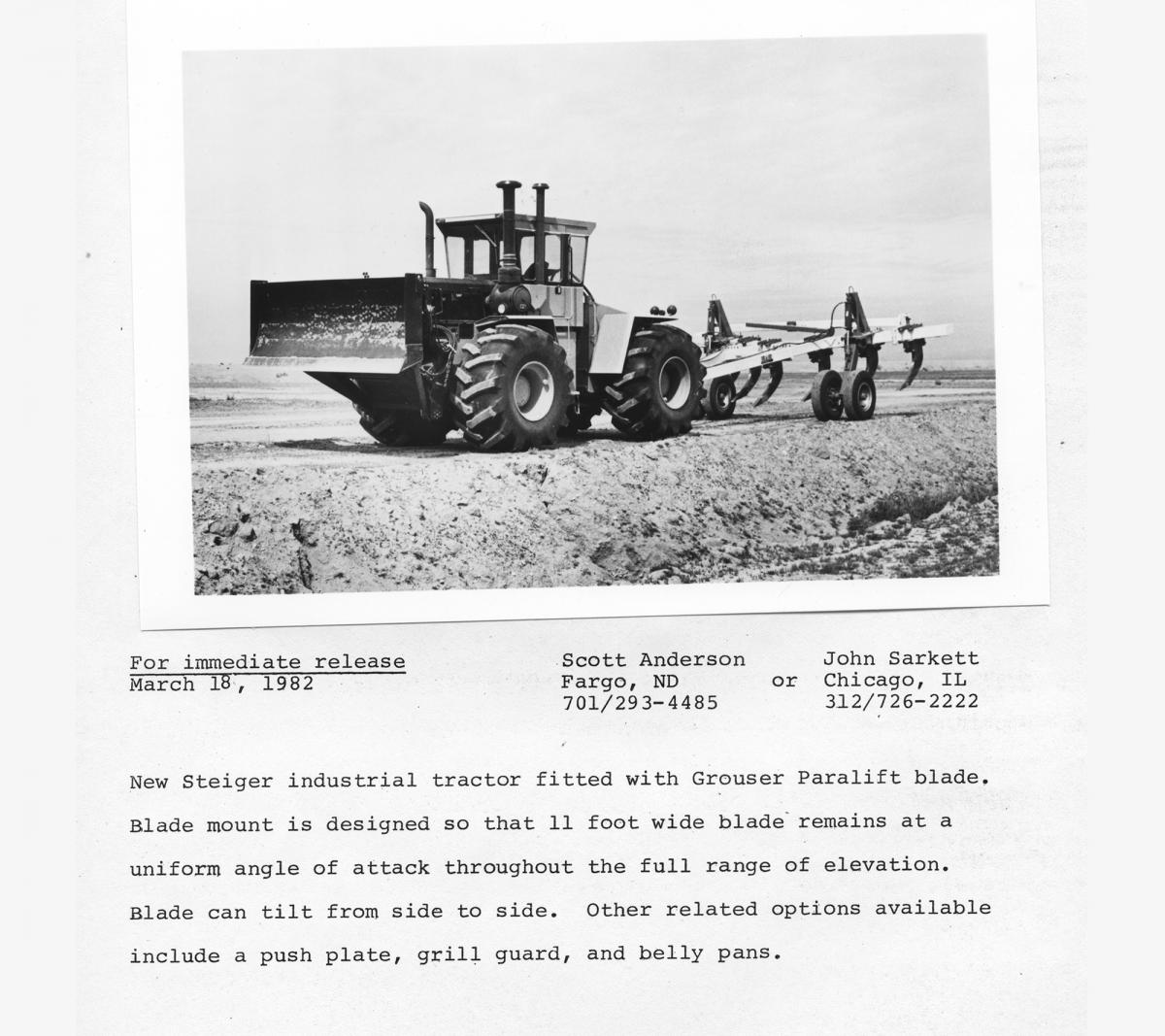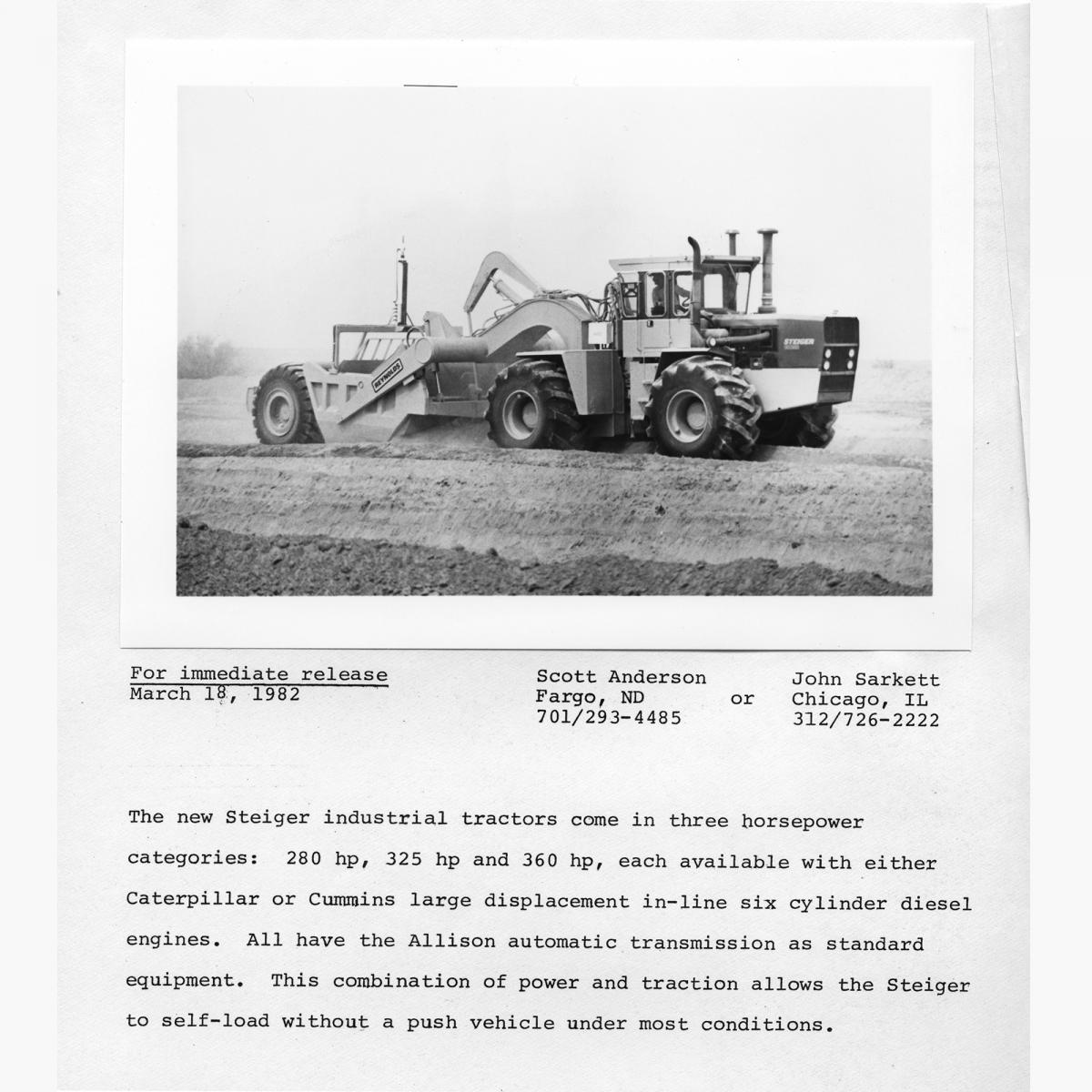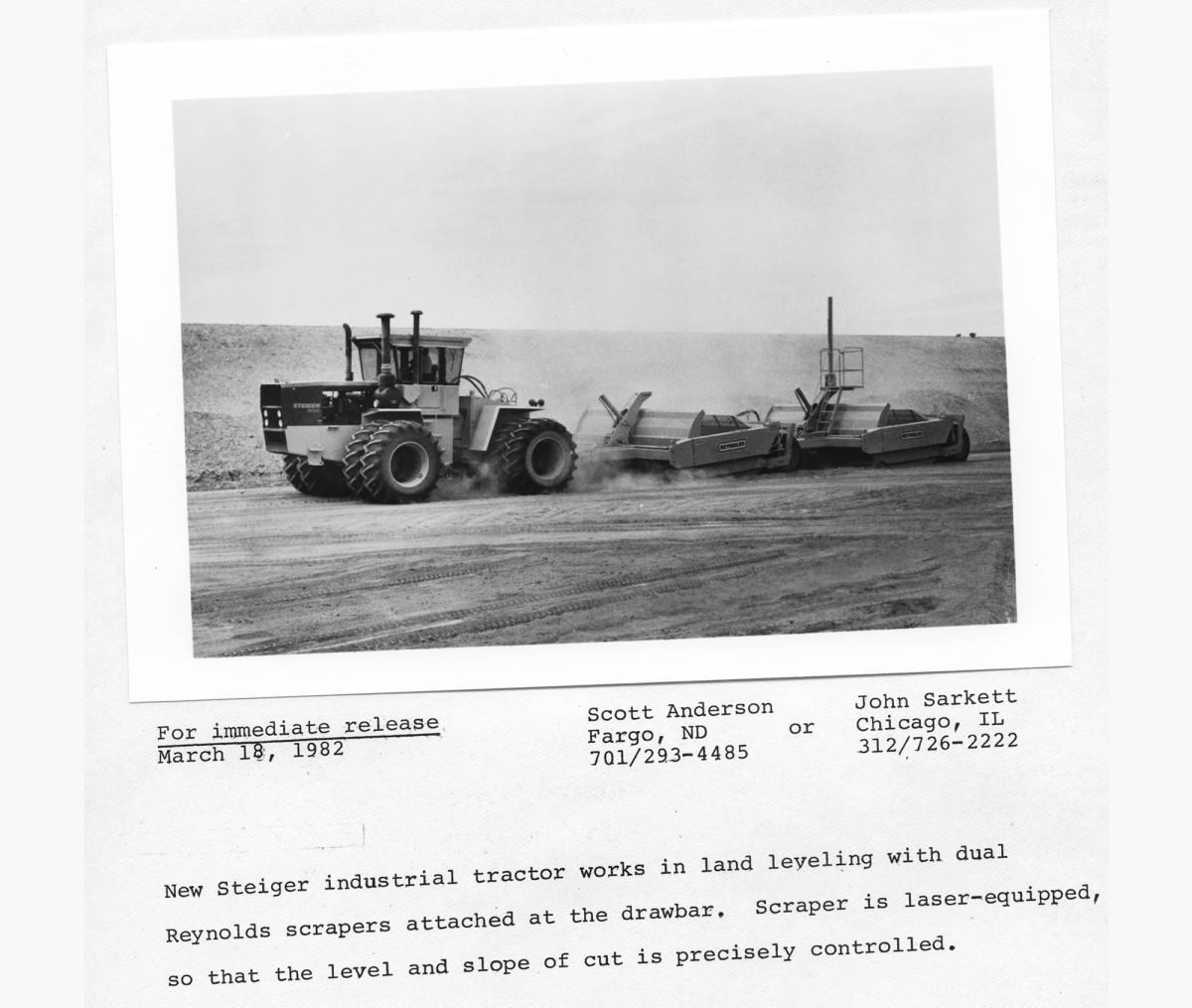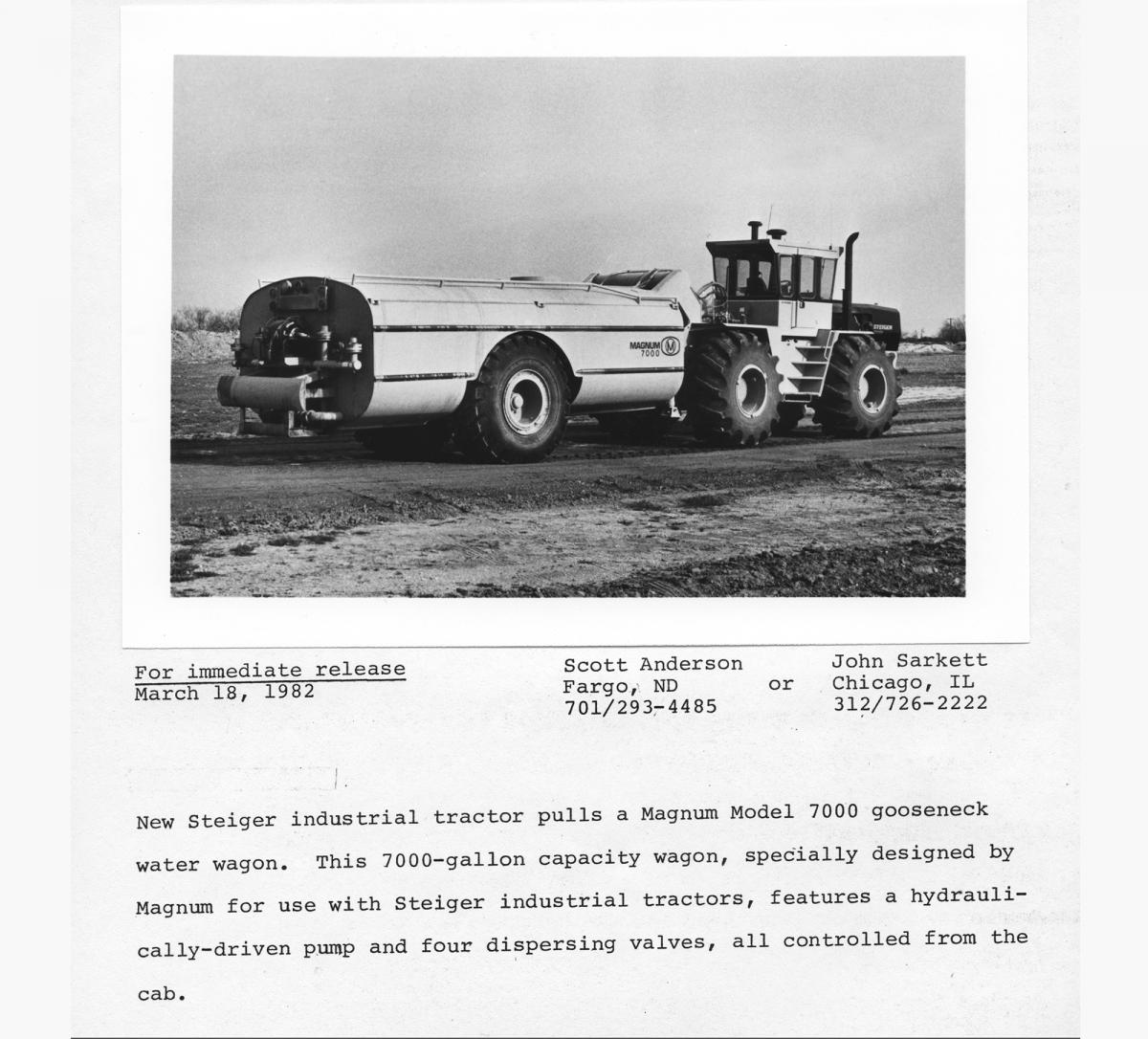 All photos courtesy of the Scott Anderson Collection.