A Warm Welcome in a Skeptical World
Wednesday, July 21, 2021 - 09:00

How does Lee Klancher create beautiful shots for books like the upcoming John Deere Evolution? This blog was originally published as a feature in the Ageless Iron section of Successful Farming magazine, where Lee Klancher is a regular contributor. 
 
Peering over his wire-rimmed glasses, the man behind the counter gave me a look that reminded me of my hometown librarian, who had always appeared suspicious of my motives for borrowing so many books.  
 
In this skeptical gentleman's case, all I wanted was a towel for the pool.
 
"You have to leave your driver's license or a credit card," the man said.
 
I handed over my ID and took a ratty white towel.
 
Trust, it seems, is in short supply in the world today.
 
My phone rang a few hours later, and Leon Sieberns, a general contractor from Rantoul, Illinois, was on the line. Leon had some ideas on my upcoming project, which was to hang an overhead light box in a 40x60-foot photography studio. 
 
For his services, Leon didn't require a reference, credit card, deposit, or driver's license from me. I called him and told him I needed help, and he pitched in with all he had.
 
We were building the studio because it would provide lovely lighting for machines. However, because building the studio would take several days, we wanted to make sure to set it up at a location with a large supply of quality machines to photograph.
 
Thanks to some encouragement and support from broadcaster Max Armstrong and show organizers Russell Buhr and John Frederickson, I was able to build my studio and photograph some of the amazing machinery that appeared at the 2019 Half Century of Progress Show.
 
I was excited for the event, in no small part due to the fact that I would be back working in Hangar 2—a place in which I love to make images (see below for a video about making the cover of my book, Red 4WD Tractors, in that hangar).
Powering the lights required custom work, as the four Speedotron 2403 power supplies require 20-amp circuits for each unit. A local electrician, Ken Waters, custom-built a portable 200-amp circuit breaker box.
 
Like Leon, Ken did the work with nothing more required than my name and cell phone number.
 
Suspending the box above the machines was another challenge. We had two possible approaches: one was using a high-extension forklift, and the other was hanging the box from the ceiling. The ceiling was roughly 60 feet above the ground!
 
I called Sunbelt Rentals in Champaign to reserve a forklift. The representative suggested a Genie telescoping boom forklift. I said I'd take it and asked what he'd need to reserve it.
 
"You just gave it to me," he said.
 
No credit card. No name or even a phone number. Just a call, and this company would deliver a $48,000 forklift. Talk about trust.
 
Quite a contrast to the Gatekeeper of the Pool Towels.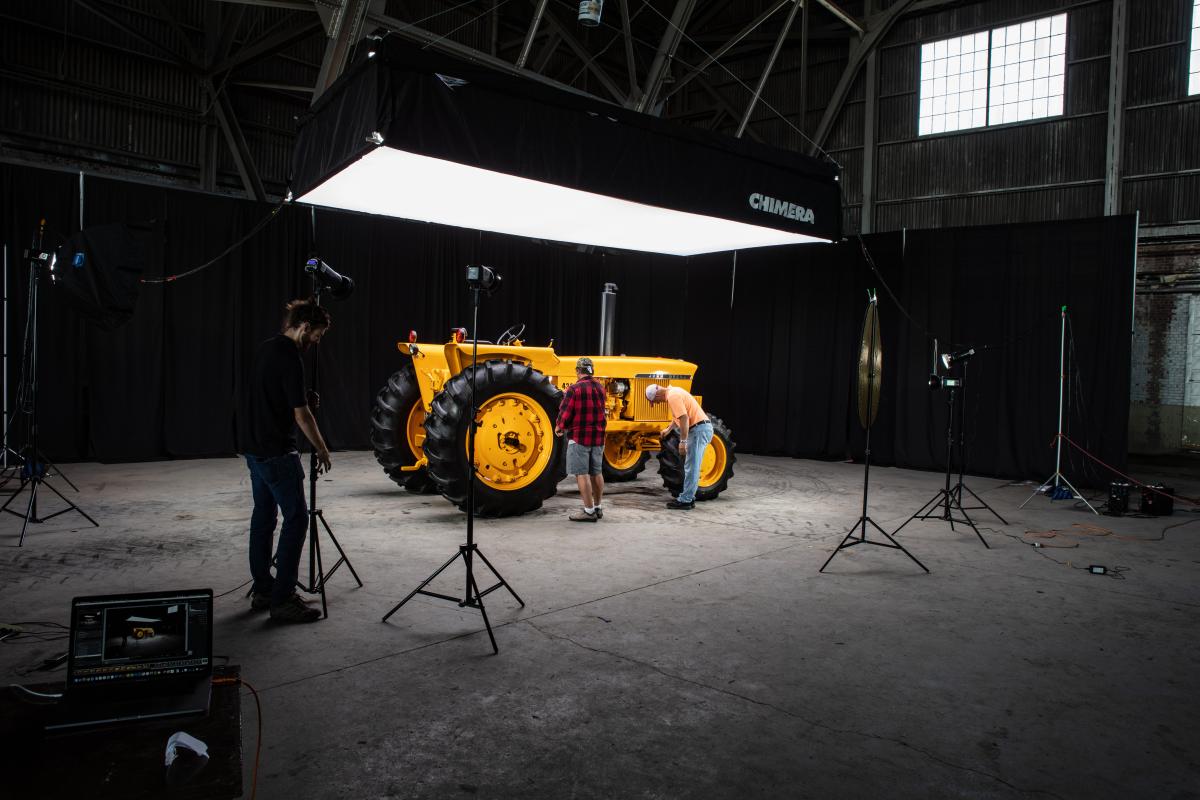 With help from good folks in Illinois, Lee Klancher built this 40x60-foot studio to photograph machines at the 2019 Half Century of Progress Show. The 1972 John Deere 4320 FWA is owned by Kenny Smith and is one of only three examples built.

While I appreciated Sunbelt's confidence, thankfully, Leon's creativity saved me from having to learn how to operate the telescoping boom forklift. He figured out how to suspend the box from the high ceiling. In fact, he personally went up nearly 70 feet to connect the pulley!
 
When I arrived, the power was ready to connect, and Leon's pulley was setup neatly in place and ready to roll.
 
After about six hours of setup, we had our studio ready to roll. Show organizer John Frederickson offered his lovely low-hour Magnum 3088 as a test candidate. The first image was a knockout, with the Magnum's red sheet metal glowing beautifully in the heavily filtered overhead light.

We kept the booth running roughly 12 hours a day. The quality of the machines at that show was unreal, and the big photo booth showed off all the hard work of the restoration crews, owners, and teams of folks who shined and polished the tractors.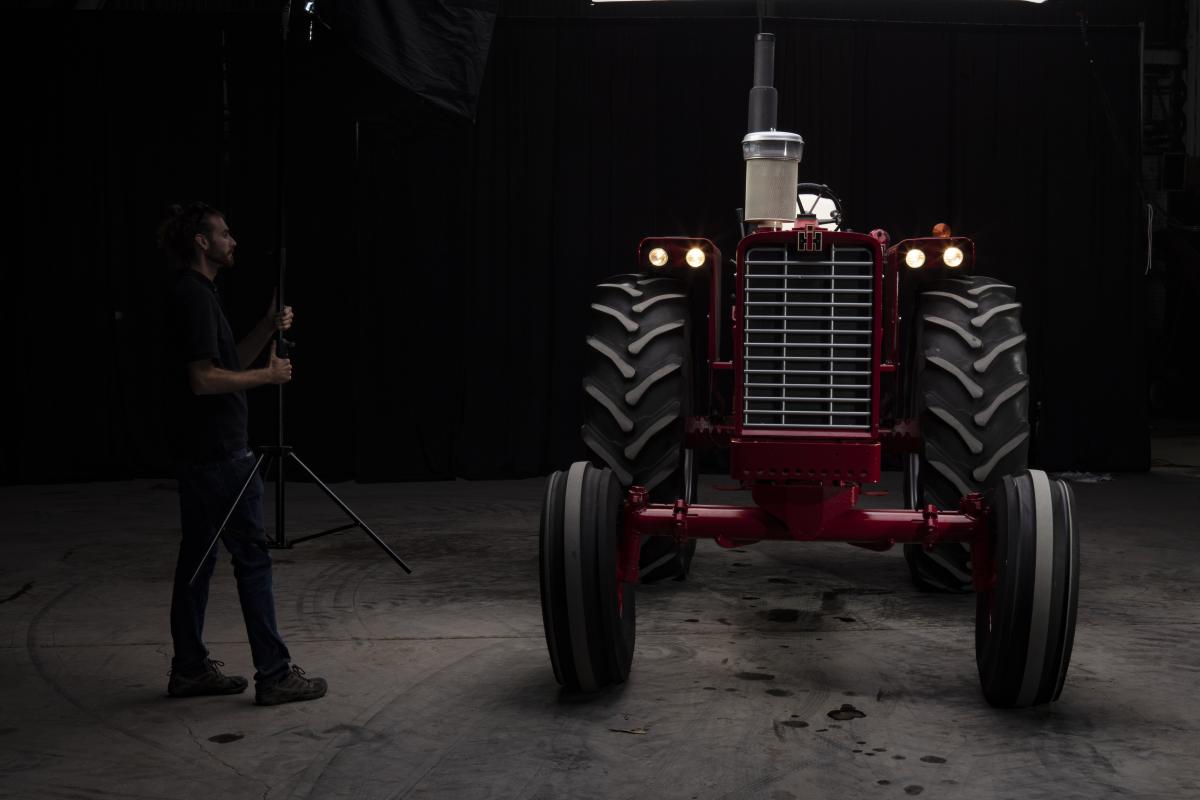 Setting up the photo booth in the 209 Half Century of Progress Show.

The days took a toll, and as we packed up to go to the hotel one evening, I accidentally left my camera on the tripod.
 
Anyone could have walked past and helped themselves to my expensive piece of kit.
 
I remembered the camera at dinner, and made some frantic calls looking for someone who could tuck the camera in a safe place for the night . . . to no avail.
 
The next morning, I drove nervously to the site of our booth. Sitting on the tripod, a bit dusty but untouched, sat my expensive camera.
 
In the world we live in today, where we are assaulted by diatribes and vitriol, it's good to be reminded that there are places where expensive cameras are safe, high-dollar equipment can be rented with nothing more than your word, and good-hearted folks will put their backs into helping you succeed.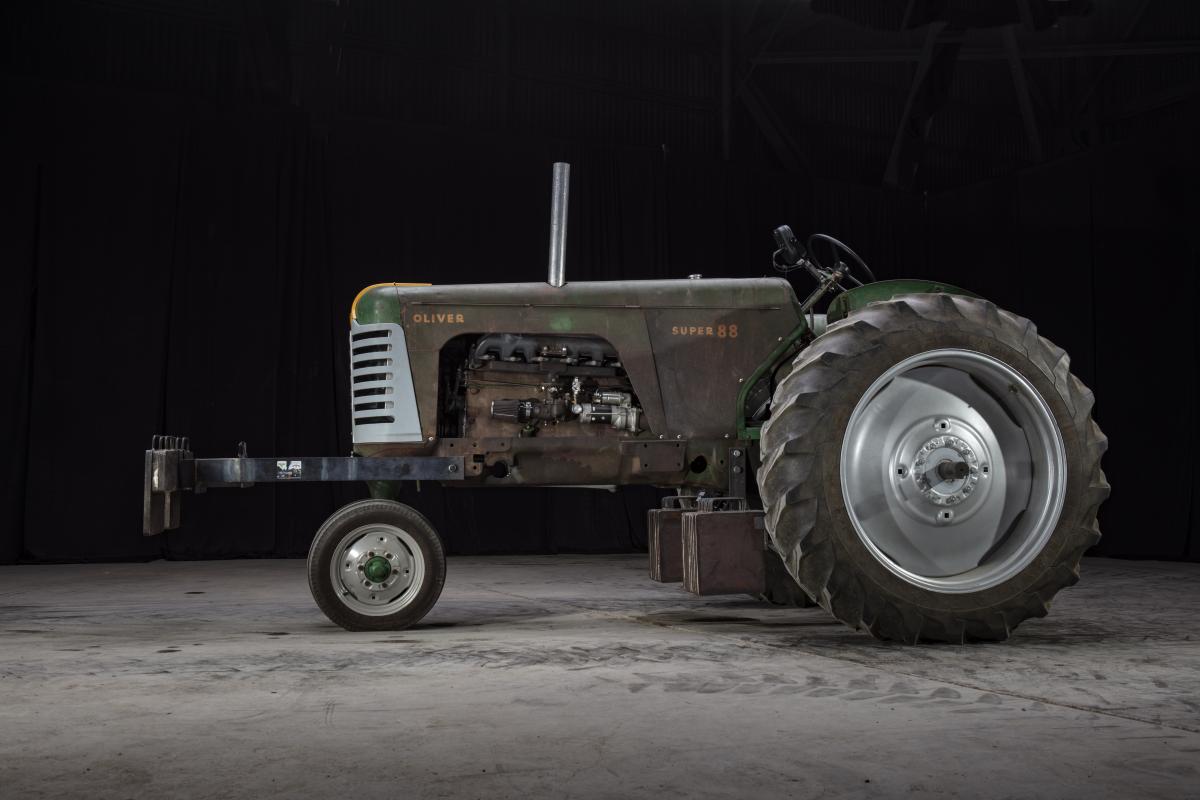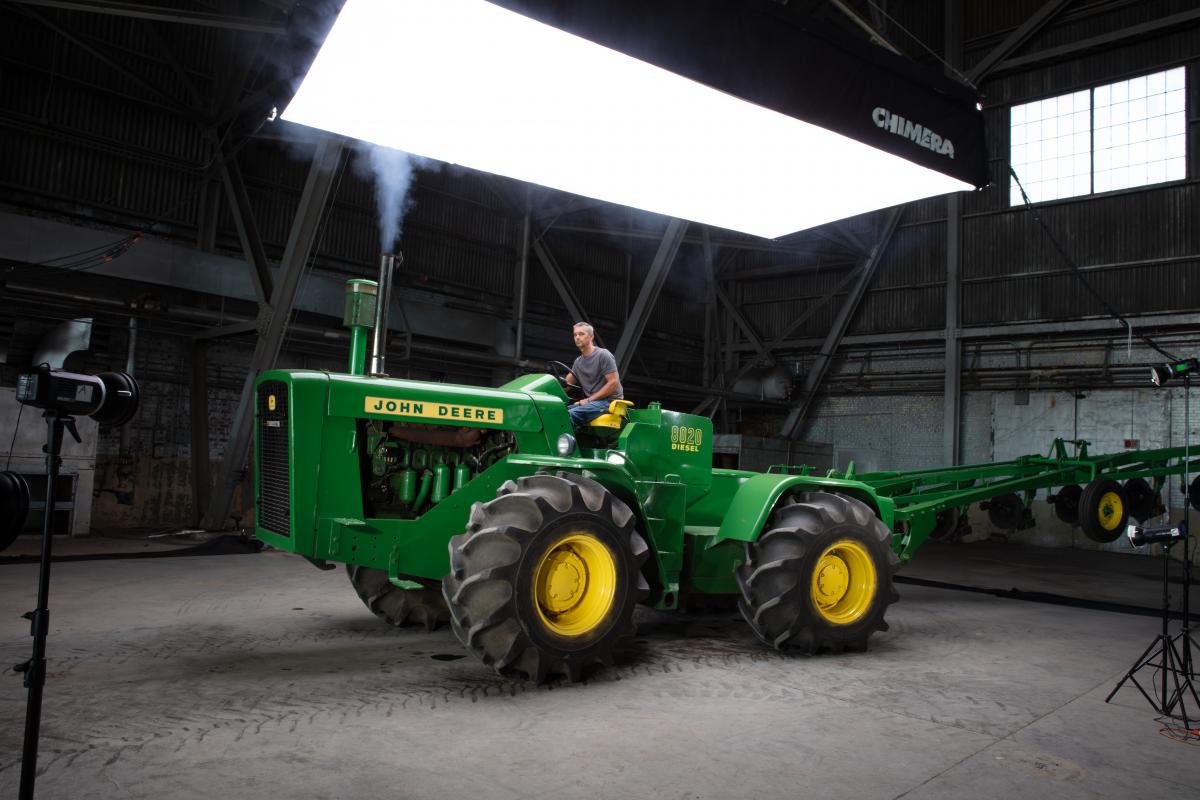 Photo Left: This vintage pulling tractor was a show favorite.
Photo Right: This shot captures the rare John Deere 8020 as it fired up to leave the booth.

If you are interested in seeing more photos from the shoot check out the "related books" linked below.