Red on Film
Ag Machines on the Silver Screen
Wednesday, December 10, 2014 - 10:30

Interstellar 
brings Case IH combines and tractors to the big screen in a movie that provokes questions about life on Earth. Set in the future, a crop shortage and second Dust Bowl combine to make life increasingly difficult for humans. Matthew McConaughey plays Cooper, an aeronautical pilot turned famer as the need for basic crop production increased. The film opens with real life interviews of Dust Bowl survivors from Ken Burns' 2012 documentary 
The Dust Bowl 
leaving an eerie feeling about the cycle of history and future.  
Before the film departs to astronomical distances, Cooper is shown on his farm working on his robotically-controlled combines. Completely functional without humans, the Case IH combines depicted in 
Interstellar
 are battered old machines which use advanced GPS systems to robotically harvest crops to save the world from famine.  
When 
Interstellar 
was nothing but a script and a Hollywood budget, Justin Lyons, sales manager of the local Case IH dealer, Rocky Mountain Equipment in Alberta, Canada received an unexpected phone call from the marketing director of his company, Laird Munro.  
"Justin, I know you like to participate in unusual projects. How would you like to lend some of your machinery out to make a movie?" Justin recalls.  
After weeks of discussions and dealings, some "Hollywood types" visited Justin to begin the selection process. Dressed in brand-new steel-toed boots, the art consultants for the film were shocked by the sheer size, cost and technological capabilities of the Case IH combines. Discussion ensued over their vision for the harvesting equipment resulting in the 8120 being selected to undergo a futuristic transformation.  
"They're combines, not spaceships," Justin thought upon seeing some of the early renderings for his 8120s.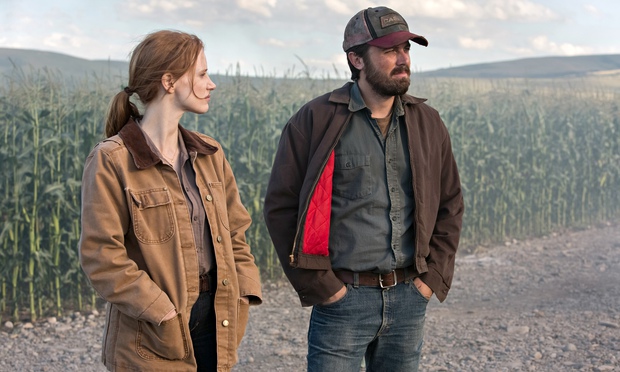 This screen grab from 
Interstellar
 pictures supporting actor, Casey Affleck wearing a Case IH hat.  
The first of three combines were sent to the shop where woodworkers created entire new front ends to be fitted on all three machines. Mechanics from Rocky Mountain Equipment assisted the Warner Brother set designers in the technical modifications on site. Justin was able to review and approve all modifications to his three very expensive machines based on practicality, time and cost.  With all of this happening during the summer, Rocky Mountain had to focus on their busy farmers while still balancing this special project.  
The dirt, dents and dings seen on the combines in the movies were entirely special-effect generated. One of the art directors was excited to show Justin and his guys the specially created "mud" to adorn the machines. "If you wanted them to look dirty, I could have saved you a lot of money," Justin remembers telling him.  
The machines were to appear completely automated. The same machines farmers spend hours upon days operating during the fall harvest were to be transformed into robots that required little to no human interaction. The mirrors, doors, handles and windows were all removed from the combines. A thick black film covered the cab windows so movie-goers couldn't see inside the cab.   
Those familiar with farm equipment or maybe some who aren't may have noticed the red shields covering three sides of the cab exposed. Even a robotic mechanism needs protection from the dust, an impending threat to the way of life portrayed in
Interstellar.
 After deliberating between removing the cabs all together and creating a completely futuristic cab from the ground up, Warner Brothers fashioned a shield adorned with Case IH trademark red paint.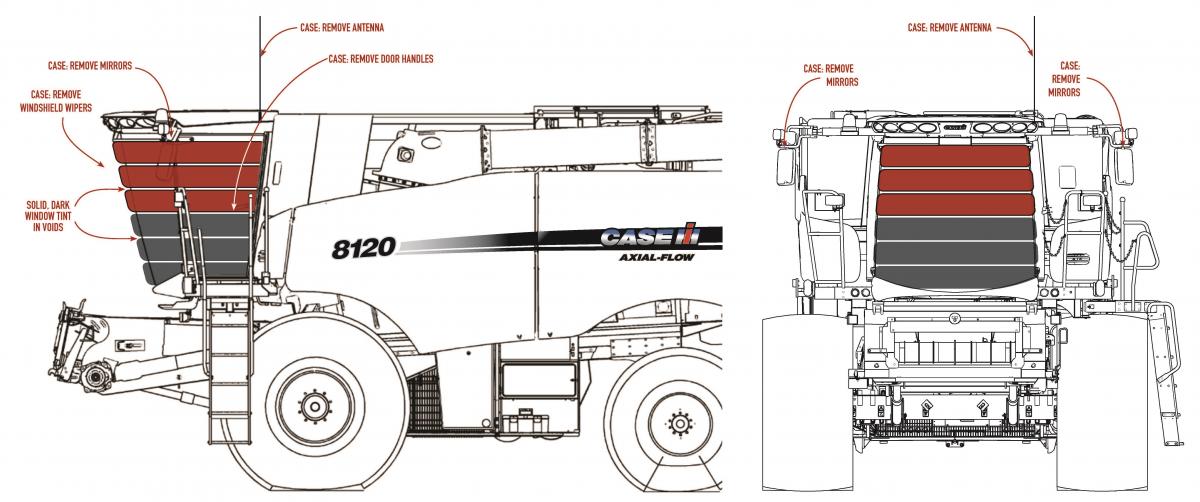 Drawing to show Case IH combine modifications.   
The film was shot in Alberta, Canada during the summer of 2013. A few hundred acres of corn were planted by Nolan's crew. "In the end we got a pretty good crop, and we actually made money on this...because we didn't destroy it," Christopher Nolan remarks in an interview with 
The Hollywood Reporter
. Giant dust clouds were created on location using large fans to blow synthetic material that resembled dust. "There is some CG involved as well, but I wanted the shot to be real," Nolan went on to say about the dust. Filming lasted through the first week of September and involved hundreds of extras, most of them local. "My wife and kids were extras in the early baseball scene," Justin said. They walked away with a little extra in their piggy bank that summer and a better understanding of movie magic.   
When the locally shot film wrapped the machines were returned to Rocky Mountain Equipment and were brought back to reality. With a sizeable service bill, the guys at the dealership brought undid everything done to make the machines out of this world. With many windy days and dust bowl recreations, the cabs required intense detailing due to the removal of the doors. Once cleaned up, the 8120s retired from their movie career and went to work on the farm. Two of the three combines used on set have already been sold to area farmers.  
Interstellar
 received Oscar nods for Best Visual Effects, Best Production Design, Best Sound Editing, Best Sound Mixing, and Best Score.
Interstellar
 isn't the first Hollywood production to feature a Case IH combine, and hopefully it won't be the last. 
Betrayed
, the 1988 thriller stars Debra Winger, an FBI agent who poses as a custom harvester to infiltrate a group of white supremacists.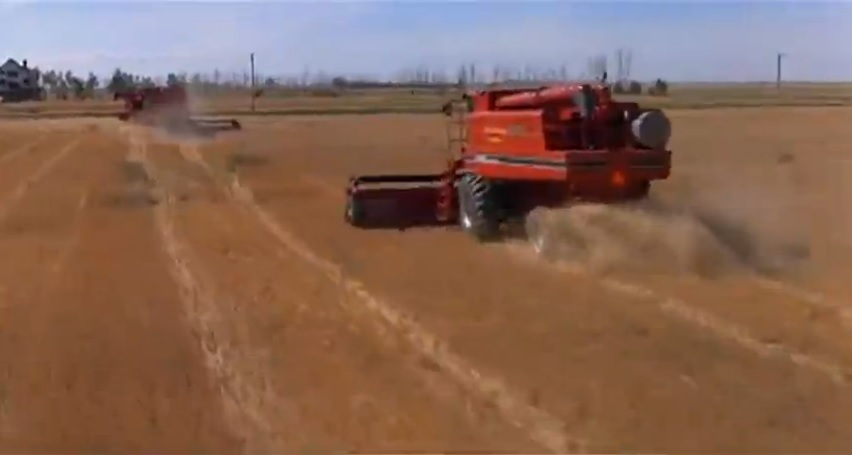 Screen grabs of the opening farm scene in 
Betrayed
(1988).  
The popular 1996 film 
Twister 
shows five Case IH combines and a few Magnum tractors awaiting certain death from the terrifying tornado about to tear through the local tractor dealership.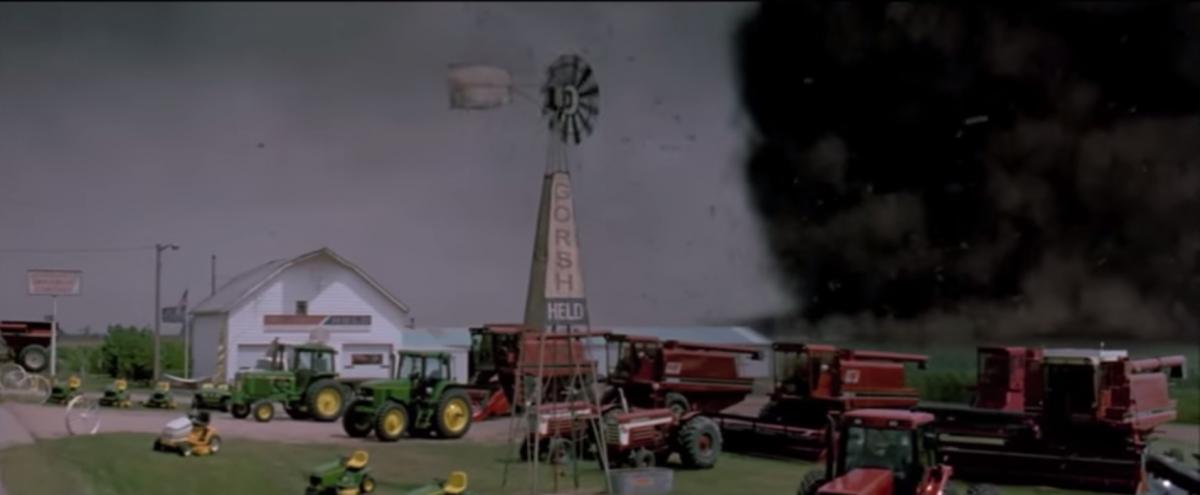 Screen grab of scene in 
Twister
(1996).   
Frank from the popular Pixar movie 
Cars
 is what appears to be a 7010 combine but it isn't confirmed whether this character was modeled after a Case IH combine.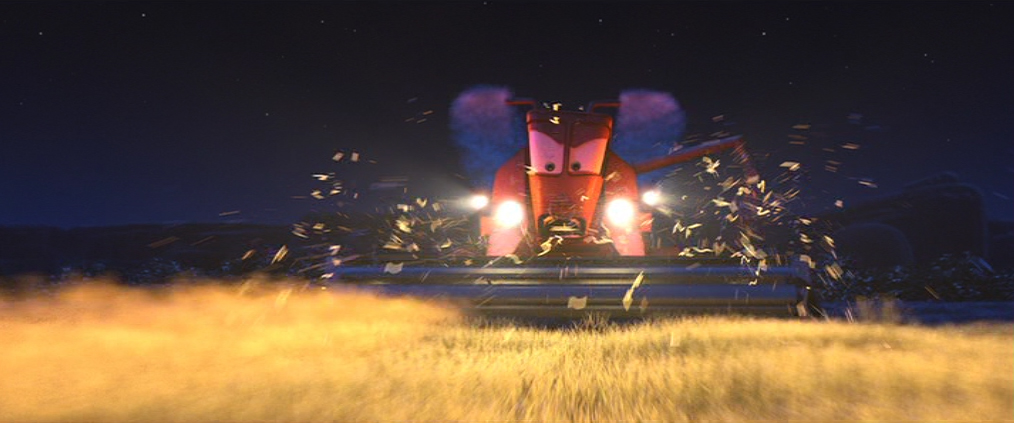 Screen grab courtesy of the movie 
Cars
(2006).  
To learn more about International Harvester and Case IH combines and harvesting equipment, 
Red Combines 1915-2015
is the authoritative guide to all harvesting equipment made between 1915 and 2015. With an image of every model made and never before heard interview with the engineers and mechanics that made the Axial Flow combine happen, this book is sure to find the same success as 
Red Tractors 1958-2013.
Have you seen any other movies with combines in them? Comment below and tell us about it.