Magnum 7100 Series
About the First Magnum Tractors
Wednesday, February 15, 2017 - 13:15
In August 1987 in Denver, Colorado, Case IH dealers gathered to see their new line of row-crop tractors. What they saw there was something that escaped them in the previous Case IH dealer meetings—a brand-new tractor created by the blended company. The result was a terrific machine. That first generation Magnum line set new standards for high-horsepower tractors worldwide.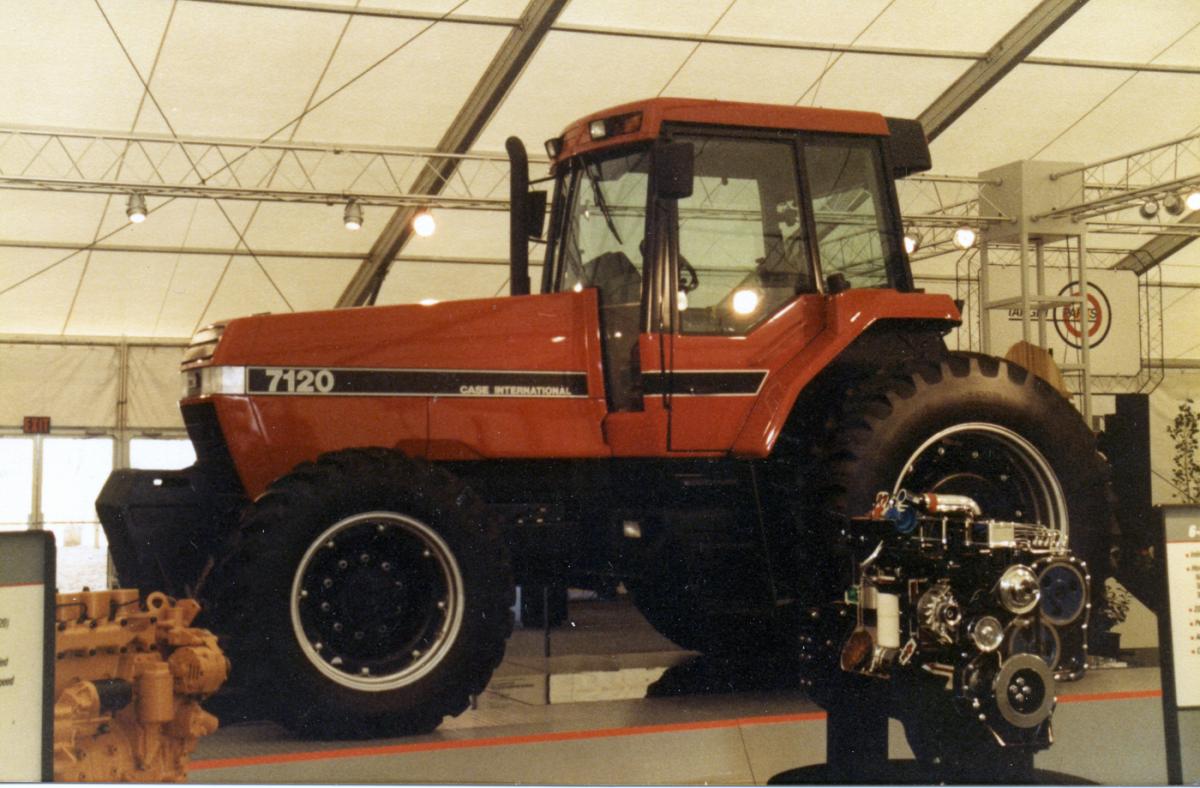 The new Case IH Magnum is introduced to dealers at Denver in 1985. Gregg Montgomery collection

The 7100 series Magnum tractor family began with four models: the 7110 (130 PTO horsepower), 7120 (150 PTO horsepower), 7130 (170 PTO horsepower), and 7140 (195 PTO horsepower). All of the Magnums shared the same cab, hood, wheelbase, and front axle and wheels. The differential, final drives, PTO, and engines varied across models to accommodate their horsepower. The bestsellers in the series were the 7120 and 7130, which covered the most popular horsepower ranges.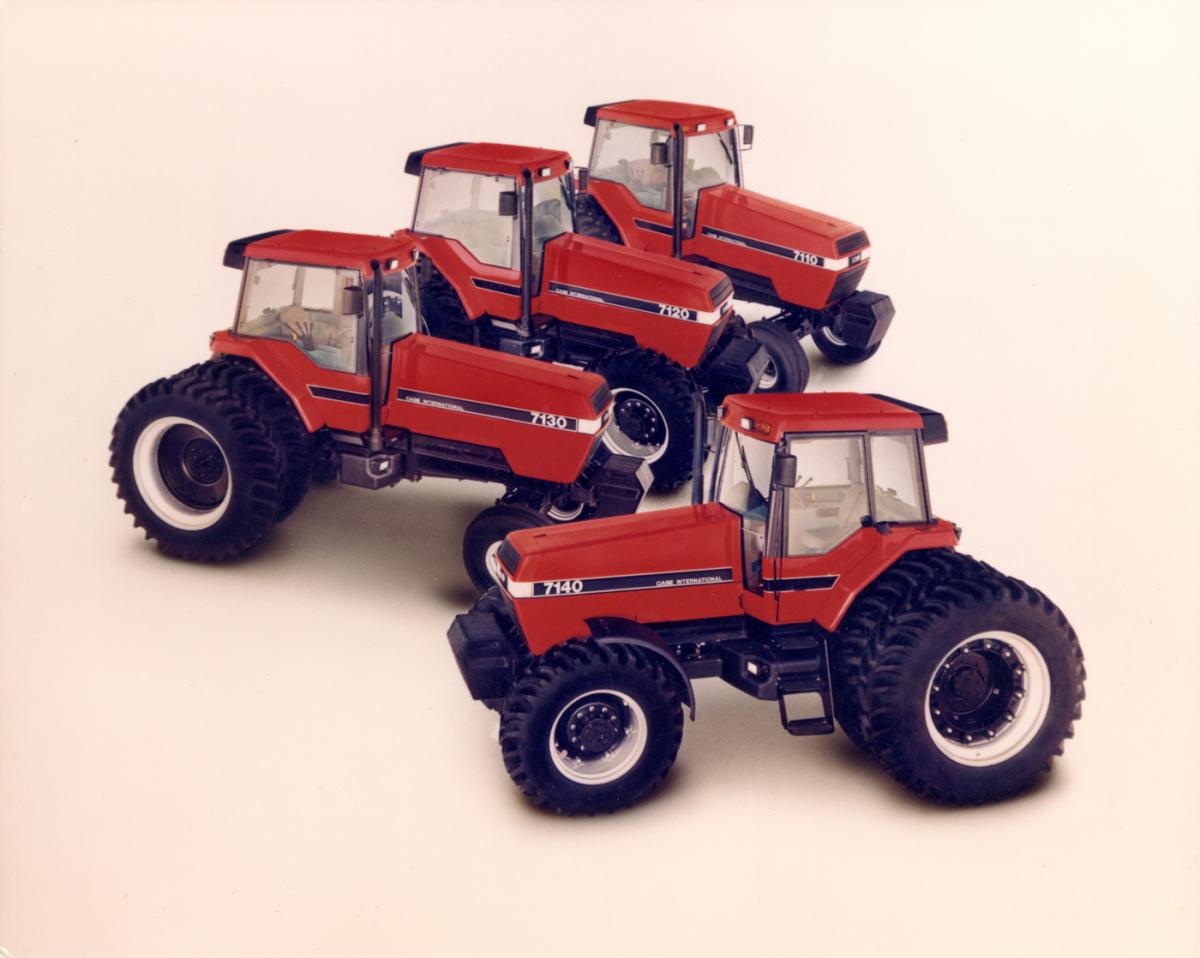 The first generation of Magnum tractors included the 7110, 7120, 7130, and 7140. CNH Global

All 7100 series tractors could be ordered with a two-wheel-drive front axle or a front-wheel-assist axle. The former had a heavy box-shaped cast center section with robust wheel hubs. The two-wheel-drive front axle design was borrowed from the rear axle of the Cotton Express cotton picker and was a heavier version of the high-capacity front axle IH used on its late-model 5X88 series tractors. Conversion of a two-wheel-drive to front-wheel-assist was a major operation, as the front-wheel-assist drive components inside the transmission needed to be added to the tractor along with a long list of other parts. A front-wheel-assist conversion kit was never offered and Elwood, the only aftermarket front-wheel-assist manufacturer in North America, did not build axle assemblies for the Magnum tractors.




This bumper sticker was created as part of the Magnum marketing campaign. CNH Global

Once the 7100 Magnum tractors started to hit the fields, sales took off. As with all new tractors, sales were much stronger in the southern states, where a longer growing season allows double crops and there are more tractor-intensive crops like cotton and rice. Southern farmers put high hours on their tractors in a short time. Many run only machines that are under warranty and trade in tractors every other year.

It is reported that a competitor bought a 7100 series Magnum for their engineering group, which disassembled, studied, and reassembled the tractor before trying to sell it. The tractor had very few hours on the meter and was reportedly moved between dealers in Illinois to show that the Magnums couldn't really be that great if one with such low hours had already been "traded in." Nearly every red dealer in the state knew what was going on and just laughed it off. Such tactics occur yet today.

The heart of every new 7100 Magnum tractor was the Cummins-built diesel engine. This new engine was compact, strong, quiet, and fuel-efficient. With 505-cubic-inch displacement, they offered plenty of reserve power and good torque rise to power through the toughest spots in any field. The engine was a product of Case and Cummins Consolidated Diesel Company. All of the Magnum tractors were turbocharged, and the 7140 was intercooled for added power boost. The turbochargers and intercoolers were matched to the engines for more power without added stress.

By using a modern engine design, Case IH greatly reduced the number of engine parts. The new engines had 25 percent fewer parts for greater simplicity and service economy. The oil-change and fuel-filter service intervals were extended for lower operating costs.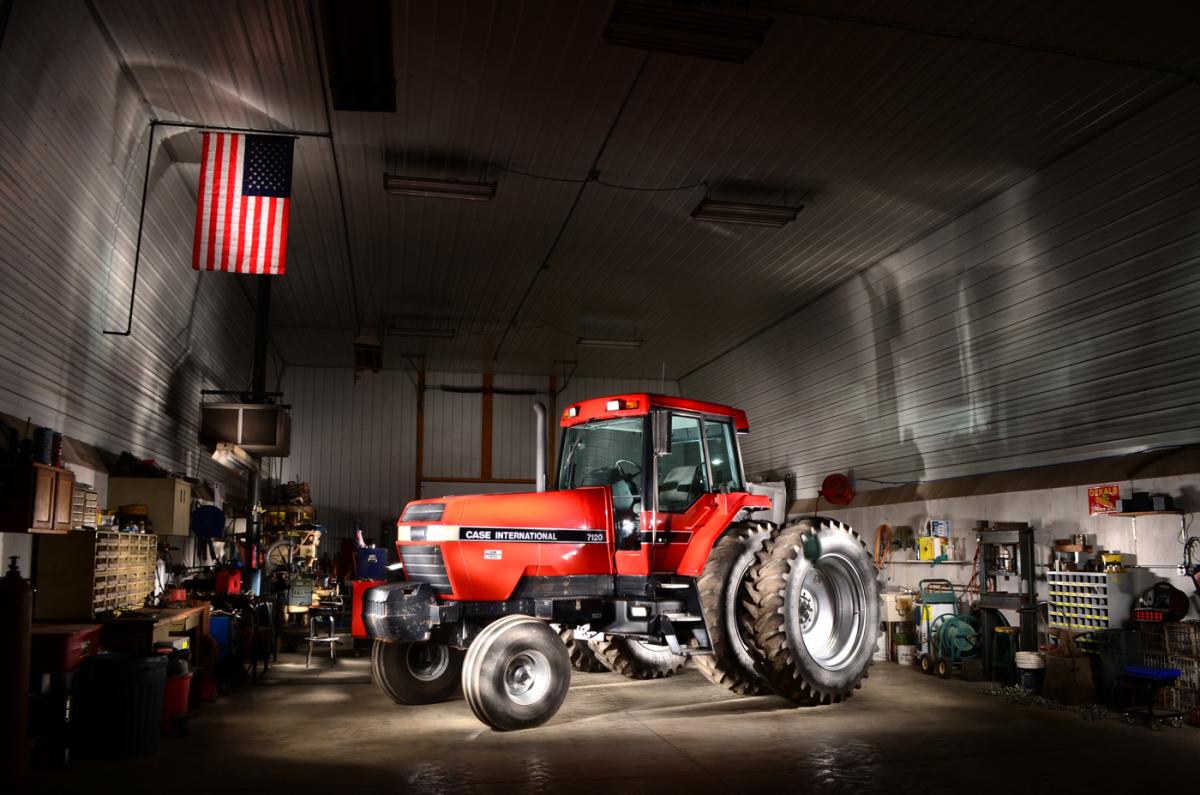 The 7120 Magnum was produced from 1987 to 1993 and had 150 PTO horsepower. One of the engineering team's innovations was the optional 95-gallon fuel tank that allowed extended work periods. Mark Jenson

If the engine is the heart of the tractor, then the 7100 Magnum's 18-speed full power-shift transmission was its soul. This transmission gave 18 speeds in a smooth and easy straight-line shifting pattern. The operator could start in any gear, shift up, shift down, and even shift to reverse without clutching. A full-power shift-creeper transmission option gave six more speeds in the 0.5- to 2.1-mph range. The creeper transmission was especially suited to slow-speed operations like pull-type PTO-driven combines, forage harvesting, and vegetable harvesting, while the creeper reverse gear (0.7 mph) was ideal for snow-thrower operation. A single lever controlled the gear selection and direction. A handy park lock was also provided.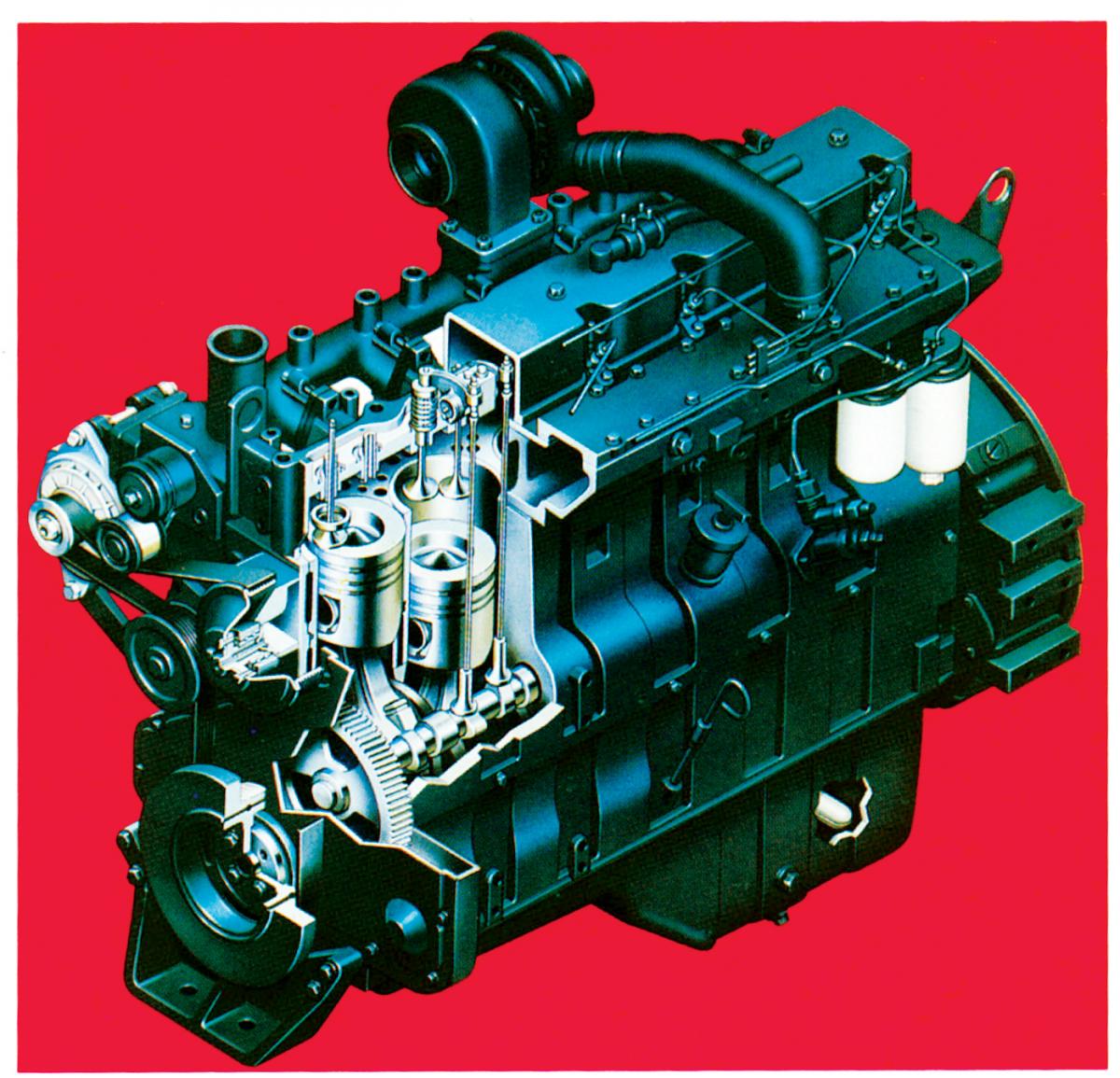 The Magnum used a CDC six-cylinder turbocharged and intercooled diesel engine which produced 197.5 PTO horsepower when tested at the University of Nebraska in July 1988. Wisconsin Historical Society

The power-shift transmission proved very trouble-free. For an owner, this was great, but for dealers it was not always so favorable. The days of replacing the worn-out Torque Amplifier or C-2 power-shift clutch were over with the Magnum, which had neither component. The only time a lot of dealers saw the inside of the transmission was when their service tech was trained on the tractor. For most owners, this newfound reliability had not been seen in any brand of tractor for many, many years.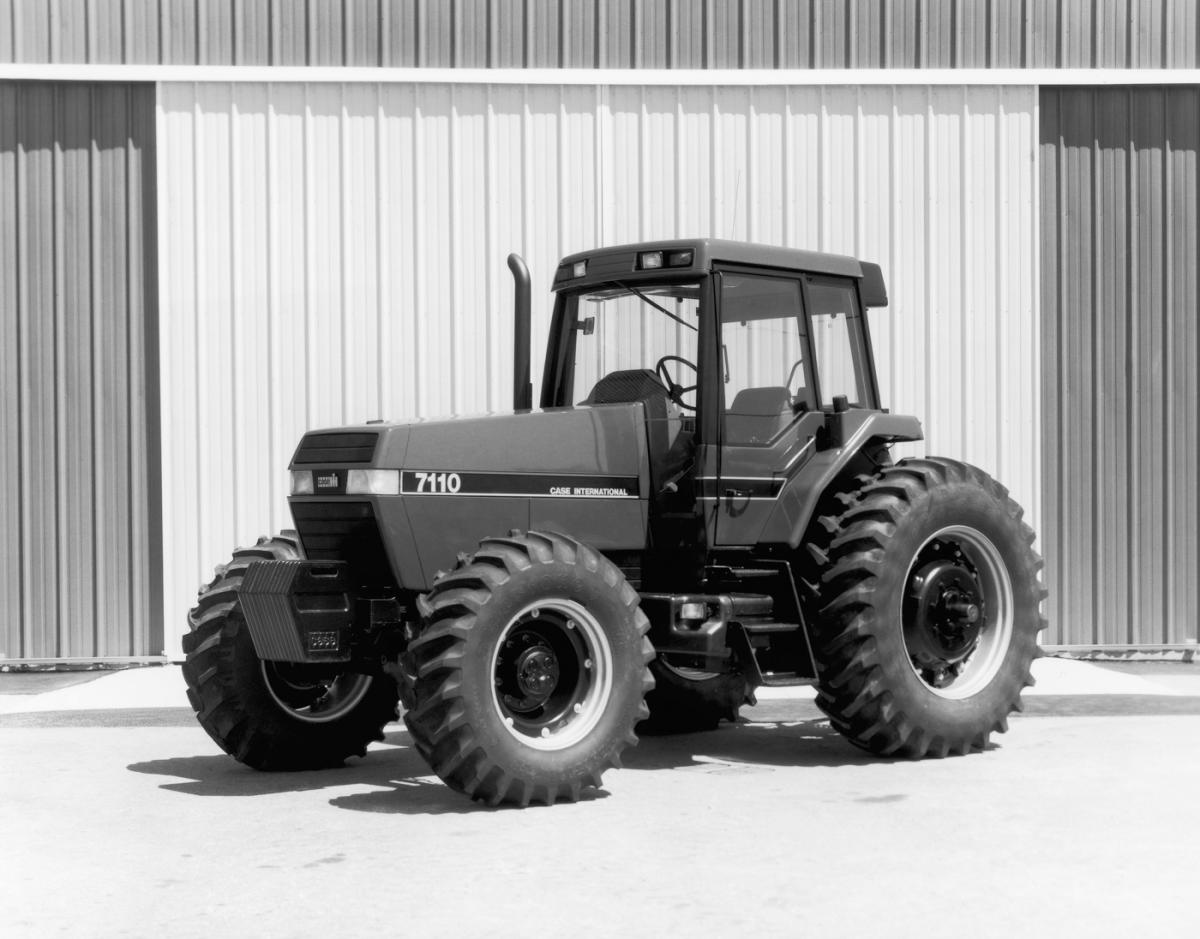 The 7110 Magnum offered 130 PTO horsepower from the six-cylinder turbocharged CDC 8.3-liter engine used in each of the models. CNH Global

The Magnum tractors relied on one often-overlooked component for much if their success: hydraulic oil. The hydraulic oil in the Magnum not only made the steering, brakes, hitch, PTO, and remote valves work, but it was also the lifeblood of the wet clutch power-shift packs that keep the Magnum shifting smoothly and performing hard work with a minimum of repairs. The hydraulic oil in the Magnum was Hytran supplied to Case IH by Viscosity Oil Company of Chicago, the only refiner of Hytran since they developed it for IH in the 1960s. Hytran's properties allow it to perform under the harshest conditions that a Magnum transmission can create and still keep the tractor going. Many other hydraulic oils do not possess Hytran's additives and inferior tractor performance can result from their use. Today, Hytran is still the recommended hydraulic fluid for Case IH–branded Maxxum, Puma, Magnum, and Steiger tractors.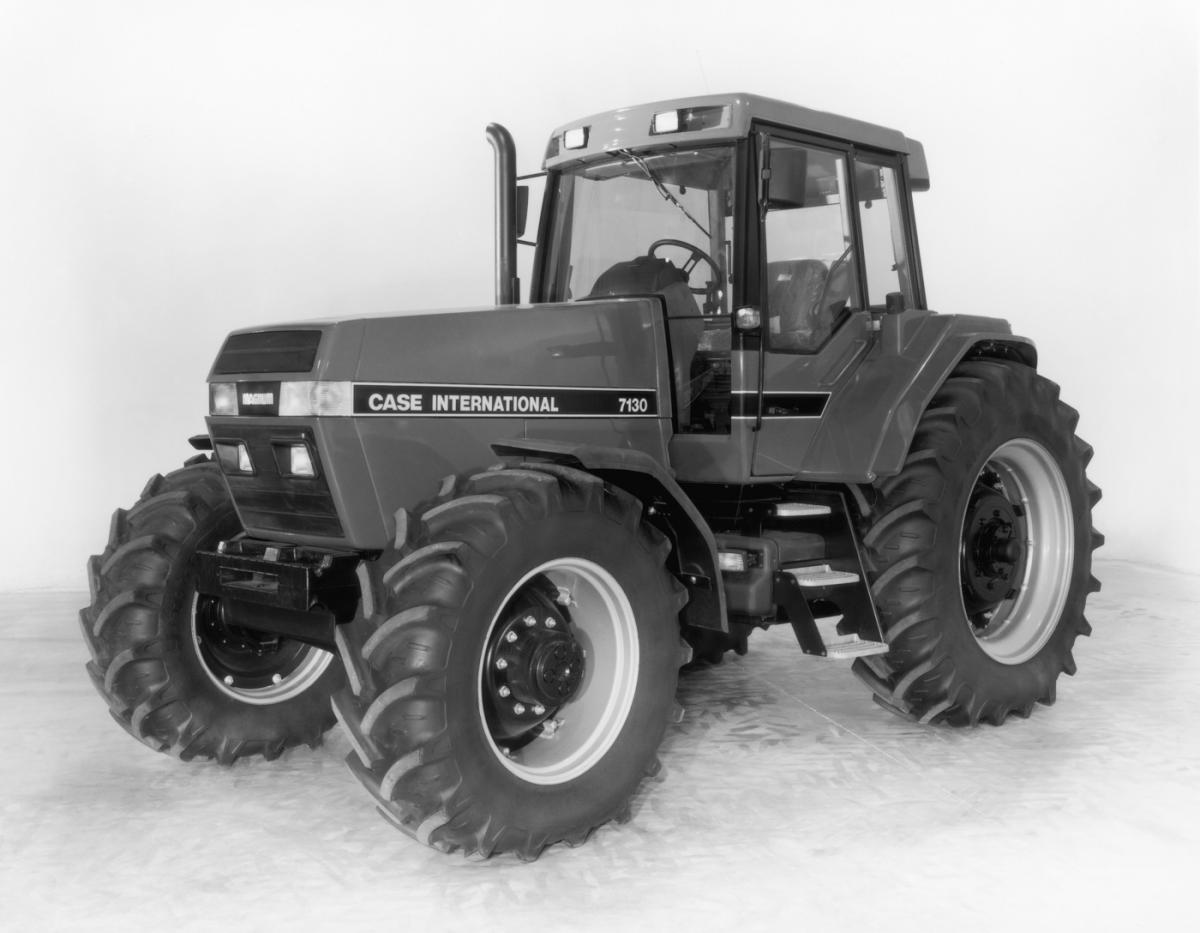 The 7130 had 170 PTO horsepower and the new power-shift transmission. The Magnum proved to one of the most reliable tractors on the market. CNH Global

In the fall of 1988, Case IH offered a special Magnum Demo graphics kit for dealers to use on Magnum series tractors that they had placed into the demonstrator program. The Demo tractors displayed at the Farm Progress style shows were fitted with the special hood decals and chrome exhaust pipes. To find an original Magnum Demo tractor today would be quite rare. Unless there is some type of supporting paperwork to prove its existence, or the Magnum Demo decals are still intact, it is nearly impossible to identify one. The Demo tractors do not have a special serial number tag or other mark to identify them as true demonstrator tractors.

In 1998, Tom Roth, farm manager for Wilkinson farms in Pennsylvania noted, "We just sent out our first Magnum tractor out to be rebuilt, at over 10,000 hours." This reliability carried over into repeat customer sales. Grain farmer Bob Zarse of Reynolds, Indiana, like many farmers, regularly traded his Magnum tractors nearly every year. One reason he traded often was for their resale value—his dealer needed late-model, low-hour Magnum trade-ins. In more recent years, early Magnum tractors have often established resale price records.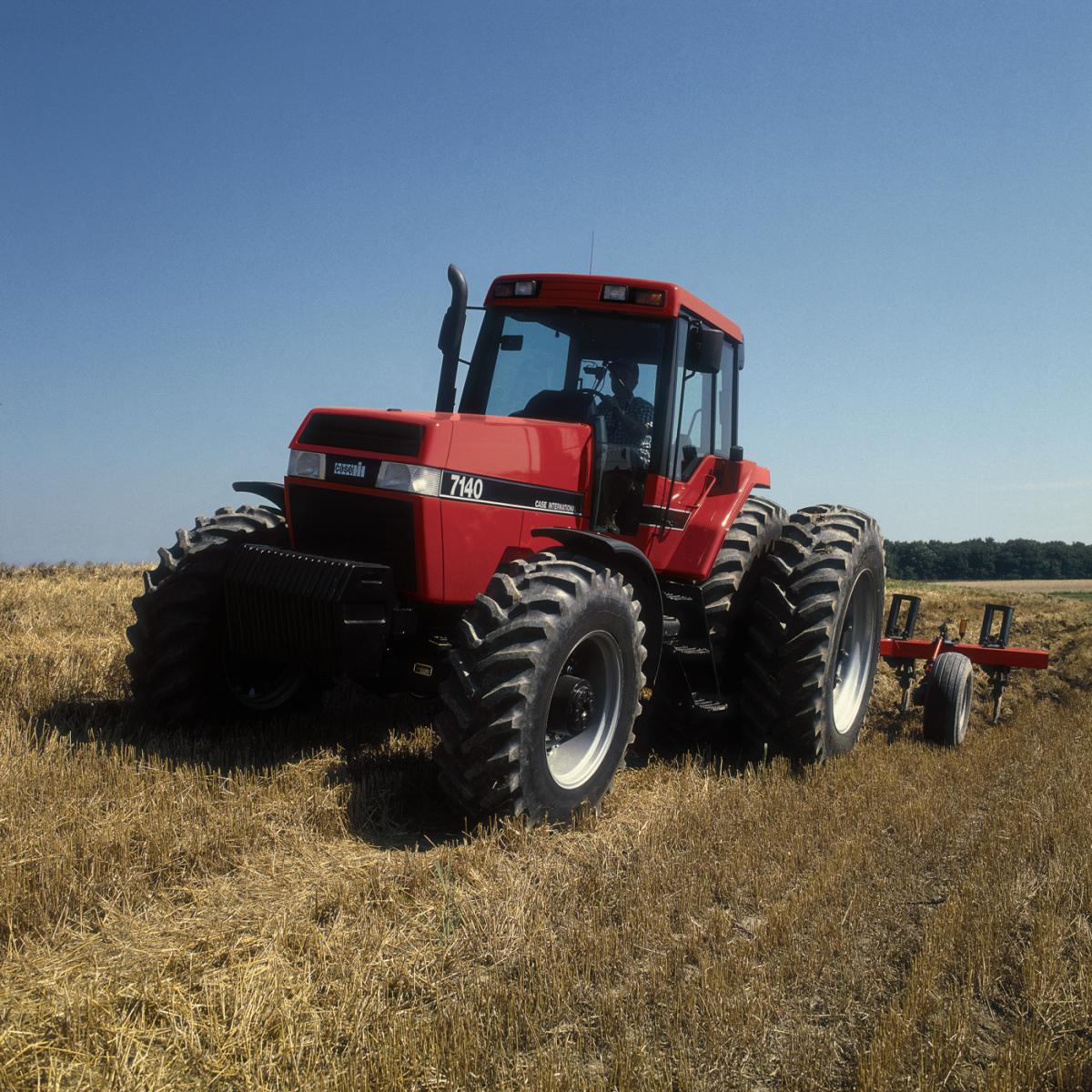 The very first 7100 series Magnum tractor was a 7140, which added an intercooler that upped PTO horsepower from the 8.3-liter CDC engine to 195. It was tested so hard that it was later scrapped. Luckily, the second Magnum, a 7130 front-wheel-assist, still exists today and resides in the Case IH museum in Racine. Gregg Montgomery collection

Though the 7100 series proved extremely reliable, a weakness was discovered in its exhaust system. The early 7100 Magnum tractors had a flat casting connecting the exhaust piping from the muffler to the exhaust stack at the corner of the cab. This casting formed the base that the vertical exhaust pipe was clamped to, and on top of this casting was a sheet-metal heat shield. Cotton farmers who ran these early 7100 series tractors noted that during cotton harvesting stray cotton would collect on top of the heat shield. A number of times the cotton caught fire. If the driver was attentive, they could stop the tractor and brush off the buildup. A portable fire extinguisher was usually sufficient to put out such fires, but sometimes it was too little, too late. A number of 7100 Magnum tractors suffered much shortened lives as a result.

To solve this problem, engineers switched from the flat casting to a round, formed steel tube that let the stray cotton fall off. The round tube also gave better exhaust flow as less back pressure and restriction were created in the tube as compared to the casting. This resulted in better engine performance.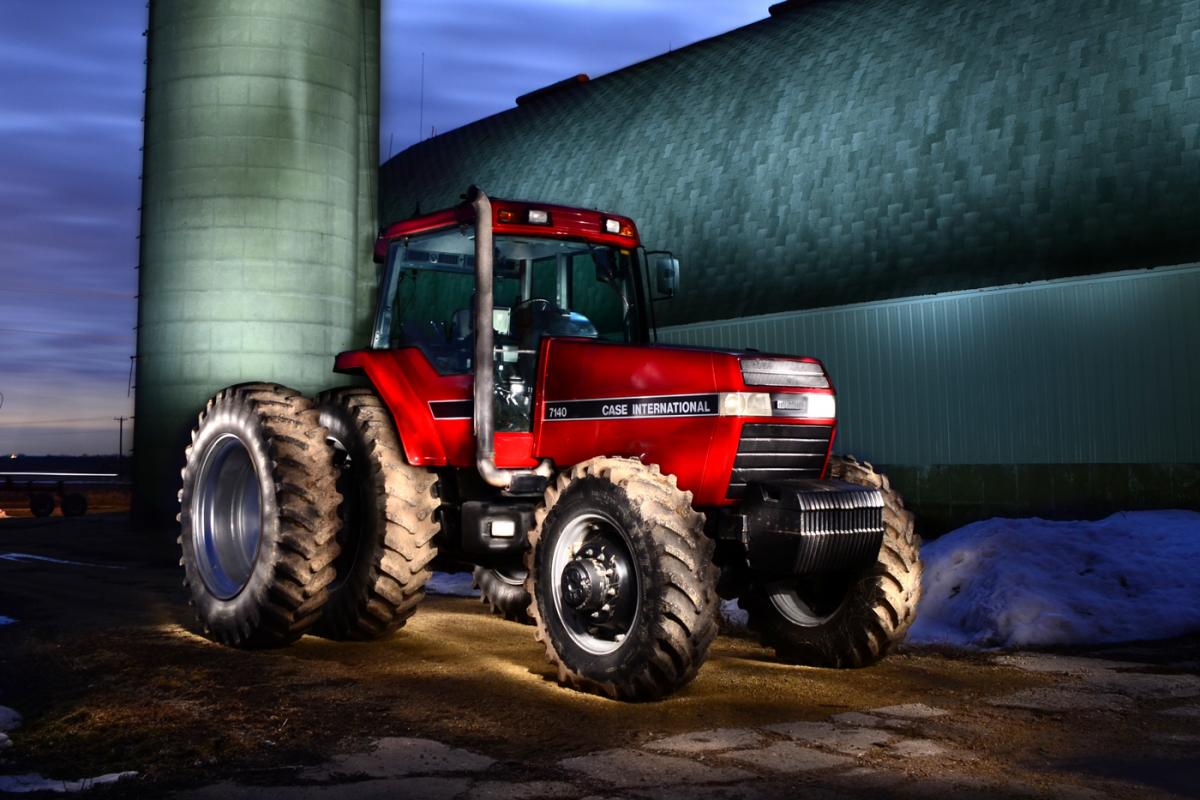 On August 24, 1991, Edgar Heyl of Hale, Germany, set a new 24-hour world plowing record by completing 173.11 acres. Using a 7140 Magnum and a six-bottom, two-way plow, he achieved an average speed of 7.46 miles per hour and a minimum depth of 9.8 inches. The tractor never stopped rolling and was refueled while plowing. When it was all over, the 7140 had burned 346.7 gallons of diesel fuel for a per-acre economy of 1.43 gallons. Mark Jenson

The Magnums had a lot of IH heritage in their design. The very early Magnum tractors had the IH emblem cast into the transmission housings. The Magnum power-shift transmission cutaway that Case IH used to show the insides of the Magnum transmission at Farm Shows and dealer service schools also had a cast IH emblem.

"A tremendous amount of IH content is still in the tractors," said retired Case IH engineer Bill Schubert. "All the electronic hitch control, that all basically came out of the Case IH side. All the four-wheel drive is basically what was started way back when as Steiger and then became part of International Harvester. And a lot of the content in those vehicles is still from the IH side."

A number of improvements were added to the Magnum 7100 series tractors after the launch. In January 1993, Magnum tractor cab production moved from East Moline, Illinois, to Racine in order to simplify component production. Reducing cab damage from shipping was also a consideration.

The early-built Magnum tractors have 18 forward and 2 reverse gears. Customer input indicated that two reverse speeds were insufficient, especially for applications like loader and shuttle work. In May 1989, Case IH added two reverse speeds for a total of four. At the same time a number of other features were added, including a gear speed indicator on the dash, a fourth remote hydraulic circuit, a new deluxe air-suspension seat, and 14.9x46 rear tires. An optional foot throttle was also available for those who used their Magnum with a front-end loader.
 

To find out the rest of the incredible story of International Harvester, get your copy of Red Tractors 1958-2013 here!