Automatically Postal
The International Harvester Scout's USPS Contract Build
Tuesday, March 13, 2018 - 10:00

Vying for a contract with USPS, International Harvester equipped the Scout with postal-ready features including automatic transmission, right-hand drive, and sliding doors. 7,920 Postal Scouts rolled off the production line from 1966 to 1968 and hit the streets for their daily route. The contract was not long to last, but many of the postal-ready features would be repurposed for future Scout models. Learn more about IH's legendary 4x4 in the International Scout Encyclopedia by automotive journalist and Scout expert, Jim Allen.
          Very early in 1966, International Harvester's Washington D.C. office got wind of a new opening in the nation's postal vehicle fleets. The Postal Service was looking to replace many of their larger vans for more compact and economical vehicles. The 4x2 Scout was a perfect fit! By early 1967, IH produced a prototype that was presented to USPS officials with encouraging results. By April, they knew a couple of things: first, that a contract was close to being put out for bid, and second, that Jeep was also in game.  
On May 24, 1967, the Postal Service released an invitation to bid on a $14.7 million, 7,920 postal-vehicle contract. The USPS had several specific requirements, some of which IH could easily meet and some that were more difficult. Right-hand drive was one of the biggies, but IH had already developed that option some years back. Another was an automatic transmission. That was a biggie as well, but since they were planning to offer an automatic in future Scout models, it was simply a matter of putting the project on the front burner and killing both birds at the same time.  
The contract was won in July and the first Postal Scouts rolled off the line in early September. Of the 7,920 in the contract, 6,745 had automatic transmissions, making them the first Scouts so-equipped. Production continued through mid-April of 1968. These postal Scouts had special VINs that make them easy to track. To this day, they turn up occasionally in collections.  
Before the '67 contract was complete, IH was already looking ahead to a new contract and began developing another prototype. An updated USPS requirement of sliding doors resulted in a good deal of expensive development, but ultimately they lost the contract to Jeep's lower bid. No doubt, IH was chagrinned at losing the contract to Jeep's commercial products division. The Jeep DJ-5 became the ubiquitous postal delivery vehicle all the way up to the 1980s. IH made occasional attempts at breaking that trend in the ensuing years but could never make a bid low enough to break Jeep's hold on the contracts. IH maintained a presence in the rural route market right to the end of the Scout in 1980.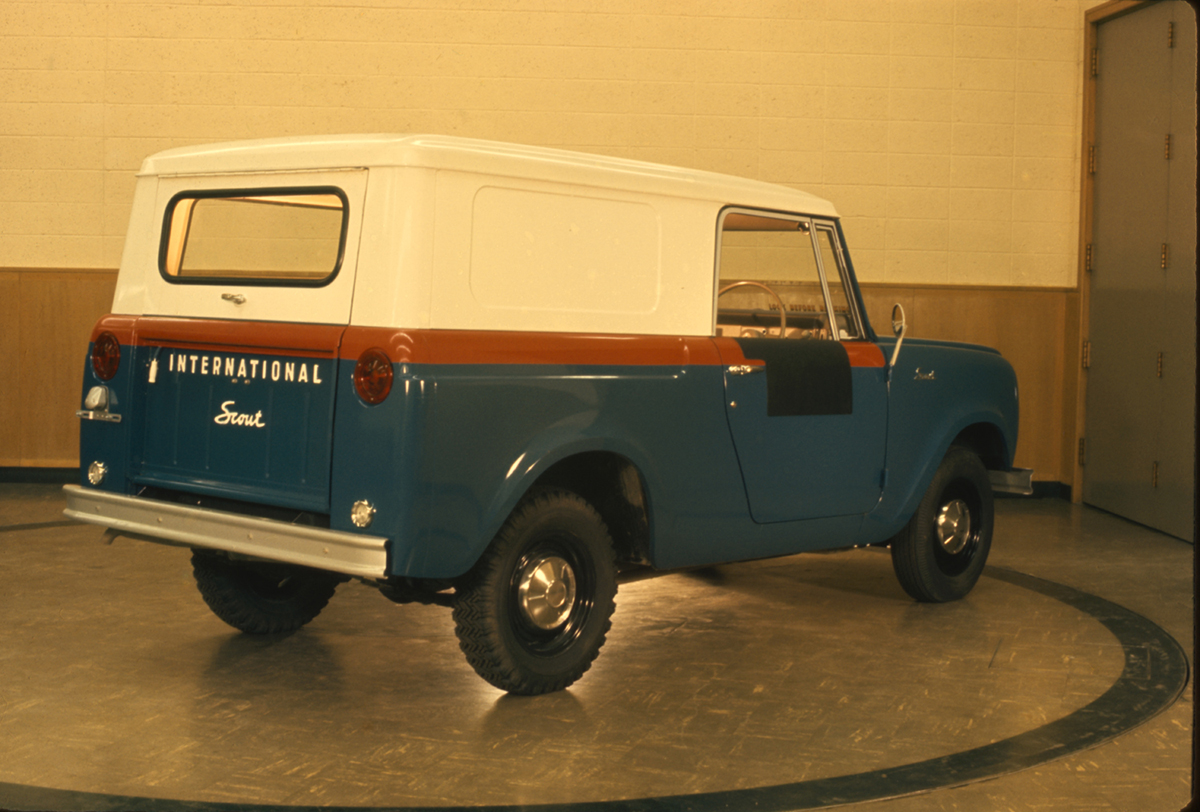 The Postal service generally liked the prototype IH presented in 1966. It met their basic criteria and required only a little tweaking to fully pass muster. IH had already been selling or leasing a postal special to rural contract carriers for some years. By the time this prototype was unveiled, they had already sold over a thousand postal specials. They were generally the same vehicle; the biggest difference was the T-13 3-speed manual transmission versus the automatic transmission that was developed according to USPS requirements. 
Image courtesy the John Glancy Collection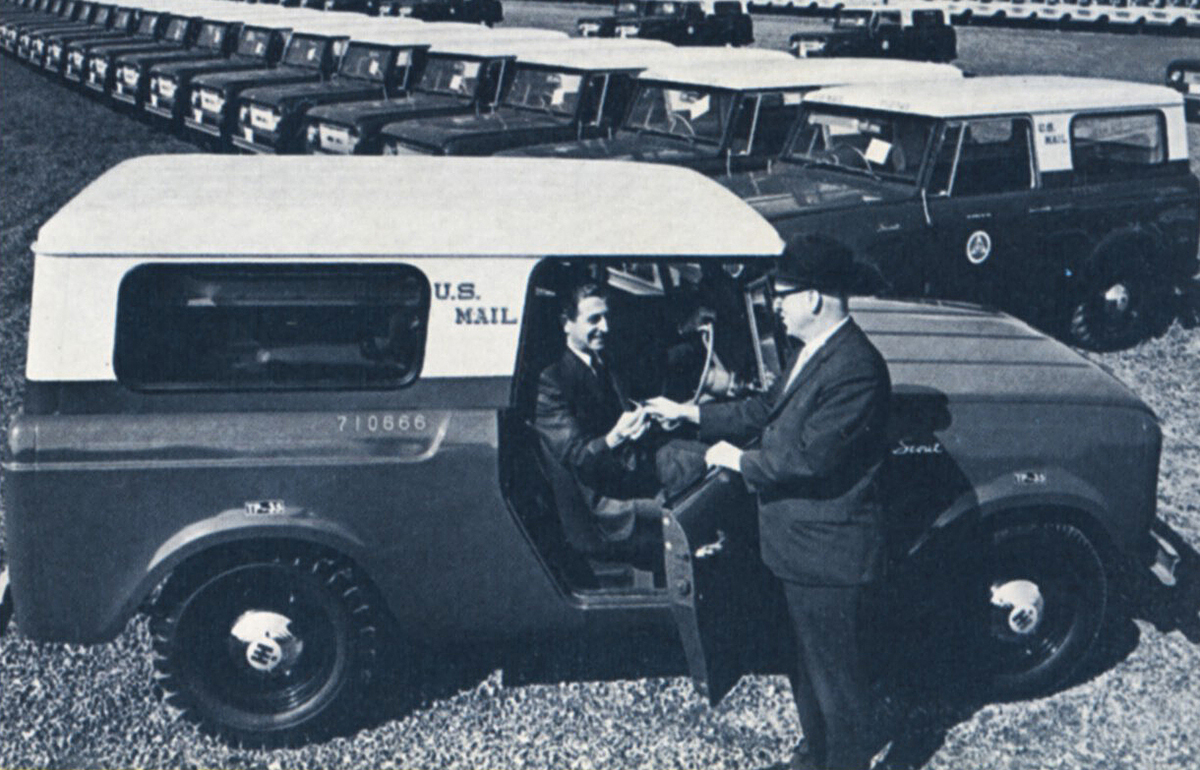 The first Postal Scouts being delivered to a USPS representative late in 1967. This one is the 237th built. You can see that the layout changed a little from the '66 demonstrator, with rear windows on both sides. Technical features included the T-28 3-speed automatic (Borg-Warner Model 8) transmission and a rear limited-slip differential. Power came from the IH 4-152 slant four making 93 horsepower. Most of the postals were automatics, but about 15 percent had manual transmissions. The available documentation does not explain exactly why, but peripheral materials indicate the automatic was not desirable in hilly country or on longer routes at higher speeds.
Image courtesy of John Glancy Collection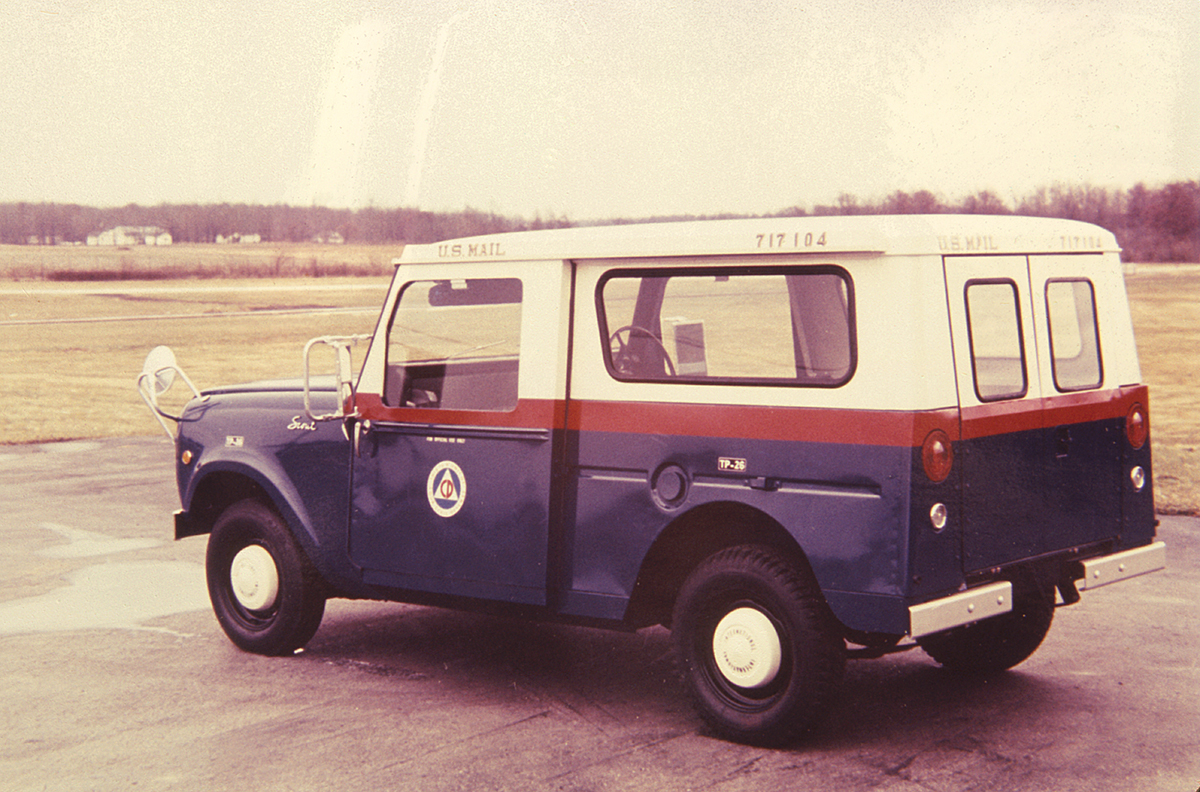 In 1968, IH developed this new sliding door postal to meet new requirements, but lost the bid to Jeep. Among some of the special features developed for this prototype was a new tubular axle, which went on to be used in the Scout II models in later years. 
Image courtesy the John Glancy Collection. 
------------------------------
International Scout Encyclopedia author Jim Allen appeared this month on the Discovery Channel series premier of 
Shifting Gears with Aaron Kaufman
. In this interview, Allen inspects and identifies a rare Scout Comanche, deconstructed to its barest bones.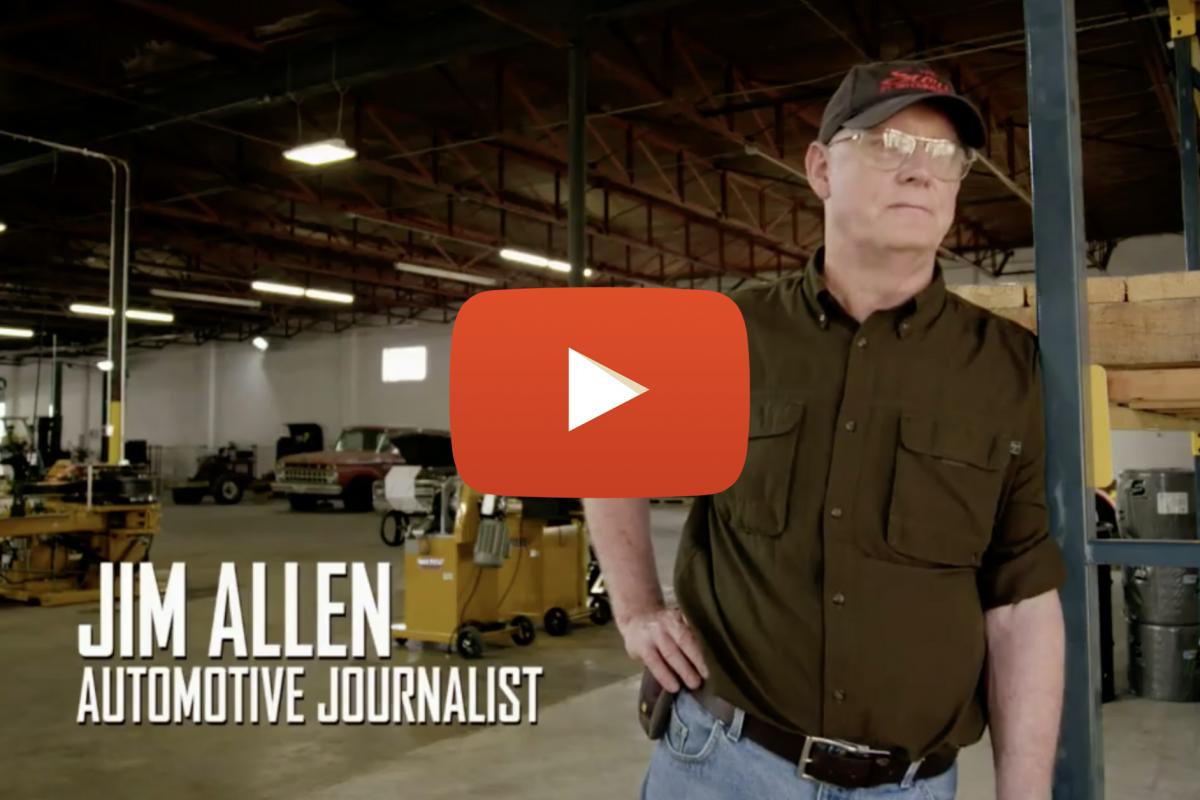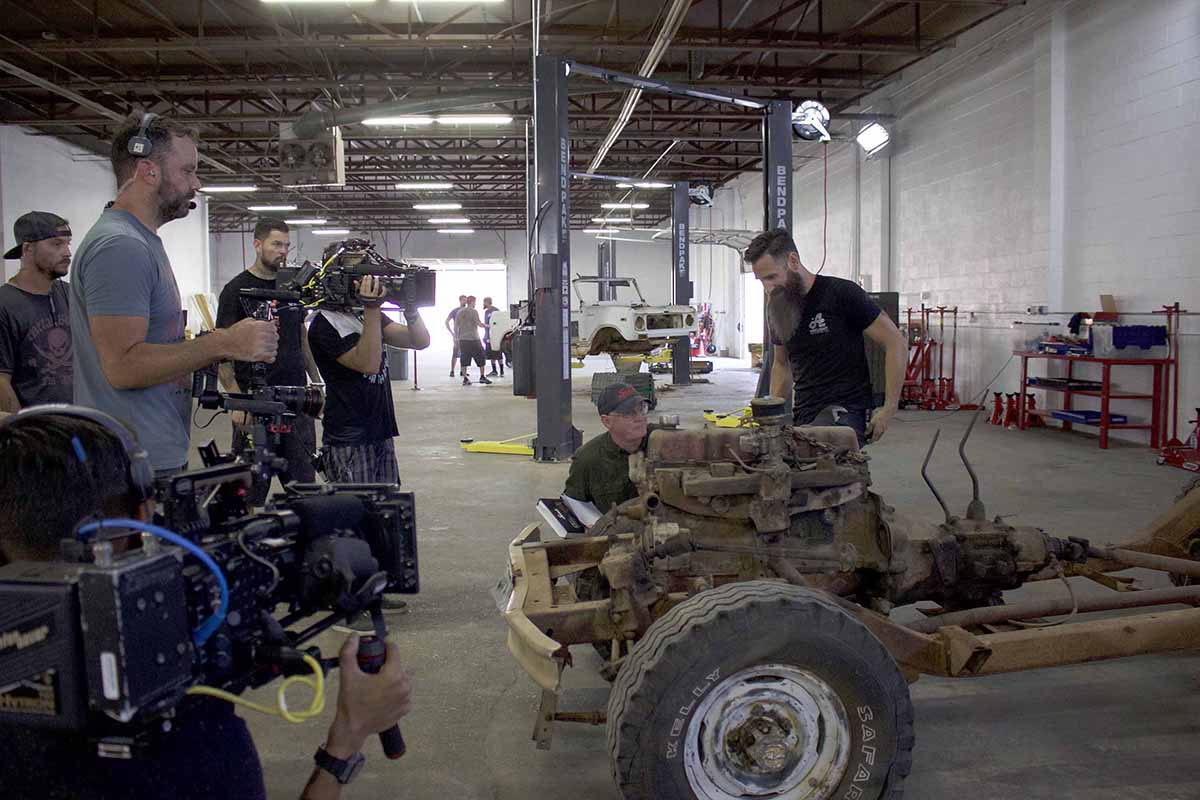 Image courtesy Arclight Fabrication. 
Image courtesy Arclight Fabrication. Find everything there is to know about the International Scout in the International Scout Encyclopedia, by Jim Allen and John Glancy.