Scout Lost Chapter Part 13: The Scout Is Born
The International Scout's Origins
Tuesday, August 9, 2016 - 01:00

The Lost Chapter series is from Jim Allen and John Glancy's book, International Scout Encyclopedia; one so thorough it couldn't all fit into the final cut. Pre-order the second edition, coming August 1, 2020! Join our mailing list for pre-order specials and exclusive content.
​
For this series, author and historian Jim Allen is sharing extra material with photographs from John Glancy's extensive collection as well as photographs from the Wisconsin Historical Society. 
The B-Line introduced a great number of changes to the light line and heralded the introduction of the Scout.  Among the many new features introduced for the B-Line was the V8 option.  IHC had a line of big truck V8s that were introduced in 1956. Their smaller V8s started development in the mid '50s and became available for the '59 model year in 266, 304, and 345 ci displacements. Only the 266 was available in the light trucks at this time but it's clear the International Harvester Company (IHC) wanted the small V8s to eventually replace their aging line of inline sixes. In the late '59 B-series run the 266 was made the standard engine and the BD-240 was a no-cost option if you ordered your truck. Another big intro was the Bonus Load smooth-sided bed, which was available for long or short wheelbase trucks. The cabs were generally the same as the A-Line but with the addition of a restyled front end that featured quad headlights.
The B-Line trucks would be a significant improvement over the previous generation in more ways than are apparent. The cab and body were more roomy, a V8 engine debuted, and the Travelall would acquire a 3rd door, making it the first production 3-door SUV.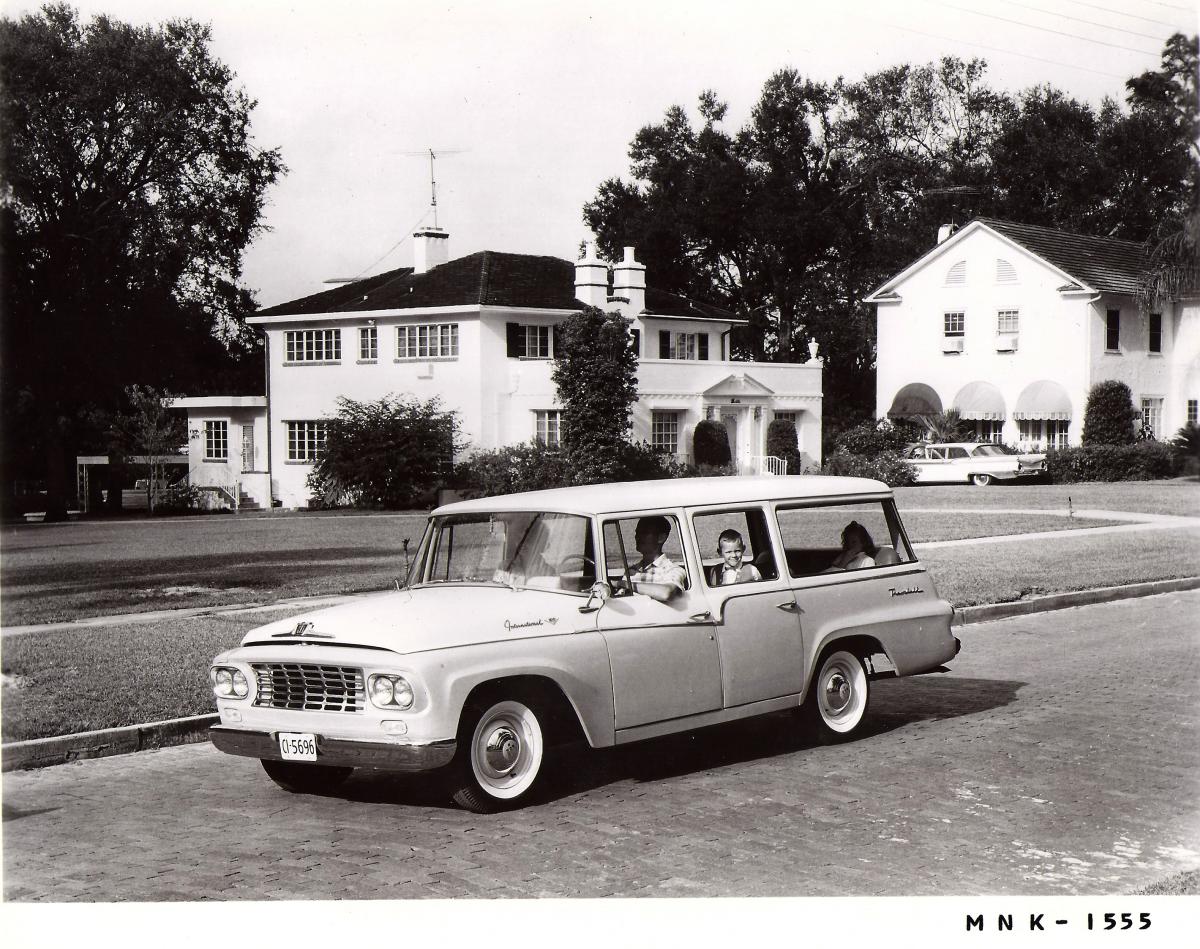 The first C-line trucks would debut for 1961 along with the Scout. The C-Line version of the Travelall is one of the more memorable parts of that debut. International would beat the next nearest SUV manufacturer to the four-door draw by two model years. When you say "Travelall" to a person who knows general automotive history, the C-Line version is what most often comes to mind. It's truly the most iconic Travelall of the four generations produced. 
We know that the light truck line goes farther than 1960 (and you can read all about that in the book, International Scout Encyclopedia).  At this moment in time IHC had more than a 12 percent share of the American truck market and it was in the 1958 and 1959 timeframe that the Scout project was conceived. The first Scouts would roll off the line in November of 1960 in small numbers and the official announcement would be made later that same month. The new C-Line trucks would debut at the same time. Both rigs would be hits but the Scout would go on as a universally recognized American Icon.
Previous Lost Chapter