International Harvester Cotton Harvesters
An Excerpt from Red Combines
Monday, June 11, 2018 - 13:15

The annual Red Power Round Up is upon us, and this year's theme is cotton harvesting. To celebrate, we pulled an excerpt from Red Combines 1915–2015, covering the complete timeline of IH's cotton-harvesting equipment line—from its origins in the 1920s, to its market dominance in the 1940s, all the way up to the 45,000-pound beasts that comb the fields today. 
Find the Octane Press booth at Red Power Round Up in Montgomery, Alabama, from June 13–16. Stop by for hot deals, limited-edition books, friendly conversation, and more than $1,600 in raffle prizes. More details can be found HERE in the Octane Press RPRU 2018 schedule of events.
          Mechanical cotton harvesters were developed as early as the 1850s, but International Harvester didn't begin to develop its own until E. A. Johnston proposed a vacuum-powered machine in 1922. That unit eventually failed, but the company purchased a design and tested that in the late 1920s and into the 1930s.  
The company rolled out its first production model, the H-10-H, in 1942 and said that more than 40 years of development went into the machine. It was the first successful mechanical cotton picker to be put on the market, and one of those units affectionately dubbed, "Old Red," resides in the Smithsonian Institution.  
International Harvester continued to develop that model through the 1940s, and it evolved from machines that were built on a tractor chassis to machines more like combines with their own unique chassis and power unit.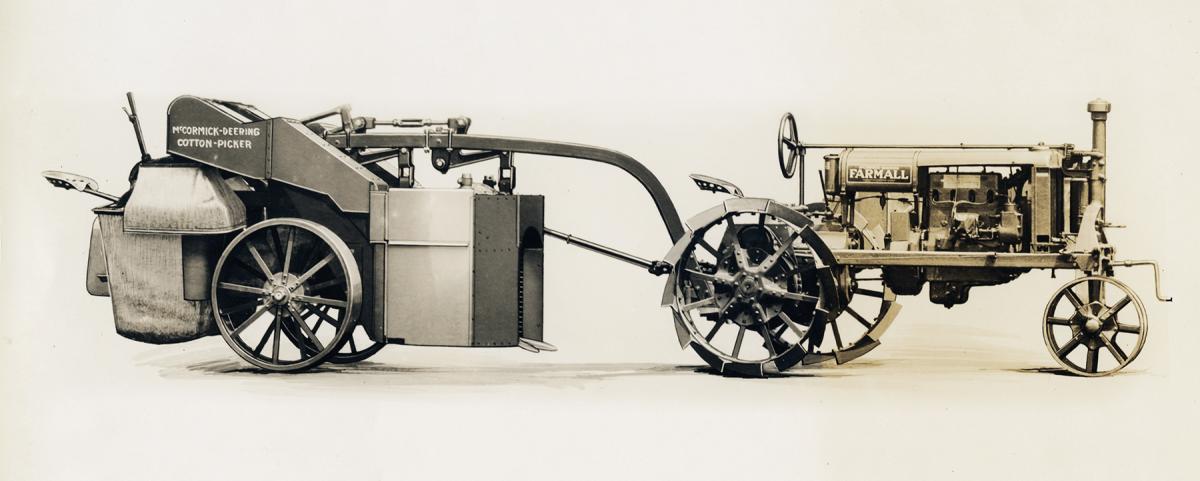 McCormick-Deering Spindle Type Cotton Picker. 
International Harvester started developing cotton pickers quite early, as evidenced by this experimental unit photographed on August 20, 1927. The picker was designed for use in the lowlands and other sections of the Old South where the entire crop cannot be picked at one time owing to a long season and uneven ripening. The machine is equipped with two vertical picking cylinders, which carry a large number of spindles. The mechanism of the picker is operated with power taken directly from the tractor engine by a power take-off shaft. 
Wisconsin Historical Society #59537 /
BANNER IMAGE: 2009 Case IH
Cotton Express 620.
The 620 is a six-row cotton harvester that weighs in at 44,600 pounds and is powered by a 340-horsepower turbocharged six-cylinder engine.
Case IH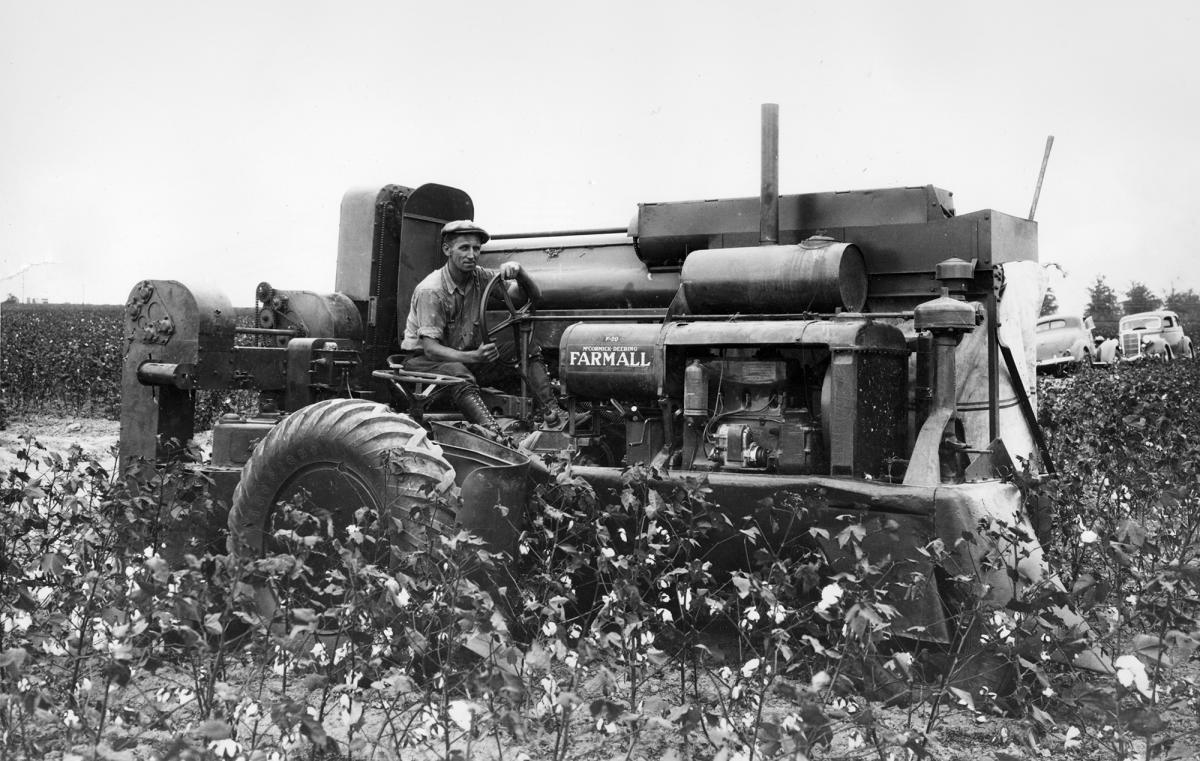 1937 Experimental International Harvester Cotton Picker. 
A man operating an experimental International Harvester cotton picker in a field on the Hopson Plantation near Clarksdale, Mississippi. The picker unit is raised or lowered by turning a screw near the right arm of the operator. 
Wisconsin Historical Society #24584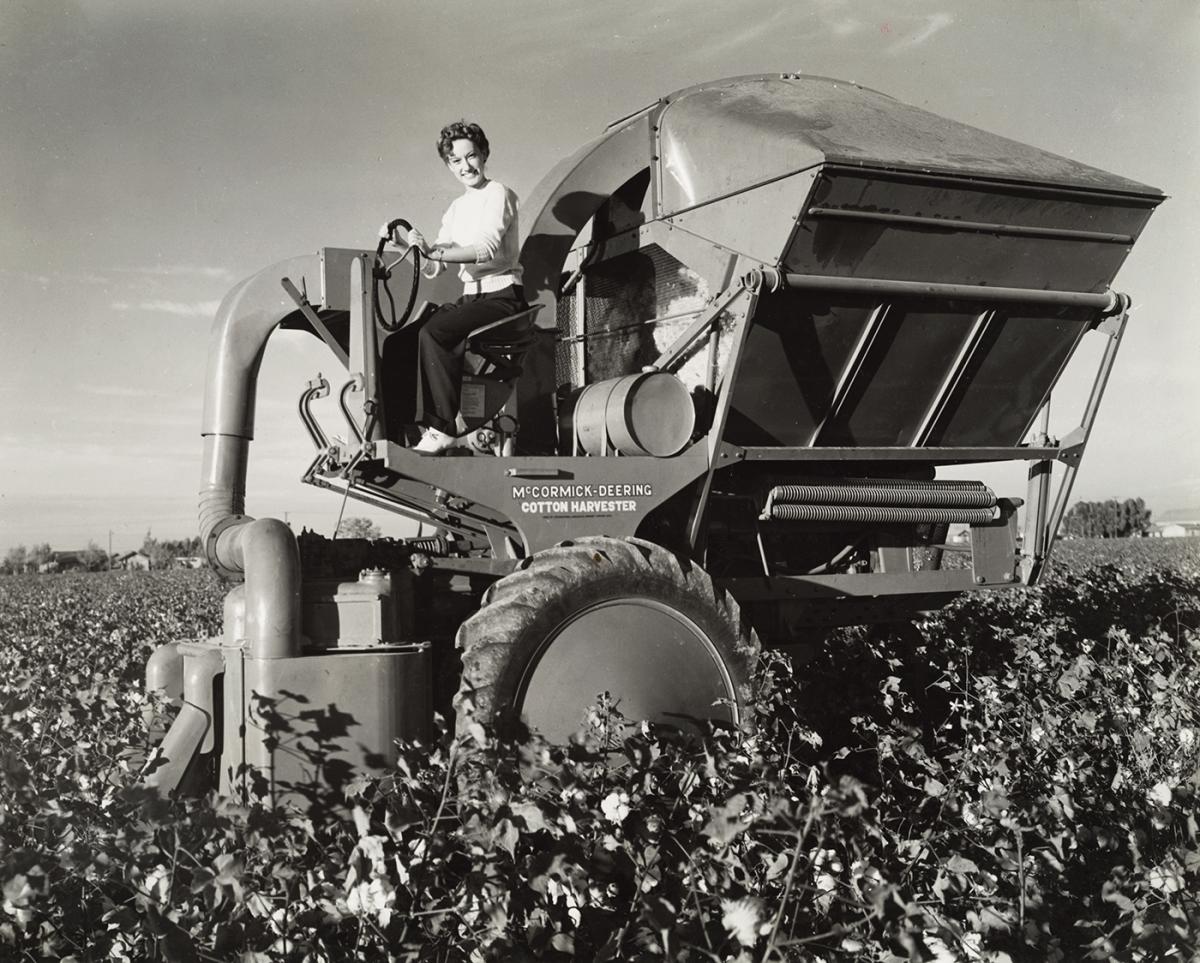 McCormick-Deering H-10-H Cotton Picker. 
International Harvester's cotton harvester was a major innovation introduced in 1942. The limited raw material available during and after the war limited production. An M-12-H model based on the Farmall M was introduced in 1948. Dorothy Hutchison operating a McCormick-Deering H-10-H cotton picker in a field near Firebaugh, California, in 1944. 
Wisconsin Historical Society #78138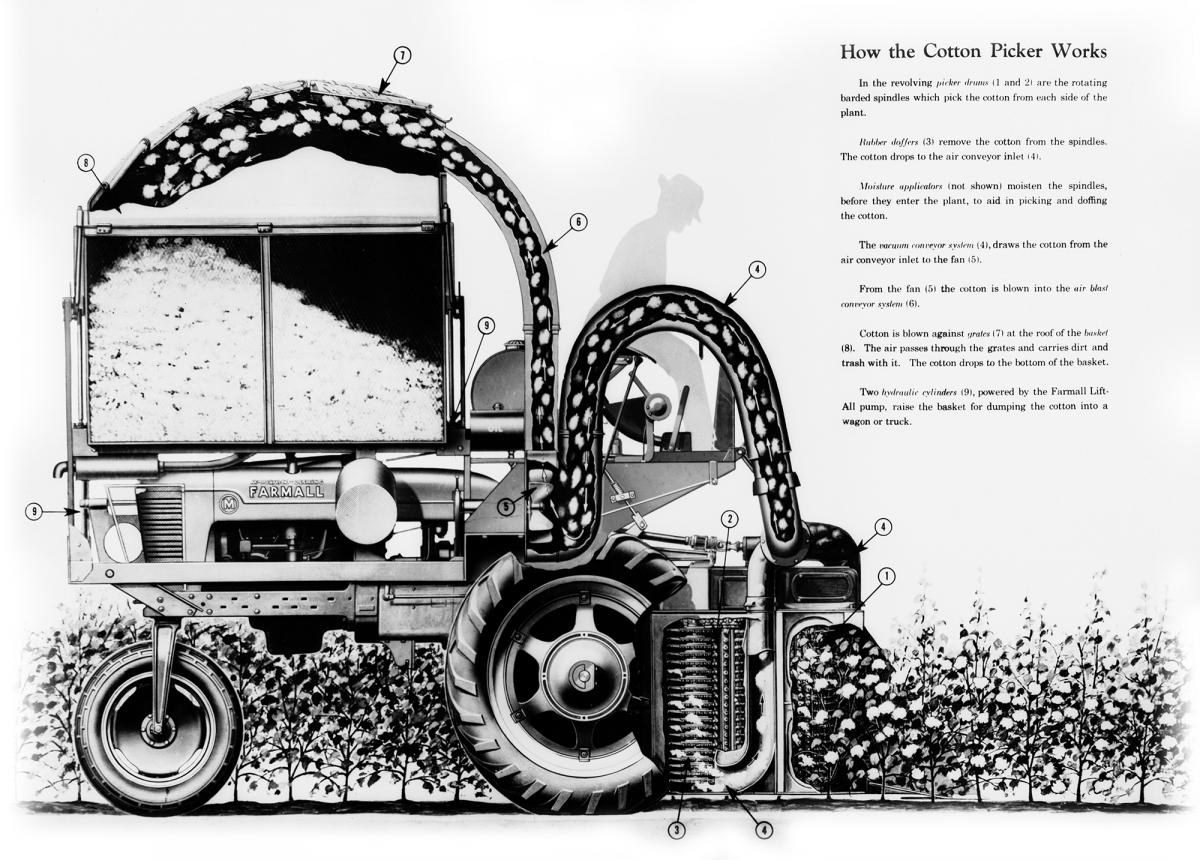 How the Cotton Picker Works. 
Wisconsin Historical Society #49608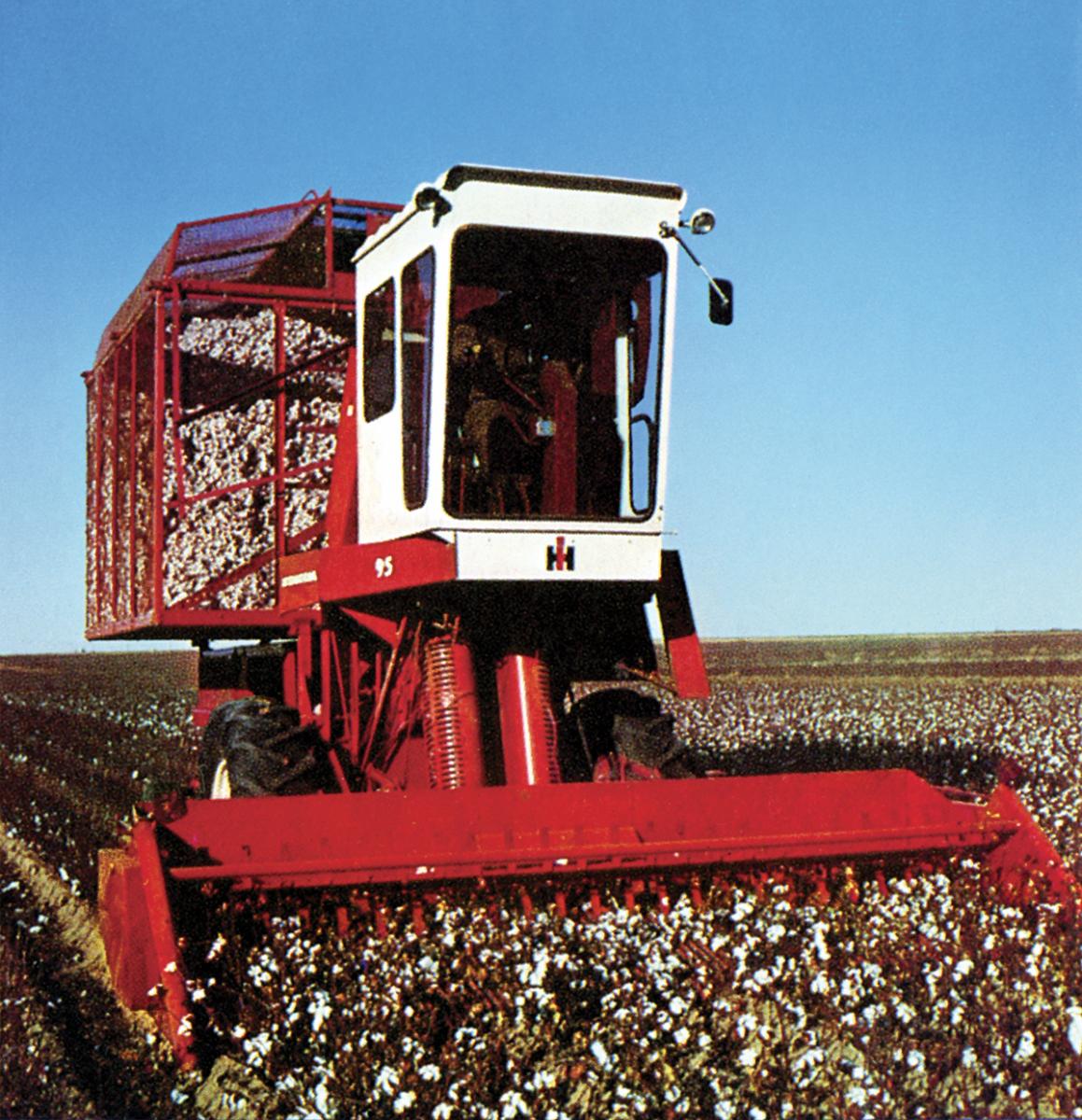 1977 International 95. 
The 95 was a two-row picker powered by a 110-horsepower IH D310 diesel engine. 
Case IH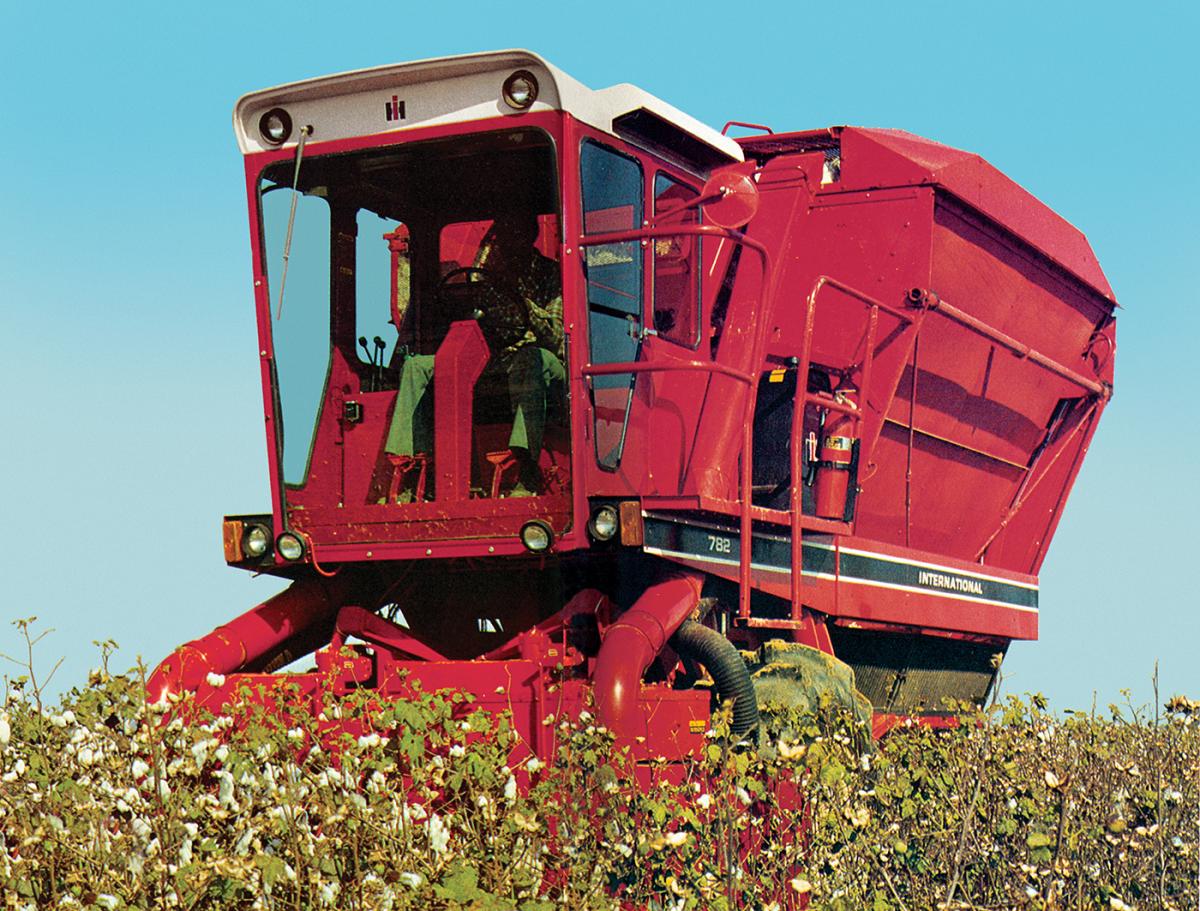 1978 International 782.
The two-row 782 was introduced in 1978.
Case IH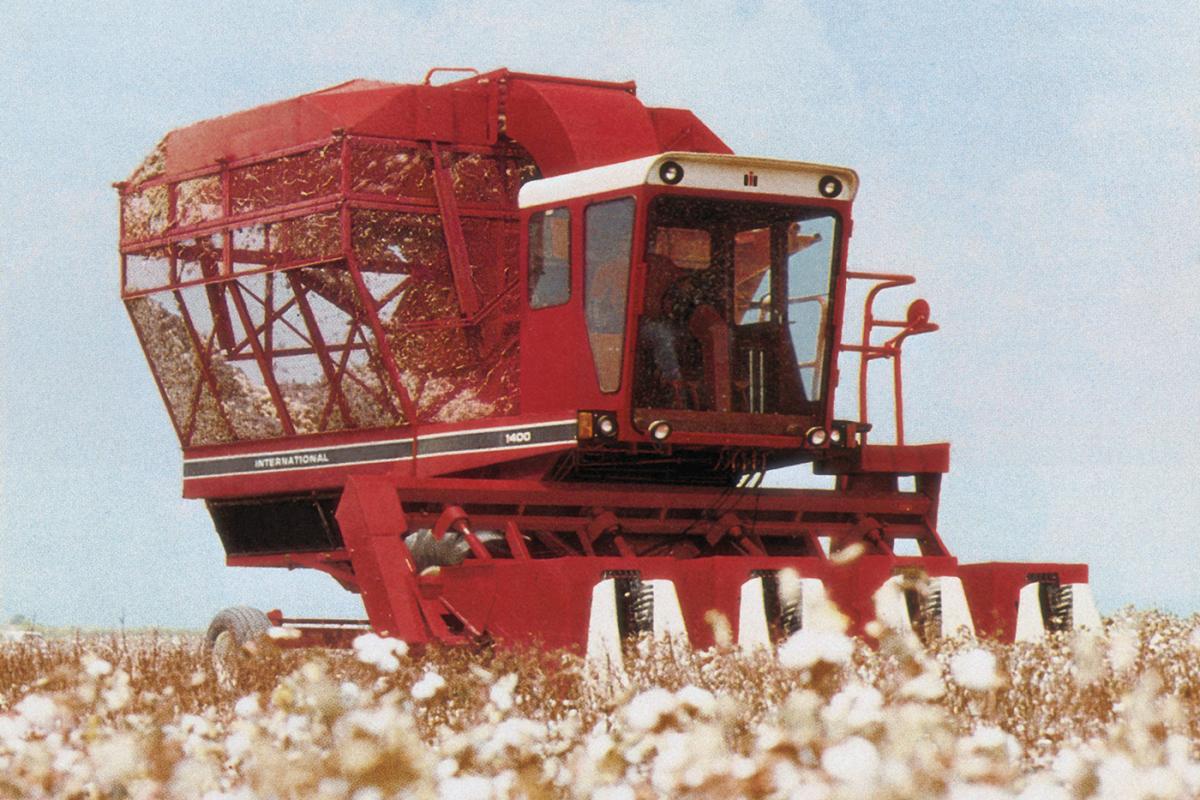 1982 International 400 Cotton Stripper. The 1400 was introduced in 1980. Powered by a 120-horsepower engine, the model featured the ability to harvest up to four rows into the large 637-cubic-foot basket. 
Case IH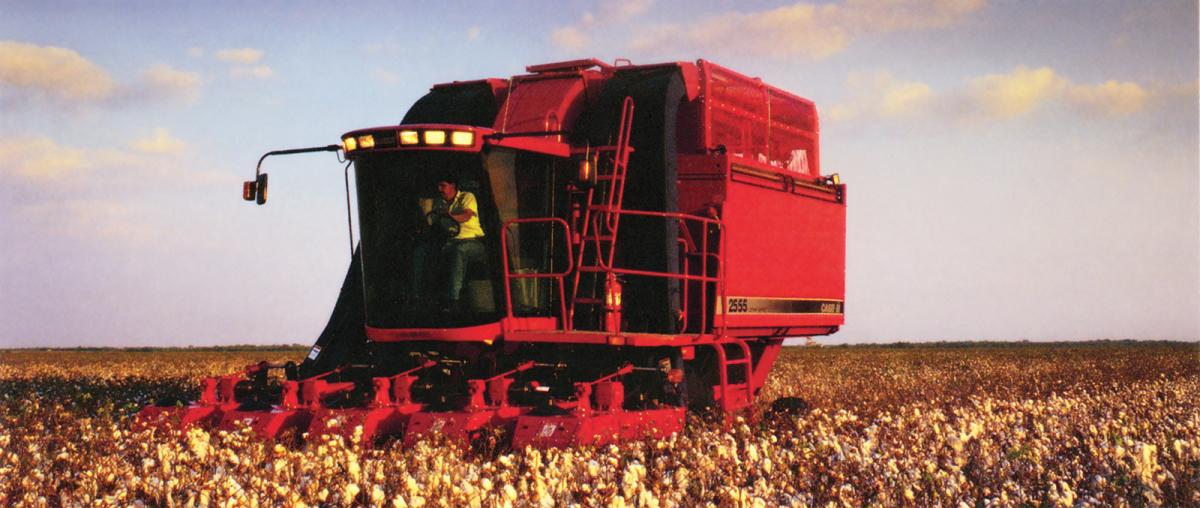 1996 Case IH 2555. The four- or five-row 2555 offers a 1,150-cubic foot basket. The model remained in production well into the twenty-first century, and the later models were powered by a six-cylinder 260-horsepower engine. 
Case IH
More details on Octane Press's daily lineup of Red Power Round Up events can be found HERE!