International Harvester 86 Series Tractor Decals
Red Power, Tri-Stripes, and a Branding Iron
Friday, June 29, 2018 - 11:45

In this original article, Red Power and Heritage Iron journalist Kenneth Updike sheds some light on the 86 Series Tractor Decals. As part of IH's RED POWER Demo Days marketing campaign, a limited-edition line of demo tractors were stamped with rare decals: a red-hot branding iron, a RED POWER circle, and a tri-stripe motif. Check out the look in this exclusive blog post, and read more of Kenneth Updike's infinite IH wisdom in Red Tractors, Red Combines, and Red 4WD Tractors.
          The IH 86 series Pro Ag line of tractors have a special set of decals that set them apart. In 1979 and again in 1980, IH built a special run of 86 tractors for their RED POWER Demo Days marketing campaign. These field demo days were used by IH dealers to get farmers into the seat of the new IHs and drive them. They hoped they would sell a few tractors along the way too!
The demo tractors themselves were stock production with the only addition being IH's new burgundy (red) deluxe cab interior. The deluxe cab package included the burgundy color interior, cloth seat, AM-FM radio, red carpet floor mat, and red interior door trim panels.
To mark these tractors as special units, IH painted the lower front side panels IH 2150 red instead of IH 935 white. Additionally, a large circular decal that said "RED POWER" was added. This circle decal was the identifier of these special demo tractors. When the RED POWER Demo Days were over, IH dealers sold the tractors at a discount.
Since IH's goal was to make their brand of tractor YOUR brand of choice, a branding-iron decal was detailed onto the RED POWER demo tractors as well, depicting a red-hot IH logo burned onto the tractor's side. IH's advertising tagline said they were going to make IH your brand! For reasons unknown to this author, not all of the demo tractors have the branding iron decals. In fact, IH had hundreds of them left over. Instead of selling them through the dealer parts network, IH sold/gave them away at state fairs and other events.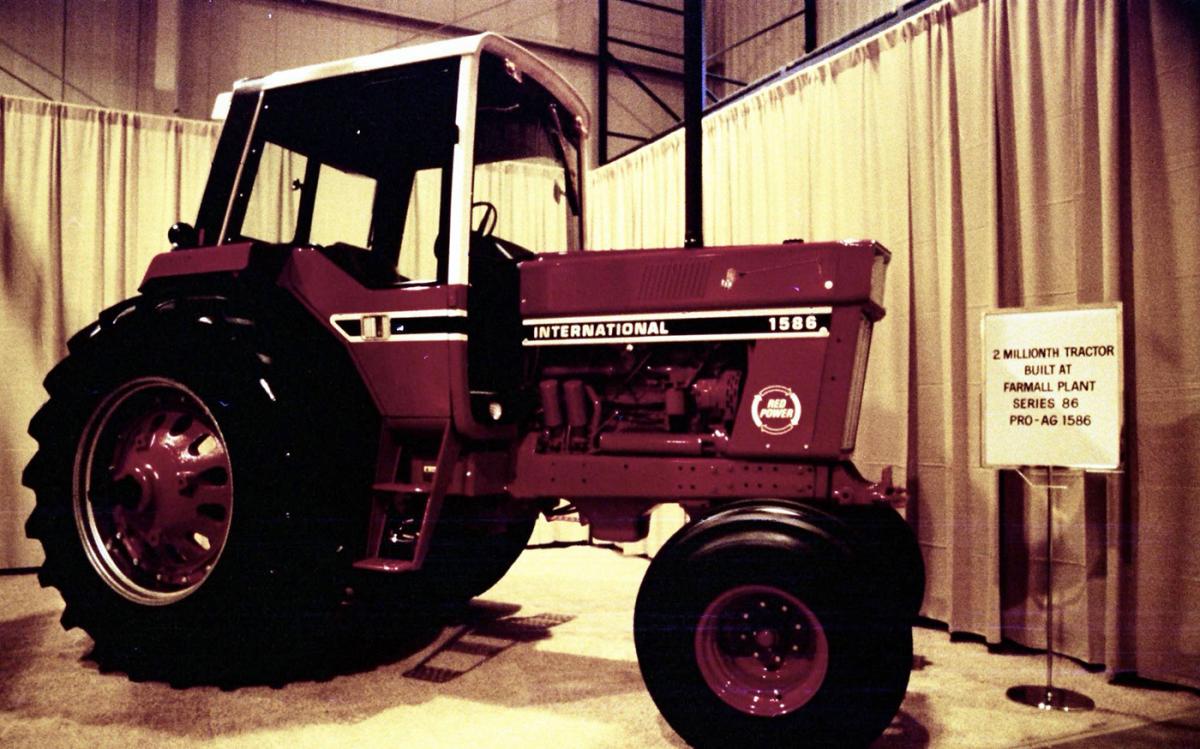 The RED POWER Demo Days program saw IH build 2,500 tractors for the 1979 year and it is believed that a similar number were built for 1980.
Former Farmall Works employee Dennis Frisk (a purchasing agent there) said this about the RED POWER decals:
"When the Red Power Showdown program started, there were only supposed to be so many tractors built. So that many decals—the branding iron and the circle decal—were ordered for THAT many tractors with a 'few extras' because after all accidents do happen."
"Girl that ordered the decals sat about two to three desks away from me. I know she ordered the branding iron decals THREE times and the circle decals at least FOUR times. The broach that bored the hubs of most of the gears in the speed and range transmissions had about SIX stations—in other words, you could broach six parts at a time if they were small....which our stuff wasn't...normally they ran one, two, or three at a time. And ALL six stations of that broach had a red circle decal.....every fork truck had a pair.....all the yard tractors and maintenance Cub Cadets had them....even the elec. scooters kinda like golf carts had them. I even saw them on old beater work cars on the streets around the Quad-Cities back then."
He continues, "Gal that ordered decals would get a month's supply in and be out in a week or so..... she couldn't understand why..... till she went out into the shop."
It's ironic that the popularity of these two decals has brought about their re-creation.  IH never offered the Branding Iron decal (#77728C91) nor the Red Power Circle decal (#144150C1) through their parts distribution network.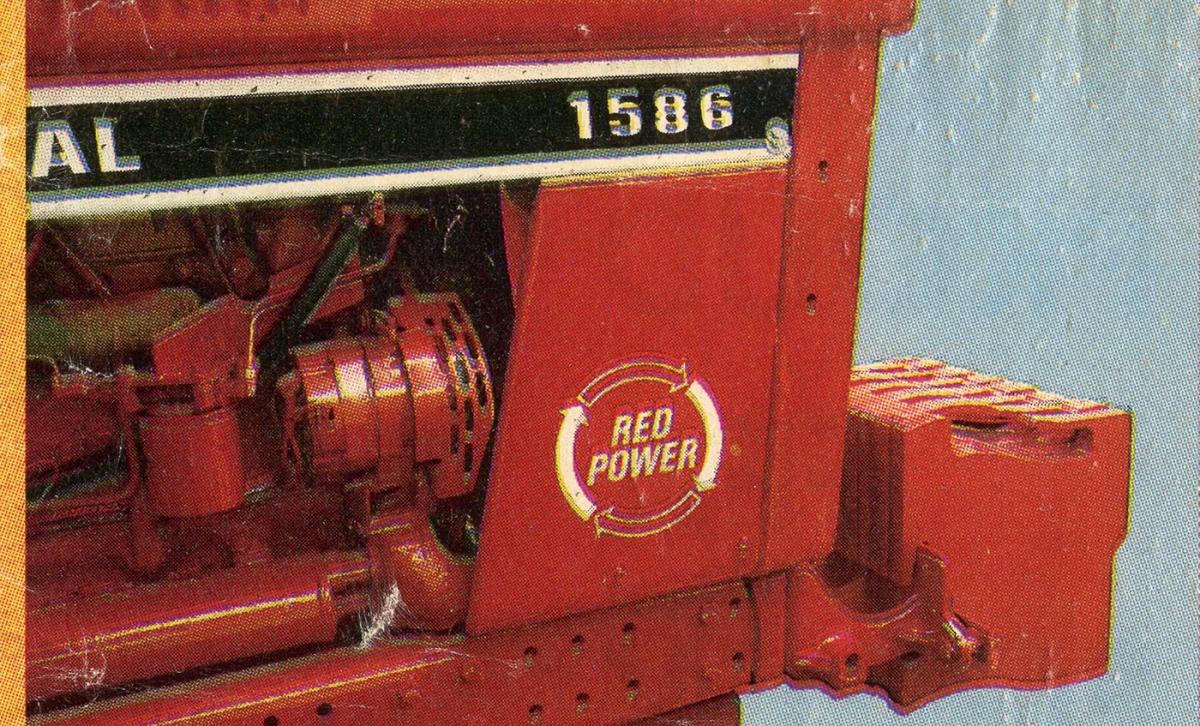 In 1981 IH built a special run of 86 series row-crop tractors that have a closed center hydraulic system (i.e. hydraulic pump only runs on demand) as their major feature. The special run's decal stripe was also given an update: a thin, red pinstripe was added above the black stripe. These tractors are referred to as the 86 series Tri-Stripe as they have three colors in the side stripe: red, black, and white.
The Tri-Stripe tractors DO have the lower front side-panel painted red, like the Red Power demos have. They do NOT have the Red Power circle decal applied.
It is imperative to note that NONE of the IH 86 series Tri-Stripes were built as Red Power demos. Also the cursive script TURBO and HYDRO decals that had been used on the 66 series were NEVER used on ANY of the 86 series tractors too! If you see an 86 series with these decals applied, it was NOT factory applied. Many times owners customize their tractors adding random decals to them.
The Tri-Stripe 86 series has also developed quite a following. This author has seen what seems like many more fake Tri-Stripes than authentic ones. Two easy indicators of real vs. fake is a) an extra spin-on hyd. filter under the left-handframe rail of the tractor, and b) the shifter grip knobs are a hard black plastic pistol grip with the word SPEED or RANGE cast into them. This author believes that many fakes are made since it's easier to paint the tractor all red and not have white trim to deal with, much like the fake Blackstripe 66 series. (Check out my article on the Blackstripe 66 Series Tractors
HERE
.)
Not to be outdone by IH, Rick Campbell (IH toy collector and friend of this author) had both the RED POWER circle and IH branding Iron decals and a completes set of model numbers in the Tri-Stripe variation made in 1/16 scale to fit the 86 series toy tractors made by the ERTL Company. Over twenty years AFTER the actual tractors were made, ERTL built a RED POWER demo version and a Tri-Stripe version of the IH 86 series toy tractor.  These have since been copied by other toy-decal makers.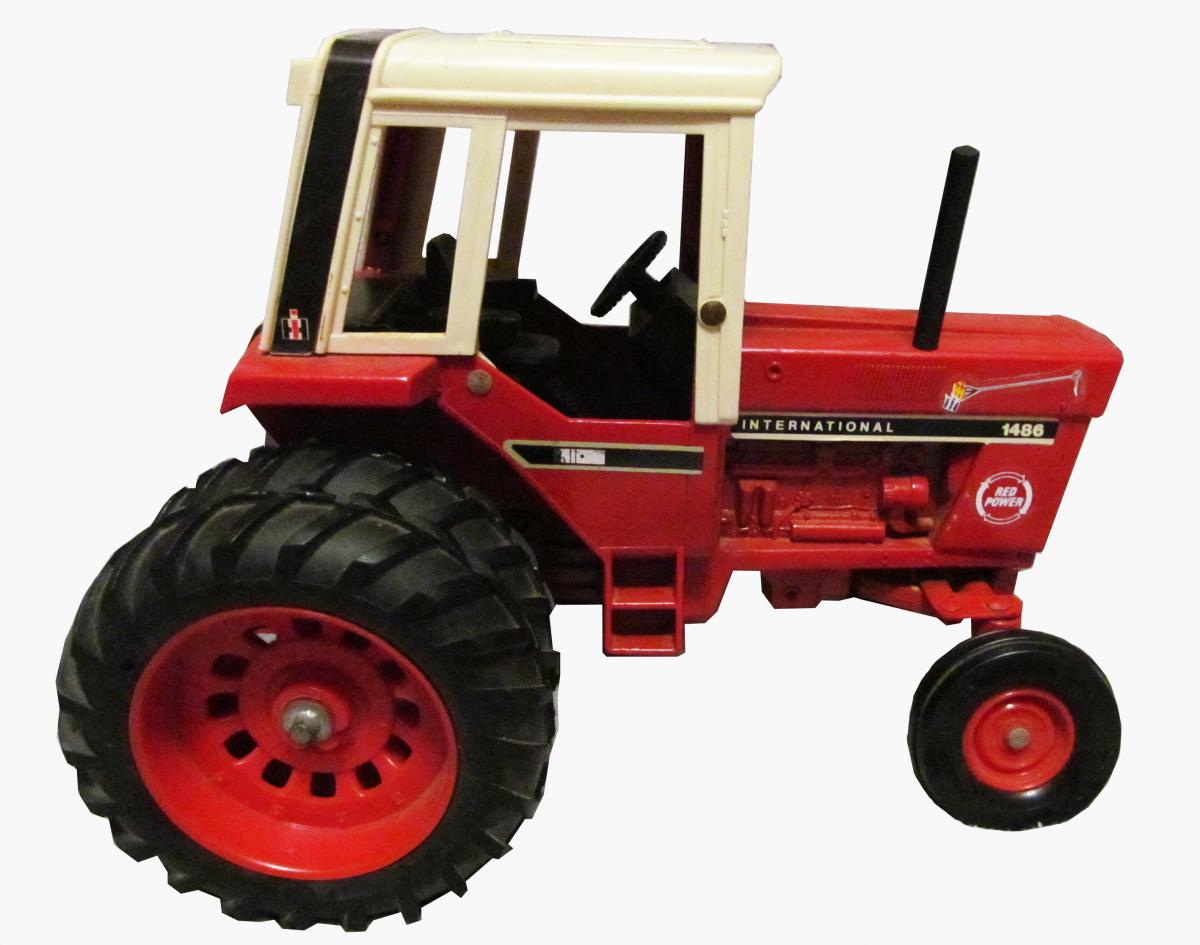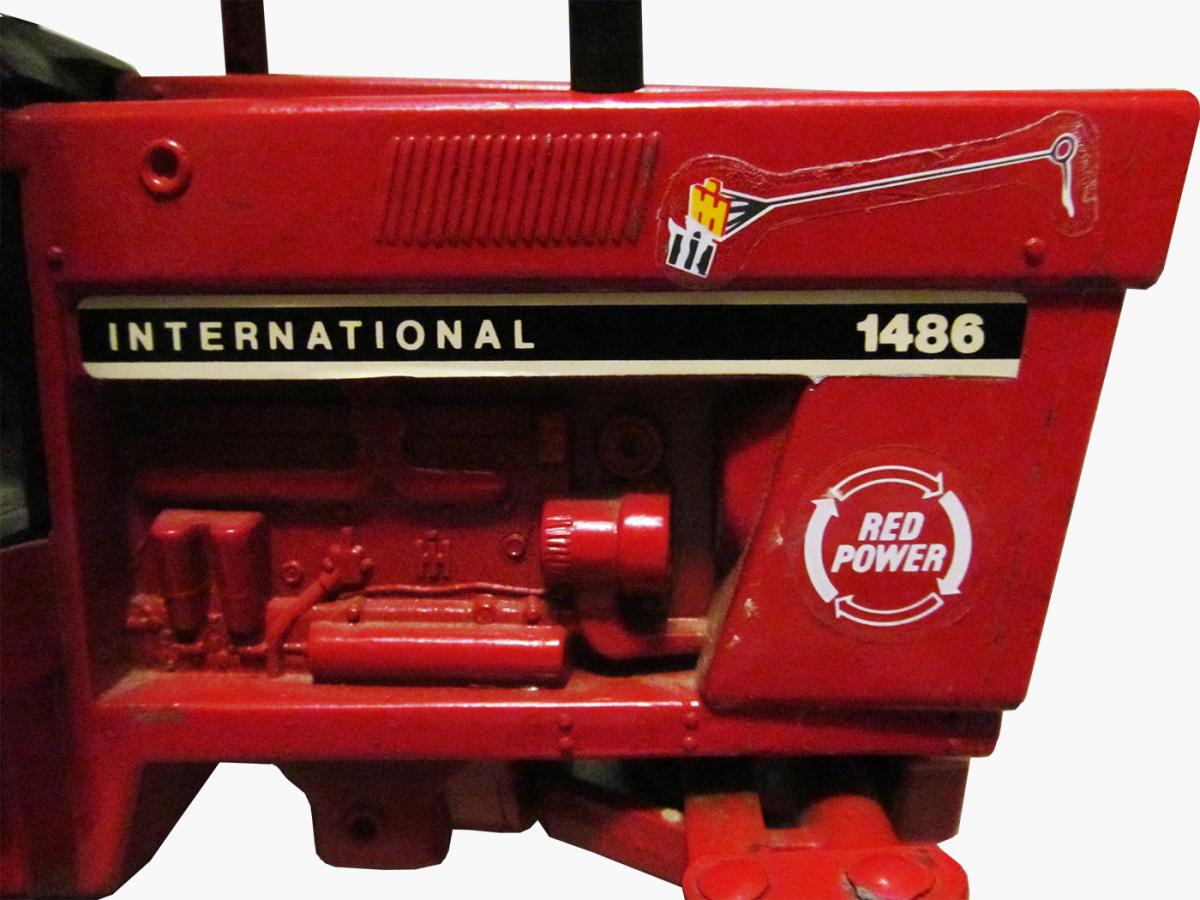 Read more of Kenneth Updike's infinite IH wisdom in Red Tractors, Red Combines, and Red 4WD Tractors.