IH Brass Tacks Demonstrators
Wednesday, March 20, 2019 - 09:00

       
In this original article by long-time author Kenneth Updike, the rare "Brass Tacks" demonstrator tractors are brought to light in full detail. Decal details, historical archive photos, and toy-tractor replicas illustrate this in-depth coverage of IH's lesser-known 1959–1961 demonstrator line. Find more in-depth IH history by Kenneth Updike in his latest co-authored book, Farmall Cub Encyclopedia, available for pre-order now. 


The "New World of Power" tractor line that International Harvester introduced for 1958 was a big step for IH and its dealers. The new X60 series tractors (460, 560, 660) now had more powerful 6-cylinder engines.  The choice of gas, diesel, or LPG power along with the option of Farmall (row crop) and International (standard tread) models gave IH dealers a whole new line of farm power to sell.

To promote these new tractors (and the smaller 40 series and Cub series), IH returned to its practice of making specially labeled demonstrator tractors, which would be referred to as the Brass Tacks demos. "Brass tacks" was a phrase commonly used to describe a concise way of speaking. For example, instead of trying to fluff something up, you need to get down to the "brass tacks" and make your point.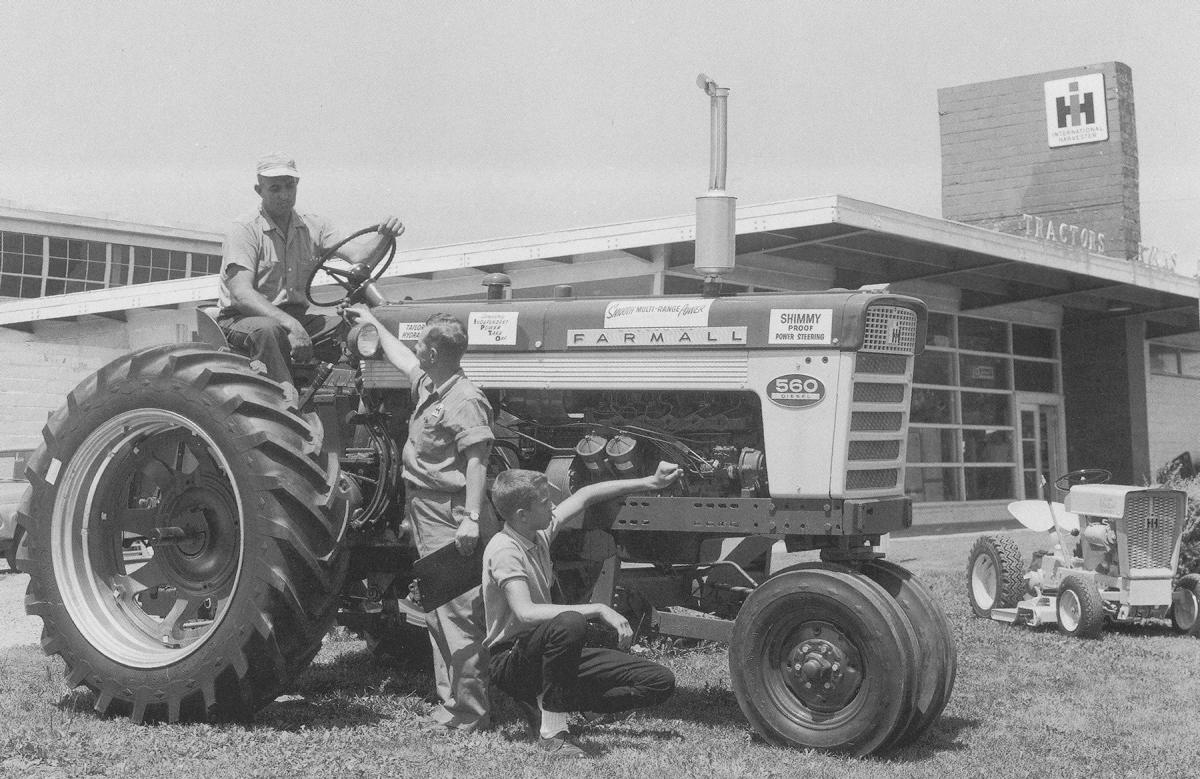 As with IH's first run of Brass Tacks demos in the previously built X50 series tractors, IH fitted regular production tractors with removable decals that pointed out various features on the tractors. For those dealers who had a tractor(s) on hand in their inventory, IH offered a Brass Tacks demo decal set. This set included all the feature decals needed to turn a Cub, X40, or X60 series tractor into a Brass Tacks demo. However, not all decals in the kit were used on all models. A decal selection/location chart included in the kit listed where the decals went on the tractor and which ones were used. Only the I-660 tractor used every decal in the kit.

These decals were a simple red print on white background, in bumper-sticker style. They were made for single application, and their adhesive allowed for safe removal without marring the paint.





If a dealer used a tractor from their own stock for this demonstration program, IH would credit their account a reimbursement for a fixed number of demonstrator hours. 

The larger X60 series Brass Tack demos have an extra wide bench seat that was added to the tractor by the dealer. This seat was similar to that of a school bus but with a hand-grip rail on each end. The reason for the extra-wide seat was so that the dealership salesman could ride along with the farmer to answer any questions and point out features of the tractor. Once the tractor was sold, the seat was removed and replaced with a normal seat. Only a handful of these special demo seats have been saved/found and they are a unique characteristic of the tractors.





The purpose behind the demonstrators was to allow customers to test-drive the demo tractor and to then buy a new tractor from the dealer. The demo tractor would then go to the next customer and so on until the program ended. At the end of the program, IH would discount the demo tractor for the running hours used for demonstration and sell it.    

IH did not mark these demo tractors with a special colored paint scheme. The serial tags weren't marked special either. There is no true way to prove (or disprove) that a X40 or X60 series tractor is a true Brass Tacks demo except by its production year. IH ran the Brass Tacks demo program twice during the production of the X40 and X60 series. The first run was  in 1958–59 when the tractors first came out. When the final drive issue in the X60 series was discovered and a field fix was being implemented, the program was suspended. After the field fix had been finished, IH ran the Brass Tracks demo program one more time in 1961. The second run of the demos was the better documented and photographed of the two, and a reprint of the decals would take place during the second run.  The photos shown in this blog post are of the 1961 Brass Tack demo decal tractors.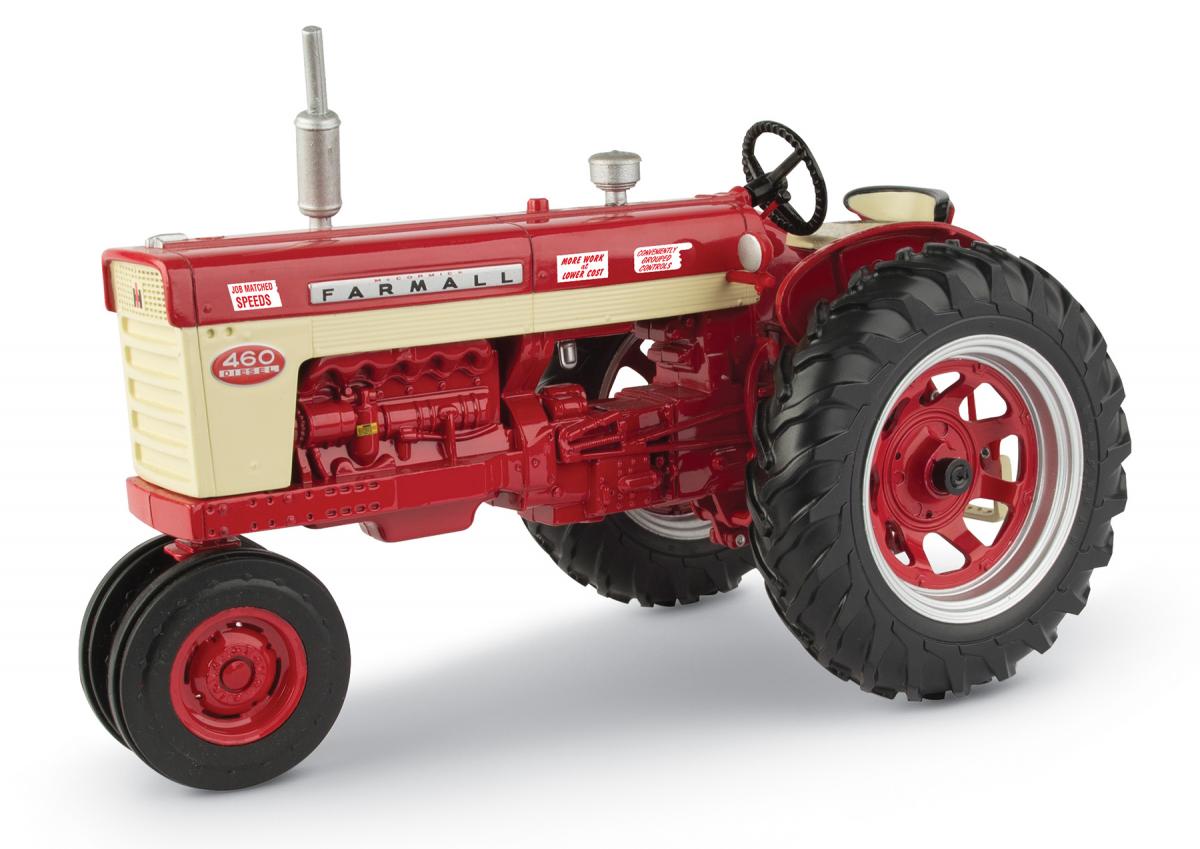 After discovering a complete Brass Tacks demo decal set from a closed dealer, your author had them reprinted. They were made in full size to fit the real tractors, and in smaller scales to fit the toy replica tractors. In the toy scales, I had pedal tractor, 1/8 scale, and 1/16 scale decal sets made.

IH Brass Tack Demo tractors today are a unique tractor variation that not many people are aware of. You'll be lucky to see one of these rare tractors make an appearance at a show!

Find more in-depth tractor history in Kenneth Updike's upcoming co-authored book, Farmall Cub Encyclopedia, as well as Red Tractors, Red Combines, and Red 4WD Tractors.