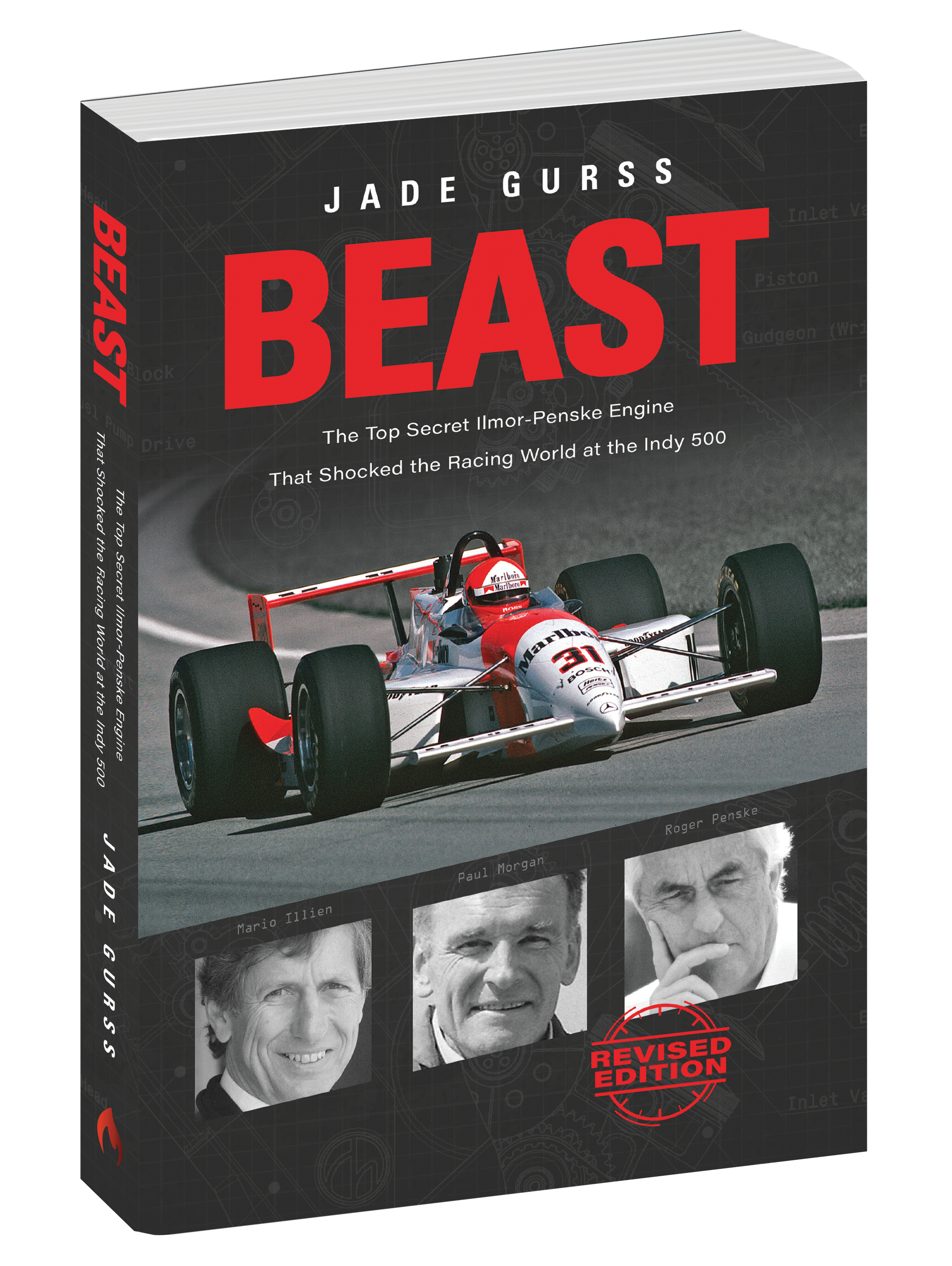 Beast softcover
$19.95
Beast is temporarily out of stock. Copies will be available to ship in early June. 
This revised trade paperback edition of BEAST features new commentary on the technical development as well as analysis of the purchase of IMS by Roger Penske. 

Beast was the nickname of a shocking new race engine unveiled for the 1994 Indianapolis 500. The massive effort to design and build it in a seemingly impossible timeframe is still hailed as one of the most herculean efforts and well-kept secrets in the history of the Indy 500. In the award-winning book, Beast, bestselling author Jade Gurss chronicles the subterfuge and debunks the myths about this legendary power plant that persist twenty years on.

Gurss interviewed key players involved in the race to uncover the story of how this engine powered the Penske PC23 chassis to one of the most talked-about Indy 500 races in history. The British race-engine experts at Ilmor Engineering offer detail about the design and manufacture of the engine. Roger Penske's team reveals how the engine and car were tested and developed, and how Mercedes came to be involved in the project. The story unfolds as Roger Penske and Mario Illien and Paul Morgan of Ilmor play every card they possess to create an incredible race engine--even rare World War II fighter planes and supersonic jets roar into the heart of this high-tech tale. Drivers Al Unser Jr. of the United States and Paul Tracy of Canada provide details on the tense weeks leading up to race day. The book reaches a suspenseful climax at 240 miles per hour at the Indy 500 noone can forget.
 
Wrapped up in the drama and intrigue are real business and motivational lessons which made Roger Penske one of the most successful businessmen in the world and that helped Ilmor and its cofounders, Mario Illien and the late Paul Morgan, design and manufacture Indy car and Formula 1 championship–winning engines. Beast is not only a must-read for sports and race fans, but a compelling narrative for those who enjoy genuine lessons in business and technology or thrilling mysteries based on actual events.

Review Quotes
"Gurss' prose style is madly gripping and emotional, so that it feels like you're part of it—an impressive feat for a writer who wasn't even there! When parts of the engine fail at the very last second, I was sitting there holding my breath, a ball of dread in my stomach. When all three Penskes were absolutely killing it in Indy 500 practice, I was hyped enough that I was smiling."
Elizabeth Blacklock, Jalopnik
"Gurss nailed it!  I lived between that engine and probing media for the entire month of May, 1994, and couldn't have told the story any better.  Take the rest of the day off, Jade."
—Tom Cotter
 
"Jade Gurss has shone a light into the shadows of the Skunk Works-style operation from which emerged one of the greatest machines in Indy car history."
—David Malsher, Editor, RACER
 
"This engine captured more notoriety for Ilmor and Team Penske than anything we have done together. Some people loved it, some hated it, but it's rare to meet anyone from that era of racing that doesn't have an opinion about it. Now everyone can read the truth and see the incredible effort it took to make it happen."
—Paul Ray, President, Ilmor Engineering Inc.
 
"An incredible tale told from the perspective of those who made it happen."
—John Zimmermann, Associate Editor, Vintage Racecar Journal

The hardcover, first edition of BEAST is SOLD OUT.
Product details
Subtitle:
The Top Secret Ilmor-Penske Engine that Shocked the Racing World at the Indy 500
Publication date:
Wednesday, April 1, 2020