Beast Four: Indy 500 Roots
Chapter 4 from Beast by Jade Gurss
Monday, May 23, 2016 - 19:30

To celebrate the release of the revised, second edition, Octane Press is releasing excerpts from the award-winning book Beast: The Top Secret Ilmor Penske Engine that Shocked the Racing World at the Indy 500. 

Join our mailing list for specials on the second edition and learn how the intrigue, engineering, and utter audacity of three men turned the racing world upside down. Limited quantities of first edition available. 

 
BEAST: CHAPTER FOUR
Fisher, Rickenbacker, and Hulman
 
"There are only three sports: bullfighting, motor racing, and mountaineering; all the rest are merely games."
— Ernest Hemingway
 

The Indianapolis 500 has been the world's premier auto race since its debut in 1911. It is a race that has made legends and cruelly vanquished the reckless and unfortunate. No other major race can match its long history. The 24 Hours of LeMans began in 1923, the Monaco Grand Prix debuted in 1929, and the "new" American challenger, the Daytona 500, began in 1959.

The Speedway oozes a magical spirit even when there's no racing. For many, it is a sacred pilgrimage every May, and the traditions of raceday remain unmatched. Held on Memorial Day weekend (a federal holiday to honor those who lost their lives defending the country), many of the activities could be perceived as patriotism gone awry if not just plain corny. Yet, when the prerace festivities begin, even the most cynical find their skepticism melting as the excitement and nervous energy builds.

Winning the race changes the lives of drivers and team owners. Wherever they go for the rest of their days, they will be introduced as Indianapolis 500 winners. Others aren't so lucky—more than sixty drivers and crewmembers lost their lives at the Speedway before 1994. Unlike other businesses, where success is relative, the 500 offers a stark result each year: You are either the winner . . . or not.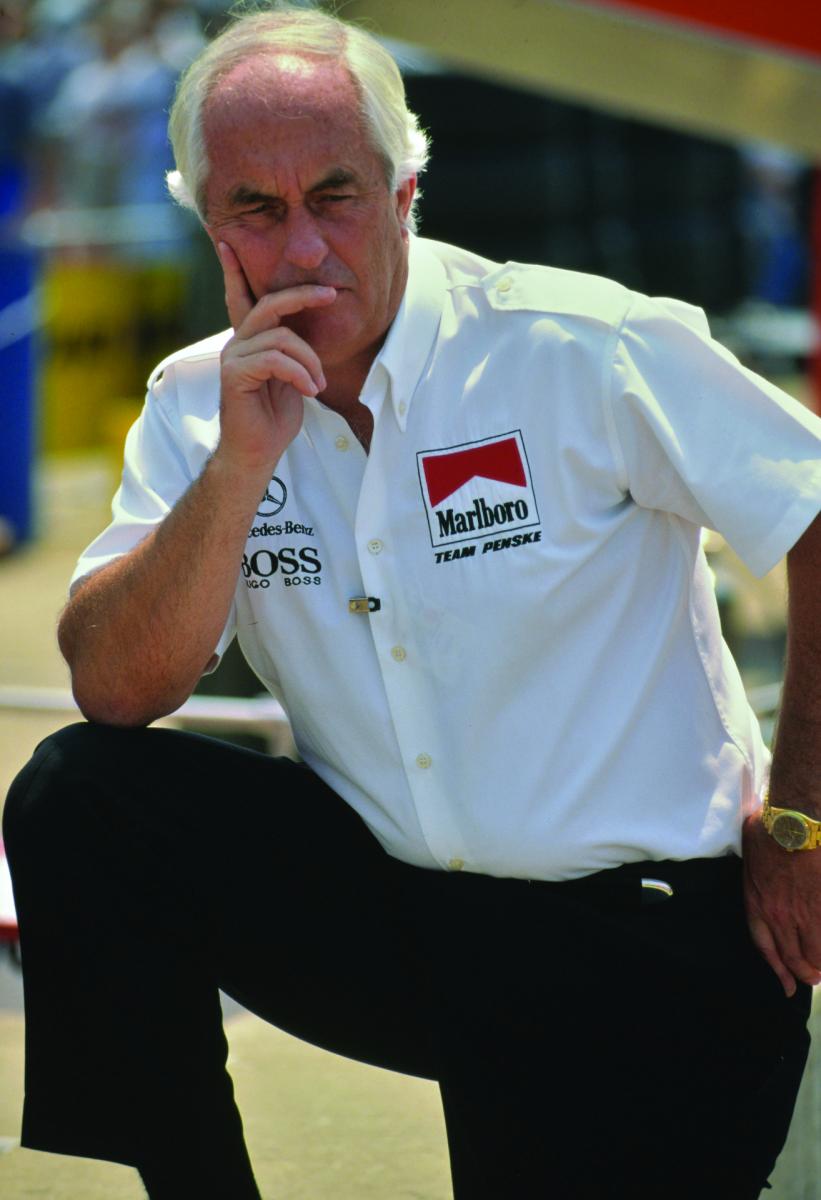 Neither Penske nor Ilmor liked "or not."

The Speedway was born as the automobile business was rapidly growing in the first years of the twentieth century. Unlike today's few remaining monoliths, auto manufacturers by the hundreds dotted the central United States. More than 215 auto companies existed in the state of Indiana alone in the first decade of the century. Indianapolis, with its central location and extensive railroad connections, was considered the national hub of the burgeoning industry.

Carl Fisher, who was in the bicycle repair business in the 1890s, became known for his promotional stunts. When the bicycle business began to wane, Fisher gravitated to automobiles. He became a barnstorming stunt driver who careened around American tracks with Barney Oldfield, the country's first driving hero. The two created the Fisher Automobile Company in Indianapolis, one of the first (some claim the first) automobile dealerships in the country. As they sold Oldsmobiles and a number of other brands, the promotional stunts continued, including driving cars off the roofs of buildings and then driving them away. Fisher's most memorable stunt was strapping a car to a balloon that floated over Indianapolis. No matter he had removed the engine to make it light enough for the balloon to lift. When it landed, Fisher hopped into an identical vehicle hidden nearby and drove through town to great cheers.

Fisher's greatest fortune was a patent for gas-filled auto headlights. He and partner James Allison formed Prest-o-Lite, which provided the gas system and headlights in nearly every American automobile built from mid-decade onward. The acetylene canisters used to power the lamps were highly combustible, which meant their manufacturing buildings had an unfortunate tendency to explode in flames. In 1911, Fisher and Allison sold Prest-o-Lite to Union Carbide for $11 million (more than $268 million in 2014 dollars).

Fisher also spotted a need to create a facility that would allow automakers to test and showcase their wares. He began dreaming of a lengthy, high-speed test track.

With his business partners, Allison, Frank Wheeler, and Arthur Newby, Fisher purchased 320 acres of farmland slightly more than five miles from Indianapolis. In the spring of 1909, the Indianapolis Motor Speedway (IMS) was incorporated. The dimensions of the rectangular two-and-a-half-mile track remain exactly the same more than a century later: The front and back straightaways are 3,300 feet (five-eighths of a mile at a width of 50 feet) while each of the four corners, banked at nine degrees, is 1,320 feet (one-fourth of a mile and 60 feet wide) and joined by two short straightaways of 660 feet (one-eighth of a mile).

The facility's first event was a national championship for massive balloons in June 1909. A motorcycle race was held in August, followed a week later by a series of auto races. However, the racing surface of crushed rock mixed with tar proved a disaster. The motorcycle and auto meetings were both suspended as the track deteriorated, causing massive crashes and three deaths.

Fisher solved the issue by contracting with the Wabash Clay Company seventy miles away in Veedersburg, Indiana. Ten-pound bricks were made and sent to the track by railroad, then installed in sixty-three days. The Speedway earned the nickname "Brickyard" honestly: The new surface contained 3.2 million bricks.

In 1911, just one race was held at the track, and the "Indianapolis Motor Speedway International Sweepstakes 500-Mile Race" was born. Automakers lobbied for a twenty-four-hour race, but the five-hundred-mile distance was chosen because it could be completed in approximately seven hours, leaving time for locals to return to their homes and farms before nightfall. The crowd, comprising thousands of locals and many more thousands who had taken trains from cities across the land, saw forty race cars lined up five wide take the starting flag, led by the first-ever pace car. (In the early days of IMS, that flag was red, not green, as it was judged to be easiest for the competitors to see.)

Nearly all the entries carried two men: a driver and a riding mechanic, whose role was to work on the often brittle cars and watch the traffic around the car at high speed. But one entry, a sleek bright-yellow car called the Wasp (for its pointed rear tail) from the Indianapolis auto manufacturer Marmon-Nordyke, carried a single man, Ray Harroun, to save weight. When competitors complained of the danger of a driver being unable to see behind the car, Harroun, an engineer who had also designed the car, mounted a small frame in front of the cockpit and installed a mirror. The first automobile rearview mirror is just the first example of hundreds of major automotive innovations that would be conceived or developed at the Speedway.

Because of the grueling conditions, most teams used a relief driver, and Harroun gave way to Cyrus Patschke for thirty-five laps. (Patschke also drove in relief of fifth-place finisher Joe Dawson, also racing a Marmon.) Harroun and his Marmon Wasp led eighty-eight laps to win the first 500, averaging 74.6 miles per hour to cross the finish line in six hours and forty-two minutes.

Due to World War I, the race was shortened in 1916 and then canceled in 1917 and 18. After the war, the 500 was held in 1919 and continued to grow in prominence. The race's success led to the incorporation of a small town surrounding the facility: Speedway, Indiana.

After almost two decades at IMS, Fisher was looking for new challenges. As a realtor, he led the creation of Miami Beach, Florida, and played a critical role in developing a coast-to-coast national highway system. He sold the Speedway in 1927 for $750,000 to a group led by war hero Captain Eddie Rickenbacker. Before becoming a pilot and earning the Medal of Honor (the United States' highest military honor), he had raced five times in the 500, appearing in the inaugural race as a relief driver and then taking four official starts with a best finish of tenth in 1914. Rickenbacker's tenure survived the Great Depression, but the Speedway was closed in 1942 due to World War II, becoming dilapidated. The massive brick surface was overcome by weeds.

Seventy-five miles southwest of the Speedway, in Terre Haute, Indiana, Anton "Tony" Hulman was running the business founded by his grandfather in 1848. A star athlete at Yale, Tony was in charge of Hulman & Company, a diverse group of grocery-related businesses whose marquee product was Clabber Girl baking powder, which was sold around the world. In the 1930s, Hulman had aggressively grown the company to include a number of Coca-Cola bottling plants and he later bought TV and radio stations, newspapers, and more. Hulman recognized the upside of adding a massive sports facility to his portfolio and agreed to buy the Speedway's rickety remains for $700,000 near the end of 1945. After he made many improvements, he resurrected the 500 in 1946.

With so many young men returning from war and a flourishing economy, the 500 grew under Hulman's leadership. "The Greatest Spectacle in Racing" drew huge crowds for raceday and for pole qualifying two weeks prior. Official ticket sales numbers are never shared, which fuels rampant speculation about raceday attendance. Many have theorized crowds ranged from 250,000 (the most likely figure) to 400,000 or more. Movie star and race-team owner Paul Newman once hired college students to count every grandstand seat, but the Speedway also packs the vast infield with spectators, which makes a definitive guess almost impossible. No matter the details, the 500 has held the largest single-day attendance of any sporting event in the world for decades.
               
While not the first to utter a dramatic reading of "Gentleman, start your engines," it was Tony Hulman who perfected the pacing and gravitas like no other. A memorable highlight came when he rode with A. J. Foyt on the traditional victory lap after the 1977 race, moments after Foyt had become the first to win four 500s. The men had been close for years, and A. J.'s grand gesture marked a joyous end to the final 500 for Hulman, who died of heart failure the following October 27. His widow, Mary Fendrich Hulman, became chairman of the IMS board and appointed Joseph Cloutier track president. Cloutier had been Hulman's righthand man and treasurer of the Speedway since 1945. When Cloutier passed away, Hulman named her twenty-nine-year-old grandson, Anton "Tony" George, president of the Speedway in 1989.

Yet, in 1993, as Ilmor and Penske embarked on their new challenge, the Indianapolis 500 wasn't just about its long and sparkling history. Since Hulman's death, the Speedway and race-team owners had been waging a serious battle over control of the entire sport. 
 

For the full story, check out Beast here, and learn how the intrigue, engineering, and utter audacity of three men turned the racing world upside down.

​Previous Chapter-Next Chapter