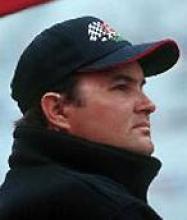 Author
Two-Time New York Times Bestselling Author.
Jade Gurss is the owner of fingerprint inc. The company was founded in 1999 to direct media and public relations for clients such as Anheuser-Busch and the Budweiser NASCAR program with driver Dale Earnhardt Jr.
Gurss is the co-author of two New York Times Best Selling books. "Driver #8" (Warner Books) chronicles Earnhardt Jr's rookie season. It is believed to be the most successful book about auto racing in American publishing history, spending 17 weeks on the New York Times Best Seller list. He also co-wrote "DW: A Lifetime Going Around in Circles" (Putnam Books), which reached the New York Times Best Seller non-fiction list in February 2004.
fingerprint inc. has been consistently innovative in developing a long list of media firsts for a NASCAR driver for Earnhardt Jr., from major magazine features to a series of documentaries on networks such as MTV, CMT and other non-sports outlets such as 60 Minutes, Rolling Stone Magazine and Playboy.
Prior to forming fingerprint inc., Gurss was in charge of marketing and publicity for Ilmor Engineering, the race-engine design and manufacturing arm of Mercedes-Benz. He also managed sports publicity for Mercedes-Benz USA while at the Cotter Group in Charlotte, NC after being the director of publicity at Heartland Park Topeka in the early 1990s.
A native of Topeka, Kansas, Gurss has a bachelor's degree in broadcast communications (Cum Laude with departmental honors) from Washburn University, and has a technical degree as a certified audio engineer. Gurss has a background as a musician and in video and television production.
Gurss actively provides lectures and presentations for universities as well as corporate clients on topics such as sports marketing and publicity, small business ownership, and NASCAR.