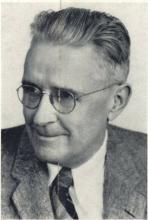 William Hazlett Upson
Writer
The Mastermind Behind Alexander Botts
William Hazlett Upson was born in Glen Ridge, New Jersey, September 26, 1891. His father was a Wall Street lawyer, his mother a doctor of medicine, and most of the rest of the family doctors, lawyers, college professors, and engineers. To be different, Bill Upson became a farmer—but found the job involved too much hard work. He escaped from the farm by enlisting in the field artillery in World War I.
After the war, he worked from 1919 to 1924 as a service mechanic and troubleshooter for the Caterpillar Tractor Company. "My main job," he said, "was to travel around the country trying to make the tractors do what the salesman had said they would. In this way I learned more about salesmen than they know about themselves." He also became very fond of salesmen. He admitted they are crazy, but maintained they are splendid people with delightful personalities.
In 1923, Bill began writing short stories. In 1927, he created the character Alexander Botts, who has appeared in more than a hundred Saturday Evening Post stories.
Bill was married to Marjory Alexander Wright. For many years, their home was in Middlebury, Vermont. They had a son, Job Wright Upson, a daughter, Polly (Mrs. Claude A. Brown), and a dog, Shelley. Upson spent his last days in Middlebury with his family, and passed away on February 5,  1975, at the age of 83.