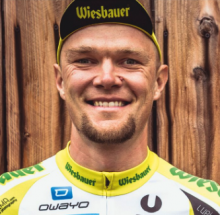 Christoph Strasser
Author and Cyclist
Author of Strasser's Road
Christoph Strasser is an Austrian ultra cyclist who is a five-time winner and record holder for the fastest time in the Race Across America.
In his youth he was quite active and enjoyed such sports as football. At the age of 18, he began to ride a mountain bike. In 2002 he took part in his first 24-hour cycling event. In 2005, at the age of 22, he became the youngest person to enter and complete the 'Race Across the Alps'. In the following years he won several more 24-hour races and in 2007 he set a new Austrian record in 24-hour cycling events by riding 950 km and became the youngest Ultra World Champion at the age of 25. In 2009, on his first attempt, he qualified for the Race Across America but had to quit due to health problems after 2400 km (at that point he was in 4th place).
On June 24, 2011, Strasser became the third Austrian after Franz Spilauer and Wolfgang Fasching to win the Race Across America.
Strasser repeated as the winner of the Race Across America in 2013, finishing the race in less than eight days (7 d 22 h 11 min), at an average speed of 15.6 miles per hour — a new race record.
In 2014, Strasser won and set yet another record at the Race Across America, completing the race in 7 days 15 hours 56 minutes, at an average speed of 16.42 miles per hour.
On March 21, 2015, Strasser set a new record for the most distance ridden on a road bike in 24 hours, riding 556.856 miles (896.173 kilometers) at the former Tempelhof airport in Berlin.
He is currently living in Austria.