Two Stories in Long Island
The Watral Collection
Wednesday, March 10, 2021 - 06:18

This article was originally published as a feature in the Ageless Iron section of Successful Farming magazine, where Lee Klancher is a regular contributor.
One of my first assignments when I left my full-time job to freelance for a living was a trip to Long Island, New York, to photograph the Watral's massive two-story complex built to house their collection of several hundred tractors. I was in New York City for a writer's conference, and this was my first visit to the Big Apple since college. I stayed in a cheap hostel on the Upper West Side and walked each day to Midtown for the conference, the city overwhelming my senses and draining my bank account. I remember being on the train to Long Island and feeling tremendous pressure to be productive as the expense of the trip was so high. The Watral profile assignment didn't pan out, but I managed to sell a story to Men's Journal at the conference. That NYC trip, the fate of this piece, and the story of the Watral's success have become powerful personal reminders that reward requires risk.
Sandwiched by the boroughs of Queens and Brooklyn to the west and the lavish coast homes of the Hamptons to the east, central Long Island is a place where construction workers, downtown lawyers, and established immigrant families put down roots. The Long Island Railroad runs directly into New York City, and, years ago, a three-bedroom house could be bought for less than the price of a grain harvester.
The modest tractors of homes on central Long Island were surrounded by stretches of farmland. Farms and farmers worked the glacial till, harvesting potatoes and raising dairy cows. That all began to change in the 1960s, as New York City's population exploded and housing sprawled east. Today, the island is one of the richest and most densely populated portions of the United States. Potato farms have become wineries, property taxes shot to the moon, and the fields filled with housing developments.
Paul Watral grew up near the middle of the island, where he cared for chickens and pigs and worked on his father's farm. He loved working with his hands and has fond memories of tinkering with the family's Ford 9N tractor.
By the time Paul was a teenager, the evolution of Long Island was in full swing. Developers bought up farm land to build tract homes and shopping plazas. Crop prices were down and machinery costs were up. The writing was on the wall for farmers on Long Island. Watral learned to read that writing at a young age.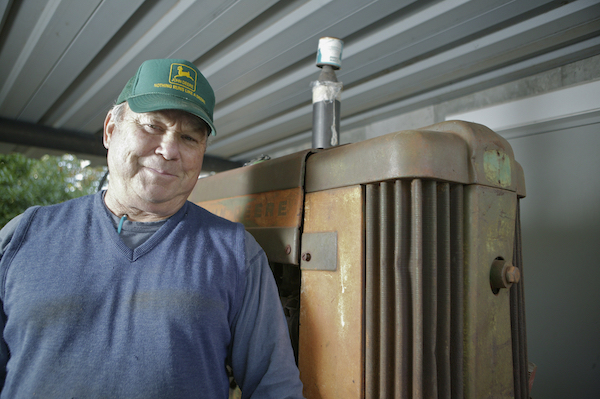 Paul Watral poses with a rusted John Deere. Photo by Lee Klancher
The Watral family began renting out their farm equipment to move dirt. With all the new homes and businesses going in, lots of dirt needed to be moved on Long Island. Business was good, and the family bought more equipment. And, when money allowed, more land.
Watral spent his days working heavy equipment, came home at night with dirt on his knees and grit on his cap. He could haul in sand and gravel and dig holes. Why not take down things, as well? He soon created a demolition business that grew and grew. Today, his firm has taken down some of the largest structures in Big Apple.
The success gave him a little walking around money, and Watral amassed a sizable collection of rare and unusual Corvettes and Chevrolets. He loved the cars but worried about their fragile finishes. One scratch would cost thousands, one ding a trip to an expensive auto body shop. Collectible cars were not for him.
He turned back to his farming roots and started collecting rare John Deere tractors. His collection grew, filled up storage sheds and stashed in corners of his warehouses. Watral wanted to consolidate, and his wife and youngest son, Robert, wanted to keep him close to the house.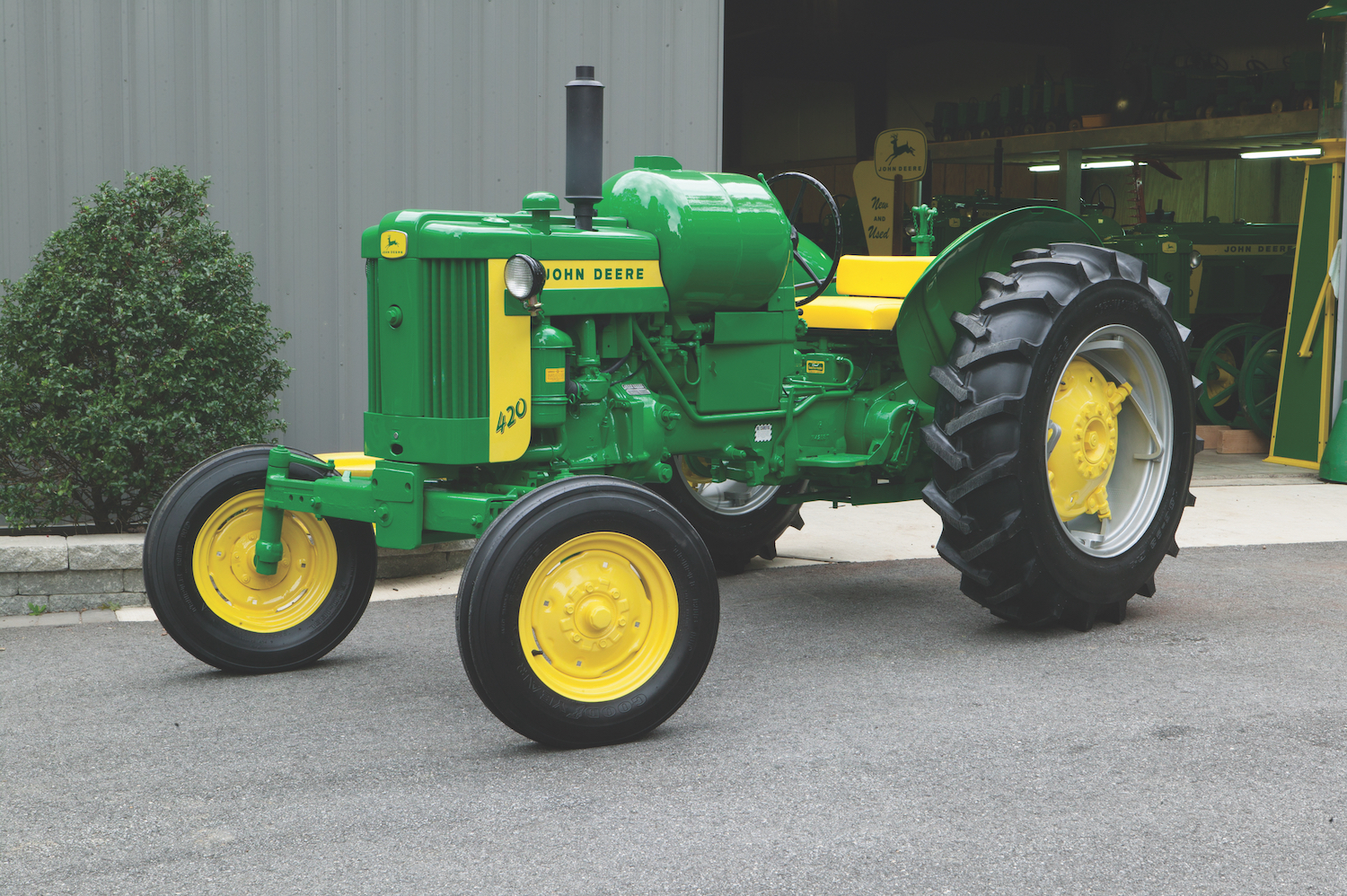 MODEL 420 LPG, When the rest of the 20 series was introduced in summer 1956, the 1957 and later 420s received the two-tone paint job like the rest of the series. Photo courtesy of Watral Collection, taken by Lee Klancher
Watral and his son, Robert, began to scheme about building a large garage. Their home is a wooded parcel, with plenty of room for the two-level garage of their dreams. Because of their demolition business, they know the mistakes that lead buildings to crumble. They avoided them with their dream garage. The walls are eighteen inches of heavily reinforced concrete, and the beams used for the ceiling of the basement and floor of the second story are reclaimed from a school.
Details are right. Paul loves to point out details. The notches in the concrete carved out to hold the beams. Channels in the wall turned backwards to allow concrete to be poured without forms.
Walk the building with Paul, and you find that nearly every structural item and interior feature was reclaimed. A glass case housing collectibles was recovered from a demolished warehouse. Beams in their garage made from city light poles. His grinder rests on posts from a factory. The racks in the upstairs are made from old city light poles. The circular stairway leading downstairs, light fixtures, and more are bits of Long Island brought back from the dead to make Paul's dream garage.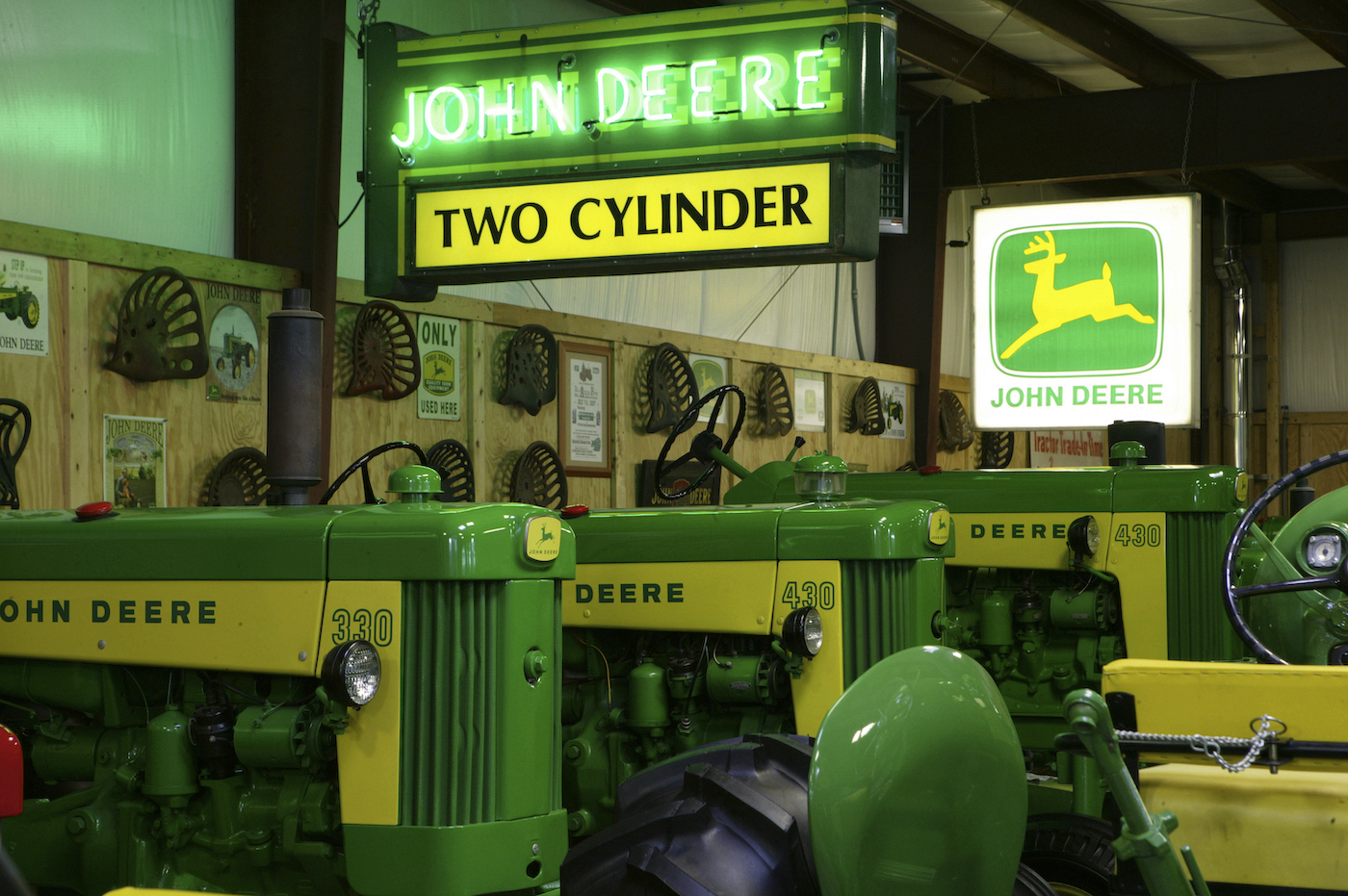 Paul Watral's collection ranges from full sized machines through John Deere accessories and memorabilia. Photo by Lee Klancher
The stars of the show inside the place are the tractors, each one rarer than the next. Many have been shown at major John Deere shows, and several are one-of-a-kind machines.
Paul knows his machinery inside and out. He can tell you off the top of his head how many were made and why this example is rare. He knows the details, can spot the one-of-a-kind option kit. The rare paint.
Details that make the machine special. Collectible. Investment worthy.
Paul likes dirt on his hands, not on his machinery.
If you would like to read more stories like this one, check out the Related Books linked below.