John Deere Evolution: The Spy
Monday, November 15, 2021 - 10:30

John Deere Evolution is a visually stunning work that blends tractors photographed in custom-built studios with concept drawings and behind-the-scenes looks at how the machines were designed and built. This encyclopedic history covers every model line built by John Deere since 1919. In this excerpt from the book, read about a spy from International Harvester who tried to sneak intel about a confidential product launch at the New Orleans Superdome.

When John Deere introduced its new 50 series tractors in fall 1982, it put on a show in the New Orleans Superdome that was nearly as flashy as Deere Day in Dallas, when it introduced the New Generation tractors in 1960.

John Deere territory manager Dale Johnson remembers the day in New Orleans well, both because of the spectacle and one memorable intrusion.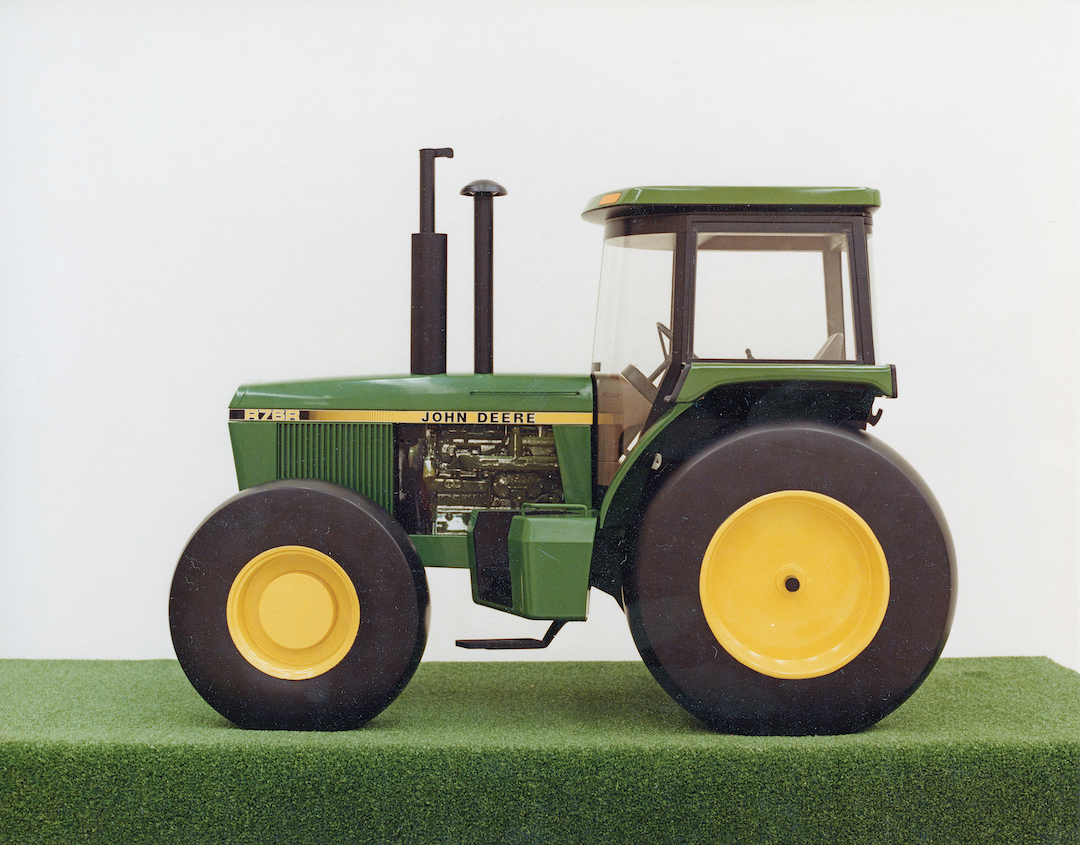 This R76R developmental model is dated August 30 1982. The model is labeled the JD 365—all the Deere developmental machines had similar numbers. Photo courtesy of Henry Dreyfuss Archive, Cooper Hewitt, Smithsonian Design Museum.

"Deere had rented the New Orleans Superdome for the new tractor intro because it was going to be a huge intro with the new 50 series tractors with the fifteen-speed Power Shift transmission and the mechanical front wheel drive and more horsepower," Johnson recalled.

"They had laser lights and live music and they had dancers and performers and it was smoke and fire," Johnson recalled. With dealers from around the world, the event was quite a show.

Word of the product launch had traveled to the competition, who very badly wanted to get an early look at the new line.

Pulling shenanigans to get a sneak peek at the latest machine of the rival color was nothing new in the ag industry. All sides had personnel out in the field looking specifically for test machines, and stories abound of stunts pulled to get an advance look at the competition, including tearing apart prototypes left unattended, sneaking around at midnight to test metals, and camping out with cameras and telephoto lenses at likely test fields.  

For the Superdome 50 series launch, John Deere had posted security at the door and badges were required for entry, but a fast-talking sort with a John Deere cap and shirt just might be able to get inside.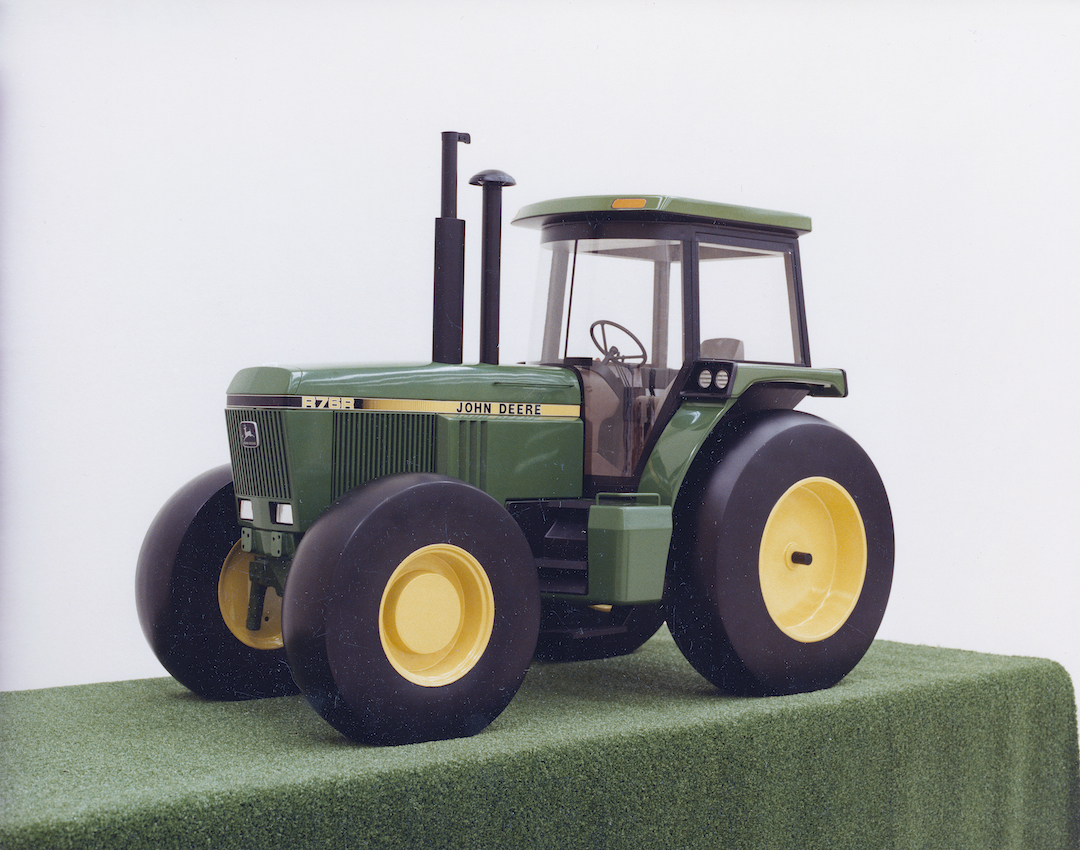 Photo courtesy of Henry Dreyfuss Archive, Cooper Hewitt, Smithsonian Design Museum.

"During the show, one of our security people thought he saw some kind of a reflection on the roof of the Superdome," Johnson said. "They've got a huge structure up there and catwalk with lights and speakers and they hang the big screen from there."

Johnson remembers the security telling him he was headed up to investigate.

The reflection on the Superdome's roof was from International Harvester salesman Bud Youle, who had talked his way in, and scampered up to what he thought was a safe spot.

"I had been in [the Superdome] before," Youle said. "I knew there was a bar up [above the field]. I thought if I could get up to that bar, and I could sit and listen, that's all I needed to do.

"I went to the elevator. I went straight up to the top . . . and I sat down up there in the dark."

He was able to sit there for a good while, listening to the presentations of new machines. As time wore on, he recalls thinking he'd better move. As they say in the military, never stay in one spot too long.

"I got myself a Budweiser beer, and got in a different place," Youle explained, "but I could still hear them. Pretty soon, I heard the elevator come up."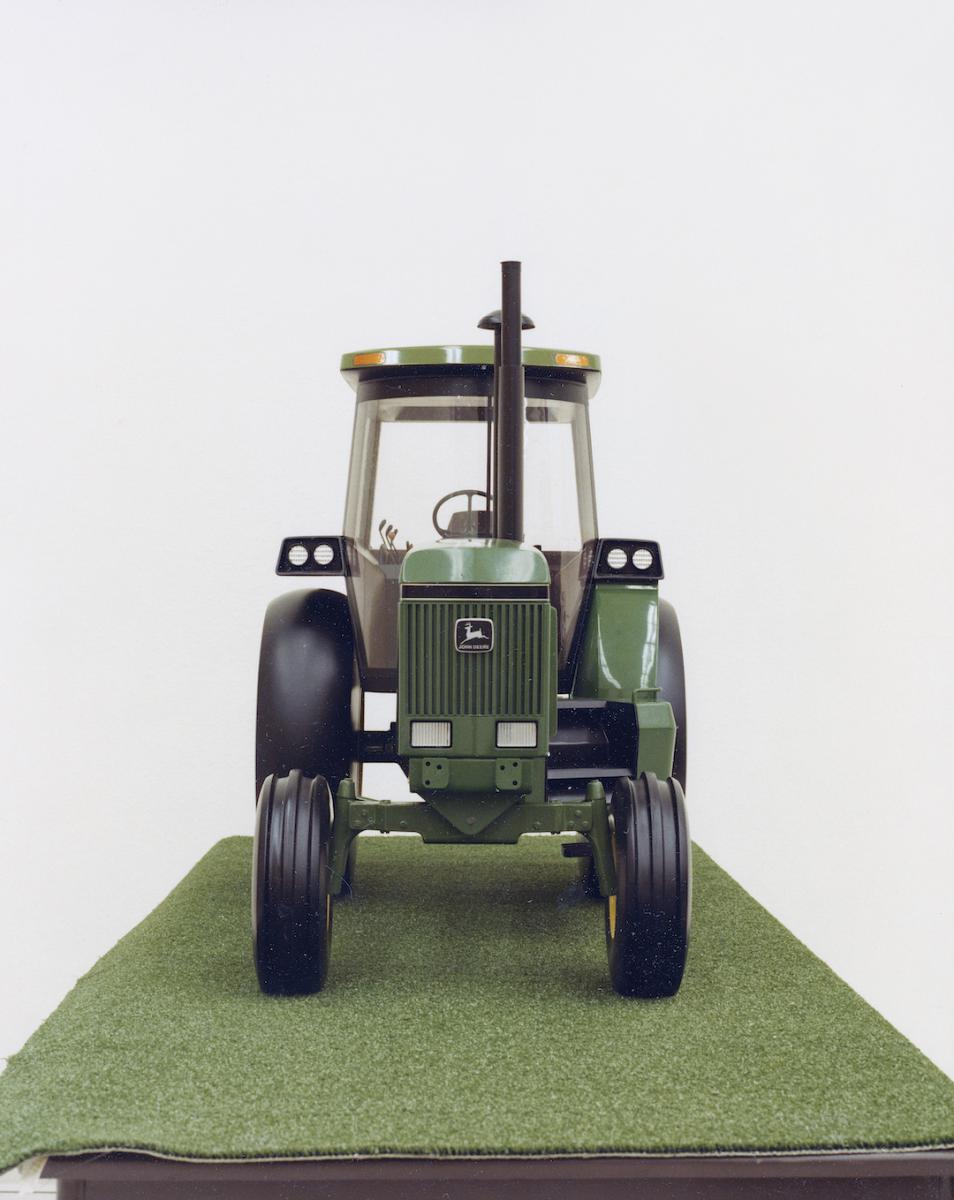 Photo courtesy of Henry Dreyfuss Archive, Cooper Hewitt, Smithsonian Design Museum.

That was Dale Johnson's security guard. "He went up there and low and behold, he came upon this guy that was taking pictures," Johnson said. "He called down for some help and then ended up grabbing a hold of him, so they got him down off the catwalk and got him into their security room and then started asking him a whole bunch of questions."

As an aside, as Youle told the story, he was in a bar. Johnson's story suggests Youle was on a catwalk. While there was a bar high in the Superdome so it's possible Youle is correct, Youle loves to add zest to his stories. Given his storytelling style, the smart money is Johnson remembers correctly and Youle was on a catwalk.

Both parties recall Youle coughing up his identity pretty much immediately.

"My name is Bud Youle, Harvester Company," Youle remembered saying. "I was down here, and I saw what was going on."

As Johnson tells it, the Deere folks speed marched Youle back down to a main office and then placed a series of phone calls trying to figure out what to do with him.

"They had an idea of what they'd like to do with him, but they didn't," Johnson added with a laugh.

Grab your own copy of John Deere Evolution to keep reading more about John Deere espionage.