Quadtrac Introduced at Farm Progress Days 1992
A New Machine Arises . . . from Underground
Wednesday, March 10, 2021 - 06:18

     The first Quadtracs were tested in secret, at Charlie Richards' farm not far from the engineering facility in Fargo, Minnesota. Much of the testing was done at night, on fields that were obscured by brush and terrain.
     Even those early machines—which were built with an outsourced undercarriage and Goodyear tracks cobbled onto a Steiger 9250—rode incredibly smoothly. All of the engineers and other folks who drove those early machines remembered the ride.
      "I remember one day being out in the field driving a Quadtrac and we had one of our Steigers with triples on it," engineer Pete Pedersen said. "The poor guy in triples was going across the tilled ground bouncing all over in the seat. I was drinking a Pepsi in the seat of the Quadtrac. It was just spanning right across there."
        In the early 1990s, the farm market continued to be tough, and Case IH was struggling to survive. The engineering team believed they had a winner with their tracked concept. Engineer Brian Vik said the team saw the advantages clearly: not only would tracks offer improved traction, they reduced compaction and the narrow width (compared to duals or triples) were better for road transport. "Guys are saying they could get into the field earlier, work in the marginal conditions," Vik said. 
        Getting funding for anything new when a company is struggling is nealry impossible. One of the executives brought in to help the company make it in the early 1990s was Robert J. Carlson, a former Deere & Co. executive affectionately known as "Tractor Bob." He was well-liked in red and green camps, and a fair-minded, outspoken leader. Carlson had a fairly short tenure at Case IH as CEO. One of his key decisions at Case IH was to send a very early Quadtrac to Farm Progress—long before the concept was ready to rock. The excerpt below from Red 4WD Tractors tells how his decision launched a new technology. 
 
When Tractor Bob Carlson got wind of the new Quadtrack, he pushed to have it shown at the 1992 Farm Progress Show. Kelly Kravig was the marketing manager for the show at the time and was struggling to figure out how to unveil a machine the size of a house.

After considerable debate, they came up with a solution that would dramatically show off their new machine: they dug a pit and built a barn over the top of it. The prototype Quadtrac was hidden in the hole, under the barn. The stage was designed so that the only way to see the new machine was to attend a show. 

After a bit of hype to set the stage, the machine would slowly emerge.

"Open the doors and out she comes. Everybody was just like, 'Ahhhhh!'" Kraig said. "We probably did it four or five times a day for three days and every single time the grand stands were packed."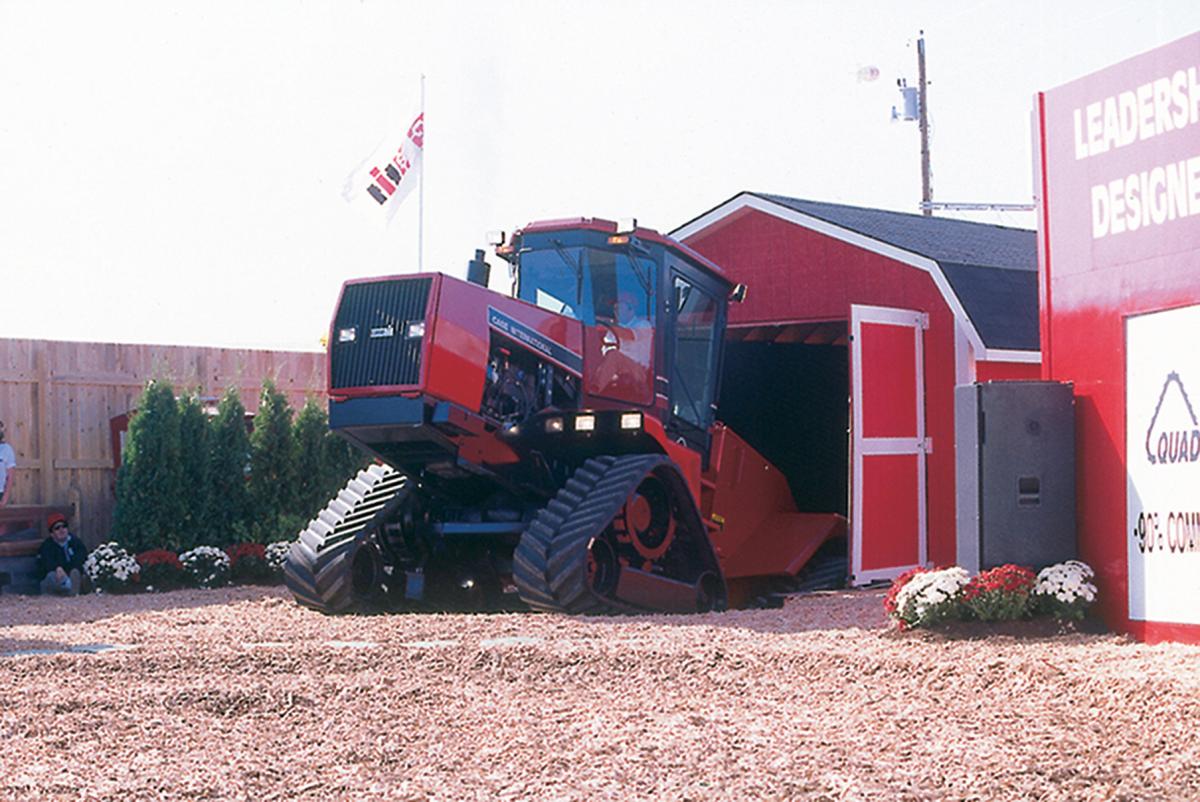 The Quadtrac was a massive hit at the show. The problem was . . . the prototype was incredibly rough. Track technology was not up to the demands of the machine, and the undercarriage they had outsourced was inadequate at best. Bearings would melt. Plus the gear reduction for the track drive meant top speed was just a couple miles per hour—not nearly enough for transport. And the tracks in existence at the time were designed for crawlers with a top speed of 6-8 mph. At the 20 mph required for tractor transport, the existing tracks would disintegrate. Years of development by Case IH and their suppliers were required to ready the machine for production. 

The dramatic Quadtrac appearance at Farm Progress, however, had whet the appeitites of farmers looking for more traction and that buttery ride. Kelly Kravig remembers a steady stream of customers demanding Case IH build the machine. 

"The first couple of years on that job I took an awful lot of phone calls," Kravig said.

'I need that Quadtrac right now. You need to build that.'

'When are you going to sell that?'

"You know what? I had a pat answer: When it's ready."

Carlson retired, conveniently enough, just as his push to display this machine at Farm Progress created this problem. The engineering team worked tirelessly through 5 years of development, and a number of dramatic occurences forced the hand of management to provide funding to put this new technology into the fields. 
Read the rest of the story, both about how the early Quadtrac was tested in secret, and then how the engineering team transformed a rough prototype into a finished machine in the book RED 4WD TRACTORS, by Lee Klancher.