It's a Dog's Life: Singapore to India
An Excerpt from Lone Rider
Wednesday, May 9, 2018 - 18:30

In this excerpt from Lone Rider—the autobiographical story of Elspeth Beard's 1982 journey around the world on her 1974 BMW r60/6—Elspeth is on a hurried route through mountainous Thailand to catch a boat to the next leg of her trip: India. But as with all mad dashes across foreign terrain, the unexpected happens. Read more in this excerpt from "Part 2: Sydney to Madras" and continue following Elspeth's progress around the world with " Part 3: Madras to Kathmandu."
          For the first time on my trip, I was in a hurry. I had ridden up to the Thai–Burma border in search of a route through to India and on to Nepal. Until now, I'd travelled rich in time, but poor in money. Having spent a leisurely couple of weeks stopping off at every ruined temple and sight I wanted to visit on the way up to the Burmese border in the far north of Thailand, I was now on a deadline to get to Penang with enough time spare to make all the arrangements for my passage to India.
Adherence to tight itineraries was a Western way of thinking that I'd already discovered didn't work in Southeast Asia, where it was foolish to rely on ever being anywhere at any particular time. Fortunately, the smooth roads of Thailand were among some of the best I'd encountered so far. It was the wildlife wandering randomly across them that was the problem. But with the good roads and my time limited, I increased my speed, riding faster as I became more carefree.
That's when I hit the dog.
It ran out from behind a truck travelling in the opposite direction and was under my front wheel before I even had a chance to brake. Within seconds I was sliding up the road watching my bike as it disappeared out of sight into a ditch. It all happened so suddenly and unexpectedly, there was nothing I could do.
When everything had stopped moving I staggered to my feet. I looked around but the dog was gone. I limped over to my BMW, which had hit a tree and now had its front wheel and exhaust wedged against its trunk. My metal pannier boxes had been ripped off the back of my bike and the mirrors, indicators and other parts were scattered all over the road. As I tried to pull my bike free I noticed my bloody handprints all over the front wheel.
My hands, red raw, the skin scraped off both palms, were bleeding and screamed sore. I tried to ignore it, tried to tug again at the front wheel, but the pain was too much. I stopped, looked at myself properly for the first time. Examining my injuries made them really hurt and my head spin. I felt faint and queasy, not least because of the thought of the mammoth task required to sort out the bike and get back on the road. I was battered and bruised all over, a total mess. But I didn't care. All that mattered to me, all I could think about, was getting my bike back on the road and reaching Penang in time to catch my boat to India.
Having not seen my parents for nearly two years, I dearly wanted to meet them in Kathmandu. But it was going to be a close-run thing. The Penang boat was the last to Madras for at least three weeks. If I made it and it docked on schedule in Madras, I'd have two weeks to ride north through India to Calcutta, and on to Nepal, a distance of about 1,500 miles to Kathmandu.
While I'd been contemplating my predicament, five men had appeared from a small farm on the side of the road.  I got them to help me pull the bike off the tree, out of the ditch and up onto the side of the road.
She was a sorry sight.
We'd taken a hammering, my bike and I, although it was not as bad as previous injuries. This time at least we were both still standing, each of us vaguely in one piece. But that cargo ship wasn't going to wait for us, so I immediately set about getting us back on the road. First the BMW. Then me.
I sat under the tree, thinking it all through. I was cut and bruised and smashed about, with a bike I feared was wrecked, at a time long before the advent of mobile phones, internet and email. I was twenty-four years old, a young architecture graduate with little experience of the world and hardly any money in my pocket. I was alone, a thousand miles from anyone I knew, in a country whose language I didn't speak and couldn't read, on a road I didn't know.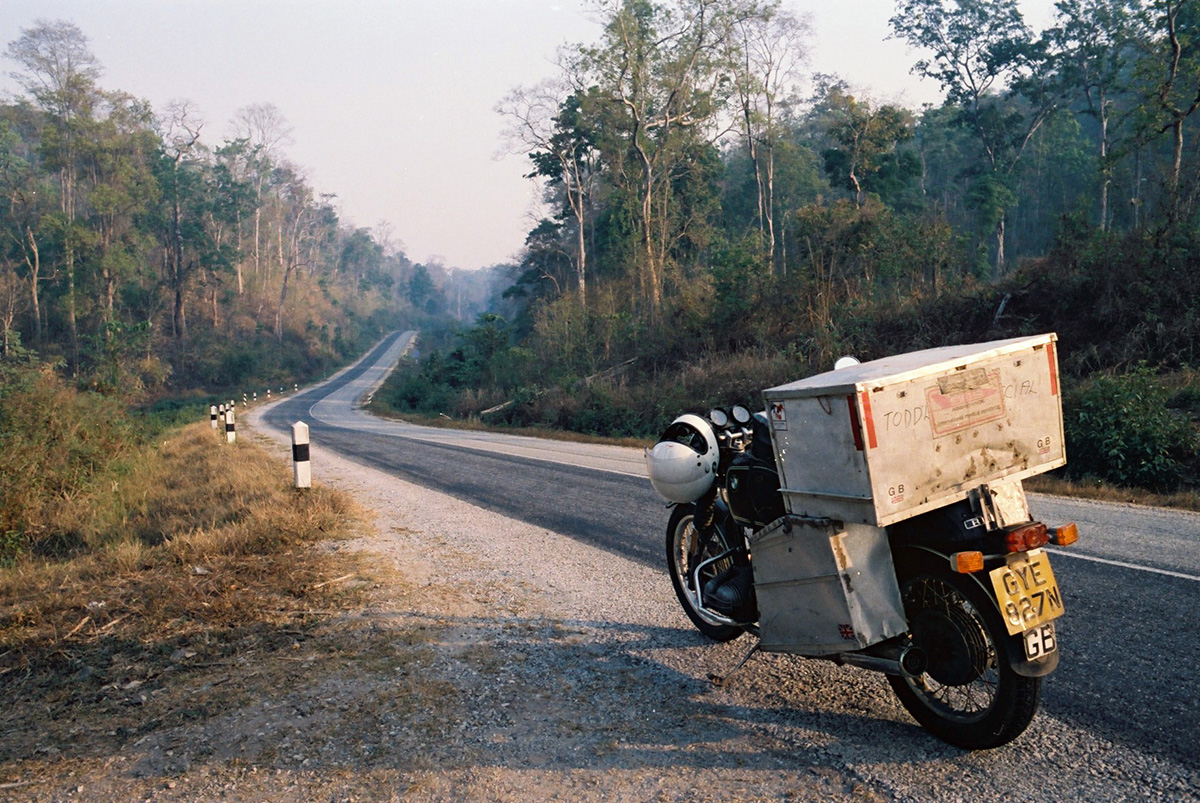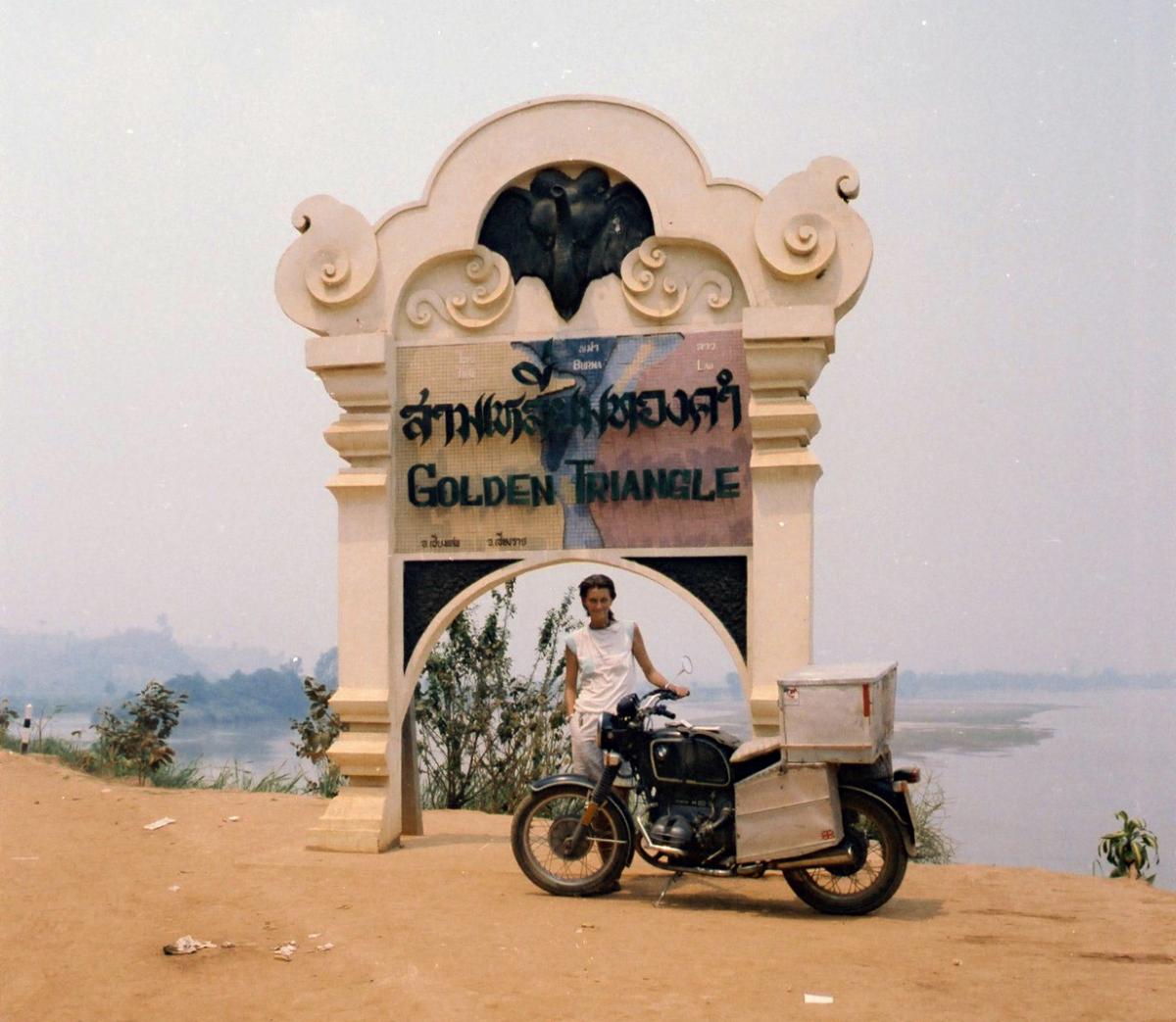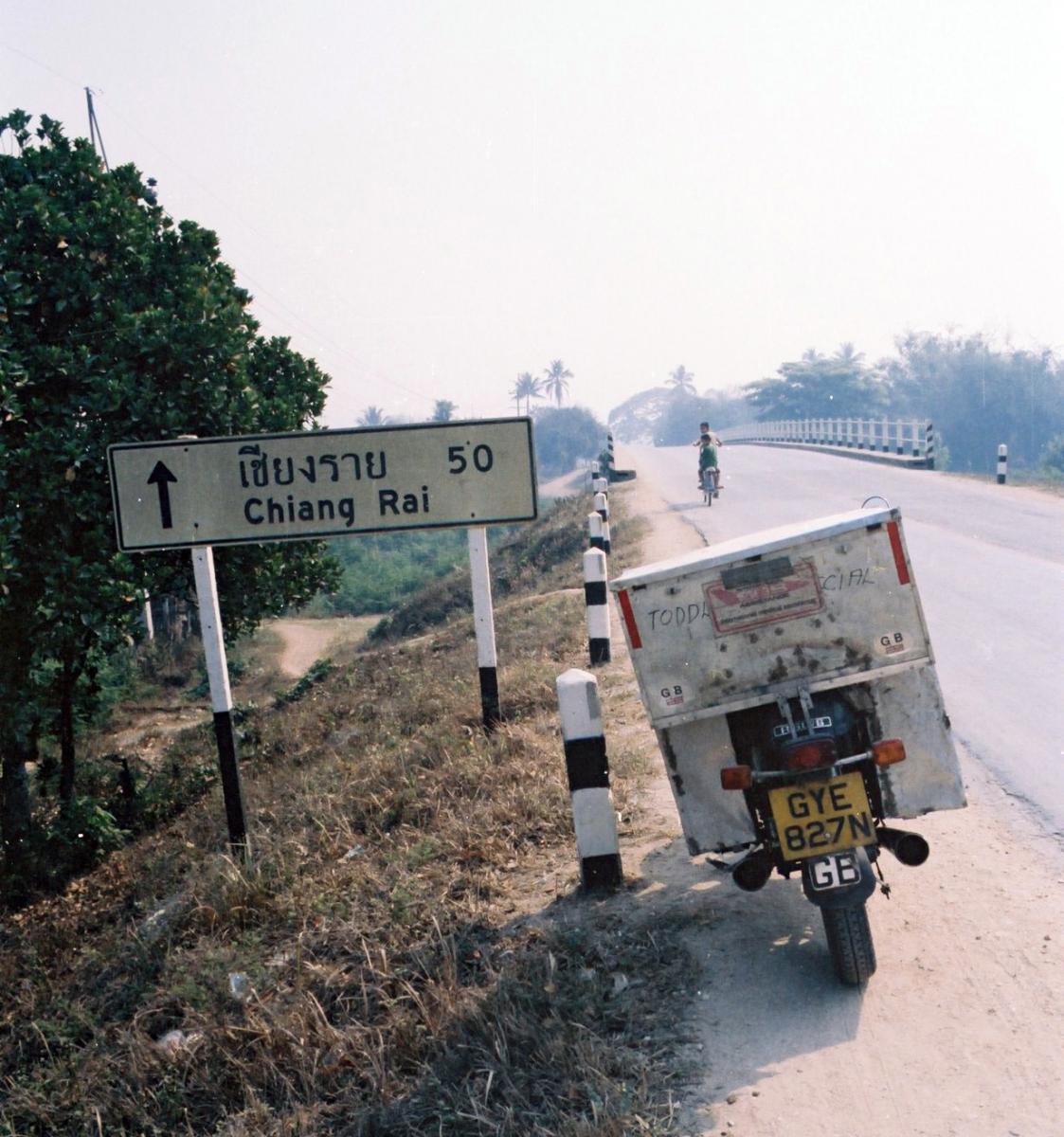 Read an excerpt from the third leg of Elspeth Beard's journey: "Part 3: Madras to Kathmandu."And find Lone Rider on our website HERE.