Endangered Tractors, Busted Knuckles & Barber Chairs
The Prairie Tractor Restoration Den of Dennis Powers
Wednesday, July 5, 2017 - 16:00
William Powers moved from Illinois to Iowa in 1875. Central Iowa had recently been opened up to settlement, and Powers came to farm. He farmed with horse and plow, transforming the prairie into fallow fields. He passed away in 1903, and the torch was passed to his son, Samuel.

Samuel worked those same fields, determined to provide farms for each of his four sons and his daughter a farm to inherit. He succeeded. His children were helped to purchase a 160-acre plot of rich Iowa farm land.
 
While Samuel worked the land, the farm tractor evolved. Tractors in that era changed faster than computers in the 1980s, with new innovations appearing every few months. Early versions were little more than four-wheel carts with engines propelling the machine with jury-rigged chain and belt drive systems.

As powered travel consumed society a rash of innovators, entrepreneurs and shysters worked night and day to figure out how to bring power to the farm, and how to cash in on power farming. New technology was born daily, and the market was flooded with everything from three-wheeled spindly motor cultivators to 20-ton, beautifully finished beasts designed to break prairie and power threshers.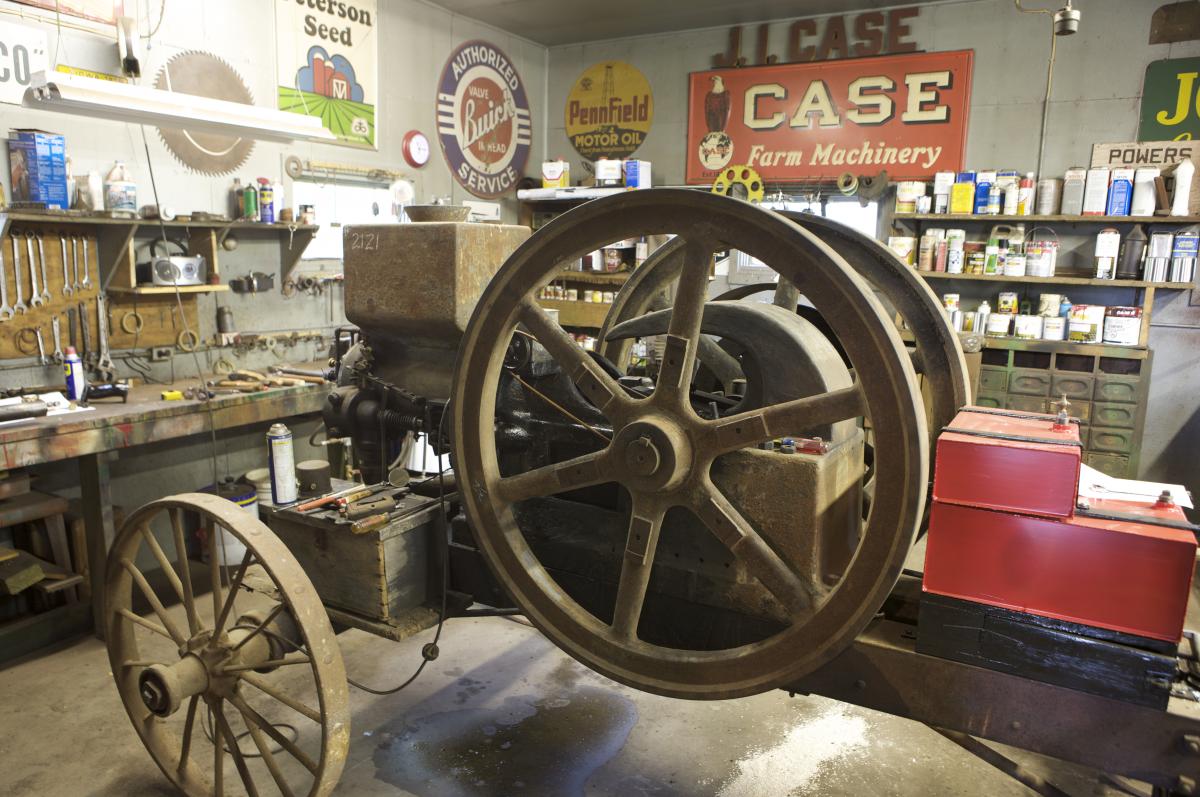 This stationary engine is a 10-horsepower York on an original cart. The York is an early example of a fairly large portable power unit, used to grind feed and power other heavier equipment.
 
In this fertile time Samuel grew up and had a son, Elmer, who stayed on the farm. His son, Daniel, did the same. The machines built at the turn of the century resonated with Samuel's grandson Daniel, and he grew to become one of the most prolific collectors of stationary gas engines.
 
Daniel's son, Dennis, carried on the interest in farming and collecting. He works the farm his great-great-grandfather bought in 1875. And, like his father, the love of all things mechanical is in his blood.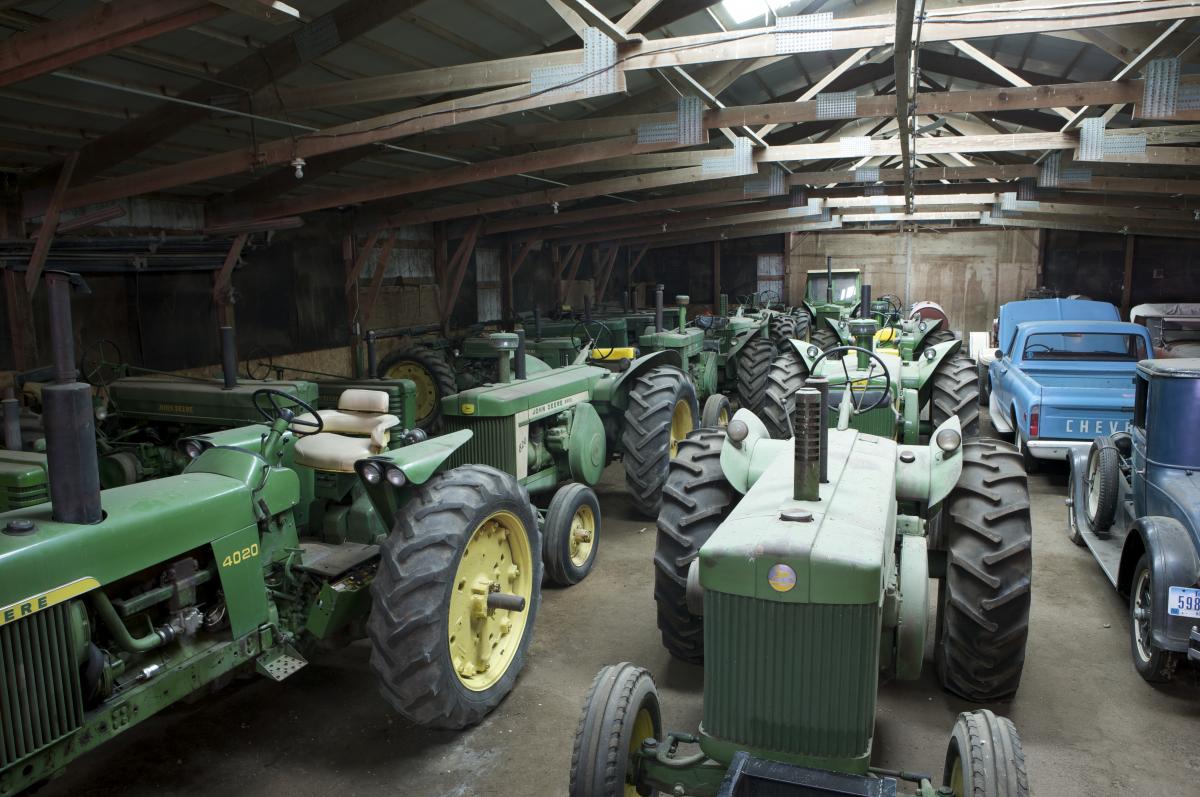 A back shed at the Powers place houses a collection of John Deere tractors and a few cars and pickup trucks.
 
While his friends and classmates were into cars, horses, and other typical rural young male pursuits, Powers stuck to old machinery. Part of that was due to his nature, and part of it was simple math. "I never had the money to do things that get worth less, like drag racing and things like that where there is just continual output," Powers said.
 
When Powers was about 30 years old, he started collecting stationary engines. He and his father had fun with that for a while, but Powers soon realized that their common interest was turning into a competition.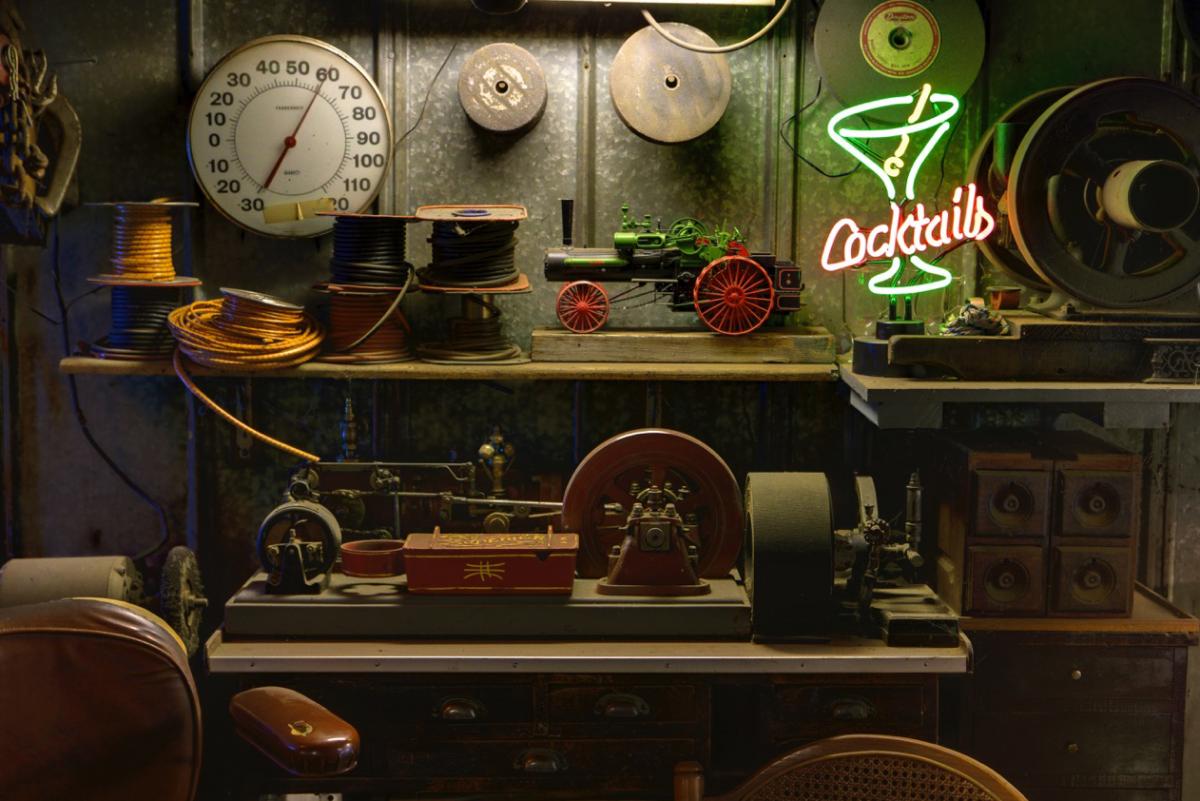 The lean-to is a treasure trove for a collector. The model is of a Corliss steam engine. "The cocktails sign is a reminder for five o'clock," Dennis said. "Not that we really need it."

He turned his interests elsewhere. In cars as well as engines, his interests lie with equipment built in the early days of the tractor, from roughly 1907 to the 1920s. Machines born during his great-grandfather's era.

"I liked the oldest of the old, which started around nineteen-seven to nineteen-ten through the late twenties. The steel wheels, magnetos . . . no batteries, no upholstery," Powers said. He was interested in the larger tractors from the era. These monstrous machines plowed raw ground, and powered stationary equipment.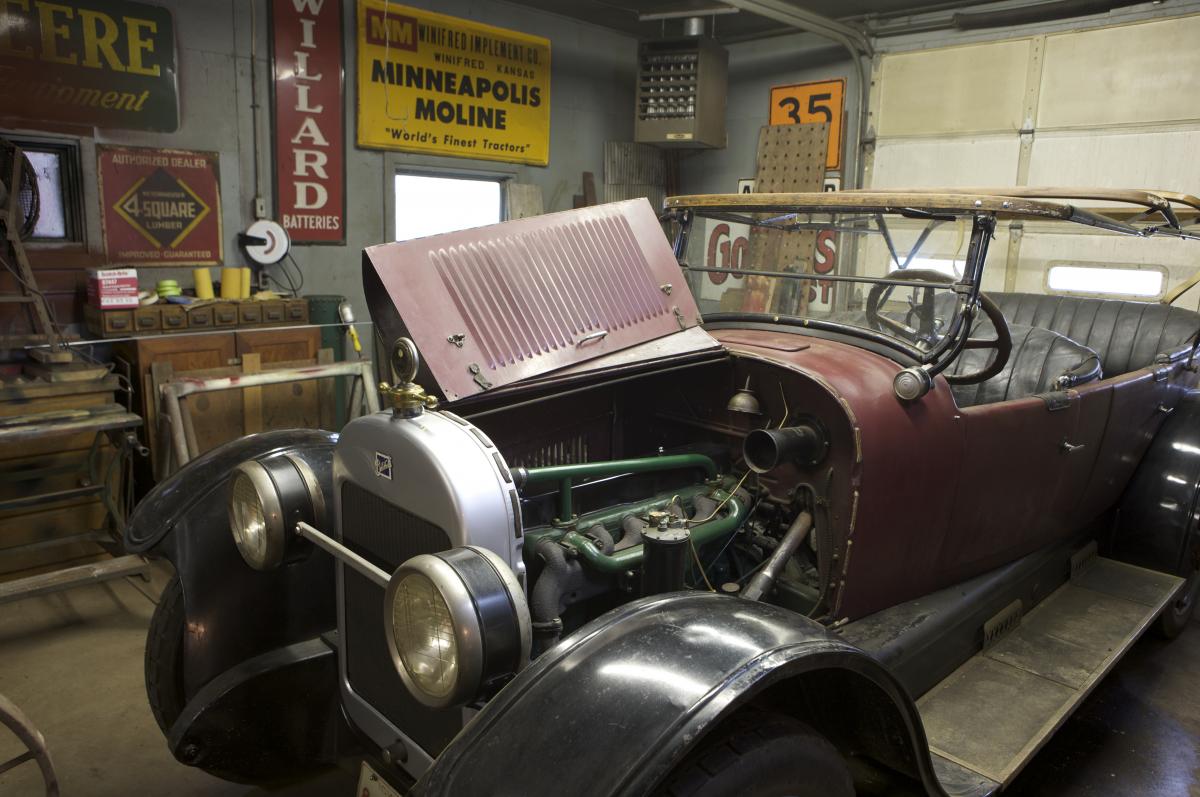 This 1922 Buick touring car was purchased by Dennis' father in 1955. The car was used until 1972, and then sat for nearly 30 years. In 2010, Dennis put the car back in service and it has been used regularly since that time.

The prairie tractors, as they are known today, were built and sold in limited numbers, and were often purchased by collectives or co-ops who paid for the machines by traveling to different farms to work. The finish and engineering of the machines was state-of-the-art for the time. Very few single farms could afford a prairie tractor, and very few of them survived into modern times.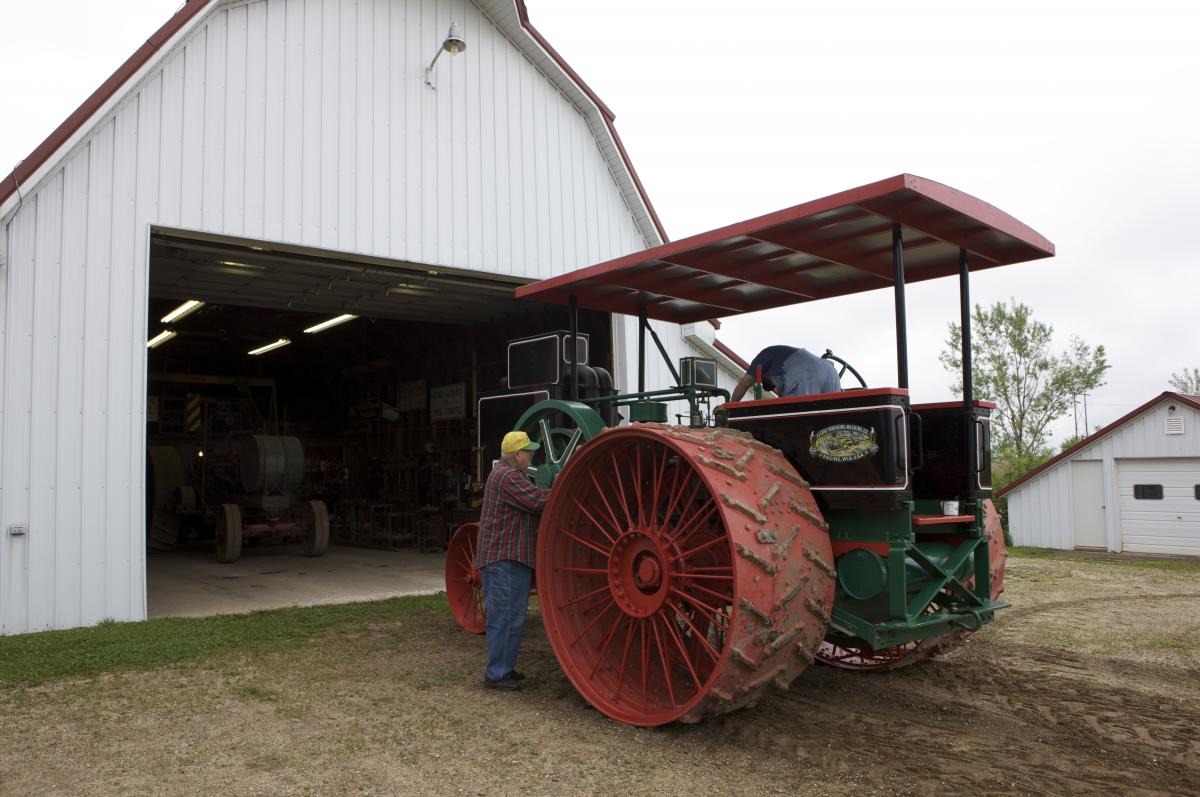 Starting a prairie tractor requires patience, knowledge and enough timing (and muscle) to turn over that big flywheel.

In 1977, Powers traded several smaller tractors to a man in Ohio for an Aultman-Taylor 30-60. The tractor was complete, and needed plating, servicing, a new canopy and a fresh paint job.
 
Powers didn't work on the Aultman-Taylor for nearly ten years. "I put it in a farm building and looked at it," he said. He bought several more over the years, picking up machines when he found a good one and had a bit of surplus income from his farm.
 
"When times are good on the farm, I'd go out and barter for another tractor," Powers said.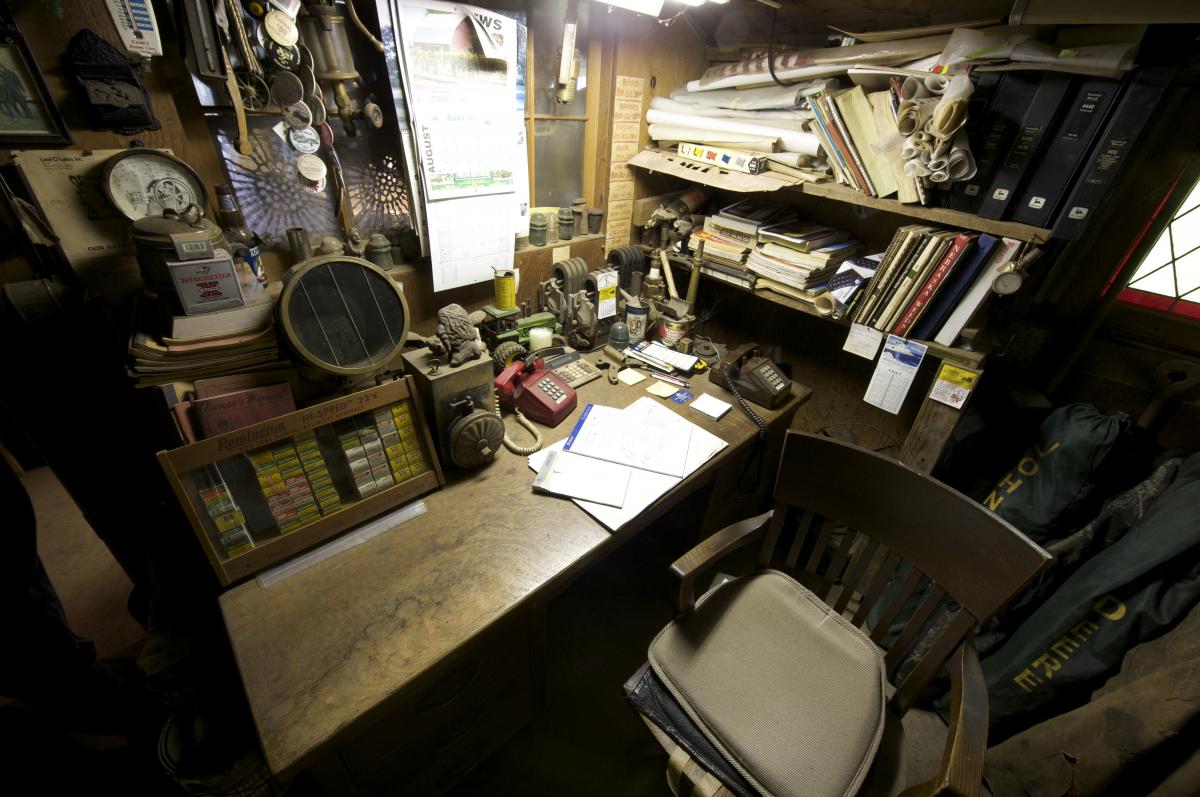 The office feature mounds of literature, two phones, and ammo. Thanks to eBay, finding manuals, parts catalogs, and other helpful literature concerning prairie tractors has become possible.

His father's advice proved helpful when Powers was acquiring these tractors. "My dad always said, 'Buy the best you can buy with the money you've got today.'"
 
Although the prices he paid were low by today's standards, finding the money always required a little stretch. Powers kept stretching here and there, and found himself getting deep into the prairie tractor hobby. He finished the Aultman-Taylor, and decided it was time for a bigger challenge.
 
Parts for these machines are rarely available. The only way to buy a part is to find another collector who happens to have one. When something breaks or needs to be replaced, restorers often turn to specialists to have the part made or expertly repaired. Many prairie tractor restorers have to find whatever records are available, have molds made, and cast parts. In short, they have to make parts to restore their machine.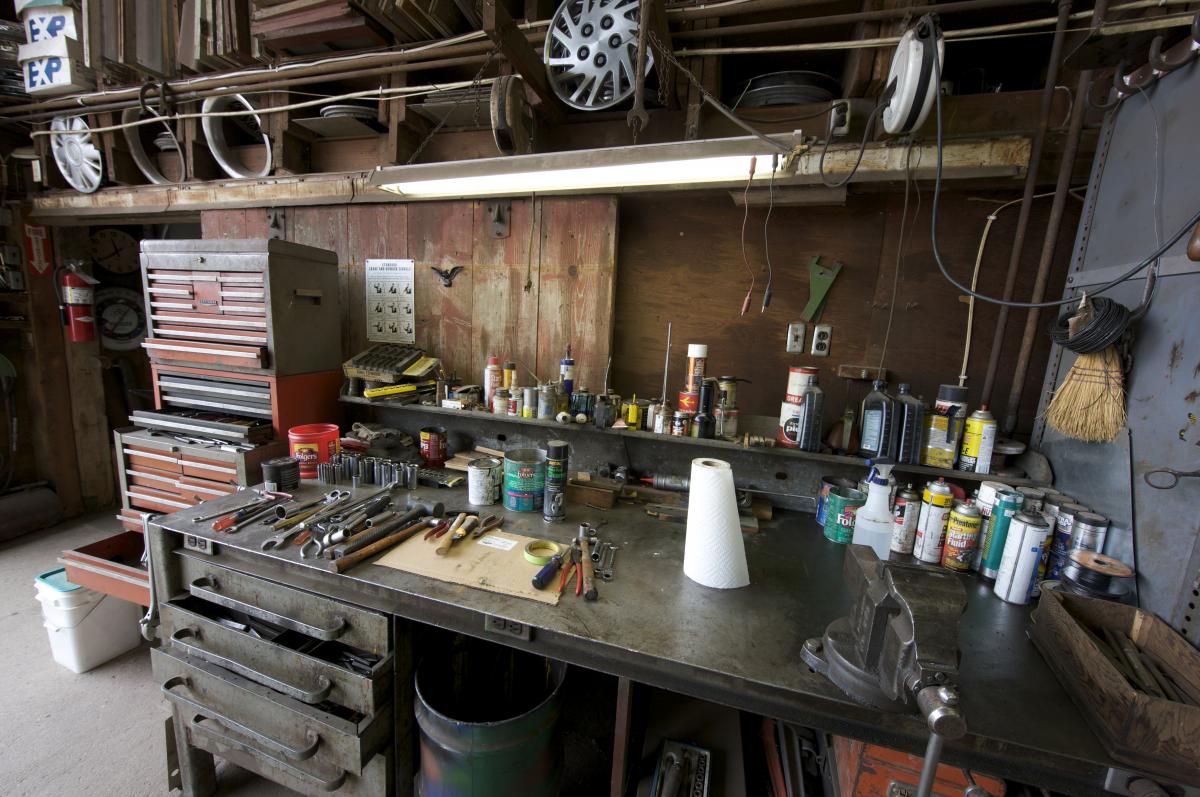 The work bench in the restoration shop. Restoring a prairie tractor often requires building parts. At times, original blueprints must be located so a wood or CNC aluminum replica can be built. Then a mold is created and the part is cast.
 
Today, prairie tractors are so rare and expensive, a few talented individuals are building tractors from scratch, using old literature and casting all the necessary parts. Powers was fortunate to have started collecting prairie tractors at a time when machines were available.
 
Even so, his first frame-up restoration required considerable ingenuity. He bought a 40-72 Case cross motor with a loose connecting rod. The engine needed a mechanical overhaul, with new bearings. He needed an engine sleeve, which he found through a man in Kansas.
 
Some of the small parts provided the big challenge. Small parts with high wear can be problematic. Things like lugs and transmission covers need to made at foundries. Some make patterns out of wood for the castings, which you have to do if you don't have an old part.
 
Others use CNC machines to make the parts they need. Specialists help all the restorers. Welders are some of the most sought-after, and the good ones are artists.
 
"On a farm tractor, if you break a part on a cultivator, you weld it back on and it works. If you break it off a prairie tractor, you weld it back on and make it look like it never happened."
 
As he collected more tractors, Powers found that prairie tractors suited him well. "I enjoy the mechanical aspect of the hobby. I enjoy the visual aspect. I also enjoy the people I meet in the hobby," he said. "There are a lot of great tractors I'll never own, but I enjoy looking at and discussing them no matter who owns it."  
 
Praire tractors are a passion for powers, and he fuels that with farming. After a brief stint of working construction, he became a full-time crop farmer in 1965 and has been harvesting corn and soybeans ever since.
 
He loved the physical aspect of farming, and being outdoors. He also appreciated the fact that farming crops or raising turkeys (which his family did for 60 years) provided a winter break. "Winters were time to review your farming methods, order what you needed for next year, get square with the banker, and go to the shop and work on the old tractors," Powers said.
 
His love for the farm led him to stay on it. He is one of the few people left in America who have spent their entire career on the farm. He started farming at a time when the exodus from the farm was in full force—the mid-1960s.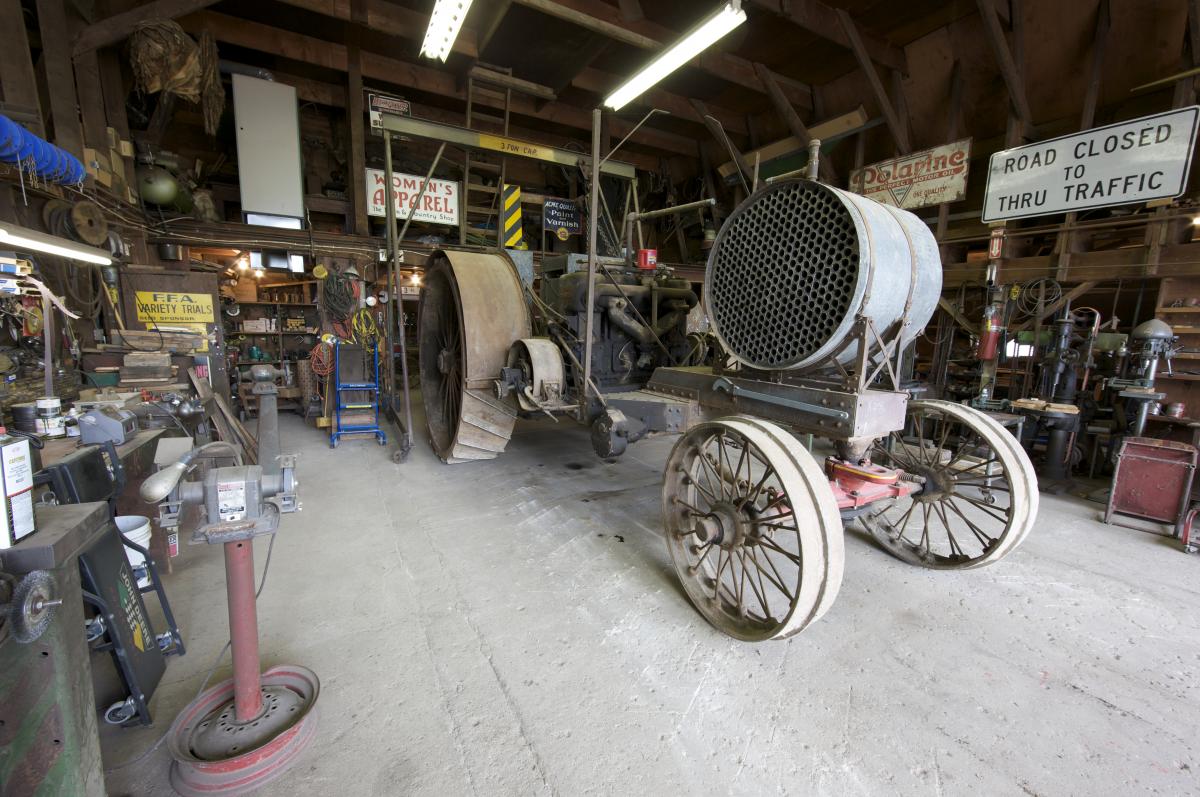 This garage has been used as the restoration shop since 1972. Before that, it housed 9,000 turkey poults downstairs and 8,000 bushels of shell corn above.

 "When my wife and I moved out here in 1964, that was the end of small agriculture in central Iowa and probably all over. There used to be four to six farms on every section. You could support a family on 80 acres or 160 acres. But everybody had cows and chickens and pigs and sold milk and sold eggs and made a living."
 
As economic growth and inflation outpaced grain prices, farmers were forced to make hard choices. Either increase acreage or the size of your herd, or sell and go to work. Most chose the latter option. Powers remained a farmer due to his willingness to take risks and expand. Today, he's tight-lipped about the total acreage of his farm. But his reach is extensive, and his farm is a profitable business at a time when most farms are labors of love worked on weekends and evenings or placid escapes for the wealthy.
 
Which isn't to say that farming is an easy business. "Farming's very humbling because you never know when that next black cloud might eliminate part of your crop," Powers said.
 
When those black clouds do roll in, Powers can turn to his shop for an escape. His extensive shop is a great place to work, or just to hang out and debate magneto timing and oiler maintenance. And it's a gathering place that his neighbors and friends love to stop in and just catch up.
 
The two barber chairs are a favorite of most of the visitors. Haircuts are not offered, nor any other services. Powers doesn't, however, begrudge visitors a bit of shuteye. "I've even had people sleep in the chairs," Dennis said.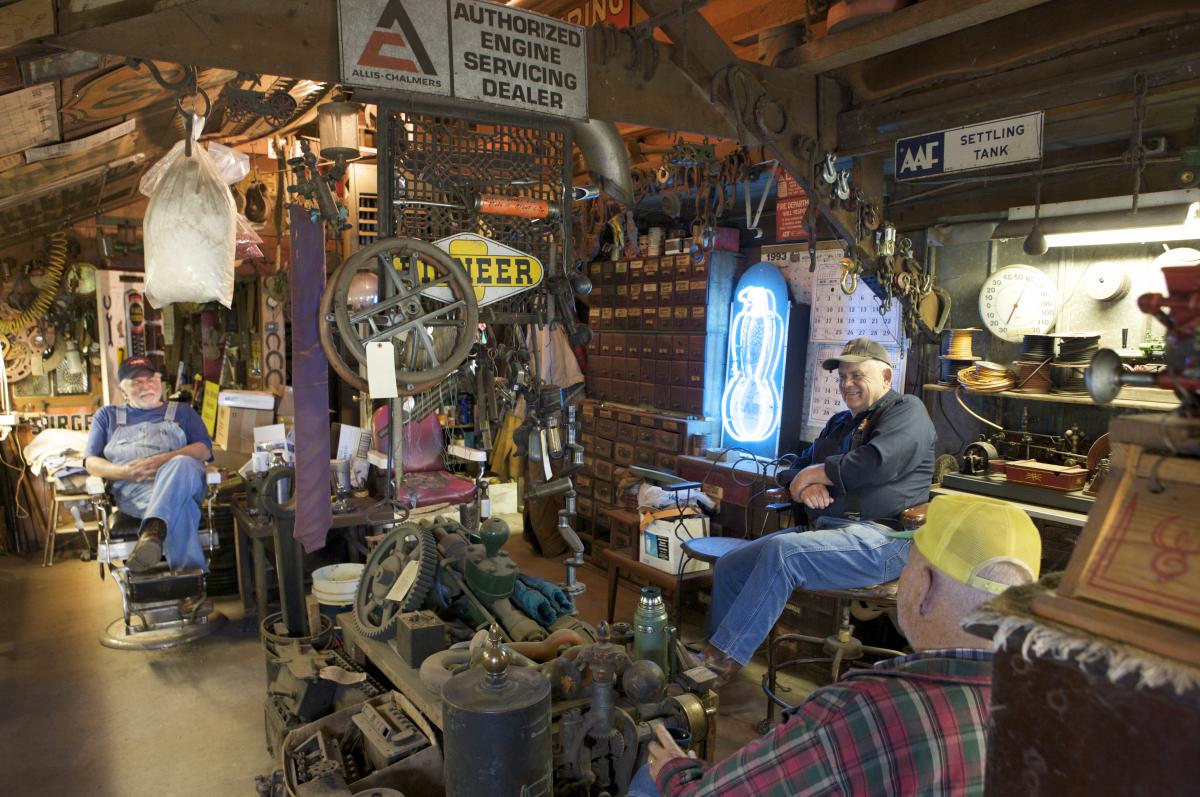 The inside of the lean-to is place to wrench as well as bench race. Dennis Powers is in one of the barber chairs in the shop, while his neighbor Don Heck has parked himself under the cocktail sign. Long-time friend and tractor restoration worker Gary Winebrenner has his back to the camera.

His collection of prairie tractors isn't rapidly expanding or changing. Finding machines is not an easy task, and he doesn't buy all that often due to the sheer expense. Which doesn't mean there aren't a few rare beasts lurking out there. The problem, of course, is unlike Cobras and Corvettes, praire tractors can't be stashed in urban garages or pieced into rec rooms.
 
"It takes big sheds to store this stuff," Powers said. "But I'm sure there are still tractors out there."

When he says 'big sheds' he means big. Have a look down below at some of the rare and beautfiul tractors he has collected over the years.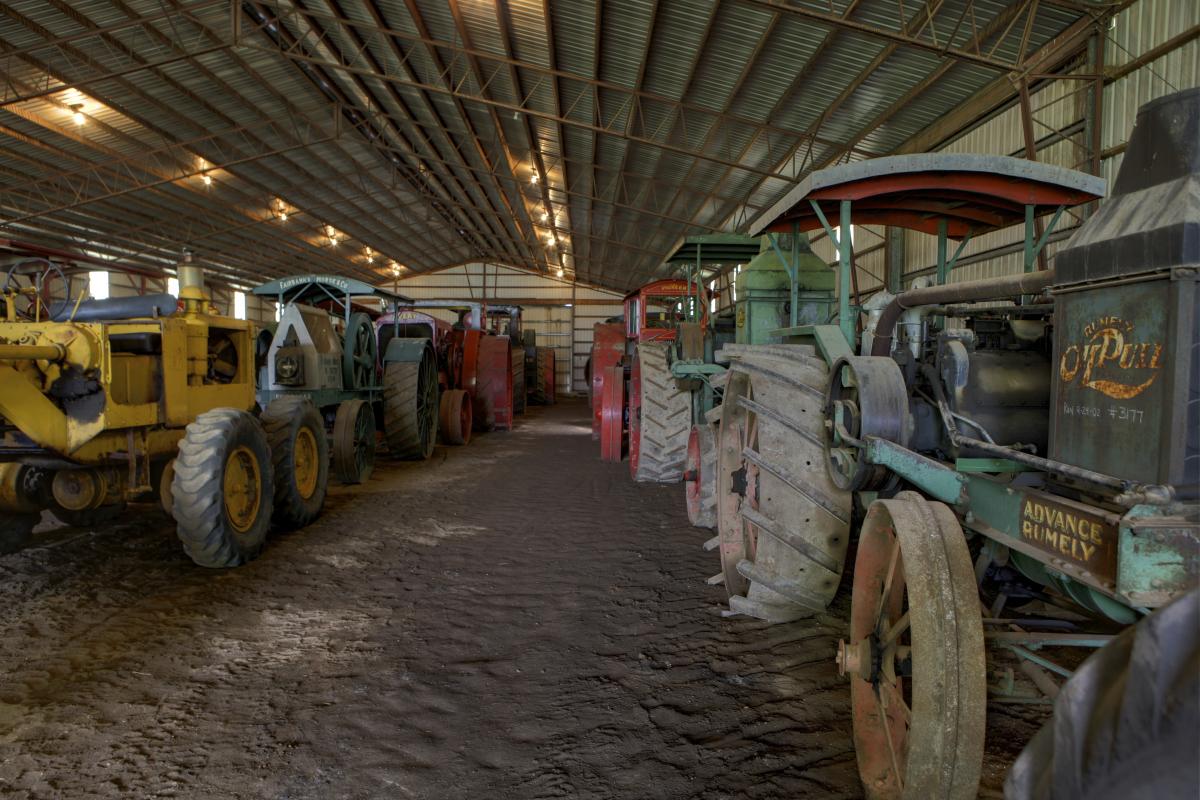 This large steel building once housed turkeys, and is now filled with some of the rarest farm tractors in existence. The model on the right is a 1919 20-40 Rumely Oil Pull.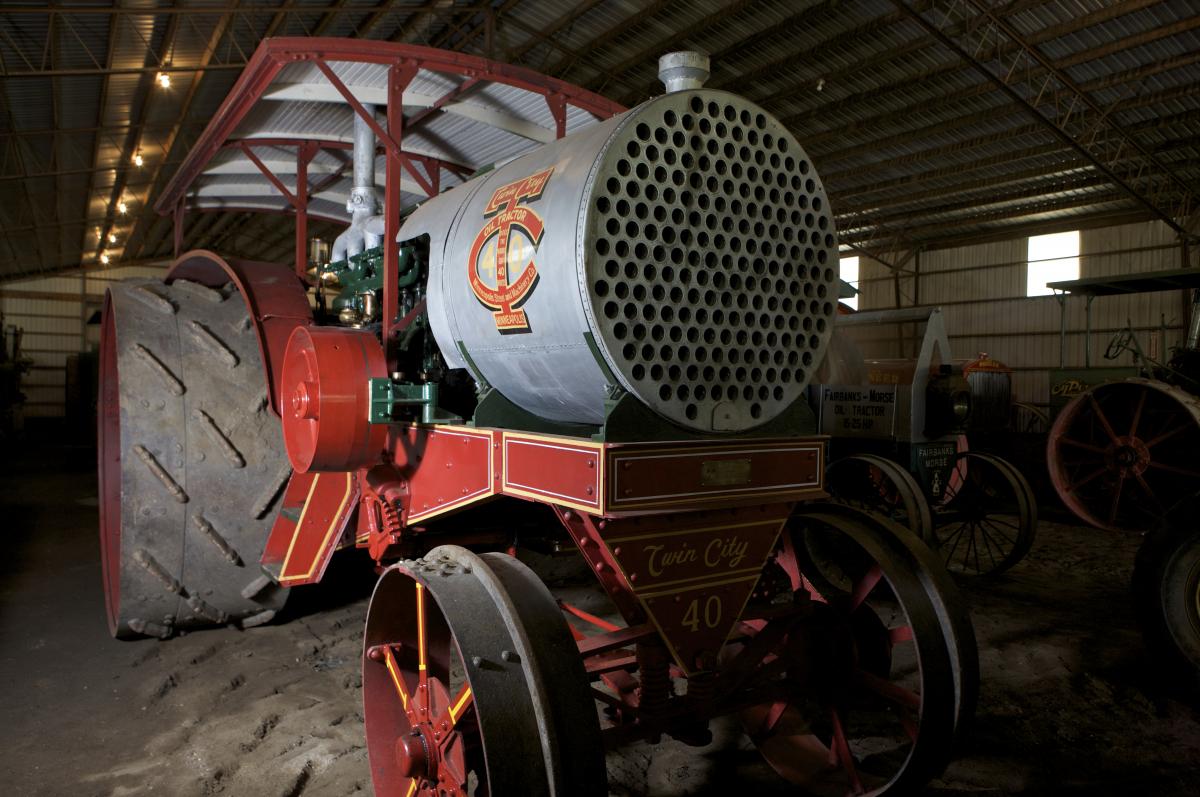 This is a 1916 Twin City Tractor 40-65. This tractor was one of the largest and heaviest Twin City Tractors.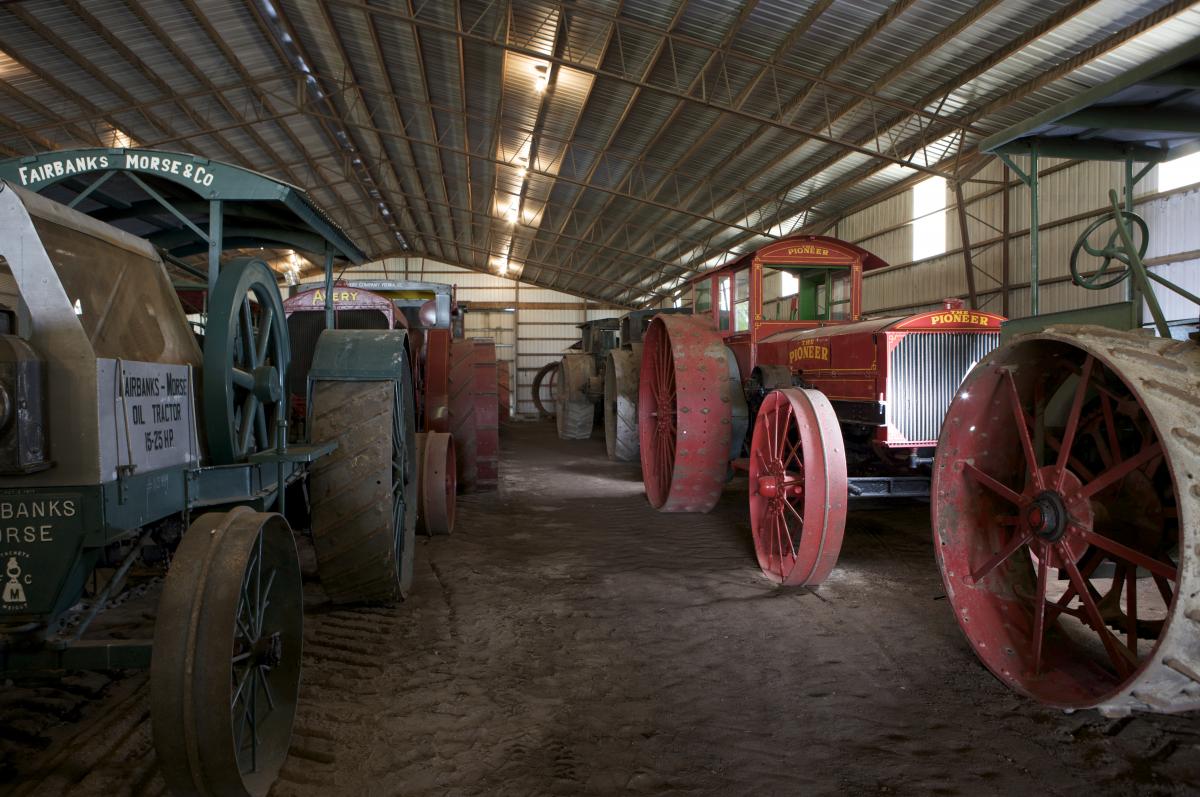 The tractor on the left is a 1911 Fairbanks-Morse 15-25, and a rare Pioneer 30-60 is on the right. Very few of either of these models are known to exist.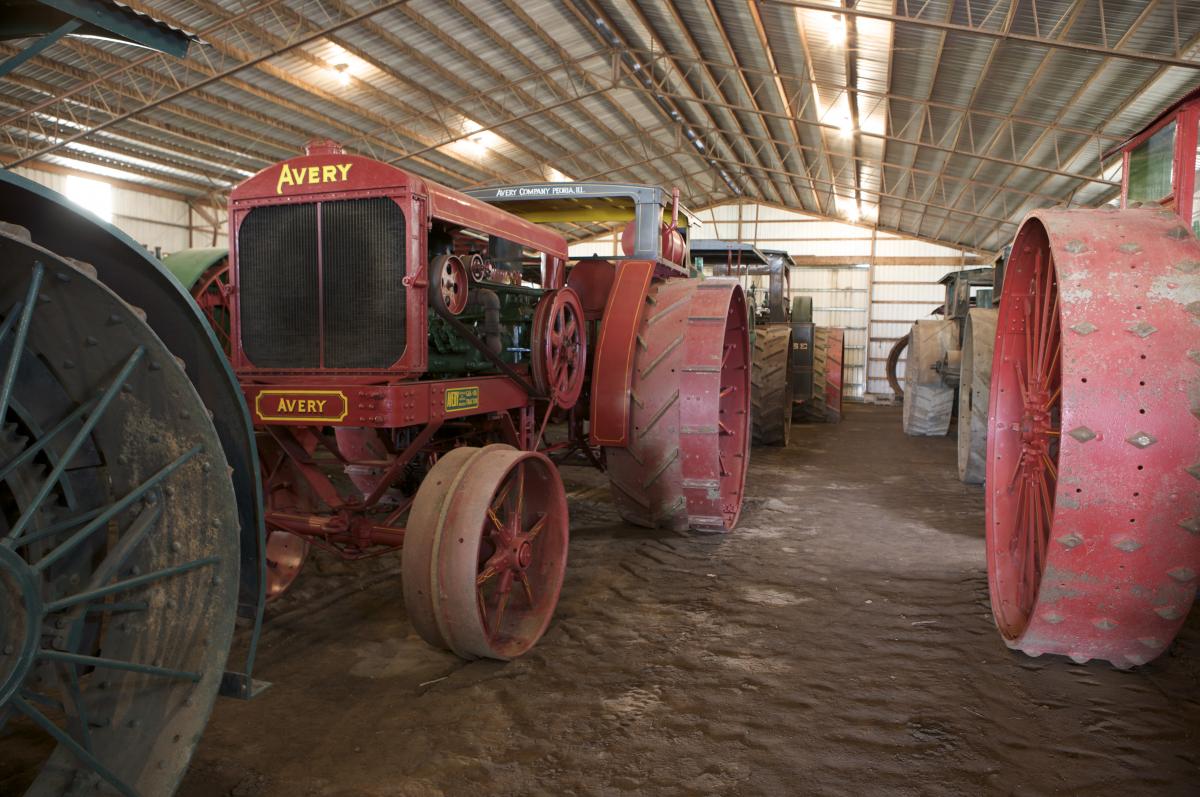 This Avery 40-80 is powered by a four-cylinder opposed engine. This one was spent most of its life working on a farm in western Kansas. A collector purchased it from the original owner in 1992.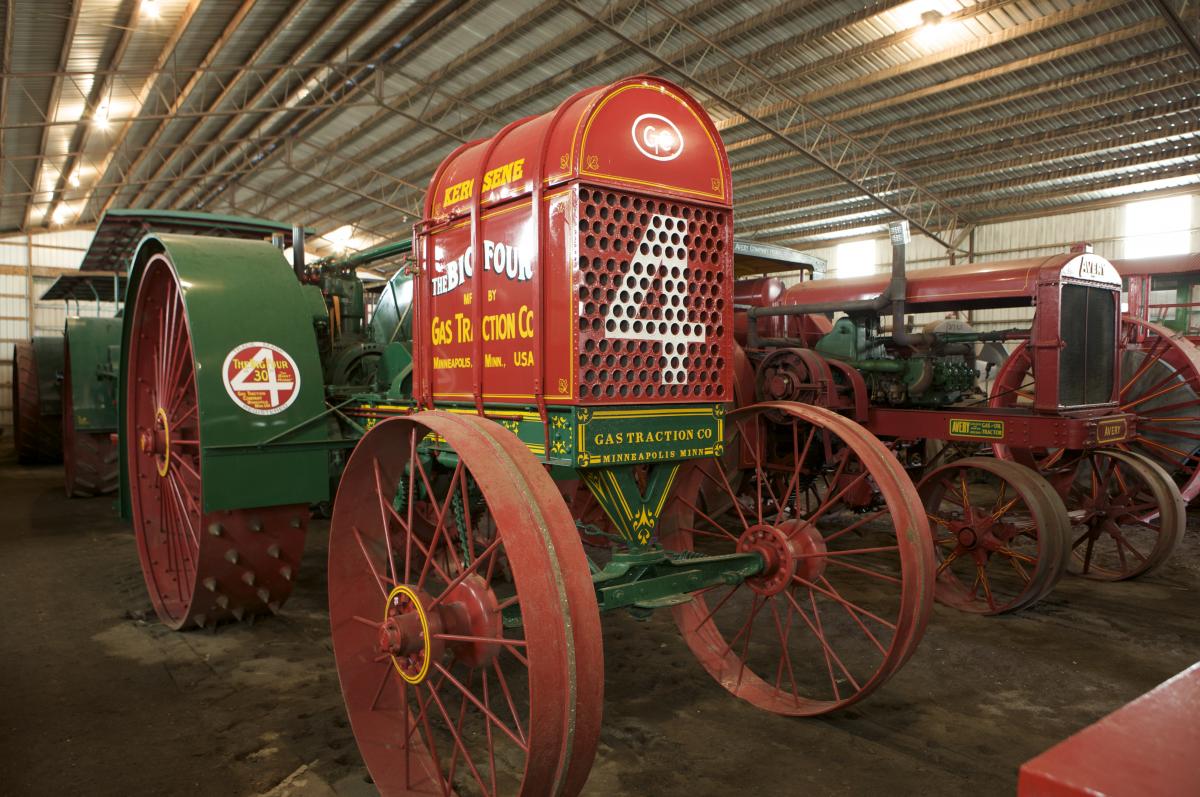 This is a 1910 Big 4 "30," which is powered by an inline four-cylinder engine.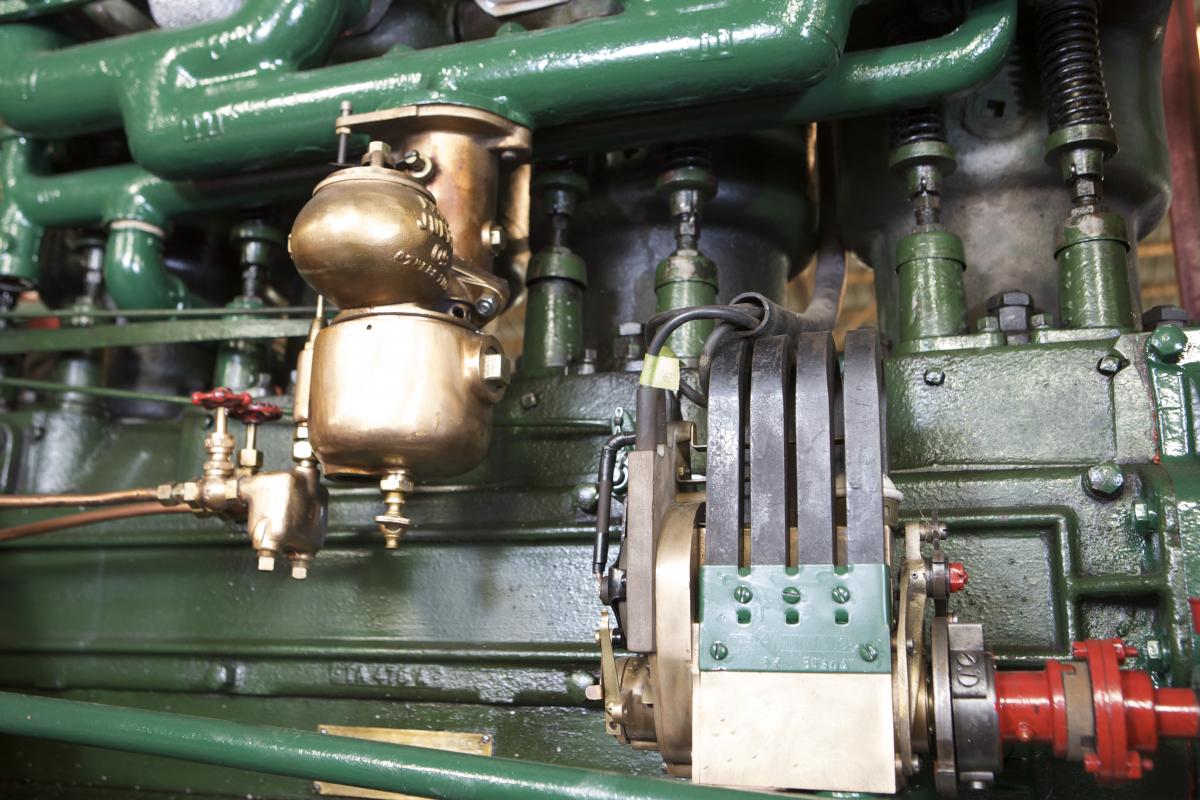 This Twin City Tractor 40-65 uses a KW magneto and a Bennet carburetor.