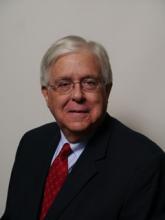 William Walker
A native of Knoxville, Tennessee, William T. Walker Jr. grew up fascinated by automobiles, motor racing, and history. He was introduced to the Indianapolis Motor Speedway and the Indy 500 by the broadcasts of Sid Collins, grew fascinated by the careers of cousins Pete Kreis and Rex Mays, both Indy drivers, and read American and European history voraciously.
After graduating from the University of Virginia with a BA with High Honors (1966) and an MA in English (1967), Walker worked in higher education for more than forty years. For a decade, he taught composition and literature at Lamar University in Texas and later at the University of New Orleans, while continuing his studies at Tulane University.
Walker joined the administrative ranks of higher education in 1976. As associate vice president for public affairs, he developed and implemented comprehensive communications and marketing programs for Virginia Tech, Gettysburg College, and the College of William and Mary.
Since retiring in 2007, Walker has turned to an enduring love—researching and writing narrative nonfiction. His first book, Betrayal at Little Gibraltar, was published by Scribner in 2016. The history of a pivotal World War I battle, the volume has been cited extensively and led to a revised study of the event published by the US Army Office of Military History. He has also written articles for Military History Quarterly, USA Today, Washington Post, Seattle Times, Richmond Times-Dispatch, Houston Chronicle, Memphis Commercial Appeal, and other newspapers and journals.
Walker's second book, The Last Lap, traces the life and racing career of Pete Kreis, who competed in Indy Car and Formula 1 racing from 1925 until 1934. While conducting extensive research for this work, Walker drove the Formula 1 circuit at Monaco and the road course at LeMans. He regrets that he has only circled the Indianapolis Speedway in a slow bus and harbors a faint hope that this book will lead to an opportunity to experience a fast lap or two at the Brickyard. He lives with his muse, wife, copyeditor, and proofreader, Jan LLewellyn Walker, in Staunton, Virginia, where he has served as vice-chair of the board of the Woodrow Wilson Presidential Library.