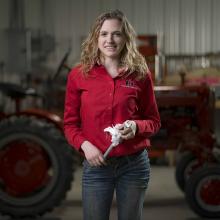 Rachel Gingell
Author
Co-Author of Farmall Cub Encyclopedia
Rachel Gingell has always had an interest in farm tractors. The interest that sparked at a young age in the barn with her dad continued to competing in tractor pulls, working at a dealership, and professionally auctioning farm equipment. 

Years later, Rachel's childhood interest in farm equipment is still going strong. She's become an integral part of the family business and an innovator in her own right, with her work featured in several trade magazines. Rachel specializes in developing technological tools to expand the tractor enthusiast community. She is a pioneer in online-only auction sales and created Tractor Guide, an iPhone and Android app that allows people to determine the year any tractor was built. 

Rachel is passionate about using the power of the internet to keep tractors running and farms producing. Her popular tractor repair video series helps everyday mechanics solve common problems with popular tractors.