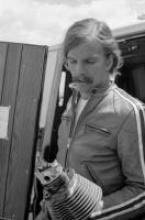 Author
Sears Point AMA National Superbike Winner
Paul Ritter started riding motorcycles in college. His excitement for street riding and speeding around turns led him to the track. He began club racing in 1973. In 1977, Ritter participated in his first professional race on a Ducati owned by Dale Newton at the Sears Point AMA National Superbike race, and won. In the two years he raced with Dale Newton Ducati, Ritter raced five of the six AMA Superbike races, recording two wins, a second, a third and two forth place finishes. Ritter placed third in the 1978 championship. In 1979, Ritter was sponsored by San Jose BMW. After the 1979 season and a few club races in 1980, he retired from racing.
After a long hiatus, Ritter started riding again in 1996. In 1998, he participated in his first race in two decades, a vintage race in Colorado. Ritter was involved in a terrible accident that left him paralyzed from the chest down. It took several years to learn how to live a meaningful life from a wheelchair. He returned to work and met Dee, his wife.
Paul has continued to live a life of excitement. In 2002, he rode a motorcycle again. He had a custom sidecar built for his Moto Guzzi where he can operate the motorcycle with hand controls. He continues to explore the outdoors with a front attachment for his wheel chair that allows him to ride rough terrains. In 2003, Ritter became a certified scuba diver. Paul lives in Albany, Oregon with his wife Dee.