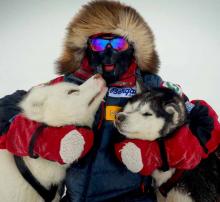 Author, Polar Explorer
The leader of the first unassisted American expedition to the North Pole.
John Huston has completed major expeditions on Greenland, Antarctica, and the Arctic Ocean. He works as a motivational speaker, safety and logistics consultant, and wilderness guide. He also works part-time in commercial real estate. He has appeared on CNN, the History Channel, the BBC, National Public Radio and in Outside Magazine, Popular Mechanics, the Chicago Tribune, and the Los Angeles Times.
Huston sees his expeditions as values-based endeavors that push him beyond his perceived limits and challenge him to new levels of possibility.
In April of 2009 Huston and his expedition partner, Tyler Fish, became the first and only Americans to travel "unsupported" from land to the North Pole. This 55-day, 475-mile journey has been accomplished by only 11 expeditions and has been called the "toughest expedition on the planet." To travel unsupported means to travel under one's own power without resupply. An unsupported expedition embodies the ethos of preparation, simplicity, self-reliance, and accountability—themes that Huston highlights in his motivational lectures.
In November 2011, Huston and Fish authored Forward: The First American Unsupported Expedition to the North Pole.
Huston is a student of history. In particular, he is fascinated by great leaders. One of his heroes is Norwegian Roald Amundsen, who in 1911 led the first expedition to the South Pole. Amundsen's intensive approach to preparation and innovation set him apart in his time, and serve as an inspirational beacon today.
In the spring of 2005, Huston was selected as the only American to join a team of Norwegians restaging Amundsen's 1911 expedition to the South Pole for a History Channel and BBC documentary. The expedition team skied and dogsledded 1400 miles over 72 days on the Greenland icecap, using only 1911 period clothing, equipment and food.
During December of 2007, and January of 2008, Huston led a full-length ski expedition to the South Pole, covering 720 miles in 57 days.
Recently he as worked as a guide in polar basecamps, where he has assisted film crews and scientists operating in temperatures down to -57° F (-50° C).
Huston regularly consults with other polar expeditions, often running logistics and 24/7 safety and communications for teams on the ice. He has also advised and served as a safety auditor for educational outdoor programs.
A life-long educator with a passion for challenge and inspiring others, Huston believes in the positive potential in every individual and every team. He started his career at Outward Bound in northern Minnesota's Boundary Waters area, where he worked fulltime from 2000 through 2005. Outward Bound is an expedition school that inspires character development and self-discovery through active learning expeditions.
An avid athlete, Huston works out daily. He spends his downtime cooking, reading, and traveling. He lives in Evanston, Illinois, on the shores of Lake Michigan, with his wife and their dog.