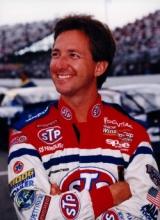 John Andretti
Back to staff list
Author and Race Car Driver
Author of Racer
John Andrew Andretti (March 12, 1963 – January 30, 2020) was an American race car driver. He won individual races in CART, IMSA GTP, Rolex Sports Car Series, and NASCAR during his career. He was the son of Aldo Andretti, older brother of racer Adam Andretti, nephew of Mario Andretti, and first cousin to IndyCar champion Michael and Jeff Andretti.
Andretti devoted vast amounts of time and energy to raise funds for sick children. For 23 years, John's "Race for Riley" program raised more than $4.8 million for Riley Children's Hospital in Indianapolis. With his long-time sponsor Window World, Andretti also helped raised millions for the St. Jude Children's Research Hospital.
Andretti was diagnosed with colon cancer at age 53. He soon began a program to raise awareness and to encourage people to get colonoscopies at or before age 50. As he went through multiple surgeries and barbaric chemotherapy treatments, he never stopped sharing his message.
Andretti passed away on January 30, 2020, with his entire family (wife Nancy, son Jarett, and daughters Olivia and Amelia) by his side.