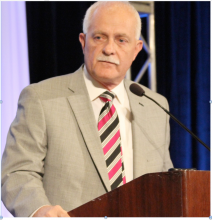 Gerry Salzman
Author
Red Combines
Gerry Salzman, Principal, GES International LLC provides consulting on Global Agricultural Strategies focusing on farm equipment and services. In 2014, he retired as Senior Director, Global Marketing, after 42 years of service with International Harvester and CaseIH.
 
In his final role with CaseIH, Gerry was responsible for all worldwide product and marketing activities for Case IH harvesting equipment. Those responsibilities included defining product positions, coordination of future product needs, and consolidation of commercial objectives globally.
 
He also is a patent award recipient.
 
In his 42 years with International Harvester and Case IH, he has held positions in product development of combines, sugar cane harvesters, grain platforms and cotton pickers, as well as marketing and product management of crop harvesting, hay and forage, and construction equipment.
 
Within the industry, he has served as Chairman of the Public Relations Committee of the U.S. Grains Council and also the Agri-Business Forum of the Council. He was elected to four terms on the Board of Directors of the USGC. In 2012, Salzman received the Lifetime Achievement award from the Council and was only the sixth recipient in 50 years to be recognized. As a graduate of the Illinois Agricultural Leadership Program he was honored with the inaugural Torch of Leadership award in 2014.
 
Salzman holds a bachelor's degree in agricultural economics from Western Illinois University. He is a member of Alpha Gamma Rho (Brother of the Century Recognition) and Alpha Zeta fraternities. He is also a member of Blue Key.
 
He also has served six years in the U.S. Army Reserves
 
Salzman currently serves on the Board of Directors of the National Alpha Gamma Rho Educational Foundation.
 
Gerry and Judy have two children, Amanda and Adam and four grandchildren.