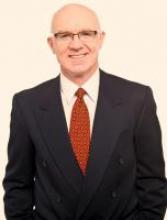 Author
Motivational Speaker and Former F1 Driver & Announcer
Driving Legend Derek Daly is the epitome of the complete champion. From Victory Circle to the Announcer's Desk, Hall of Fame Race Car Driver and Network Television Color Analyst Daly has spent nearly three decades as the face of the motorsport world.
Derek Daly's professional racing career spanned 17 years, and his experiences are nothing short of breathtaking. After fourteen surgeries and three years in therapy, he returned to full-time racing. He competed in the 12 Hours of Sebring and won the race two years in a row.
Born in Dublin, Ireland to a middle class working family, Derek's career path was set at the age of twelve when he attended his first auto race. From that moment, his commitment to the dream of being a professional driver was unshakeable. His dreams became reality when he won Irish, British and European championship events. In 1978, he competed in the highest class of auto racing at the Formula One World Championship, and two short years later Derek was ranked 10th in the world. In 1983, he made his first of six starts in the Indianapolis 500.
In 1985 Derek started a 10-year association with ESPN as a motor sport color analyst. Since then he's become the face of motor sports, seen on NBC, CBS, Fox and Speed Channel. USA Today highlighted Derek as "the best new face on sports television" and IndyCar Racing magazine voted Derek "the most popular motor sports television announcer."
Moet & Chandon champagne awarded Derek the Joules Goux Award for his outstanding contributions to motor sports television. He was later nominated for ESPN's Ace Award, and Derek received the 2000 Hall of Fame Award from "Motor Sport Ireland" for his leadership of Irish motor sport.
Derek became the 'voice' of motor sports when Electronic Arts signed him to be the voice of the Andretti Racing high-tech video game. Motor Trend magazine voted the Derek Daly Performance Driving Academy as "the best driving school in America." The school boasts title of the most advanced driver training / racing school in the USA, and even hit the big screen when Sylvester Stallone chose Derek's program for his own race driving preparation for the film "Driven." Robin Yount, Pete Sampras, Aerosmith, John Oates and Vin Diesel have also have attended the academy's world-class driving programs.
Derek Daly is CEO and founder of MotorVation, a unique provider of consulting and experiential learning solutions.
Derek, his wife Rhonda and three sons reside outside of Indianapolis, Indiana. Derek became an American Citizen on September 28, 1993, but retains his wonderful Irish accent.