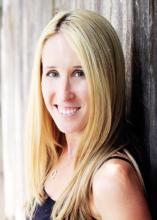 Cory Putman Oakes
Back to staff list
Author
Author of YA thriller, The Veil.
Cory Putman Oakes was born in Basel, Switzerland, but grew up in Novato, California and attended Marin Catholic High School. She then spent three fantastic years at the University of California at Los Angele before graduating in 2001 with a B.A. in Psychology. In 2004, Cory graduated from Cornell Law School with a Juris Doctorate Degree and her husband, Mark (the first was the intended consequence of attending the school, the second was a bonus). Since then, she has been an associate at a big law firm, taught business law to undergraduates at Texas State University and written several books for young people.
 Cory now lives in Austin, Texas with Mark and their beautiful daughter, Sophia. In addition to writing, Cory enjoys reading, cooking, running, and hanging out with her family and pets.
 THE VEIL is Cory's first published work.