The Top Ten Ness Victory Motorcycles Models
By Michael Dapper
Monday, March 26, 2018 - 12:15

Victory motorcycles are part of the Ness family tradition. In this original article, Victory Motorcycles 1998–2017  author Michael Dapper details the 2004–2015 line of Victory models custom-styled by Arlen, Cory, and Zach Ness: three generations of master custom builders based in Dublin, California. Check back next week for more insider stories of Victory Motorcycles design, development, marketing, and sales on the Octane FUEL Blog.
 
The long-awaited Victory Motorcycles 1998–2017 will arrive April 13th! Preorder your copy today on our website. 
          Victory raised the bar for the "custom cruiser" category with its Ness Signature Series models. In model years 2004–2015, members of the Ness family—Arlen, his son Cory, and Cory's son Zach—custom-styled Victory production models. The bikes featured Ness-designed paint schemes—with all bodywork painted at Victory's Spirit Lake, Iowa, plant—and, typically, loads of Ness and Victory chrome accessories. Plus, the cylinders on most models had diamond-cut cooling fins. The bikes were produced in limited numbers, and early versions featured a facsimile of Arlen or Cory's signature on the side covers as well as numbered plates.  
Arlen and Cory Ness were involved with Victory from the brand's early days. They supplied Victory with Arlen Ness Signature Series accessories beginning in model year 2000, and the two master custom builders were styling consultants for Victory beginning around 2002.  
The first Ness Signature Series model was the 2004 Arlen Ness Signature Series Vegas, which carried a U.S. MSRP of $19,999 (compared to a standard black Vegas MSRP of $15,349). The Ness model had a gorgeous custom Black Cherry Fade paint scheme, billet wheels, seven Ness accessories, and loads of chrome components. Arlen's signature appeared on the side covers, and each bike had a numbered plate.  
Arlen and Cory visited the Spirit Lake plant for the first time in the fall of 2003 on the day the first 2004 Ness models were produced. They got to see the signature bikes roll down the line, Arlen rode one on the post-assembly dyno, and the Nesses autographed items for plant employees.  
In 2005, Arlen styled a Kingpin and Cory styled a Vegas as his first solo signature model. Both Nesses styled Vegas Jackpots in 2006–2008, and Arlen styled a Vision as his Ness model annually from 2009-2013. Cory styled Jackpots in 2009 and 2010, and then customized a Cross Country and Cross Country Tour in the next two years.  
Zach Ness styled a Vegas as his first signature model in 2011, a Vegas 8-Ball in 2012, and a Cross Country in 2013. The three Nesses collaborated on a single signature series bike in 2014 (Cross Country) and 2015 (Magnum).  
Appreciation for Ness models will vary according to personal taste, but here is the author's list of the Top 10 Ness Signature Series models:
1) 2009 Cory Ness Jackpot:
With its truly custom wheels and creative use of black and white, this is my choice as the best Ness bike ever.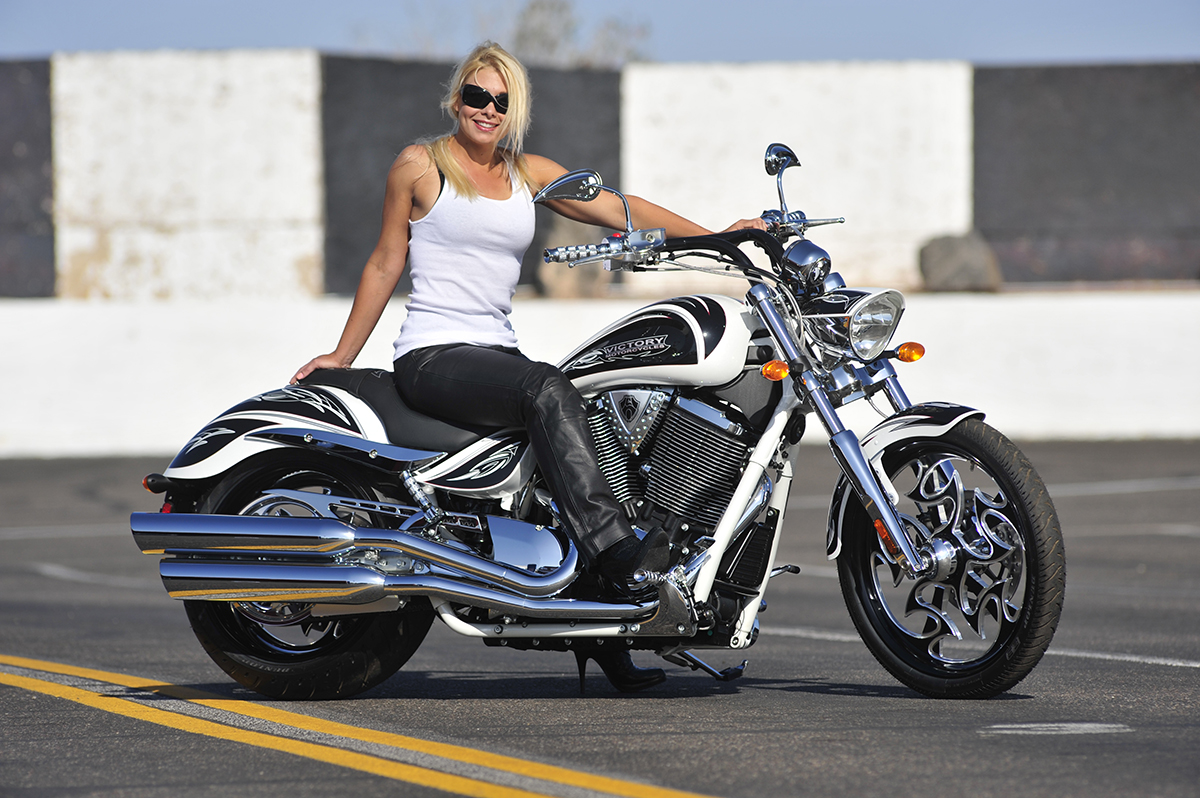 Cory Ness delivered a stunner with this 2009 Jackpot. The paint is simple–just black and white–but features great graphics that extend atop the headlight bezel and are similar to the great custom design of the wheels. Fantastic.
Victory
2) 2009 Arlen Ness Vision:
Clean and gorgeous with colorful graphics atop the black paint. A scooped-out seat creates a comfortable bucket for the driver.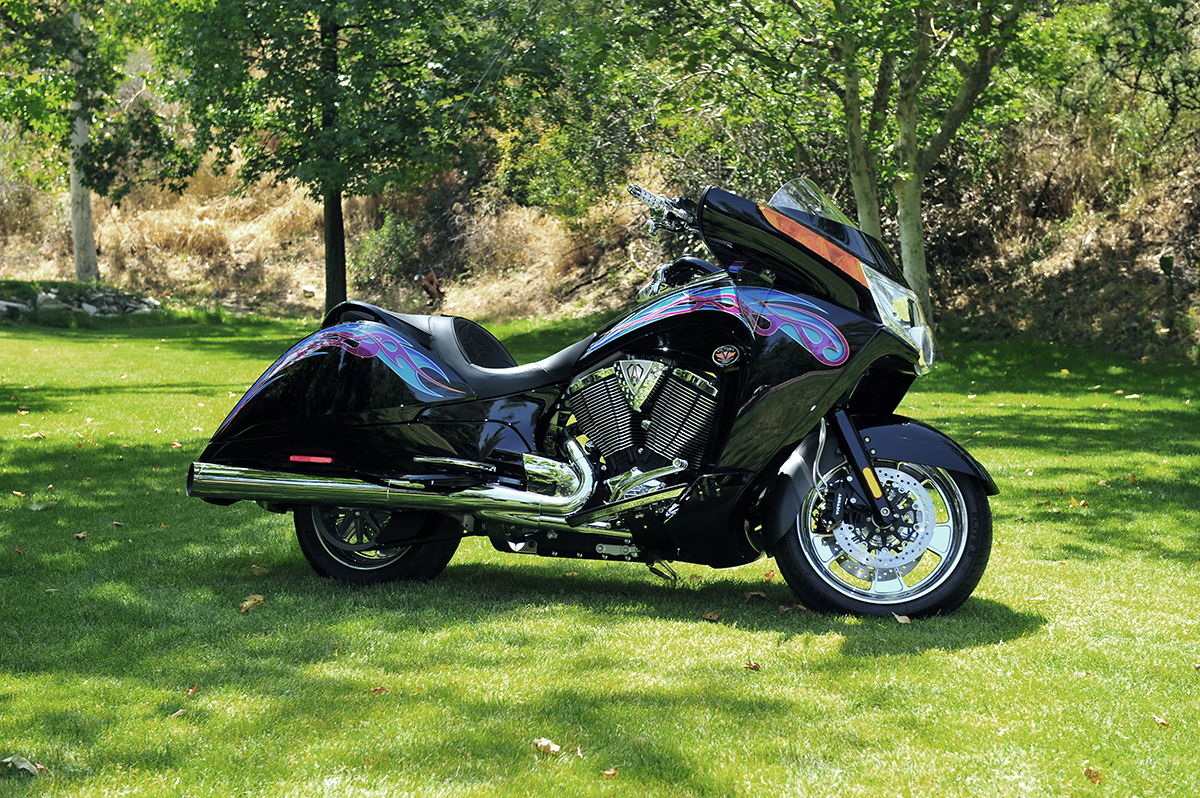 Arlen's 2009 Vision was clean and, for a black bike, extremely colorful. The stylish graphics flow the length of the bike and add a lot of color. Components that were chrome or brushed aluminum on a stock Vision are blacked-out here, and the custom wheels look great. Officially based on a Vision Street (no trunk), this Arlen model has a scooped-out seat that creates a bucket for the driver to sit in, not just on.
Victory
3) 2004 Arlen Ness Vegas:
This model established the Ness series of bikes and features incredible paint and custom shop-level accessorizing. It was an impressive start.
The Ness Signature Series got off to an impressive start with the 2004 Arlen Ness Vegas. The paint was gorgeous, it featured extensive chrome and several accessories, and attracted valuable attention for the Victory brand. This bike displayed at the Victory demo ride site in Sturgis in 2003 was bone-stock except for the driver backrest.
Michael Dapper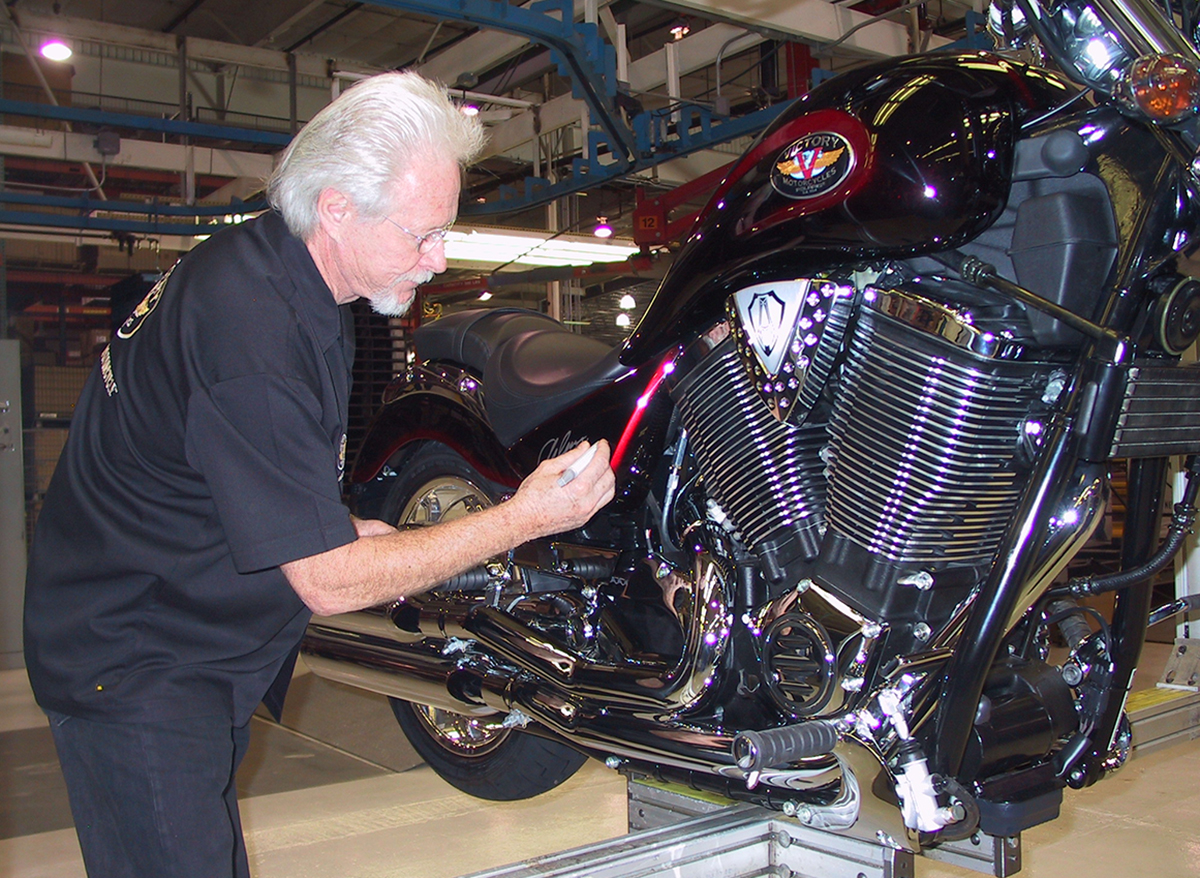 Arlen Ness autographed the side cover of the first Signature Series model ever built at Spirit Lake in the fall of 2003. It was the first time he and his son Cory visited the Victory final assembly plant. The first bike had blank side covers so Arlen and Cory could sign them (along with several additional blank ones), but production models had facsimiles of Arlen's signature.
Michael Dapper
4) 2005 Cory Ness Vegas:
The blue of the "Black & Blue" paint scheme is so vibrant that it looks electric when the bike was parked in sunlight. Photos don't do it justice.
This is a bad but historic shot of a gorgeous bike, the 2005 Cory Ness model. Photos don't do justice to the bike's electric blue paint. Cory rode the bike to the Victory owners' party at Rice Victory during the 2004 Sturgis rally. The bike's paint scheme is nearly identical to that of the 2004 Arlen model, except with the bright blue replacing the 2004 model's handsome maroon.
Michael Dapper
5) 2011 Arlen Ness Vision:
Arlen's amazing custom graphics are etched on this super-sano black-and-silver bike.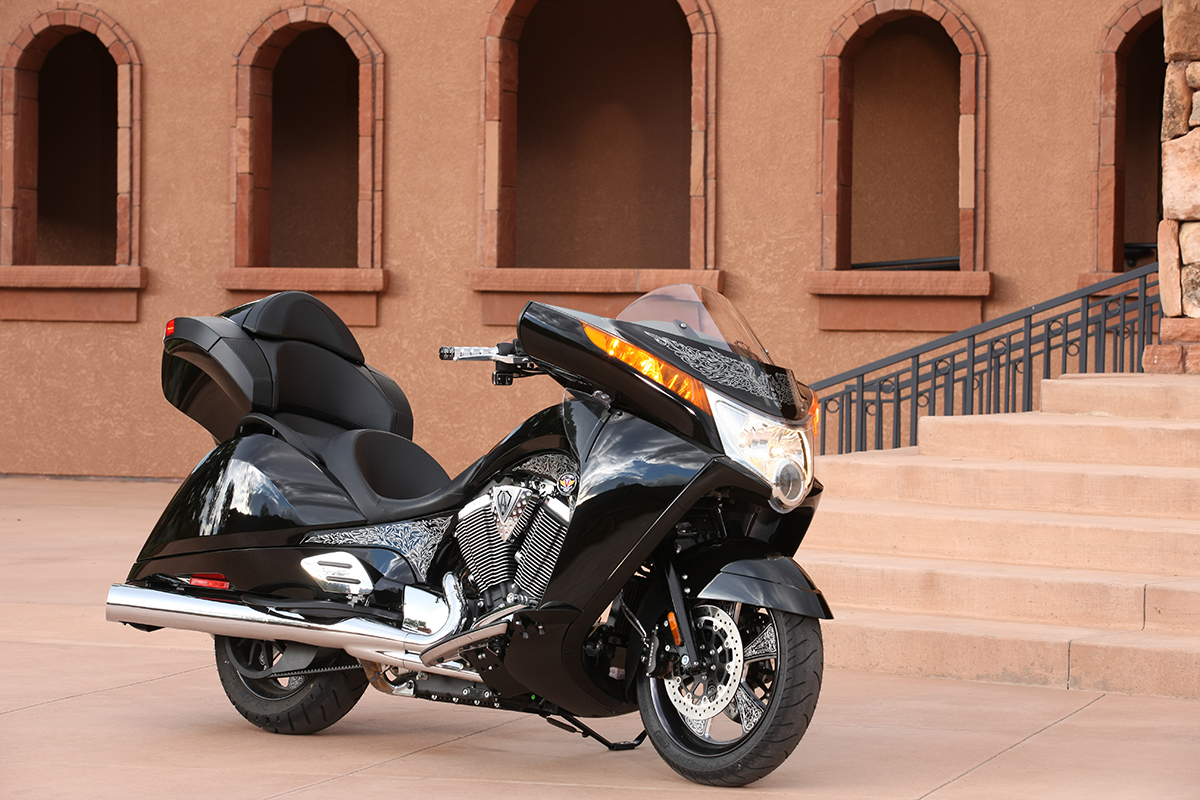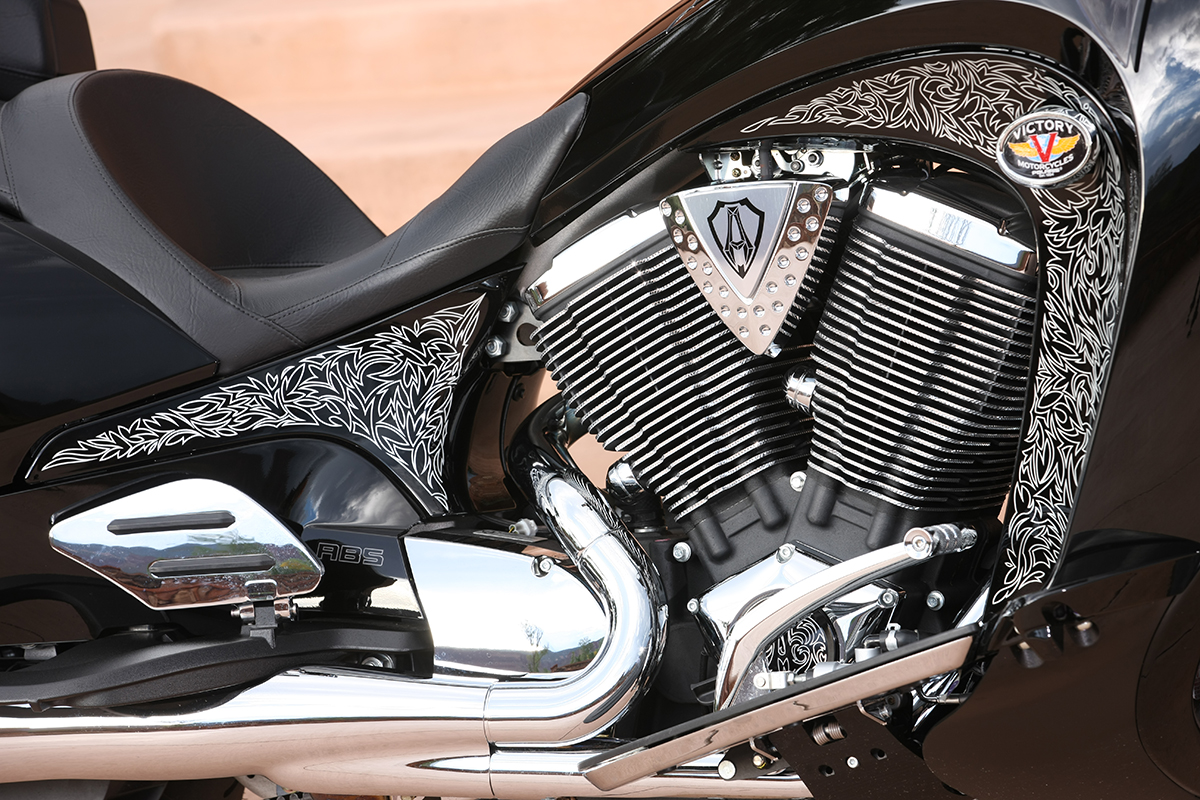 In 2007, Arlen rode a customized Vision to Sturgis, and instead of custom paint or graphics, the graphics were etched into the bodywork, as on this stunning 2011 Signature Series production model. Check out the handgrips, which feature custom-etched end caps.
Victory
6) 2012 Cory Ness Cross Country:
Extensive custom treatment without going too far; a great-looking bike.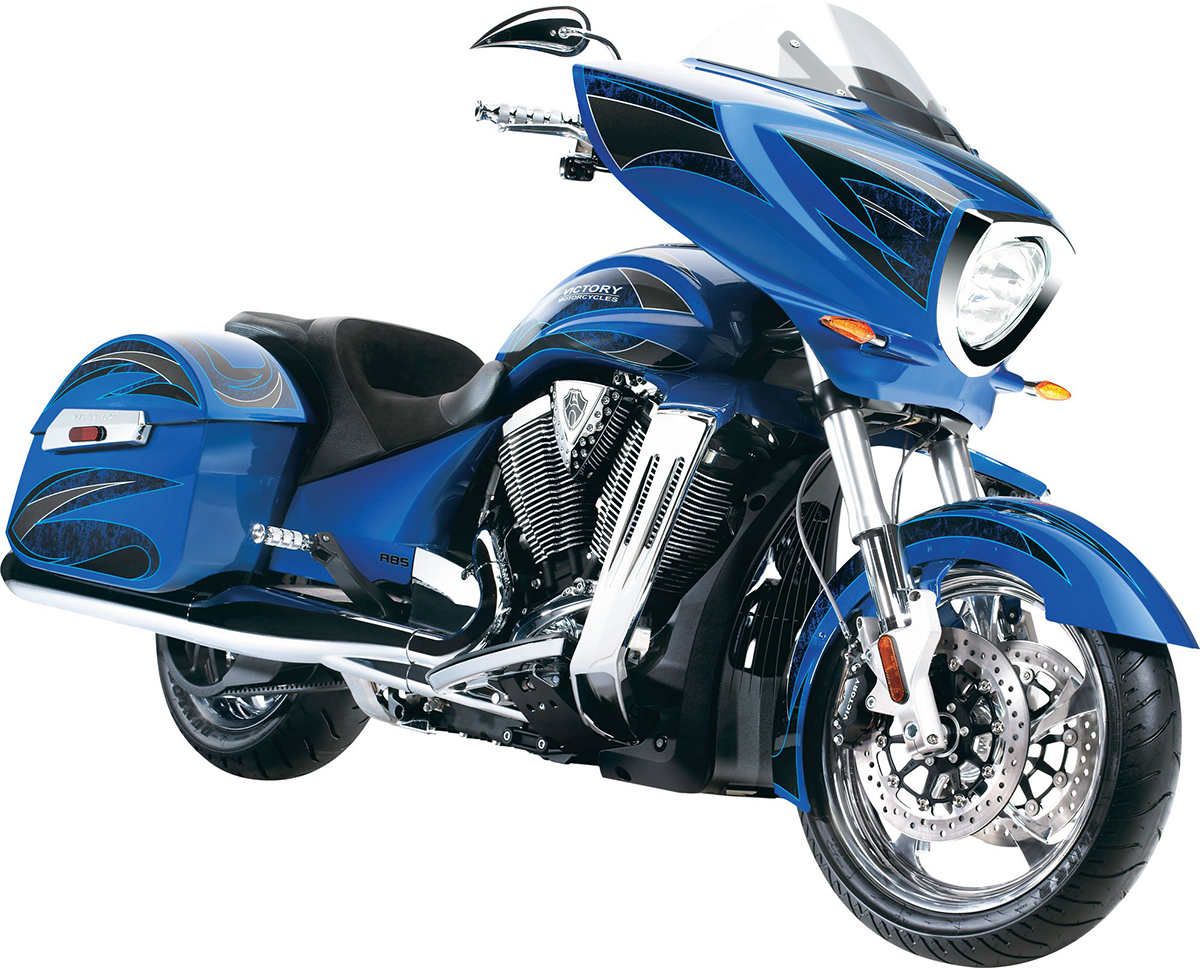 This 2012 Cory Ness Cross Country featured stylish custom paint and graphics, as well as accessories and the additional customizing of the forged tip-over bars. The forged bars on standard Cross Country models were switched to tubular bars starting in model year 2013, but today the forged bars are in high demand, and these Ness custom versions would sell for a king's ransom.
Victory
7) 2015 Ness Magnum:
Fewer accessories than in the past, but outstanding custom paint on a bike ripe for a Ness custom treatment.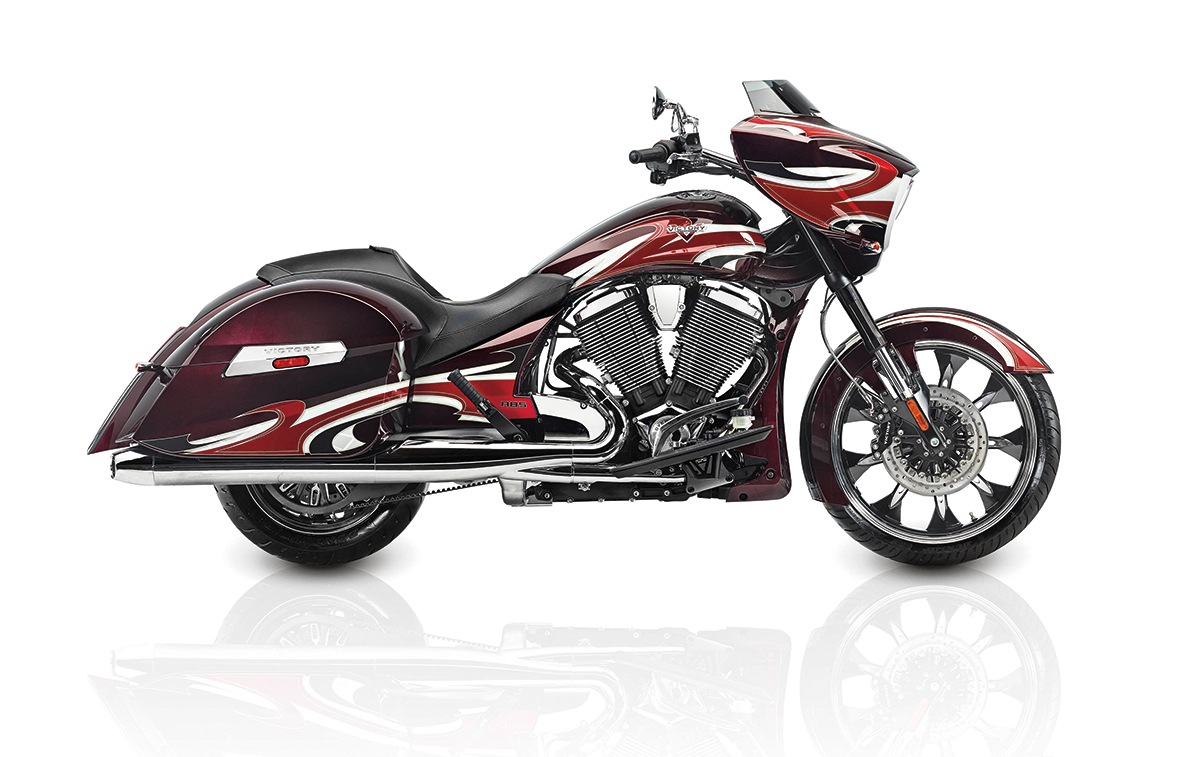 The 2015 Magnum was available with several eye-catching paint schemes, including the truly custom-look styling on the Ness version. The stock Magnum was already so dressed up that this Ness model didn't elevate the bike's style as much as previous Ness bikes, but this was the ideal bike for a flashy Ness paint scheme.
Victory
8) 2013 Zach Ness Cross Country:
An evolved custom treatment using the muted metallic paint, this time with even better graphic accents than on his 2012 model.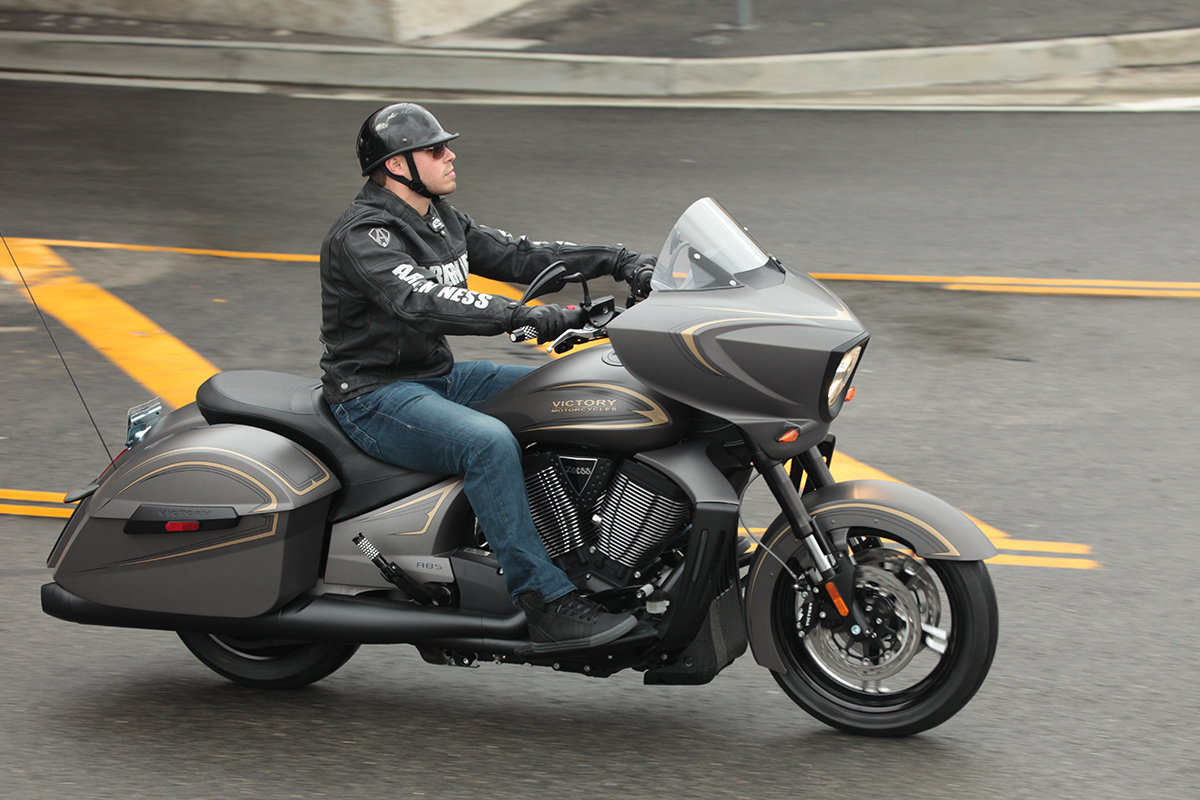 The 2013 Zach Ness Cross Country was understated and super stylish. The matte paint didn't scream for attention, but with its well-placed graphics and blacked-out features such as the engine and forged tip-over bars, it got plenty of attention on the street.
Victory
9) 2014 Ness Cross Country:
A three-man project, it features a great custom seat, bright Havasu Red paint and, for the Nesses, very geometric black accents that look great.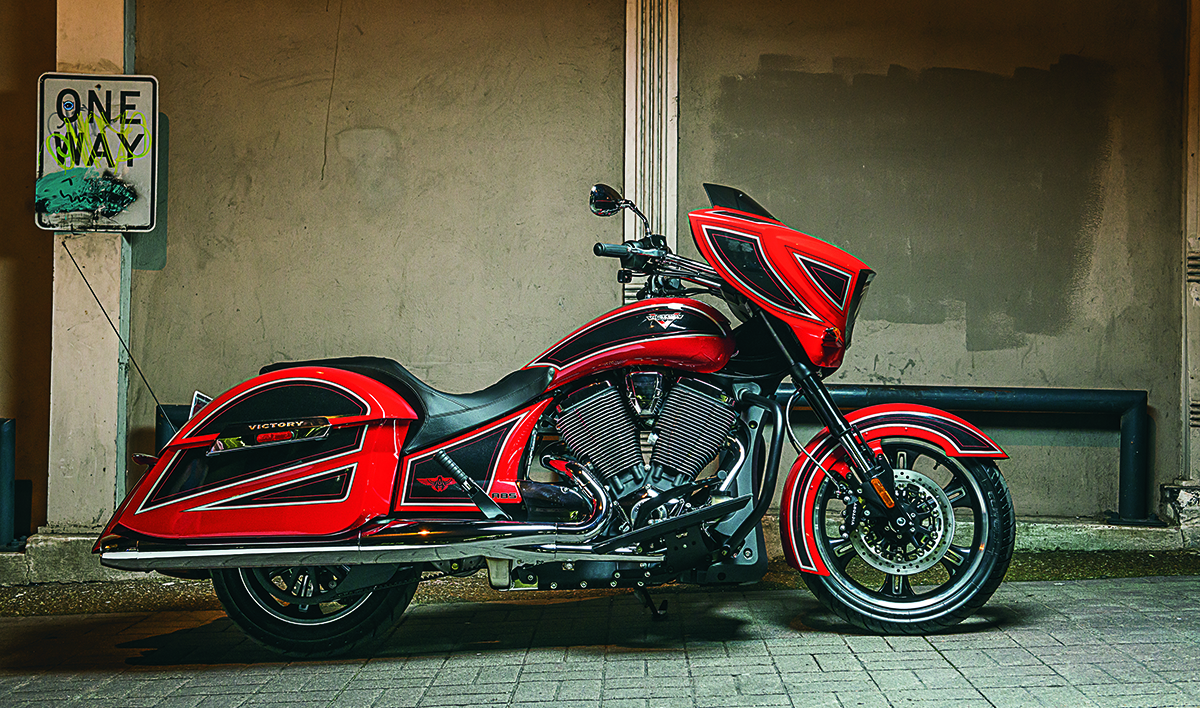 The final act of the Ness Signature Series was this 2014 Cross Country, which featured mostly stock components and a Ness-designed paint scheme. The look is clean and stylish on a bike that serves as a great canvas for these legendary customizers.
Victory
10) 2012 Zach Ness Vegas:
Understated customizing with great use of the Titanium Metallic paint and stylish custom graphics.  
Other Ness Victory Customs
Along with the Signature Series bikes, the Nesses customized numerous Victory models for customers and for their own use over the years. Photos of a few are featured here, and you can see several of these, especially the early ones built by Arlen, at the Arlen Ness dealership in Dublin, California. The dealership's second story features a museum-like collection of Ness customs.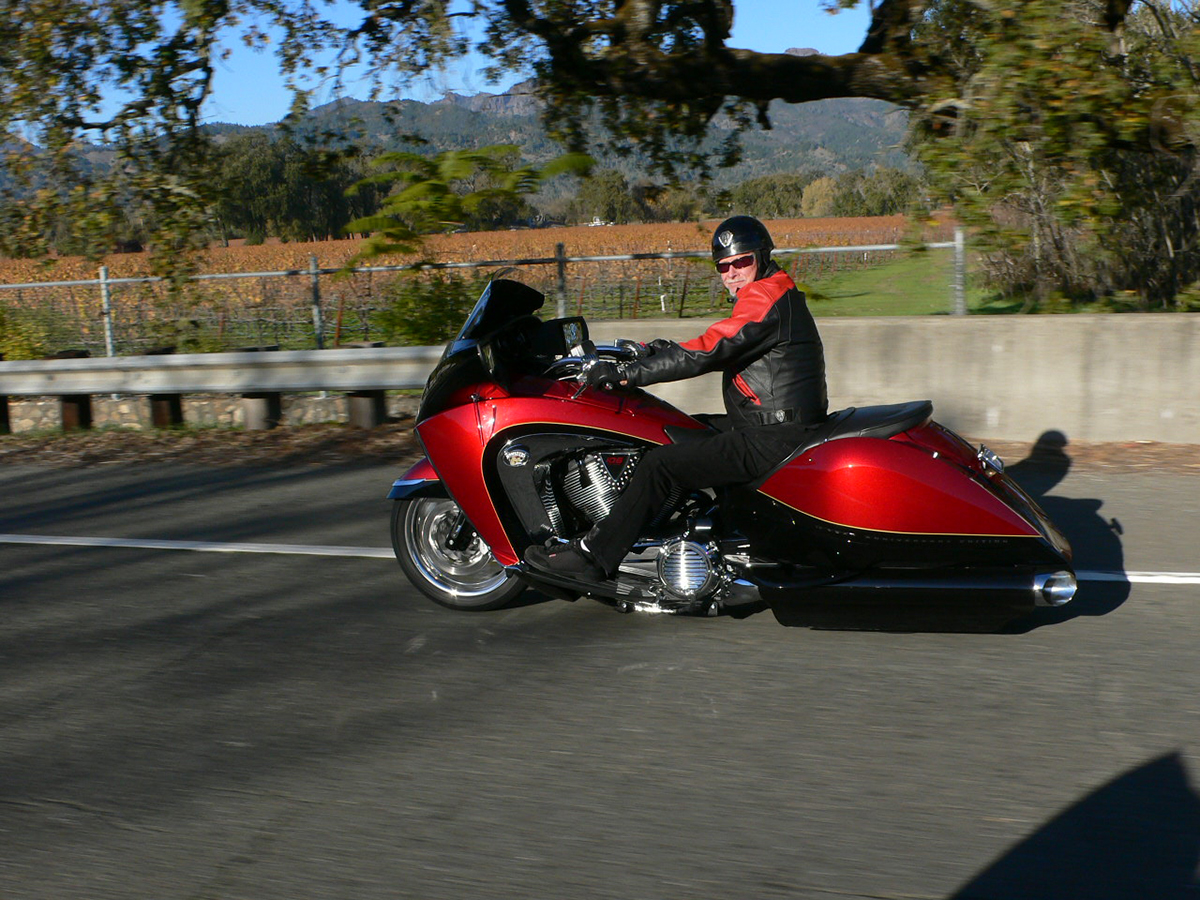 Arlen 10th Anniversary: When Victory built 100 units of the 10th Anniversary Edition Vision for 2009, Arlen gave one his special custom treatment, making it low and super clean. He blacked out some of the chrome and removed the trunk. In place of the backlit Victory logo in front of the engine, Arlen inserted the logo of the custom organization, the Hamsters.
Victory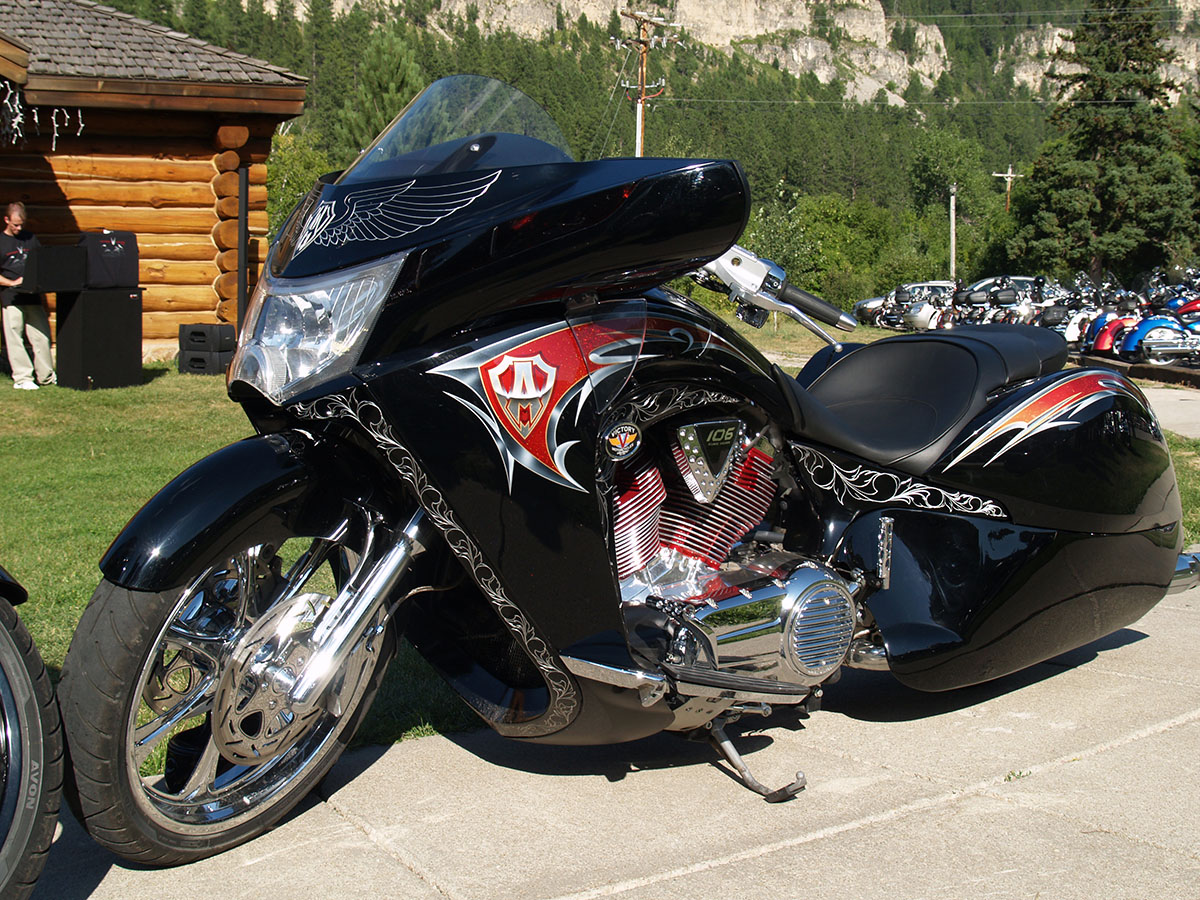 Arlen 2007 Sturgis Party Bike: In 2007, well before the 2011 Signature Series Vision featuring etched graphics was introduced, Arlen rode his personal custom Vision to Sturgis and the Victory owners' party. Along with great custom paint, the bike featured an early view of how great etched graphics could look.
Michael Dapper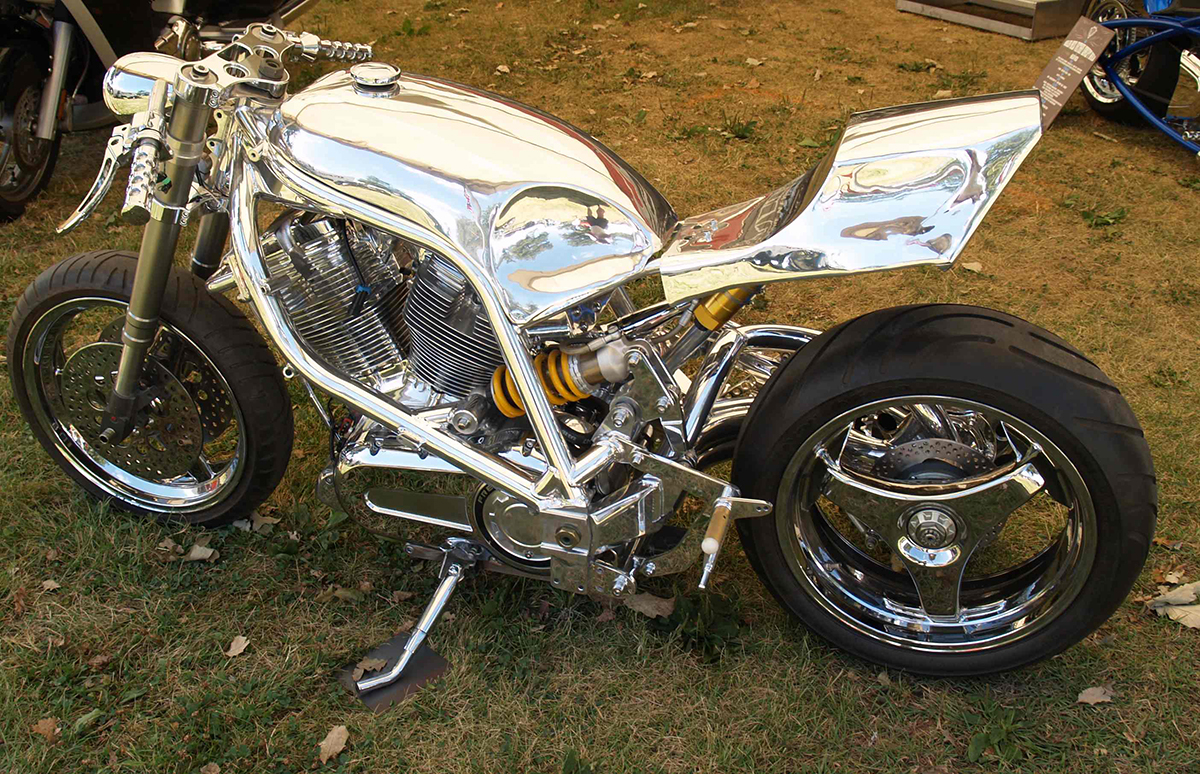 AlumiNess: One early Ness custom that featured a Victory engine was a sport bike-styled model called the "AlumiNess" that had polished aluminum bodywork and a Victory Freedom engine.
Michael Dapper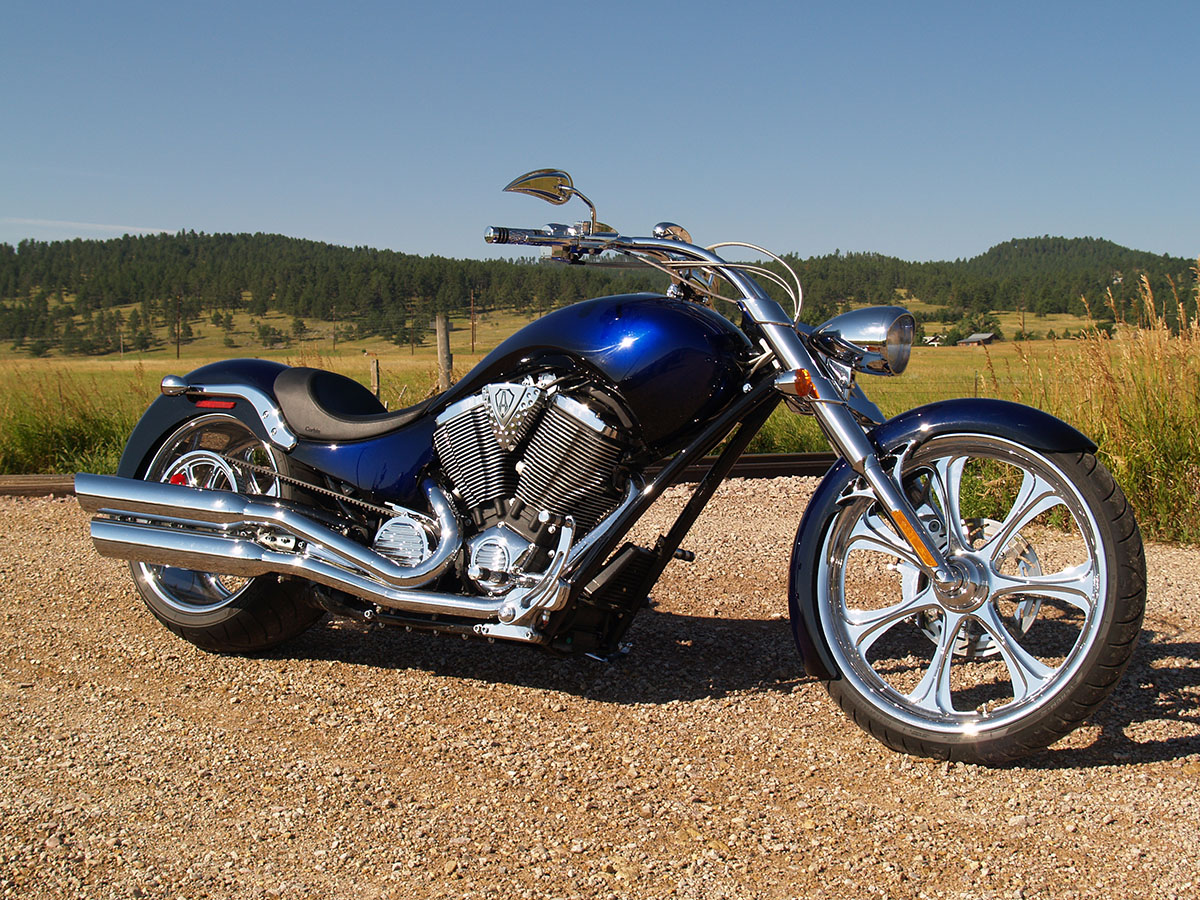 Lowliner: In 2008 and 2009, the Nesses produced a custom model called the Lowliner that was available with a Victory engine. Cory Ness said Lowliners were built with crate motors and additional OEM parts acquired from sources such as Victory, and the bike was also offered with an S&S engine. This 2008 Lowliner looks like a super-stretched Vegas with Ness custom styling.
Michael Dapper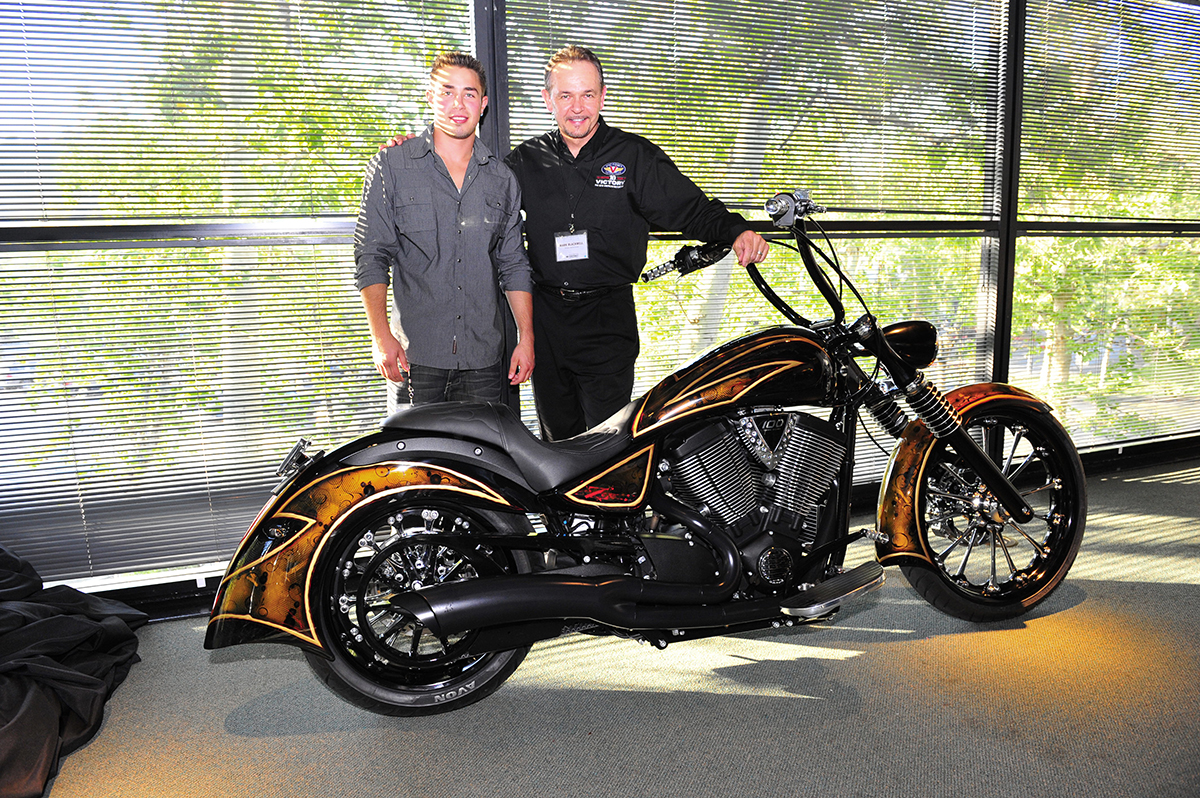 2008 Zach Ness Kingpin: The 2009 Victory lineup was introduced to the motorcycle media in the summer of 2008 in Southern California, and Zach Ness (left) joined his father Cory and grandfather Arlen as a Victory custom builder. Zach and then-Victory V.P. Mark Blackwell showed off Zach's great-looking Kingpin custom.
Victory
Check back next week for more insider stories of Victory Motorcycles design, development, marketing, and sales on the Octane FUEL Blog.
And grab a copy of
Victory Motorcycles 1998–2017
, available for preorder now!