Scout Lost Chapter Part 4: IHC A-Line 1930-1935
International Harvester's Alphabet Soup Era
Tuesday, May 31, 2016 - 07:30

The Lost Chapter series is from Jim Allen and John Glancy's book, International Scout Encyclopedia; one so thorough it couldn't all fit into the final cut. Pre-order the second edition, coming August 1, 2020! Join our mailing list for pre-order specials and exclusive content.
​
For this series, author and historian Jim Allen is sharing extra material with photographs from John Glancy's extensive collection as well as photographs from the Wisconsin Historical Society. 
In 1930 new lines of trucks appeared and the International Harvester Company upped the industry ante with more modern designs and technology. The medium duty A-4, A-5, and A6 (again, the number indicated the load capacity group in thousands of pounds) came first. Later in 1930, the lighter-duty A-1, A-2, and A-3 models appeared. By 1932, the heavy-duty A-7 and A-8 models appeared. The two lightest trucks continued with the Waukesha XA four but the A-3 used the Lycoming six. B-Series, D-Series, M-Series and W-Series trucks were introduced in this time, most being in the medium-duty classes and higher. The important things to come from this era were the first International Harvester Company (IHC) half-ton conventional truck, the D-1, and the introduction of the IHC overhead valve, wet sleeve, 207 ci and 223 ci Sixes, even though they didn't appear in the light-duty line.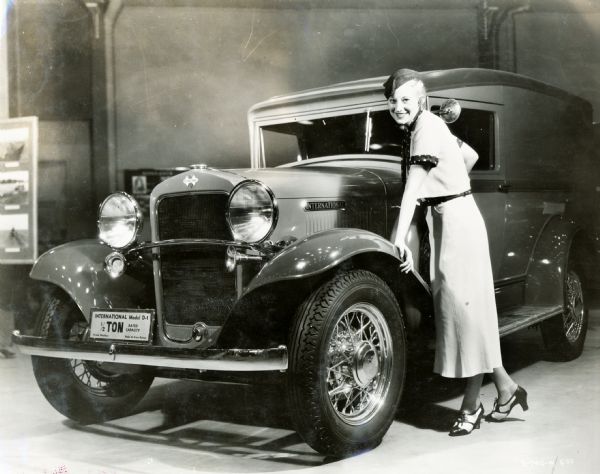 The D-1 was a badge-engineered Willys-Overland C-113 truck, the 113 indicating its wheelbase length. IHC negotiated for this truck while Willys-Overland was one step short of receivership in the early 1930s. The 213 ci Willys flathead six that powered it would end up as a permanent part of the IHC stable and continue in IHC livery until after WWII. The D-1 would continue into 1934 and be briefly concurrent with IHC's own C-1 half-ton that debuted that year. The D-1 was popular, with nearly 16,000 units sold. Sales of this truck would carry IHC over a big sales slump. It also helped carry Willys-Overland through a very bad patch: isn't that ironic? The legendary Willys Jeep may never have appeared but for the W-O and IHC deal.
The popular Six-Speed Special lived on in the alphabet soup era as the 1931-34 Model B-2, after a brief stint in 1930 as the AW-2. The AW-2 was the old Six-Speed truck with the new A-Series body. It was re-rated for a higher one-and-a-half tons and the B-2 model had a bigger and more powerful version of the Waukesha XA, the 186 ci, 41.5 hp, 125 lb-ft. XAH. The B-2 was built through 1933 to the tune of about 3,660 units.
Previous Lost Chapter
-
Next Lost Chapter