This short excerpt is from the book,
Red 4WD Tractors
.
This portion takes place in the early 1960s, after Douglass, Maurice and John Steiger had built a handful of four-wheel-drive Steiger tractors in their barn in northern Minnesota. The tractors were powerful and effective but most of the sales of the machines was to neighbors and friends. One fateful meeting would change that. 
While Harvester was frantically working to build the International 4100, Earl Christianson made the discovery of his lifetime at a sleepy little farm show in northwestern Minnesota. Christianson was a mover and shaker from a family of mover and shakers. His dad founded a tractor dealership near Wendell, Minnesota, when a group of farmers up there wanted rubber-tired Allis-Chalmers tractors. There wasn't an Allis-Chalmers dealership in the area, so the three got together and decided one of them should open a dealership so they all could buy tractors. Earl's father, Anton Christianson, essentially drew the short straw and became a dealership owner.
Anton found he had a knack for salesmanship and spotting trends, and that would carry through to his son, Earl, who saw the trend of higher horsepower coming to farming. Back in 1963, Earl was working for his father's tractor dealership when he visited the Crookston Farm Show.
According to Hiram Drache's book, the Steigers had one of their small Model 105 tractors on display at the Crookston Farm Show in February 1963, which was about 30 miles away from the Steiger farm. Earl Christianson saw the machine at that show. He recalled deciding to go out and visit the Steiger farm.
"I heard about the two brothers that had put together a tractor from used components," Christianson said. "So I drove from Crookston to St. Hilaire and then met the two brothers."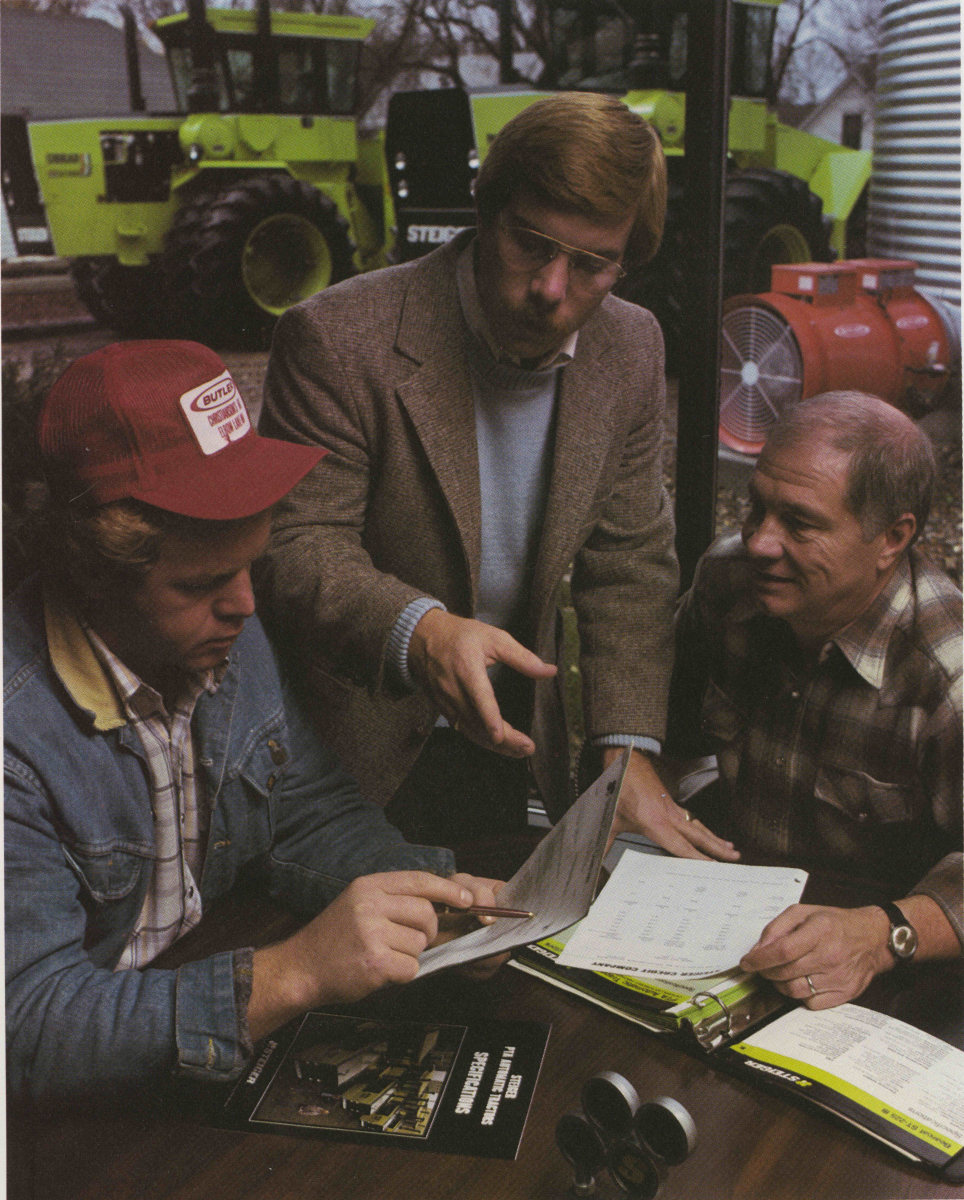 Earl Christianson (far right) in 1981. 
Christianson looked over their machines and the operation and was impressed that the young men had the ability to intelligently design and lay out a tractor. He also was taken by the brothers' enthusiasm.
Christianson had seen Wagners operating and understood the potential of a four-wheel-drive tractor. "When I saw the Steiger model, which was made for the farm, I knew it was the real thing," Christianson said. He didn't hesitate that day at the farm.
"I suggested to Douglass and Maurice that we start a tractor company," Christianson said. He said if the brothers built a production version of the tractor, he could sell them. Christianson went back to work at his dad's store, and for a time, nothing came of the conversation.
A month or more later, Douglass Steiger drove 86 miles southeast to the Elbow Lake dealership and found Earl Christianson.
"Did you really mean that about the production tractor?" Douglass asked. "If we build them, will you sell them?"
"Yes," Christianson said. "I will."
The two men shook hands, and Christianson said no written agreement was made at that time.
"With a handshake," Christianson said, "the Steiger Tractor was born."  
Earl's sales savvy played a key role in driving Steiger. When his father passed away, Earl left Steiger to run the family tractor dealership, and would become the top Steiger tractor dealership in the world. He also was one of the founders of Titan Machinery.
Earl passed away
on August 8, 2017. 
(You can meet Douglass and see Steiger #1 at Big Iron 2017 in Fargo--details here)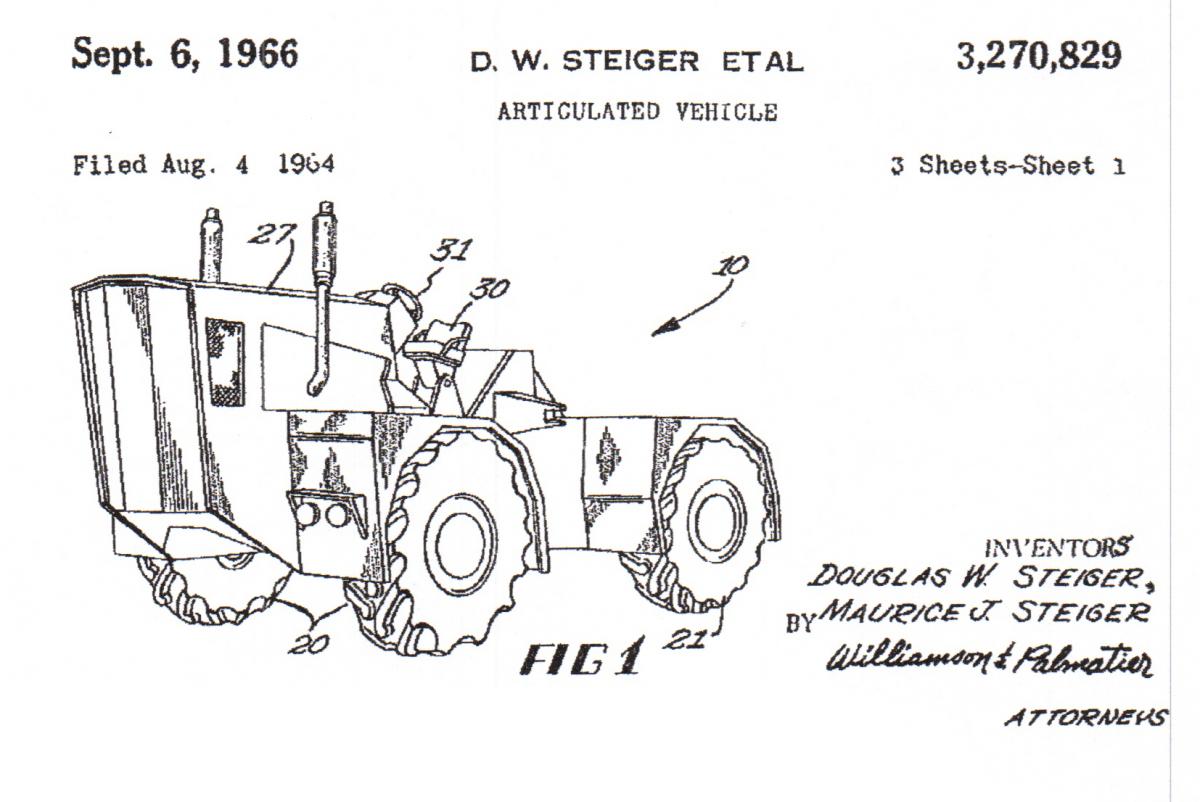 Earl Christianson's contributions to the success of the early Steiger tractors were so significant that Maurice and Douglass added his name to the patent (although it is not shown on the drawing above, it is listed in the paperwork). Note that Douglass is mispelled on the patent above. (You can meet Douglass and see Steiger #1 at Big Iron 2017 in Fargo--details here)