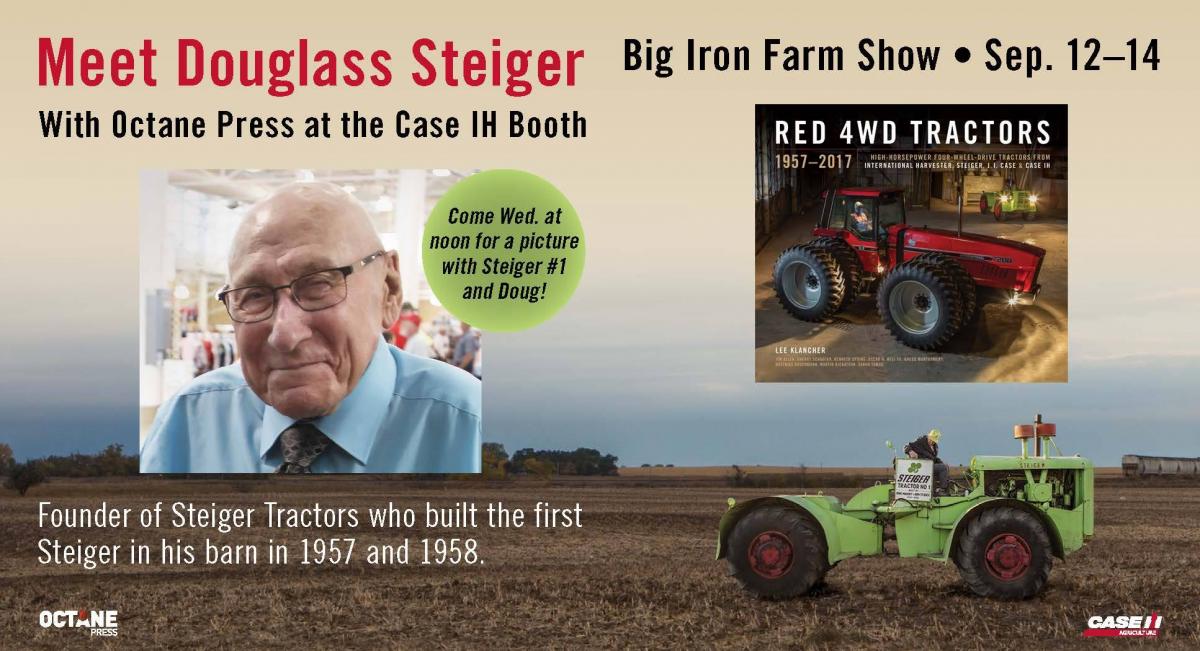 MEET THE MEN WHO MADE STEIGER AT BIG IRON 2017  
Author Lee Klancher and book publisher Octane Press are pleased to announce that they will be appearing at the 2017 Big Iron Show in Fargo, North Dakota September 12-14. The author will feature his latest book, Red 4WD Tractors, along with some of the people who created Steiger Tractors, including company founder Douglass Steiger.   
The book features the history of four-wheel-drive innovation, including the most complete history of Steiger Tractors ever published, as well as new information about the four-wheel-drive tractors built by International Harvester, J.I. Case, and Case IH.  
At the show, you can meet some of the people who made the tractors, see the book in person, and get your photograph taken with "Barney!"
Directions to the Show
FEATURED EVENTS  
STEIGER #1 PHOTO BOOTH
Get your photo taken with the very first Steiger ever built, as well as some of the people who made the machines.  
FOUNDER AND AUTHOR APPEARANCES
Meet the people who made Steiger Tractors
DOUGLASS STEIGER
Founder of Steiger Tractors who built the first Steiger in his barn in 1957 and 1958.
Wednesday, September 13
10 am and 2 pm   
BARRY BATCHELLER, SYL MELROE, PETE PEDERSON, SCOTT ANDERSON & PAUL NYSTUEN
Innovative individuals who were behind the creation and sales of some of the most powerful and capable tractors of the twentieth century. 
Wednesday, September 13
11 am   
LEE KLANCHER
Author Lee Klancher will be signing books.
Tuesday, Wednesday, Thursday
10 am - 2 pm
SHERRY SCHAEFER
Author Sherry Schaefer will be signing books. 
Wednesday 
10 am - 2 pm  
Watch our online schedule—more engineers and founders will be added as they confirm. 
And check out our brand-new book,
Red 4WD Tractors
!