A Royal Adventure in Monte Carlo
The Fastest Woman on Wheels: The Life of Paula Murphy
Wednesday, March 10, 2021 - 06:18

The following is an excerpt from The Fastest Woman on Wheels: The Life of Paula Murphy by Erik Arneson. A fearless pioneer and a versatile and gifted driver, Paula Murphy was the first woman to pilot a jet car to a Bonneville Salt Flats speed record, the first woman to make laps at famed Indianapolis Motor Speedway, and the first woman to secure an NHRA Funny Car license. Paula wasn't all track and no fun. In this excerpt, read about how Paula Murphy navigated a special invitation from royalty.
While recovering from a crash, Murphy accepted an invitation from French oil maker, Elf, to participate in an allwomen road race—the fifteen-lap Renault 5 Ladies' Monte Carlo Grand Prix—in conjunction with the 1975 Monaco Grand Prix on the same circuit used for the Formula One race. Murphy was the only American driver in the twelve-car field.
The race was won from the pole by Marie-Claude Beaumont, a driver for Ecurie Elf Ladies' team for the European rounds of the World Sportscar Championship in 1975.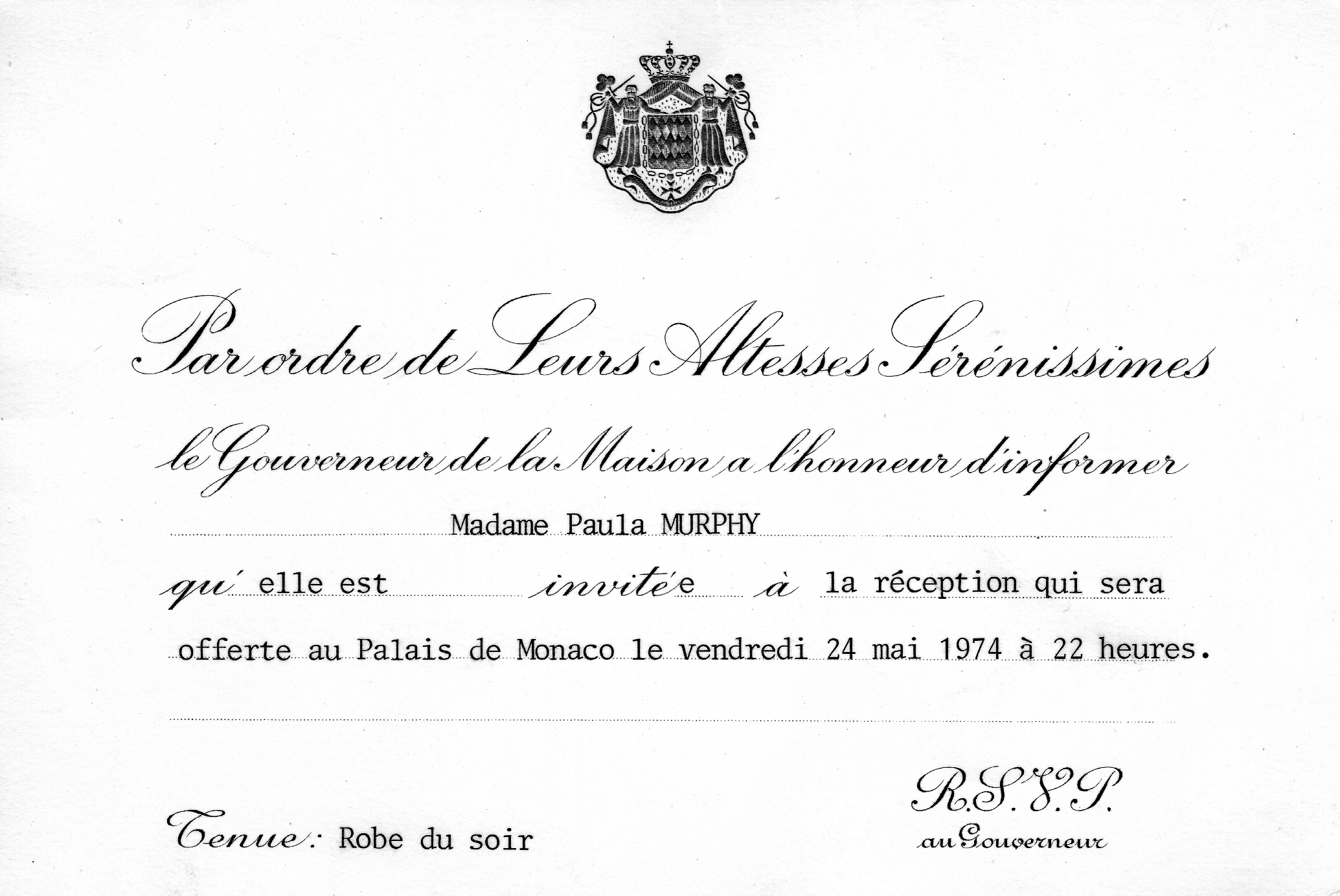 Murphy's experience on the racecourse was much less memorable than the evening before, where she was invited to attend a cocktail and dinner reception with Prince Rainier and Princess Grace of Monaco.
She recounted the experience for Stock Car Racing magazine in 1976:
I open this envelope and it's this beautiful engraved invitation from Princess Grace and Prince Rainier. I'm at a disadvantage, not being able to speak the language so I ask the man at the desk to read this to me. He said, "Well, it's a cocktail party, and long dress is required, and it said RSVP," and I said, "How do you RSVP, particularly when its only three hours before party time?" And he said, "I'll take care of it," and he called and told them.

I get in the room, and the bag isn't even unpacked, and I have to shower and wash my hair and get everything together. I get the dress out, and I can't find the dumb shoes I had packed for the dress. And all I have are my Indian moccasins that I wear racing and these yellow shoes I had on last night. Then I couldn't find the evening bag. So, what do I have but a yellow attaché case type thing that I carry my passport and all the junk, my daytime bag and my $2 Mexican macramé over-the-shoulder stringed purse. I thought, "I can't go in there holding my car keys in one hand and my Kleenex and matches in the other."

I wore the yellow shoes. I thought, "I can't go barefoot, and if I walk pigeon-toed maybe no one would notice." So, I got in my little car that's all painted up with my name and the American flag, and there could be no question who I was and that I was there for the race. I took my invitation with me into the parking area, and I get out of the car and we go to this fabulous archway. There's all these guards standing there with their guns and their swords.

All these people are walking in with ermines and minks and gorgeous dresses, and here I am sneaking into this place. I follow the crowd up this long hallway, and there's this beautiful room with gold ceilings and Oriental rugs, the reception room, and of course, Princess Grace. She looks like $9 million, beautiful, very gracious. And she appeared very glad to see me. And then I met her husband and daughter, and I don't know who-all else, and I'm looking around, and everybody is speaking French. I don't know a soul in the place.

So, I kind of walk around the fringe of the room, and I'm gawking, and finally I sit down in a chair, and there's Aristotle Onassis sitting on the couch with three women talking away. I almost went over and introduced myself, because he is the only one I knew. The butler came over with a big silver tray. So, I had a Champagne and smoked a cigarette.

The dress I have on has narrow straps that button in the back, and then a little bolero jacket that ties in the front. I look down and the strap has come unbuttoned on the dress and is hanging out the front of my bolero. So, here I am trying gracefully to tuck this thing back up in there, and I didn't see any ladies room on the way in, and I couldn't ask anybody could you button my dress back here for me, and I really felt like a bump on a log.

I thought, well, I've had my glass of Champagne, and I've met them all, I was supposed to meet someone here, but he didn't show up yet—that was going to be my excuse if somebody said something. I was going back to my hotel to find him. Nobody understood anything I said. But this man got the picture that I was going to leave. So, he escorted me down the next flight of stairs, and everyone snaps to attention, and I went to my car.
After some confusion with security in her attempt to leave, it was the next day before Murphy realized her mistake.
"The next day, I pull into the pit area, and there's Jackie Stewart waving me down," Murphy recalled in the article. "So, I stopped, and he got into the car and introduced himself like I didn't know him and said Princess Grace was worried about you last night, and she wanted to know what happened to you. Well, I thought it was a cocktail party—at least that's what the man at the hotel desk had interpreted to me—and it turned out it was a dinner, and I had left before dinner."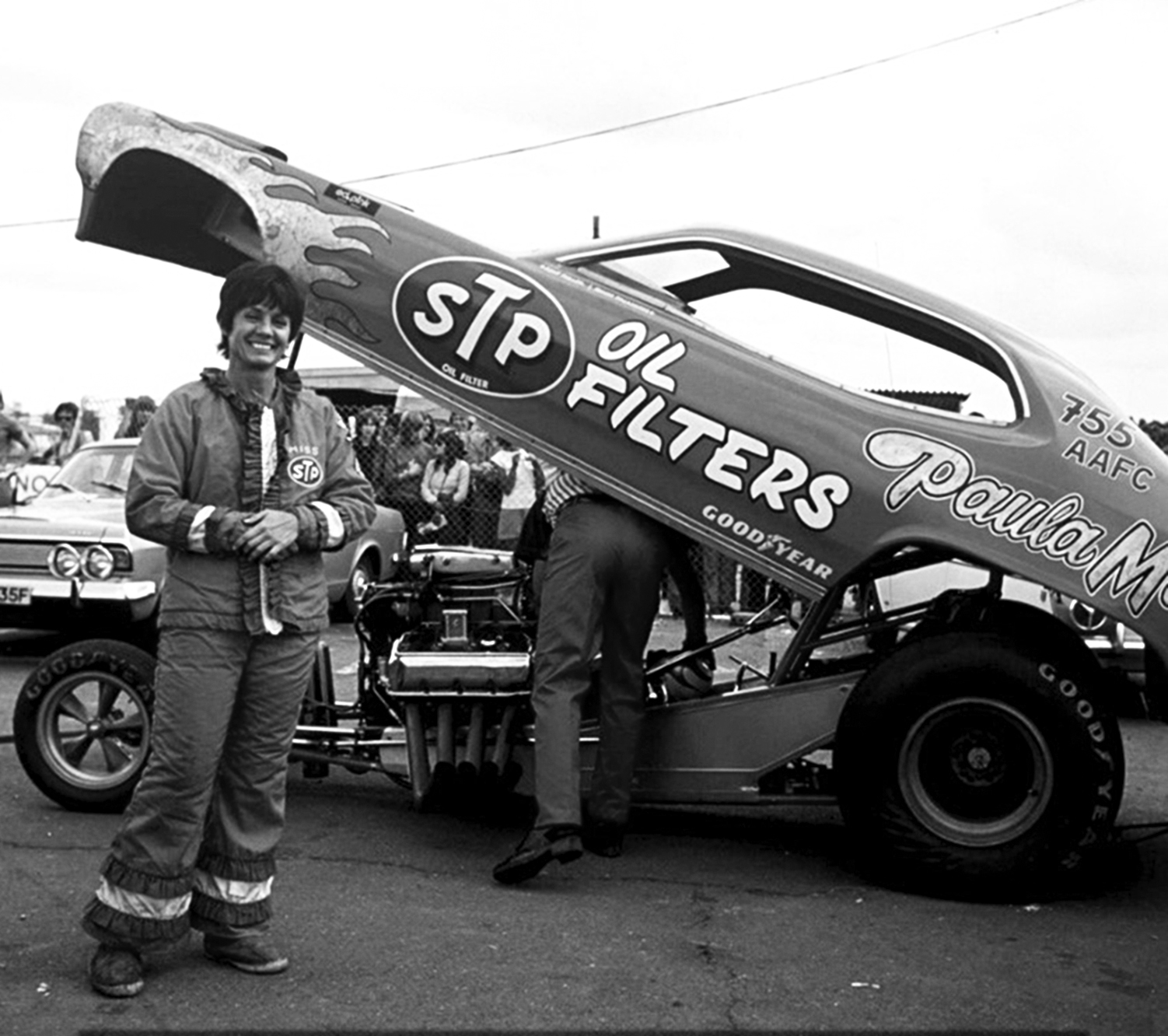 On the track, things didn't go much better.
"I was running really good," Murphy recalled. "We practiced at some track way out in the boonies, and I was running pretty good. The car seemed to be OK. On race day, I lost a gear—it was either second or third gear. Well, you can't run, particularly a tight little course like that without all your proper gears. So, I parked it. I thought it was better than finishing dead last. I took the DNF.
"I was kind of glad to get out of there," she concluded.
For more stories like this one, check out the related books linked below.