The following is an excerpt from the book, IMSA: 1969-1989, by Mitch Bishop and Mark Raffauf.After its first season of GT racing in 1971, IMSA secured the Camel brand of cigarettes as the title sponsor for its premier season for 1972 and beyond, the catalyst for propelling IMSA to global recognition. A newcomer to the series was Phil Currin, who competed successfully against more powerful cars with a 1963 Corvette. He went on to win the first-ever Camel GTO championship in 1972, only to have his iconic car phased out of the series. Here's how it happened.
 (Photo above:  Phil Currin's 1963 split-window, small-block Corvette won the first Camel GTO championship in 1972.
Credit: Louis Galanos
)
          One of the most iconic race cars in the early days of the Camel GT Series was Phil Currin's 1963 split-window Corvette. Powered by a small block V8, it was eventually outlawed by IMSA after he won the 1972 championship. As Phil recalls: "In April 1971, I was fresh back from Vietnam and I had written IMSA technical inspector Bob Zeulhke a note, asking about my B Production Corvette. I wrote, "Is that legal for what you're doing?" And he sent back a handwritten note that said, "Come on over. We'll make it work.""  
"I raced at Daytona that year and then went on to win the 1972 championship against all the big block Corvettes, largely because I knew how to pace myself and not wreck or blow up. In 1973, I was doing the same thing, and that's when John Bishop had a talk with me and said, "Phil, you need to get a newer car, buddy!" I told him: "John, I don't have any money. I bought this car when I was in college, and that's the only one I've got." He told me: "They're not selling these cars anymore, it makes it look bad for the series. The rulebook came out for 1974, and it said you have to have a five year or newer body style. And I thought to myself, "Oh, now I see how the world works.""  
Given a temporary reprieve, Phil ran the car for the full 1973 season and in a couple of races in 1974 before selling it to a college roommate. He then acquired an ex-John Greenwood Corvette and raced it successfully in the 1975 and 1976 IMSA seasons fitted with his self-built small block V8s.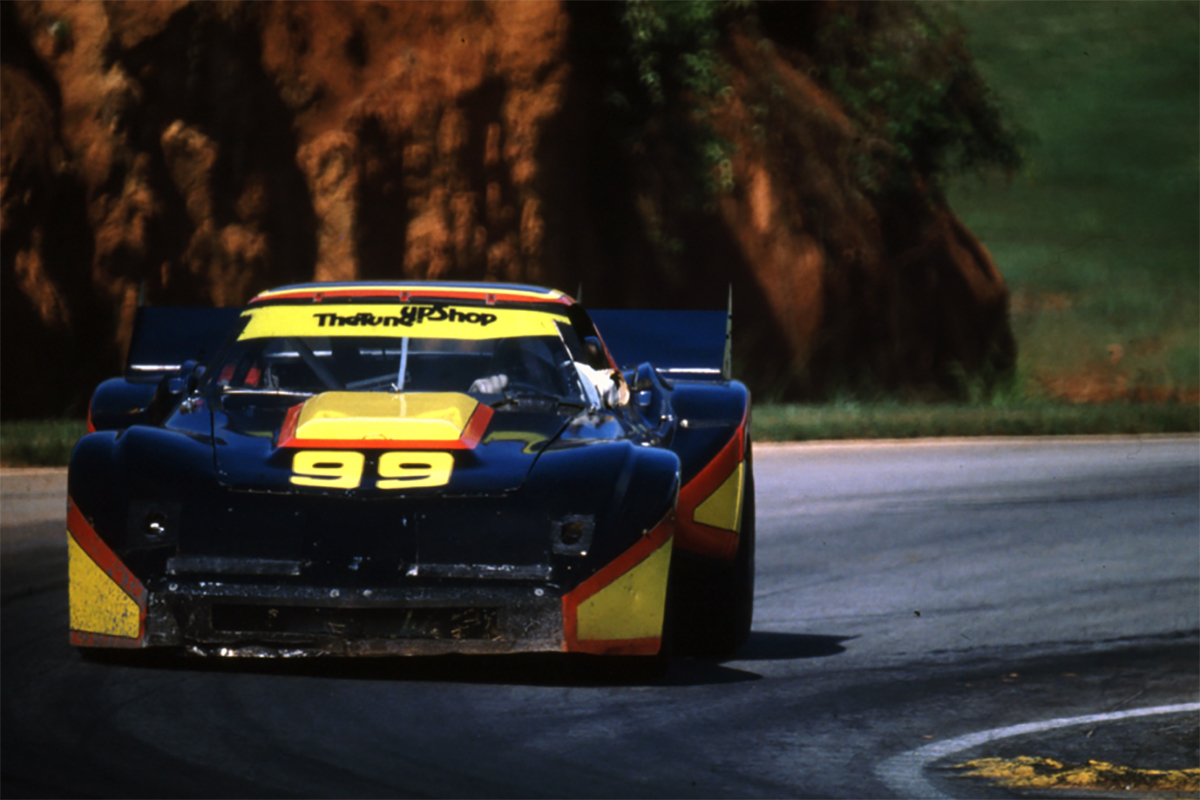 Currin raced an ex-John Greenwood Corvette in 1976, pictured here at Road Atlanta. He replaced Greenwood's big-block V8 with a small-block V8 engine he built himself.
Credit: autosportsltd.com
          Meanwhile, at the season-ending IMSA banquet in 1972, the champions were awarded a nice medal, along with the payout from the points fund. All good.  
The following year, things were a bit bigger and better - more money was handed out at the banquet and the winners were awarded a giant engraved trophy. Phil, never being shy about asking, went to John Bishop and Laird Gann (Camel rep) and groused about not having received a trophy of the same caliber the previous year. He argued the prize should be commensurate with his achievement. Laird Gann, ever the gentleman, told Phil not to worry and much to Phil's surprise, a large trophy arrived from RJR a month later, properly engraved acknowledging his 1972 championship.  
By this time, Phil's reputation as a motor mouth was well established in the paddock. So, at the 1976 IMSA banquet, again at the Plaza Hotel in Daytona, John Bishop gave Phil a special "Motor Mouth" award. My brother Marshal fashioned it from one of my mother's old bowling trophies by gluing a set of mechanical chattering teeth to the top.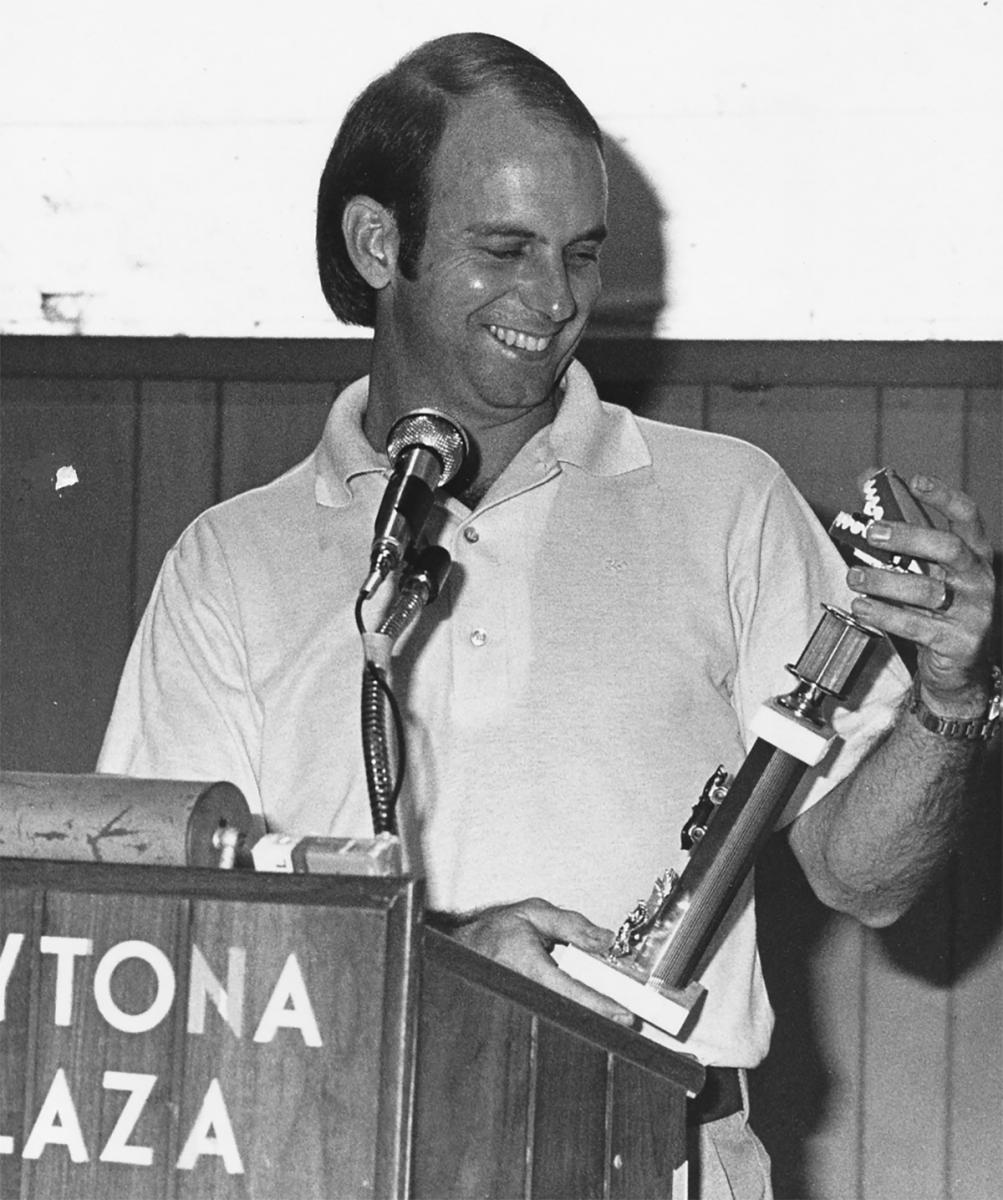 Phil Currin receives the one-of-a-kind "Motor Mouth" award at the 1976 season-ending IMSA banquet. For once, he had little to say!  
Credit: IMSA Collection/International Motor Racing Research Center
          Both trophies are still proudly displayed at Phil's home in Gainesville. And his #99 Corvette still sits the garage—he can't bear to part with it again.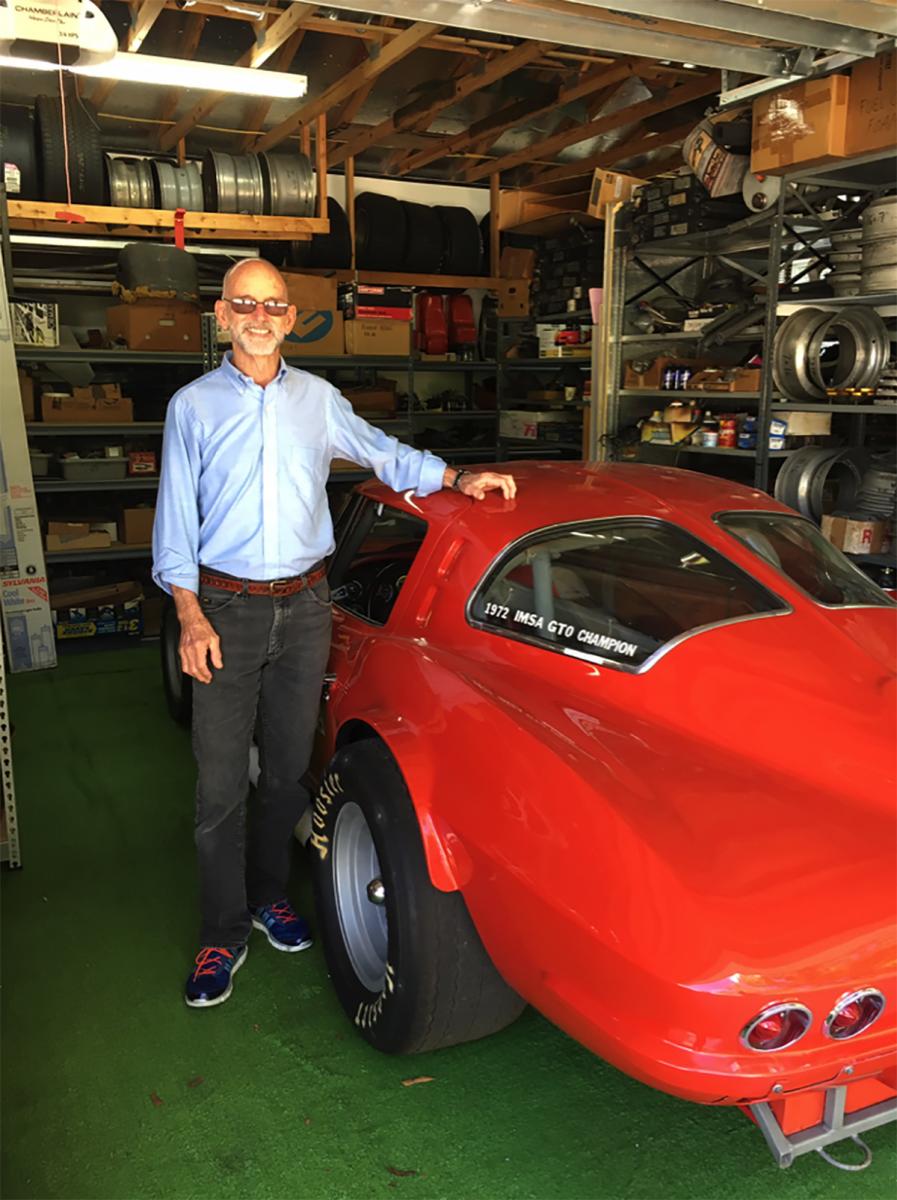 Phil Currin in 2016, pictured with the 1972 IMSA Camel GT Series GTO championship winning 1963 split window Corvette he still owns.
Credit: Mitch Bishop
Stay tuned for more excerpts from IMSA 1969–1989 by Mitch Bishop and Mark Raffauf, available now for presale!