Morganisms and Deadlines
Beast: Nine
Friday, May 27, 2016 - 19:30

To celebrate the 2016 Indy 500, Octane Press is releasing excerpts from Jade Gurss' incredible award-winning book Beast: The Top Secret Ilmor Penske Engine That Shocked The Racing World At The Indy 500, which tells the true story of the astonishing events that led up to the infamous 1994 Indy 500, all from the perspective of the men involved.
BEAST: CHAPTER NINE
Just Jobs
"Goals are dreams with deadlines."
— Diana Scharf, author
From the very start, deadlines for the E were immoveable.
"Not making it was
not
an option," said le Roux. "You just had to do it, and Paul Morgan was leading the charge. Quite honestly, I don't think it would have happened if he wasn't around. It was totally driven by him. He was the most amazing guy. Working with him was clearly demanding, and you had to be on your game all the time. It wasn't that he was a bastard, but because he would lead by being such an example.
"It wasn't unusual to work overnight. Paul's question was always 'What are you going to do to make the deadline?' It was a helluva experience from straight out of university and that's your first job. It's only afterwards when you leave Ilmor that you realize the rest of the world is not like that. Deadlines come and go, but Paul was 'This is the fire-up date, that is it.' It was a fantastic experience and fantastic work." 
"It was just the way we were," said Illien of his and Morgan's motivational style from the earliest days of Ilmor. "The way we wanted to make things happen, we wanted the people to be part of it and pulling the same direction. That helped, obviously, if you want to keep something secret. The special effort of everybody to come along with you. I think the other thing Paul and I did, we were leading by example. We didn't ask anyone to do things we weren't prepared to do ourselves. I think that made a difference. A big difference."
Liz Morgan echoed Illien's thoughts about the management style. She and Illien's wife, Catherine, played a huge role in the company, joining their spouses to do whatever needed to be done.
"What we tried to do so much is to make everyone feel almost like a family," said Liz Morgan. Even when Ilmor surpassed 150 employees, Paul Morgan knew each by name. "It was so important to Paul and Mario that you would never ask anyone to do anything you wouldn't do yourself. We really tried. [Paul's] door was always open. I remember people going in with problems of all sorts and he would try to sort them out or help as much as he could. He was very good like that."
"We knew what the goals were from the very start," explained Alan Cook. "We weren't told to build this part with no idea what it was for. Paul didn't say, 'I want you to do this part.' He'd say, 'We want to win Indy next year.' So everyone was clearly driven by the goal and ambition rather than the short term. We all knew what the goal was."
Cook also described a memorable example of Morgan's human touch.
"The first year Ilmor won Indy was 1988," he said. "We went to the pub in Northampton to watch the race, and then we won and everyone was ecstatic. Then very soon after, Paul rang the pub. So, one of the first things he did after achieving his lifelong goal—one of his lifetime dreams—was ring his employees at the pub. It was really motivating."
Dave Warner, a man currently in his twenty-ninth year working for Ilmor and one of the essential engine builders on the E project, explained his admiration for Morgan.
"It was the respect. You couldn't pull the wool over Paul's eyes," said Warner. "He knew everything! He knew about design, engines, machine tools, and CNC machines. You couldn't bluff him. There was a deep respect there because he knew what was what. You always believed him when he said, 'We've got to do this.' No one questioned it. The whole thing was design-led. There was no production director and nobody counting the cost. It was all about getting the parts right and making a reliable engine. So, that was the driving force behind [the pushrod project]."
The level of trust existed from top to bottom inside the small company, and Morgan and Illien seemed to have a magical hiring touch. Their job interviews were personal chats rather than investigations.
They were looking for a sense of a prospective employee's personality and demeanor rather than specific skills.
"It was quite amazing that Paul and Mario assembled a team of people who were so into it," explained engineer Robin Page.
"In many [businesses] there are people who are negative or who are only watching the clock. At Ilmor, there was never any of that. It was just get on and do it. [They were] such good people to work with. You wouldn't worry about anything but getting the right result. Having the backing and the trust of Paul and Mario was key to all of that. The company was amazing. I went in there as a graduate in 1990 and they immediately gave me an order pad."
"How does the order work?" Page asked Morgan.
"Well, you write down what you want on the pad," explained Morgan. "Give it to the [purchasing] guys and then it comes."
"Yeah, but who signs it?" asked Page.
"Well, you do," said Morgan.
"Okay, sorry Paul," Page said. "I know I'm being stupid, but what's the upper limit? What do I spend before I get it countersigned by someone?"
"Robin, we've employed you because we trust you," Morgan replied with a big smile. "So you're the one who has to sign it. Use your judgment."  
"That was week one, day one working with Paul and Mario," Page marveled. "They trust you and let you get on with it. It was never a case of being told to do something. If you went to engine build and explained that we need to pull this one apart and change some components, there was never a complaint. From the ground up, every employee was on salary. So nobody got a cent of overtime. Seventy- to eighty-hour weeks weren't uncommon. Not all the time, but when we were all up against it."
Morgan had a unique way with a phrase and a smile to help smooth what could have been contentious discussions. The staff called these phrases "Morganisms." As much as hard work was demanded, a sense of humor was also a necessity. When asking for a particular task, Morgan might tell a staff member "You have seven days to do it." After being told seven days was impossible, Morgan would quip, "All right, you can have a week."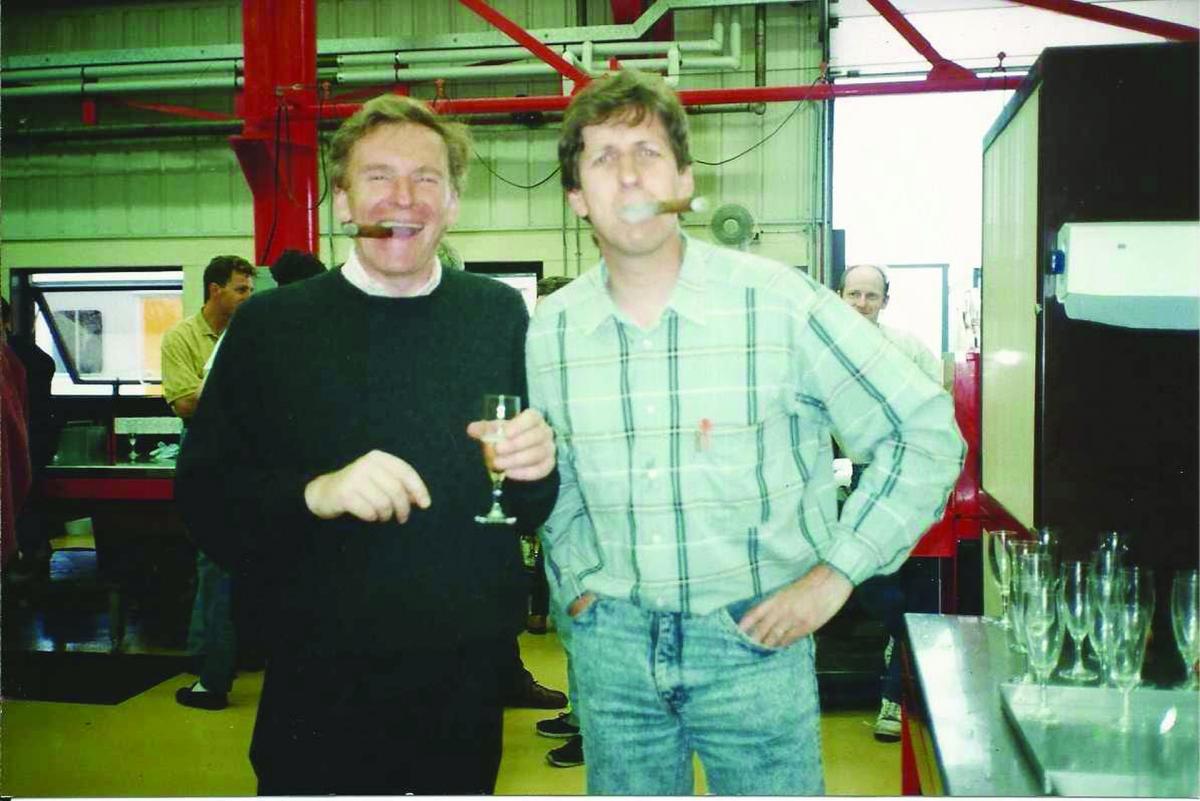 Many Ilmor employees also describe what they called Morgan's "just jobs." Often, after a long day in his office, Morgan would come to the shop floor and ask "Could you just. . . ?" The employees knew a long night was ahead.
"Oh, God. Yes," laughed Tony Thornton about the just jobs. "Paul would come through and ask, "Have you got any time?' He'd say, 'Can you just help Philip?' and that was it then."
One of Thornton's just jobs was to operate a crucial testing machine to learn about the E's valve train. Everyone knew the most likely trouble spot in the engine would be the valve train: the pushrods, rockers, and valves. Getting it to last five hundred miles was their biggest challenge. With much of the design work progressing well by September 6, le Roux began drawing a test module called the cam rig that would be essential to develop the valve train in the coming months.
"Without the rig, you could never design a complete engine in six months," said Illien. "If you wait until the first time the engine runs on the dyno, you're too late."
Le Roux's cam rig wouldn't win a beauty contest. It was created from a solid block of aluminum, with the inside machined to replicate the cylinder head. The two-cylinder rig was driven by a large electrical motor. After testing with both cylinders, they found it was quicker to run single-cylinder tests. The cam rig allowed them to troubleshoot the valve train and make improvements even when the actual engine blocks were still bubbling masses of liquid at Zeus Castings.
It was crude and anything but easy, as the guys pushed hard to have the rig ready for a visit from Karl Kainhofer. Kainhofer had worked with Roger Penske since the dawn of the 1960s and was Penske Racing's employee number one. A native of Austria, Kainhofer was in charge of the engine build and dyno department at Penske's race shop in Reading, Pennsylvania.
"The initial run of it, when it started, was the usual for Ilmor," said Thornton, the cam rig operator. "'Right, we'll run it on
this
day.' Karl Kainhofer came over, and it
had
to be done because of who he is and his stature within the Penske organization. It must have been three o'clock in the morning when it was finished, and then he turned up."
"The first run was only seconds," said Page of the inaugural test for Kainhofer. "It might have been ten seconds."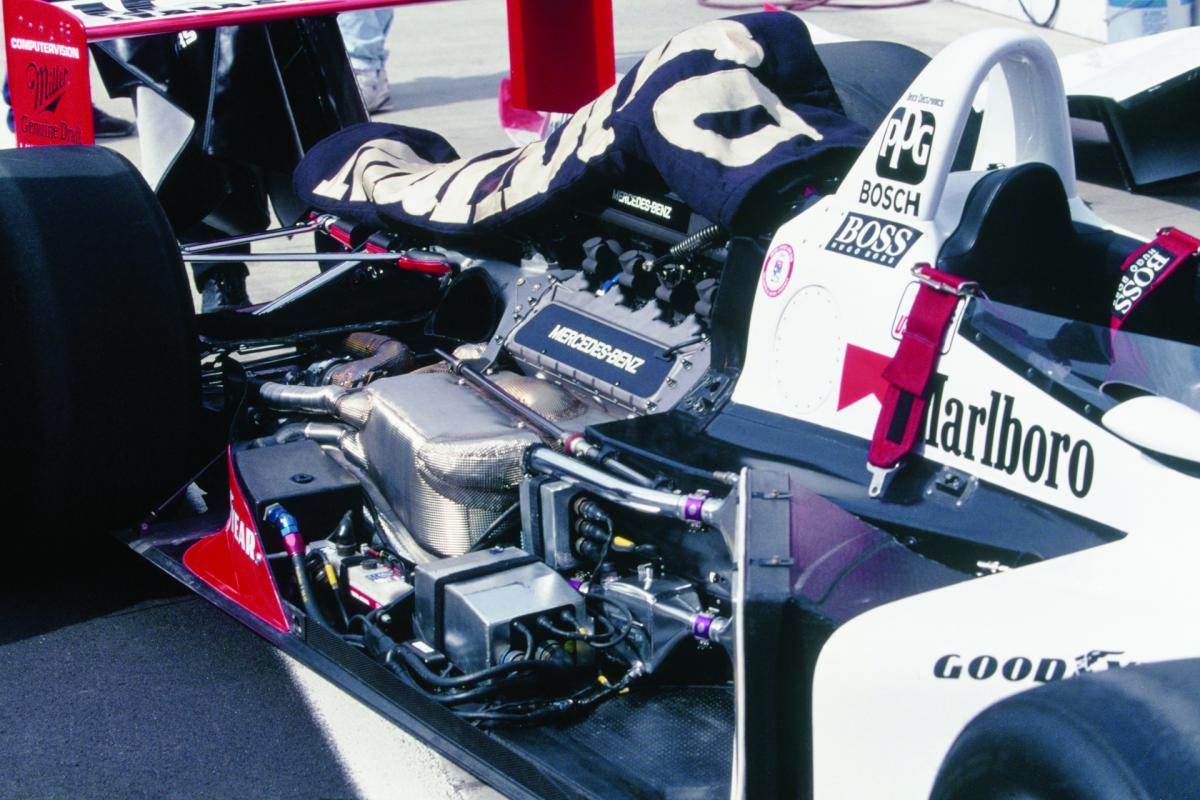 For the full story, check out 
Beast
 here, and learn how the intrigue, engineering, and utter audacity of two men turned the racing world upside down.
​Previous Chapter