John Deere Evolution: The Power Broker, Jon Kinzenbaw
Wednesday, November 17, 2021 - 10:00

John Deere Evolution is a visually stunning work that blends tractors photographed in custom-built studios with concept drawings and behind-the-scenes looks at how the machines were designed and built. This encyclopedic history covers every model line built by John Deere since 1919. In this excerpt from the book, read about Jon Kinzenbaw's introduction to agriculture.

Jon Kinzenbaw learned how to weld just by giving it a try. You could say, in fact, that Kinzenbaw's entire career was founded on his innate ability to transform an idea into a beautifully executed mechanical result. Given his success as a leader in farm technology innovation, he has taken that principle to its very highest level.

As a kid, he applied his welding skills to build himself a mini-bike and then a go-kart. His neighbors had them, but when his father would not buy them for him, Jon built them.

His early efforts were built with wood. His first go-kart was powered by a Maytag washing machine engine with bicycle wheels.

He found the wooden frame and bicycle wheels inadequate for the demands of a young motorhead. The twelve-year-old Kinzenbaw taught himself to weld and built a steel-framed kart with a three-speed Chevy transmission.

His father then refused to buy him a car in high school. Kinzenbaw scraped together his limited funds to purchase two salvaged Fords—a 1956 Crown Victoria and a 1954 Crestliner with a glass top. He mated the good parts from each and drove the car for a year.

His first job was at an International Harvester dealership in Marengo, Iowa, overhauling transmissions and engines. He later worked at a gas station in Ladora, Iowa. With the Vietnam conflict heating up, Kinzenbaw enlisted in the Army Reserves. After basic training, he came back home and decided to put his mechanical skills to work.

With all of twenty-five dollars to his name, he borrowed a little money to buy an old block building in Ladora and open a welding and repair shop. Kinze Welding opened on December 10, 1965.

Not long after opening, while working for a dairy farmer, Kinzenbaw noticed that a four-wheel-drive loader would be helpful to clean out the barn.

"He was a neighbor who was a good friend of everybody's and he had me come and milk his cows," Kinzenbaw said. "He had a 40-head cow herd, Holsteins, and I milked those cows. I observed his problem of not being able to get in the barnyard to get the manure hauled away in the spring because his old tractor was always stuck . . . I observed his problem and so a year after I had milked those cows for him, I went into business and one of the first projects was to build him a four-wheel-drive loader."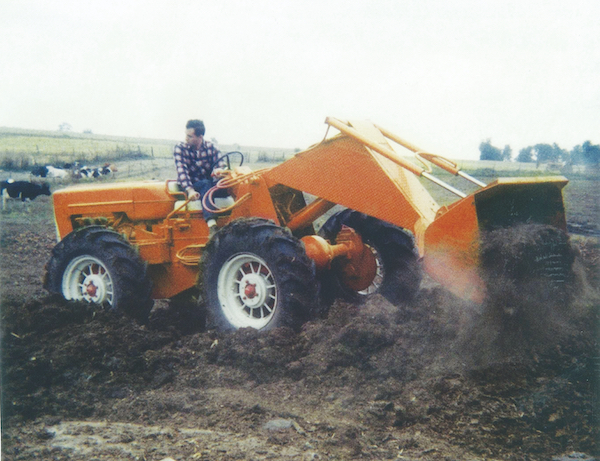 One of Kinzenbaw's first projects was to build this loader using two Model WC rear ends and a Chevy engine and transmission to create this custom four-wheel-drive loader in 1966. He built it without any drawings—it was done entirely ad hoc. Photo courtesy of Kinzenbaw Collection.

After cooking up a concept, Jon fired up his welder and transformed two Allis-Chalmers WC tractors into a four-wheel-drive loader.

Kinzenbaw doesn't recall making a single drawing. He just conceived the idea with some friends and neighbors, and then built the machine. He was twenty-one years old.

"One thing led to another and when you build something from the ground up, you have to cross all of those bridges as you get to them. . . . I knew enough about differentials and rear ends and how that all worked. I could see and visualize and put that together kind of in my mind. No drawings, nothing like that," Kinzenbaw said.

"If you think about it, one of the tractors' rear ends goes in its normal forward direction, the other one is when it's coupled up has to go backwards.

"Well, then, to add to that, the one that went forward had an engine sitting on it backwards, so it was wrong, and then the other one was wrong because it was going the wrong way. I had to flip the differentials I think in both of those so that they were coupled together and then I used a six-cylinder Chevy engine and a truck transmission and a hydraulic cylinder to steer it and just took it one piece at a time."

That unit came out so well, Kinzenbaw took on more projects like it. He built a custom IH loader, repowered an IH 450 with a John Deere 4020 engine, and constructed three-wheeler "floater" tractors. These early efforts are incredibly well-finished machines.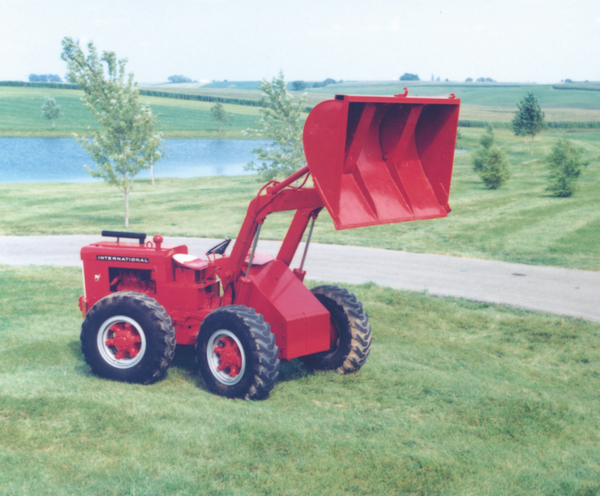 Jon built this incredibly well-finished custom loader in his shop with some help from his customer, farmer Bill Feller. The machine was powered by an IH six-cylinder from an old military truck. Jon recalls charging $1,000 to $1,500 for it. "It seemed like big bucks in those days," he said. Photo courtesy of the Kinzenbaw Collection.

The quality was not a coincidence.

"One of my things when I was in business, I'd seen farmers that had a welder that should not have had a welder and they'd break something and they'd cobble it together and they'd throw a piece of scrap iron on it and patch it up. Now, it would work but it just looked terrible. My goal whenever I fixed something . . . I would make the patch look like it belonged on there. In fact, I'd put one on the other side if necessary to make it look right."

"You do a job, do it right and it comes back many times over by word of mouth," he wrote in his book, Fifty Years of Disruptive Innovation.

Grab your own copy of John Deere Evolution to keep reading "The Power Broker: Jon Kinzenbaw."