John Deere Evolution: Rotary Engine Project
Wednesday, November 17, 2021 - 09:15
John Deere Evolution is a visually stunning work that blends tractors photographed in custom-built studios with concept drawings and behind-the-scenes looks at how the machines were designed and built. This encyclopedic history covers every model line built by John Deere since 1919. In this excerpt from the book, written by Jim Volgarino, read about the rotary engine project from the 1980s. This excerpt is by writer Jim Volgarino. 
In 1983, Deere & Company stepped into the world of rotary engines, commonly known as Wankel engines, invented in the late 1940s by German engineer Felix Wankel. The company purchased patent rights and technology related to rotary engines from Curtiss-Wright, a company formed in 1929 with the merger of companies founded by the Wright brothers and Glenn Curtiss, who is considered the father of naval aviation.
The purchase gave Deere exclusive North American rights and patents to the Wankel engine, as well as know-how, experimental engines, and components. The best-known production vehicle powered by a Wankel engine was Mazda's RX-7 automobile beginning in 1979. Deere engineers had determined the existing rotary engine platform was sound, so incorporating this technology with Deere & Company's extensive research, design, and manufacturing facilities promised to bring a reliable product to the marketplace.
The company's effort considered the rotary engine's compactness, eliminating upwards of 50 percent of the bulk of reciprocating diesels, multi-fuel capabilities and economies, design simplicity, and optimum manufacturing cost.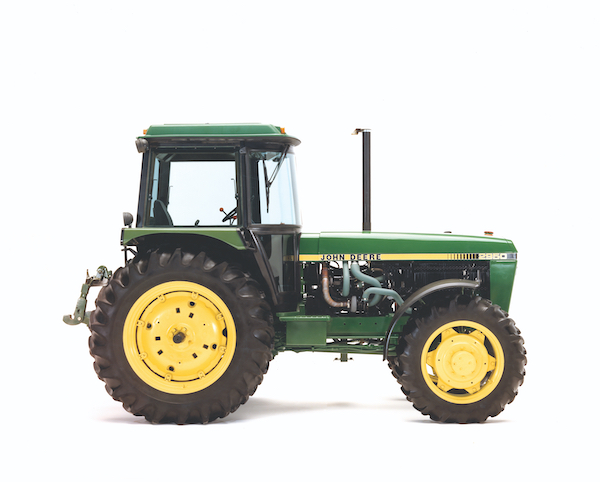 This nicely finished prototype was developed when John Deere purchased the rights to the Wankel rotary engine from Curtiss-Wright. Development was done in a New Jersey facility that was part of the purchase. The 580 engine used two rotors. Photo courtesy of the Mannisto Collection.
Jon Lauter, Dick Hurban, and John Mannisto were all freshly minted engineers when they joined the new team that was a mix of both Deere & Company employees and those from Curtiss-Wright, which had a research facility in New Jersey. That interaction proved both fruitful and frustrating at times as each business entity entered manufacturing worlds neither had experienced in the past. This was a brave new world in engine technology for Deere while Curtiss-Wright, which was used to major contractual relationships, was teamed with an ambitious and energetic group of designers and engineers who wanted to test the limits of this innovation.
Jon Lauter was one of two engineers hired as the first non-Deere, non-Curtiss-Wright employees for the Rotary Engine Division (REDIV) in April 1985. Signing on as a Development Engineer, Lauter had just graduated from Hofstra University with an Engineering Science degree.
"I had several years' experience as an auto mechanic," Lauter explained, "including experience with Mazda's rotary engines." Little did Lauter realize how that first position would impact his working career as he moved even further into rotary engine development after Deere shut down the division in 1991, selling it to Rotary Power International, Inc. (RPI), which went out of business in the early 2000s, and the Wood-Ridge, New Jersey, site has been abandoned.
Lauter worked on combustion sealing issues and general engine performance and durability during his years at Deere and left the company upon the demise of REDIV, going to work for Cummins Engine Co. in Columbus, Indiana, as a technical specialist. In 1994, however, he returned to the rotary engineering world, taking a position with RPI in New Jersey, assigned as a project engineer for a small .4-liter (about 24 cubic inches) engine being developed for unmanned air vehicle (UAV) applications. He also later managed the engineering effort for a marine engine product based on the Mazda RX-7 rotary engine block.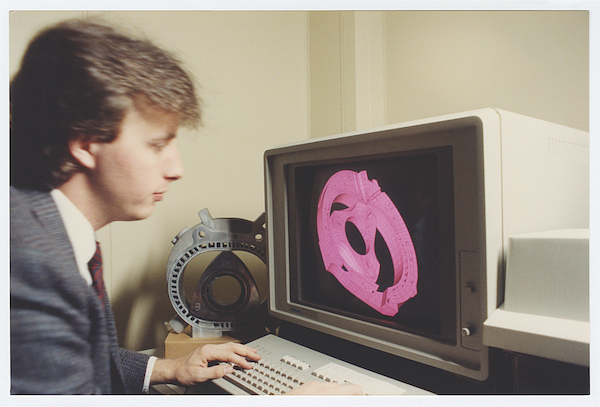 The rotary engine piston design can be seen here—the center piece rolls around as the engine fires. Deere engineer John Mannisto is shown working on the computer. The most famous rotary engine vehicle was Mazda's RX-7. Photo courtesy of the Mannisto Collection.
John Mannisto also joined the REDIV team in 1985, graduating from Rutgers University in 1983 with a degree in mechanical engineering and then working for Lockheed Corp. for 2.5 years. He described that first job interview in one of the small original buildings, crowded with engine parts and drafting boards. "I was hooked!" Working for Deere & Company, taking on an exciting new project with a startup feel and given plenty of responsibility, Mannisto admits those years have been some of the best of his career.
"I was hired to help develop simulation capability," Mannisto described. "This was the simulation of thermal and structural behavior of engines on the computer, something I had been pursuing in my master's degree work." He said Deere & Company paid for his master's degree work in 1987, and he went on to engine development after three years in the simulation group.
Grab your own copy of
John Deere Evolution
to read the rest of "The Rotary Engine Project."