Green Machines and Starry Nights
Thursday, July 22, 2021 - 09:45

How did Lee Klancher gather all of the material for the upcoming book John Deere Evolution? This blog was originally published as a feature in the Ageless Iron section of Successful Farming magazine, where Lee Klancher is a regular contributor. 

The contrasts of Big Bend National Park have been my inspiration these past few days. The piñon-scented desert air has been lovely and cool, with bright sun warming this often-hostile environment. Last night, while my wife and I watched the sun go down and the stars come up, the evening winds chased us inside, where 40-mph gusts rattled our little camper so hard we couldn't sleep.
 
The contrast of the sublimely beautiful with unexpected challenges reminded me that all good journeys have highs and lows. Such ebbs and flows apply neatly to my latest book project, John Deere Evolution. Creating this work has taken more than a decade, and the book's path has been arduous. I'd go as far as to say the Deere book has been the most adventurous work of my career. That is a significant statement, given creating my motorcycling Alaska book included midnight encounters with grizzly bears and riding 500 miles in snow and sleet on the Dawson highway.
 
My first intense experience with green came when I worked with Bruce and Walter Keller to photograph some of their rare John Deere tractors. They have more than 600 machines and, more significantly, a large number of serial number and rare examples. I convinced Bruce to work with me to put together a crew and build a photographic studio large enough to photograph his prototype 8010 and another 35 tractors.
 
Making those images at the Keller place was a hard and long but ultimately satisfying week. Most importantly, the images were stunning, as that big sheet of cloth accentuated the curves of glossy finished sheet metal and gave time-worn iron a leathery, fantastic glow.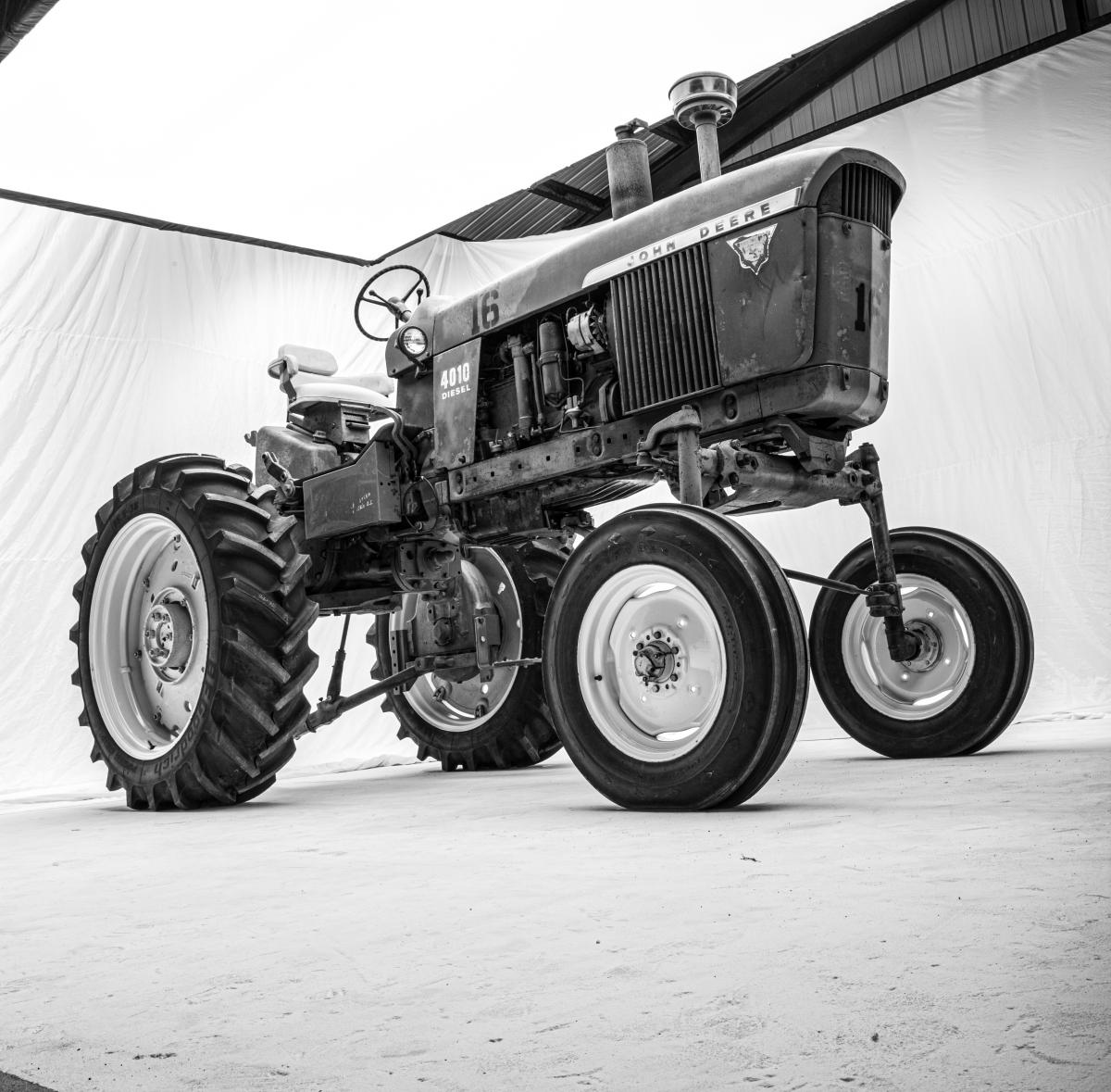 A John Deere 4010 Diesel is prepped and ready to be captured.

The adventure came on the trip home. The turbocharged four-cylinder in my aging Audi wagon was struggling with oil starvation. After 18 hours of driving, the intermittent oil light turned solid red, and I gave up the fight and headed to a dealership in Dallas, only to get a flat tire on the way that left me stranded on the freeway at midnight, waiting for a tow.
 
The Deere adventures continued over the years, including getting caught in a snowstorm in Moline while working on the book there. The snow was so heavy I had to get my little rental car shoveled out to do my work, temps plummeted to 10 degrees below zero, and the days of research netted nothing useful.
 
Snow continued to play a role in the Deere book when I planned an upper Midwest book trip in October 2019. I was traveling in a small camper, and the weather turned unseasonably nasty while I was in the Green Bay area. High winds, sub-zero weather, and several inches of snow made the roads impassable, and my camper's water systems froze solid. I was stuck in a crappy private campground for several days. Once the wind died down and the salt trucks took the edge off the icy roads, I was able to drag the camper out of the snow and point my rig south. The camper and I thawed out in central Arkansas, nursing the pain of lost photo shoots and media appearances.
 
A research trip to the Cooper Hewitt Smithsonian Design Museum in New York added to the story. The Cooper Hewitt houses the archives of Henry Dreyfuss Associates, which designed the appearance and user interface of Deere machines from the 1930s to recent times. They maintained a close relationship with Deere leadership for more than seven decades, and their work was critical to the brand's ascent.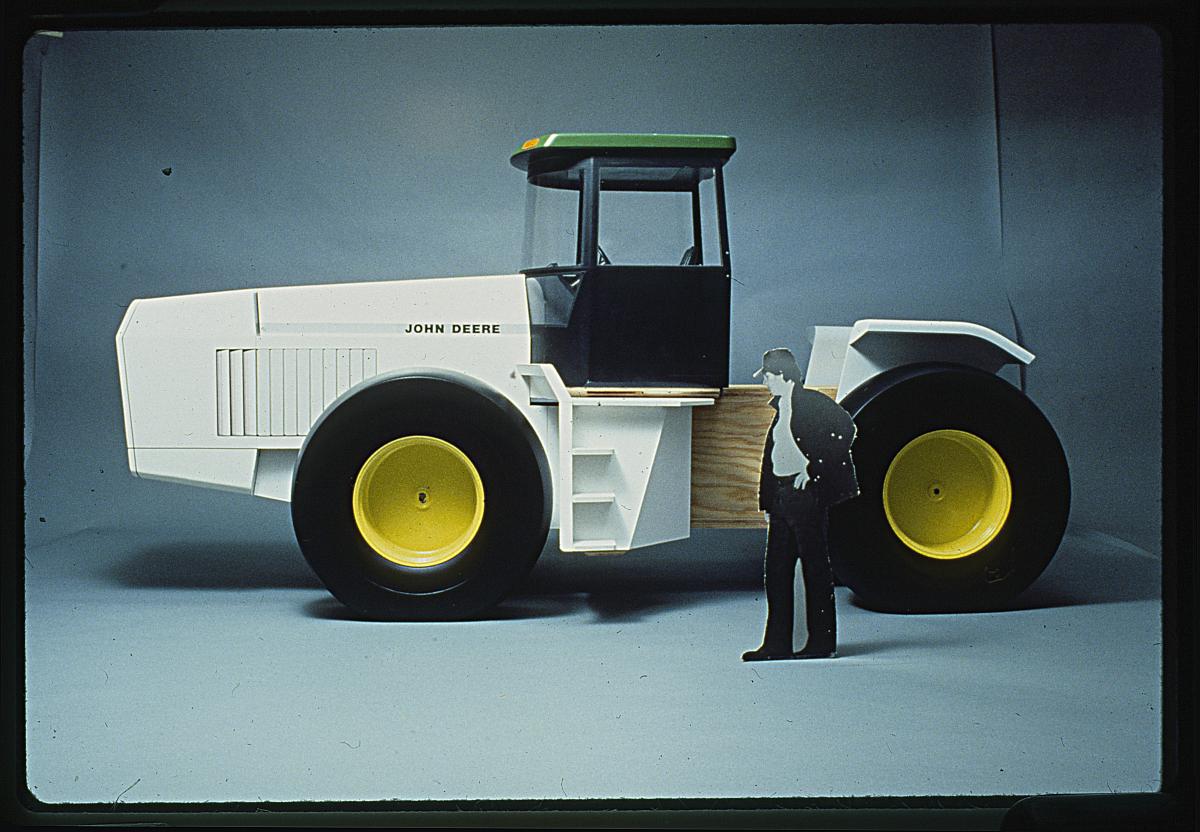 This image from January 3, 1984, was one of many that were uncovered in the HDA Archives. It depicts a white concept model that was integral to the development of the all-new John Deere line of four-wheel-drive tractors.
 
A first visit to the archives drained my bank account with NYC's outlandish hotel and food costs, and it yielded only a few gems. While I was there, the archivist off-handedly mentioned they had several dozen boxes of uncatalogued HDA materials. I returned a few months later and spent several exciting days at the facility viewing material that had not been seen in 30 years. The new research that I found brought to life the development cycles that created many of the modern Deere tractors in the book.
 
I returned to studio adventures in Rantoul, Illinois, where we built another portable photographic studio to make images of some of the fabulous machines that showed up for the 2019 Half Century of Progress show. That adventure was an absolute joy, as we had the studio gig down to a science and the folks that run that show are an amazingly industrious and helpful crew. A star of that outing was Brad Walk's stunningly restored first production John Deere 6030. That machine is on the cover of John Deere Evolution.
 
As I sit at a picnic bench in my favorite remote corner of Texas, typing away and reflecting on this book's twists and turns, I'm finding myself thinking of it as I do most adventures—the lows are becoming spice that flavor a satisfying memory. The evening breeze is warm and gentle, the sun is setting over the mountains, and the stars will be out soon. It's going to be a beautiful night.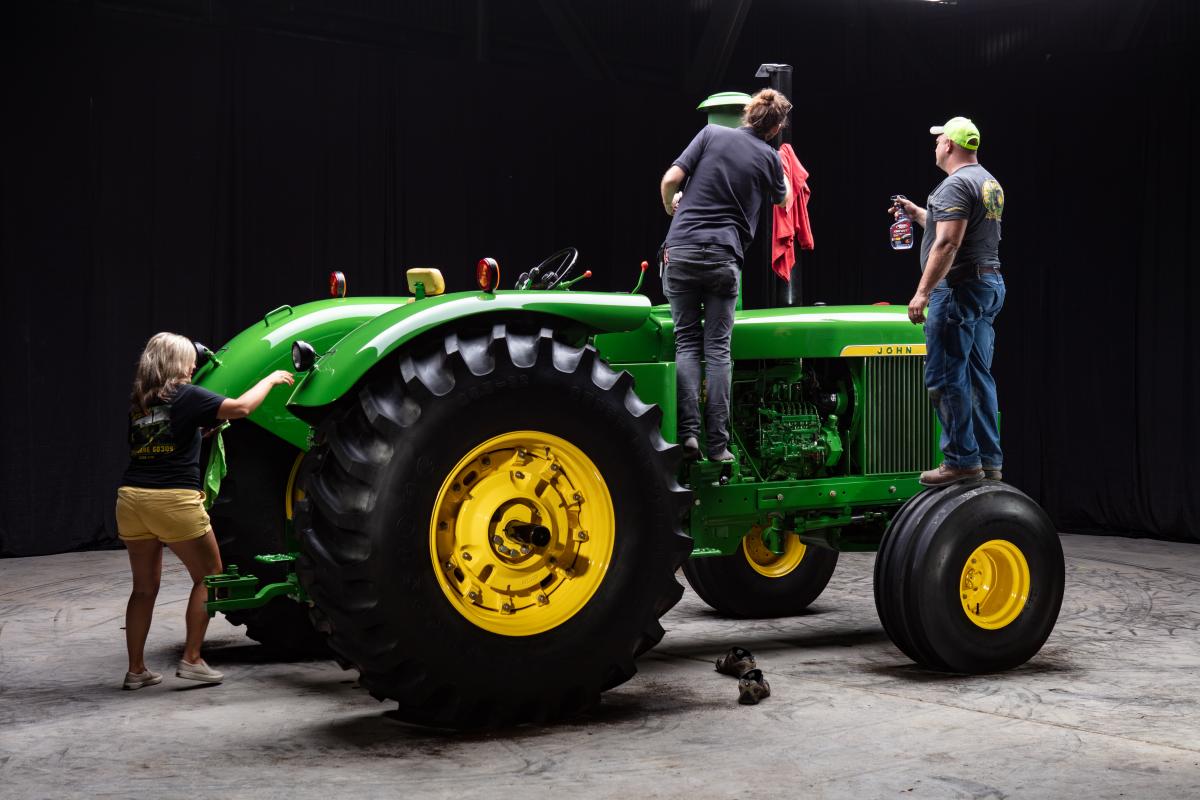 Photographing the many machines at the 2019 Half Century of Progress show was a team effort, and the results highlighted the love and care that the farmers, collectors, and tractor restorers have for their machines.

John Deere Evolution by Lee Klancher is now available for preorder. To check out the book page, click on the "related books" link below.