John McCaffrey grew up the son of a blacksmith in Fayetteville, Ohio. He was just a boy at the turn of the century, and his father, like many blacksmiths at the time, sold and serviced agricultural equipment, including McCormick machines. Young John's powerful frame earned him the strenuous job of setting up binders for the farmers who bought them.
"I had a strong back and a weak mind," McCaffrey joked years later. "And one summer—during the summer of 1908—Harvester hired me and paid me three dollars per binder. One binder took you all day and then some."
Banner image, Top of post: The local dealer for early harvesting equipment was often the town blacksmith, simply because he had the tools and knowledge to assemble and fix the machines. This blacksmith from Linden, Iowa, was photographed on May 20, 1931. 
Wisconsin Historical Society / Angus McVicar / 19184 
Hard work would be a hallmark of McCaffrey's career, and his skill at setting up machines prompted the Cincinnati branch manager of sales to drive out to Fayetteville to offer him a job. When he arrived, the manager found the tall, lanky young man out fishing.
McCaffrey set aside his pole and accepted the offer. He wrapped his anvil-seasoned hands around a job at a Harvester warehouse in Cincinnati in 1909.
McCaffrey joined a powerful team. The International Harvester Company was the largest manufacturer of agricultural equipment in the world in 1909. Founded in 1902 by a massive merger that consolidated roughly 75 percent of the U.S. agricultural machinery industry, IHC in 1909 posted annual sales of $19 million through an unparalleled dealer network in the United States and abroad. The company known as IHC—or simply "Harvester" to employees, clients and dealers—owned more than $44 million worth of real estate and plants, and they controlled nearly every piece of the supply chain. Harvester owned plants that manufactured steel, twine, and lumber. Parts came in on IHC-owned railroads, and power was supplied by Harvester's coal-processing and electricity plants.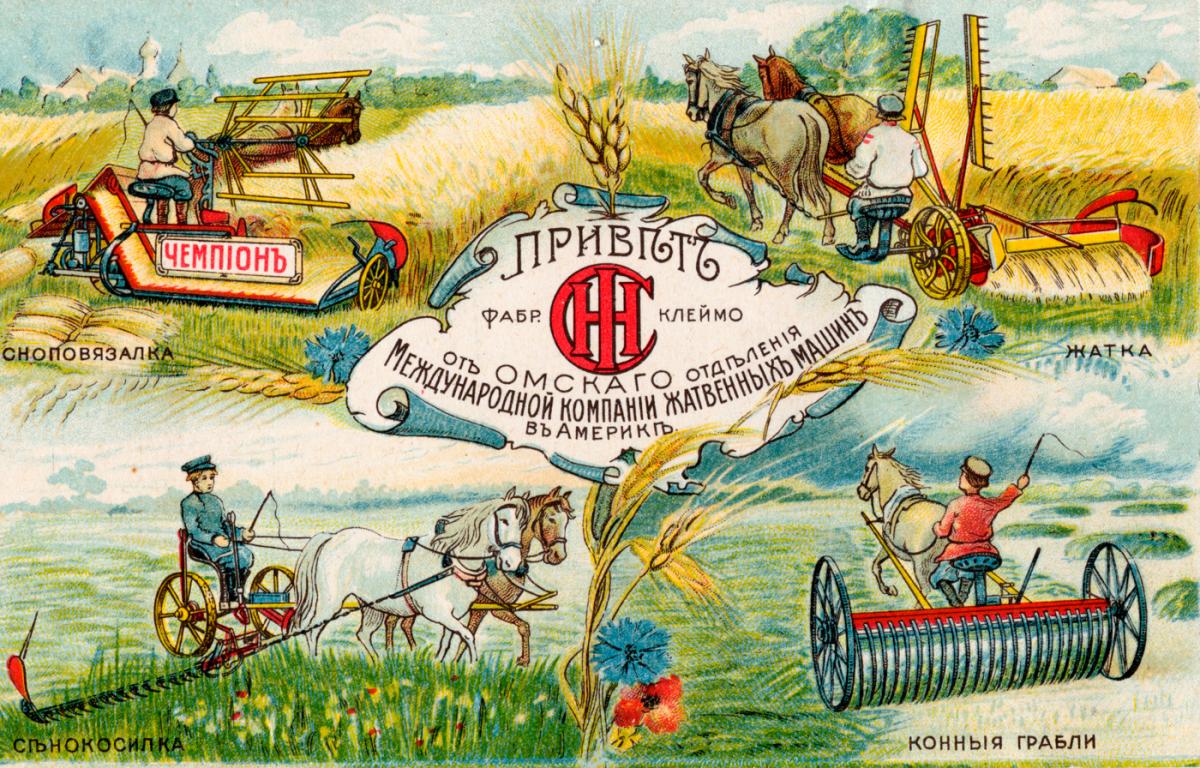 The International Harvester Company formed in 1902 by a massive merger of five harvester companies that put more than 85 percent of the agricultural industry under one corporate umbrella. The two primary companies in the merger were the Deering and McCormick harvester companies, and the initial capital stock of the company was $120 million. The company would later face a lawsuit and penalties for monopolizing the industry. Despite this, IHC dominated the agricultural equipment until the late 1950s. 
Wisconsin Historical Society / 24788
Harvester also had significant presence overseas, with manufacturing plants in Canada, Sweden, Germany, France, and Russia. They had dozens of sales offices around the world, including significant presence in Great Britain and Australia.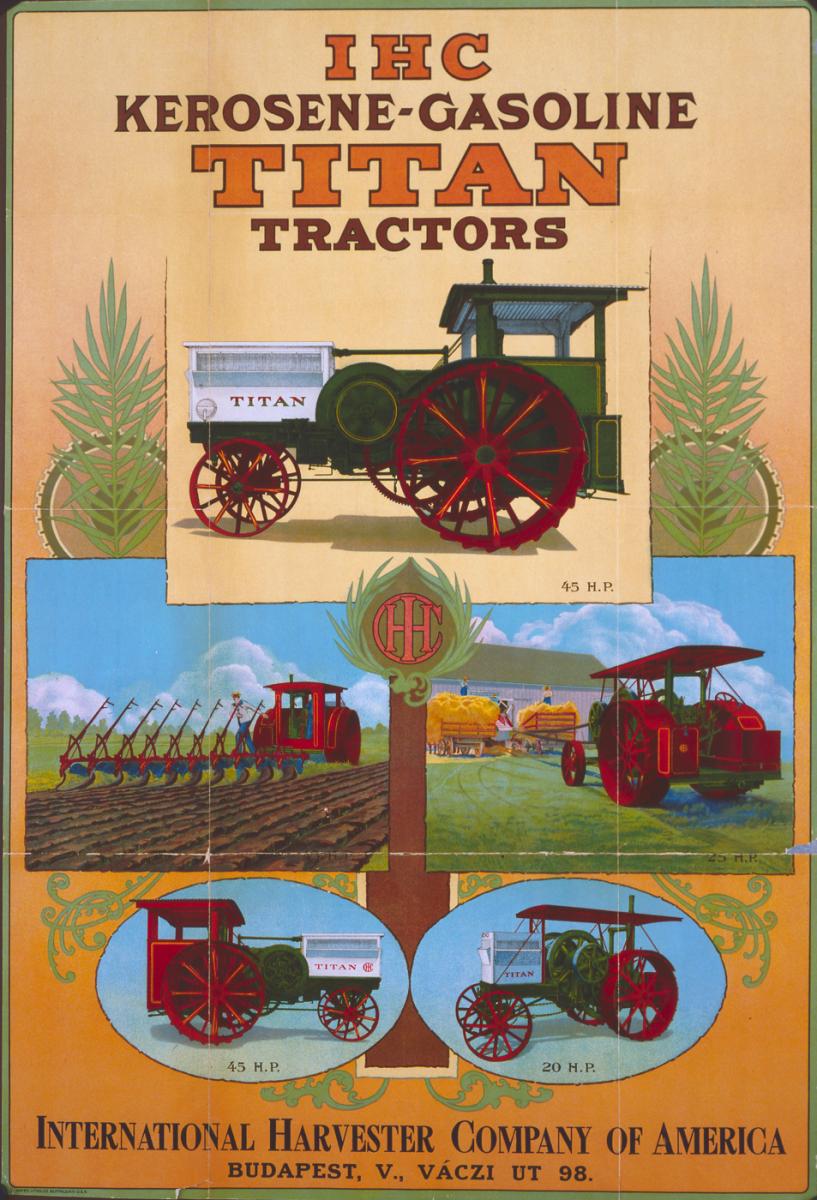 The tractor market grew rapidly in the 1910s, and IHC's small group of engineers blossomed along with the tractor line. By 1913, the company had a full line of tractors that they sold at tractor demonstrations around the country. 
Wisconsin Historical Society / 3580
This growing dynasty had need for McCaffrey's gifts for sales and hard work. He drove trucks, bought advertisements, and eventually found his niche selling trucks. In fact, tractors were only a small portion of the IHC business when McCaffrey began. The first International Harvester tractor was a friction-drive machine sold in 1906. IHC built 14 units that sold quickly and commissioned another 200 for 1907. Soon, IHC created a gear-drive model, the Type A, and began to invest more resources into this growing market.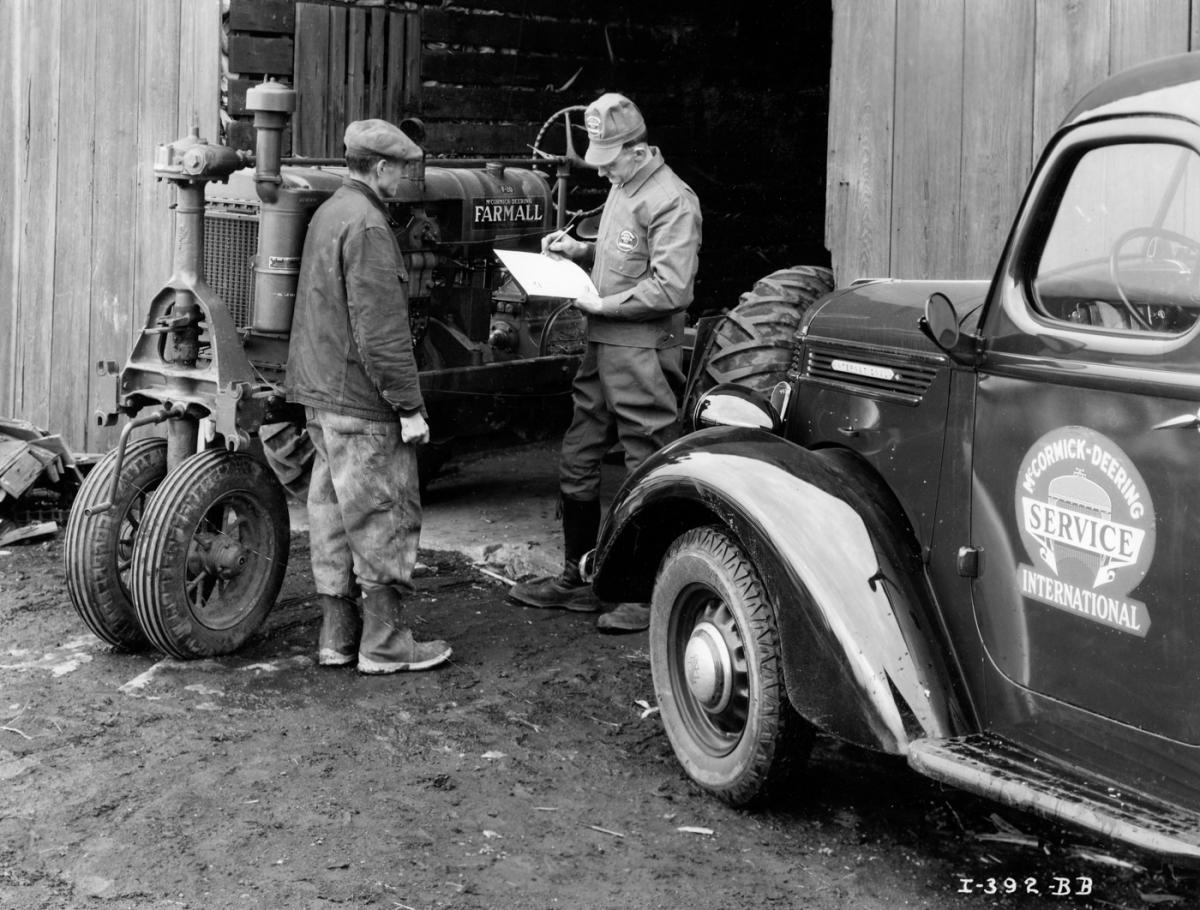 Farmall redefined the role of the tractor on the farm, as it was the first small tractor that could effectively plow, turn a belt, and cultivate crops. In this 1938 image, IH serviceman Harold Finch fills out an "Inspector Form C-3219" for a Farmall F-20 tractor on the farm of H.B. Ayers as Mr. Ayers looks on. 
Wisconsin Historical Society / 10518
In 1910, IHC moved a small group of engineers from a large plant in Akron, Ohio, to a tiny brick garage and a tent on Blue Island Avenue in Chicago. Working under the direction of visionary Edward A. Johnston, this group painstakingly assembled only 17 tractors in the first year. These early tractors were large, expensive machines used to power threshers and other stationary equipment or to break large plots of ground. As the group and production grew, the line expanded. Today, the large Titans and Moguls built in the first two decades of the twentieth century are extremely valuable; in their day they were expensive machines owned mainly by wealthy farmers or co-ops.
McCaffrey was promoted to the position of motor truck salesman in 1912. He later quipped that "when [IHC] wanted to get rid of an inefficient employee they either made him a cream separator salesman or a motor truck salesman."
The early IHC truck line was new and not well-established. But McCaffrey was a natural-born salesman and had great success convincing farmers to purchase trucks to increase their profitably. He also had a knack for getting large companies to purchase entire fleets. In 1923, he was promoted to assistant regional manager, and moved to the central office in Chicago.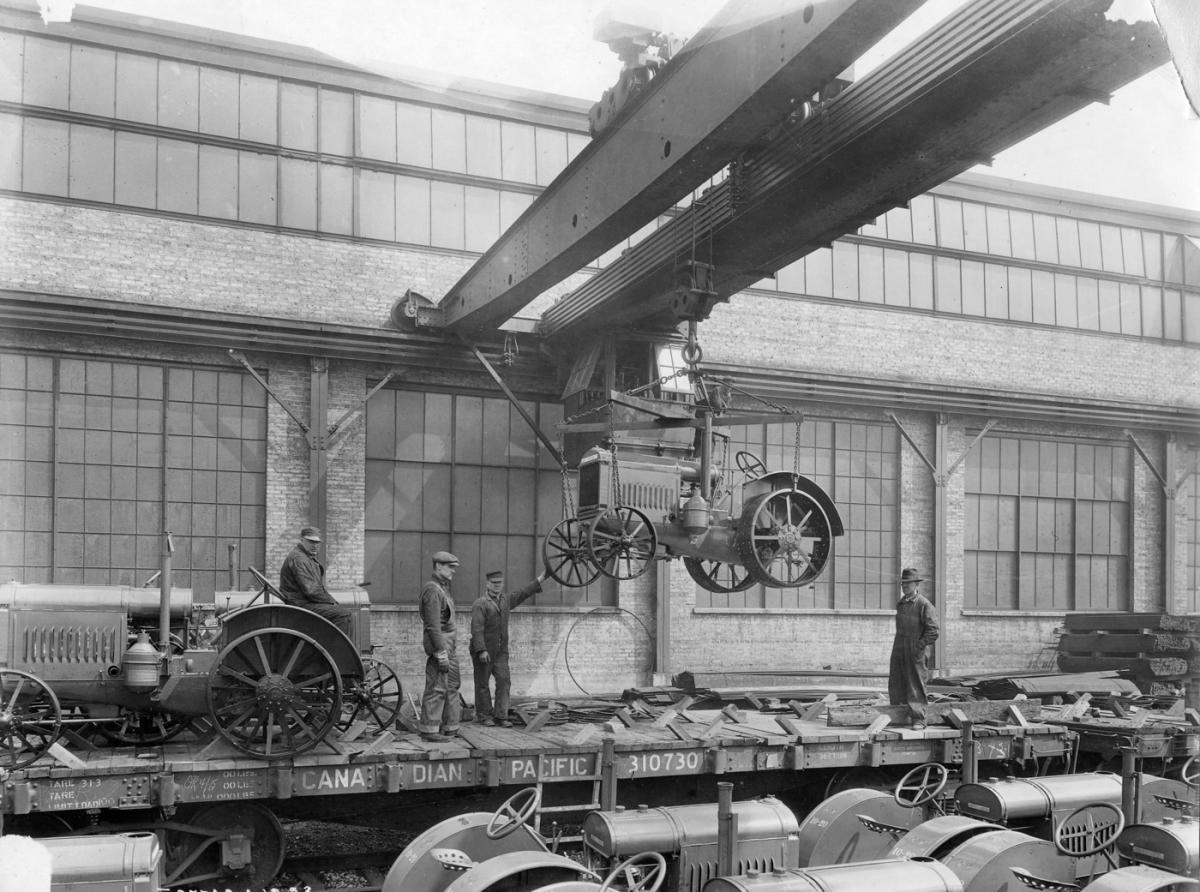 By the 1920s, the tractor had become compact and easier to operate and maintain. The McCormick-Deering 10-20 sold more than 100,000 units during its production span. This 10-20 is being loaded at the McCormick Tractor Works in Chicago on April 12, 1923. 
Wisconsin Historical Society / 8173
While McCaffrey was selling trucks, the tractor market was exploding. In 1921, 186 different companies built and sold farm tractors.By that time, IHC's tractor line had grown to include a full range of machines. Despite IHC's terrific dealership network and ag industry presence, Henry Ford's loud, cheap, and small Fordson tractor was the bestselling tractor of the time. In the late 1910s and early 1920s, IHC pulled out all the stops to combat Ford's dominance of the tractor market, slashing prices on their clumsy but dependable Titan 10-20 and spending millions to develop the McCormick-Deering 10-20 and 15-30. The McCormick-Deering models were state-of-the-art but hardly revolutionary.
The answer to the Fordson challenge would come from IHC engineer Bert R. Benjamin, who saw promise in Harvester's failed experimentation with a motor cultivator in the 1910s. Benjamin adapted the motor cultivator's large wheels and high ground clearance to create the Farmall, an odd-looking tricycle tractor that was somewhat reluctantly supported by IHC management. In 1924, IHC sold the first Farmall, serial number QC501, to a customer in Taft, Texas. It was the first tractor to effectively work the field, drive a belt pulley, and cultivate crops. Early customers loved the machine's utility.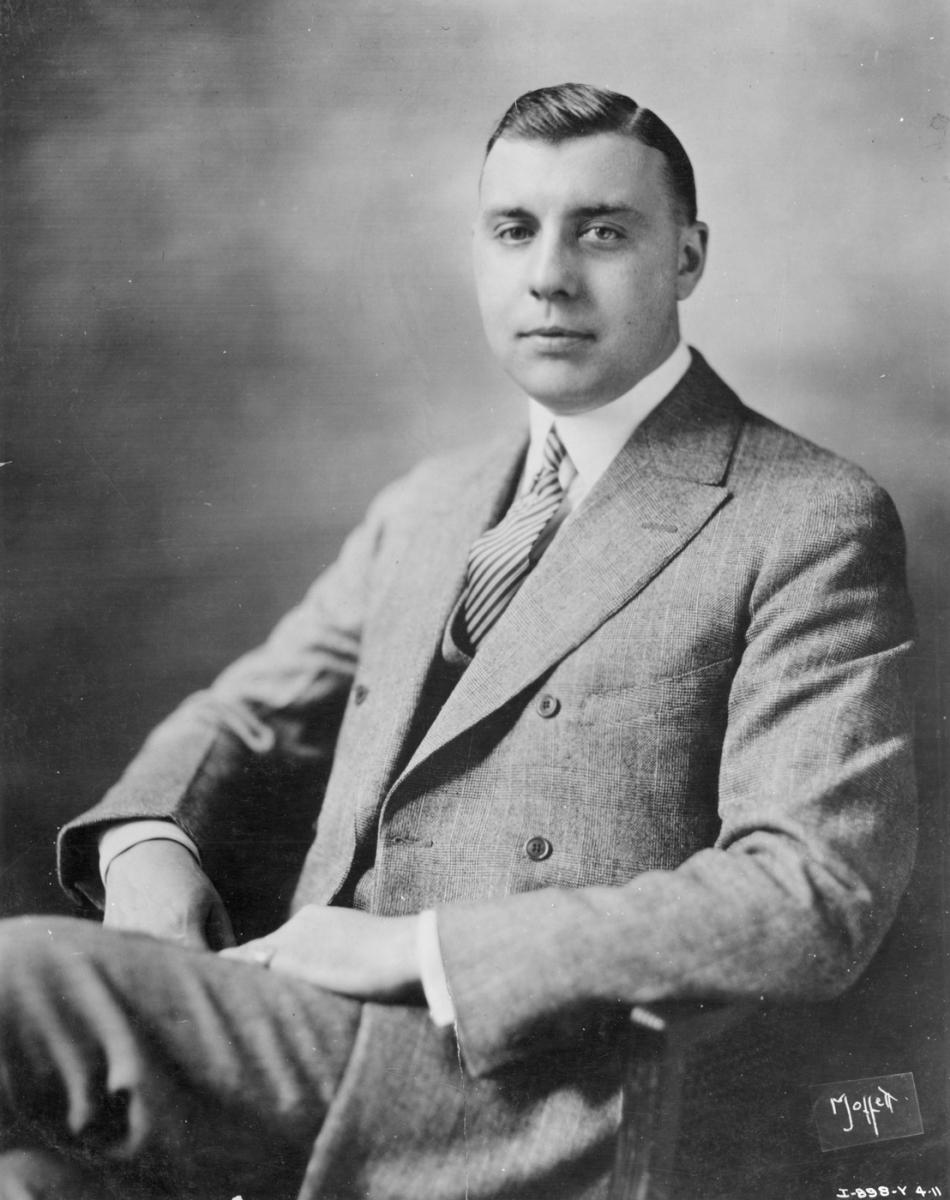 John L. McCaffrey started his career at IHC in 1908 assembling grain binders. A natural salesman, he worked his way up to CEO, a post he held from 1946 to 1958. This photograph was taken on April 11, 1935. 
Wisconsin Historical Society / 27733
Once Harvester and their customers understood the strange, spindly machine, sales grew briskly. By 1930, the Farmall Works plant was building 200 tractors a day. The success of the Farmall dispatched the Fordson and further bolstered IHC's position as the world's largest agricultural equipment company.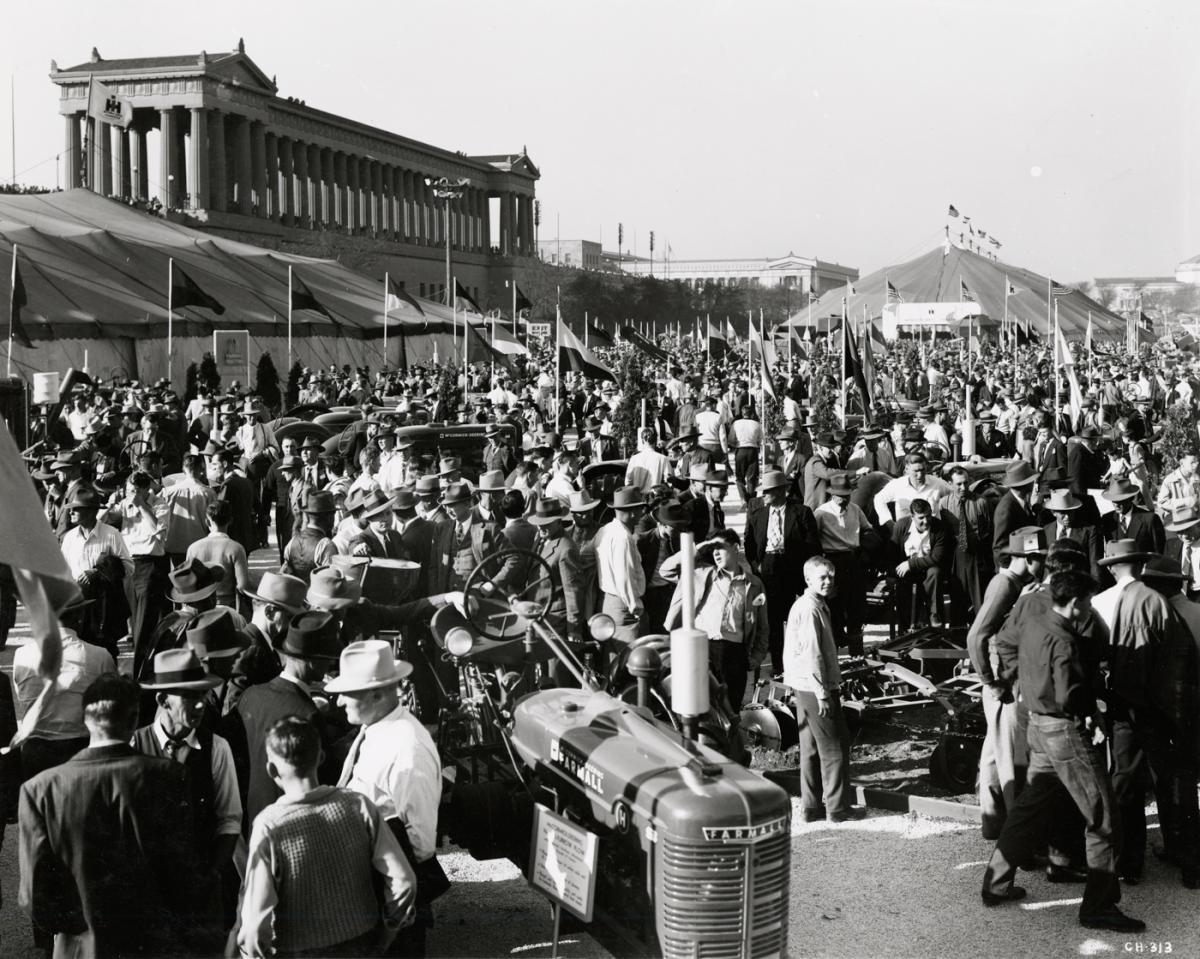 By 1947, the Farmall Letter Series was the bestselling tractor of all time. International celebrated their 100th anniversary in Chicago with an exposition at Soldier Field. More than 270 machines were on display, and the show also featured lectures and demonstrations. 
Wisconsin Historical Society / 59363
McCaffrey kept working with Harvester's growing line of machinery, often seven days a week. In 1933, he was joined at the corporate office by Fowler McCormick. Fowler was a descendant of Cyrus McCormick, who founded the McCormick Reaper Company and led International Harvester, and John Rockefeller, who founded Standard Oil. Fowler's privileged roots were a stark contrast to McCaffrey's upbringing as blacksmith's son. Nonetheless, both were tall, good-looking men bent on moving up, and the two worked well together—for a time.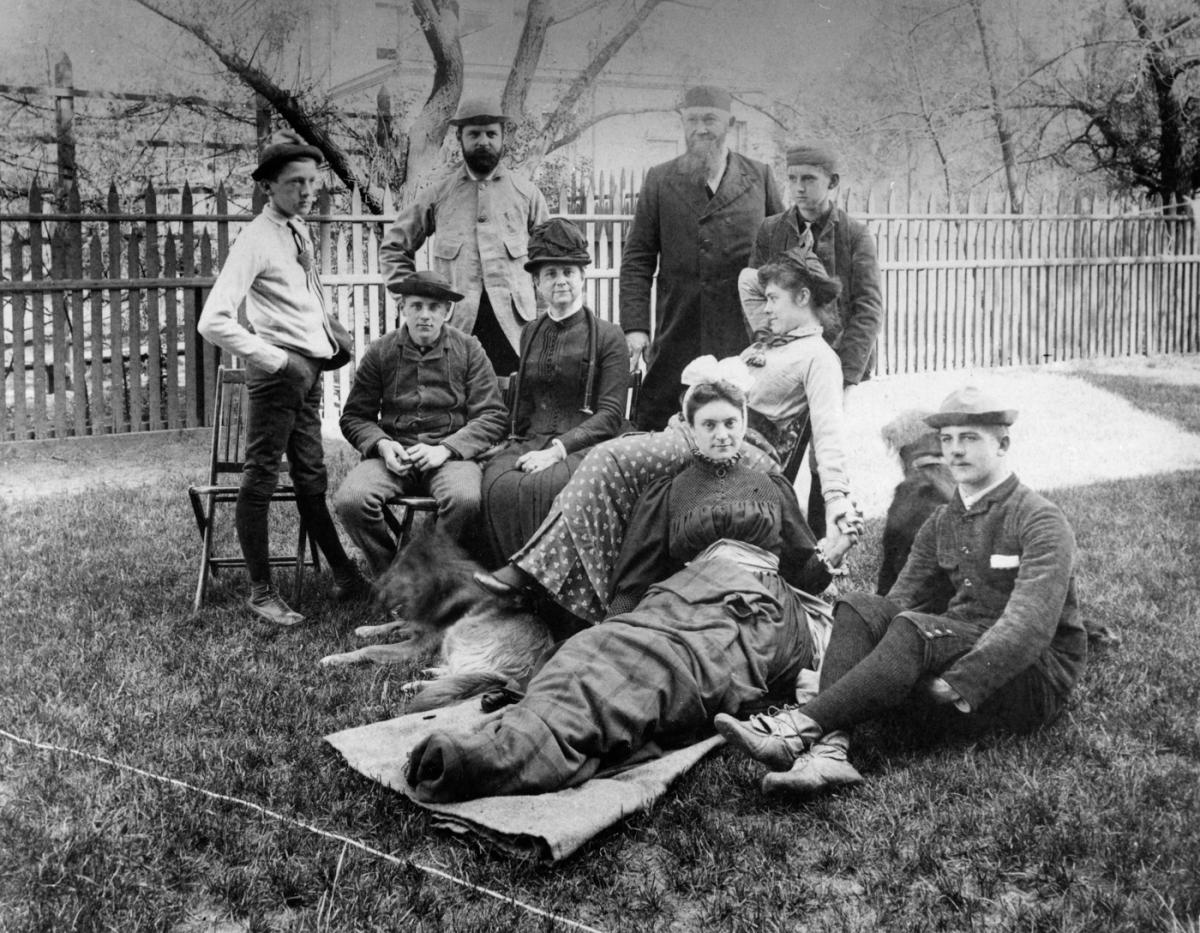 Cyrus Hall McCormick Jr. (standing, with beard and hat) was the son of Cyrus Hall McCormick (1809–1884), founder of the McCormick harvester company. McCormick family members led International Harvester Company for many years. Here, the McCormick family is on an 1888 outing at Island Lake Camp in northwestern Wisconsin. Harold McCormick (sitting, in hat) would later lead IHC. Nettie Fowler McCormick (right of Harold) would play a key role in company management as well. 
Wisconsin Historical Society / 8376
McCaffrey and McCormick were part of the management team that led IHC through the Great Depression. Fortunately, Harvester had tremendous cash reserves and no debt, and despite posting losses in 1932 and 1933, IHC hardly touched their cash reserve and continued to pay dividends to their shareholders throughout the Depression. They even offered loans to the employees whom they laid off. In 1935, Harvester recorded more than $200 million in sales. Tractors had become a major source of income, accounting for 25 percent of company sales in 1937.
In 1939, the gangly Farmalls were updated by the engineering staff and given a stylish look by industrial designer Raymond Loewy. The line included the Models H, M, and A—tractors that were known as the Letter Series and would become the bestselling tractor models ever built.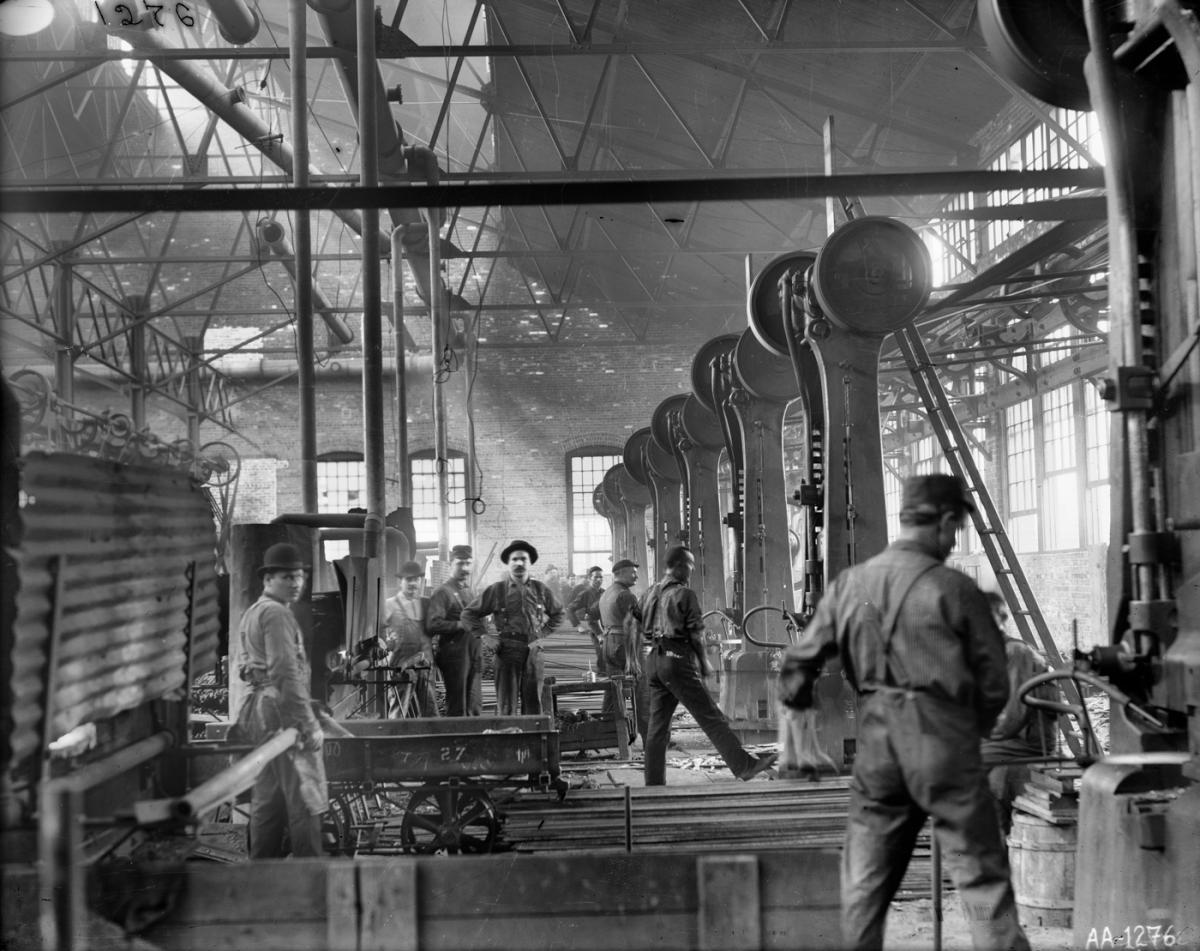 The McCormick Reaper Works in Chicago as they appeared in 1902. Cyrus Hall McCormick gained fame by being credited as the inventor of the reaper, which was famously demonstrated at Steele's Tavern, Virginia, in 1831. He and a brother moved the company to Chicago in 1847, and sales of the McCormick reaper allowed the company to grow tremendously. 
Wisconsin Historical Society / 1857
Harvester took great pride in promoting from within, and McCaffrey epitomized the IHC ethic. He was promoted to director of North American sales in 1940, and when Fowler McCormick stepped up as IHC president in 1941, McCaffrey was appointed to the board of directors.
McCormick's leadership of IHC was a mixed bag. He successfully managed Harvester through the short supply lines and government contracts during World War II. After the war, he charted ambitious expansions with more plants opened and more than 30,000 people hired. He also had great interest in diversification and growth, and invested heavily in construction equipment and a line of refrigeration units. While this latter venture led to the creation of much-beloved fictional spokesperson Irma Harding, both the construction and refrigeration lines were ultimately unable to compete with the established brands and became expensive failures that strained Harvester's capital reserves.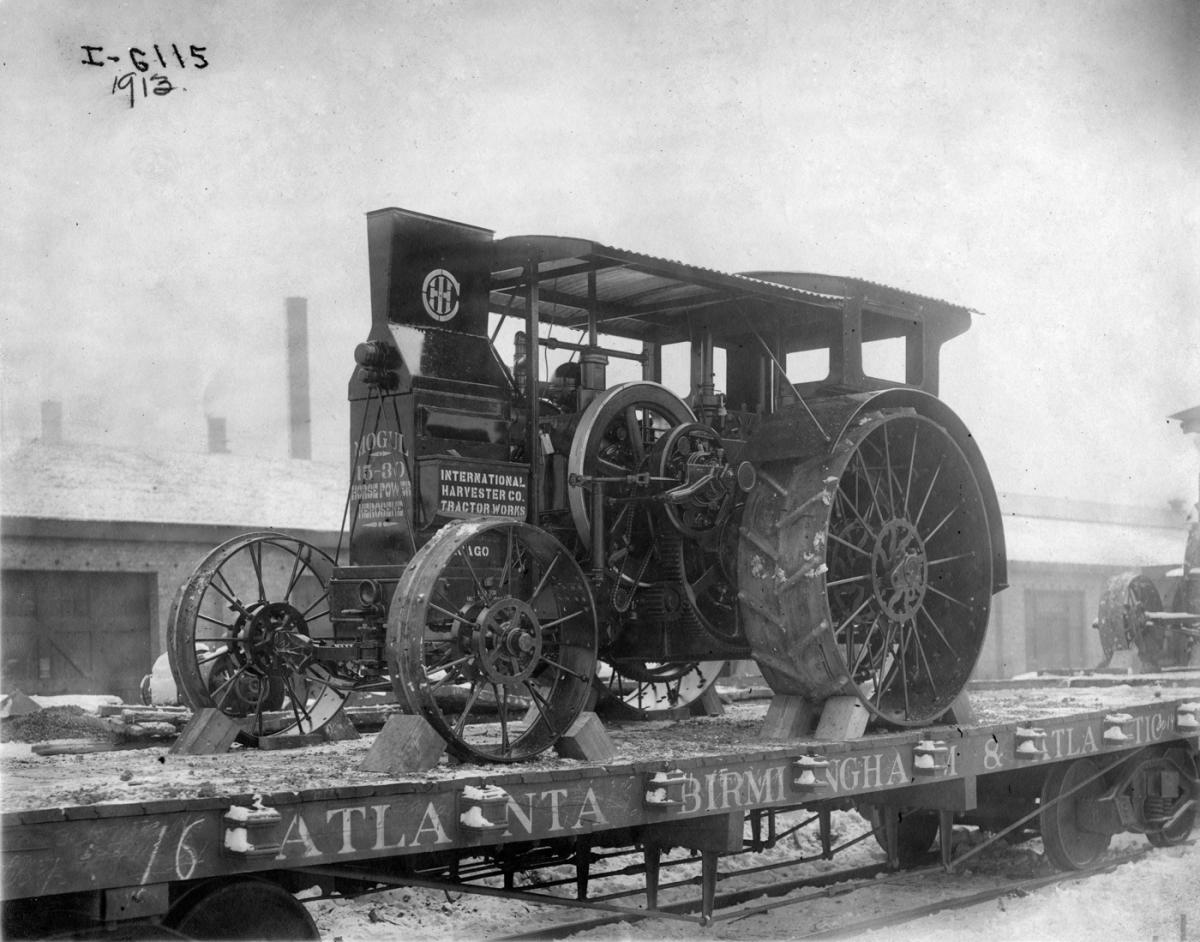 Early IHC tractors were large beasts like this Mogul 15-30. Crafted by a group of engineers working out of a small garage and a tent in Chicago, most Titans and Moguls were expensive and produced in limited numbers. 
Wisconsin Historical Society / 8557
Under McCormick's tenure, IHC came to a fiscal crossroads. Gross sales rose spectacularly, but profitability dropped due to rising costs for labor and materials, increasing federal taxes, and Harvester's longtime policy of paying high dividends to company shareholders. Difficulties with labor, drought, and a crash of the construction market further knocked down profits. Cash reserves dwindled and IHC began to tally large amounts of debt.
McCormick's leadership was not without success. The growing urban and suburban markets bore fruit with the introduction of the highly successful Farmall Cub in 1946. A year later, he presided over a giant celebration of "Harvester's 100 Years in Chicago" held at Soldier Field. Thousands attended to see the latest models, and sales continued to grow to historic levels.
McCormick often spent extended periods of time abroad, claiming the time away from IHC allowed him to strategize. Such absences surely conflicted with the hardworking blue-collar values of McCaffrey. As the world transitioned from postwar boom to Cold War chill, the two clashed in public and private.
With McCormick at the helm, IHC executives failed to take advantage of rising sales and irresponsibly managed company coffers. The 1948 annual reports show $18 million of debt. By 1951, that number had surged to $257 million. Net sales for 1952 across all divisions were $63 million; $31 million of that was paid to shareholders as dividends. Company debt was nearly 10 times the annual net income. This debt burden would cripple IHC for the next 34 years.
By 1951, McCormick and McCaffrey were openly at odds. McCormick appealed to the board of directors to have McCaffrey ousted. The board instead opted to replace McCormick and make McCaffrey the chief executive.
McCaffrey inherited a debt-ridden company that hadn't sufficiently invested in farm tractors. Sales surged in 1951, but net income was down from 1950. In 1952, a steel industry strike stalled production in nearly every IHC plant for most of July, and a UAW strike shut down the Melrose Park Works in Illinois for 10 weeks.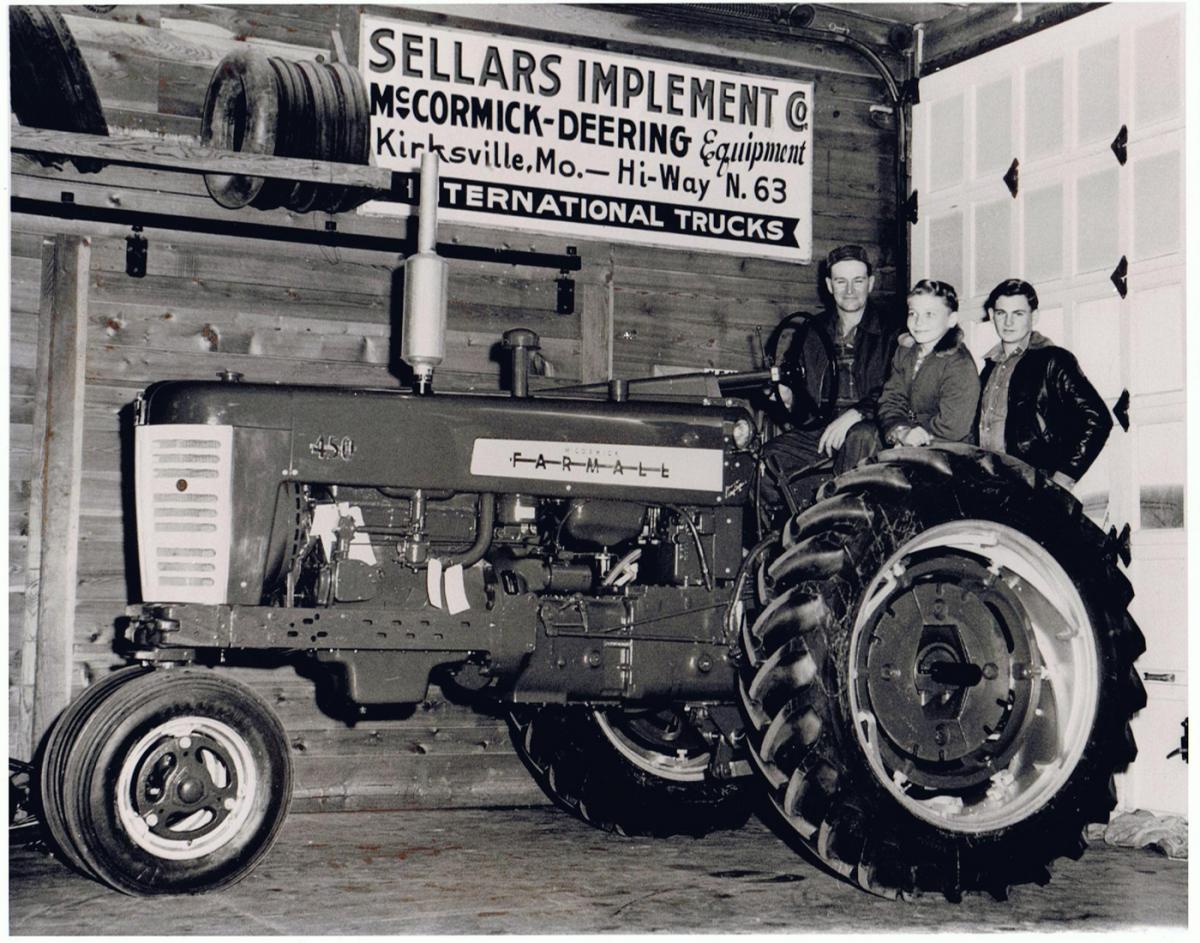 This Farmall was the first new-for-1957 Model 450 sold by Sellars Implement Co. in Kirksville, Missouri. The tractor was purchased by Leonard Gall, who is shown seated behind the wheel. He purchased it near Christmas 1956 to work his 270-acre farm along with his Farmall Super H and 300. The tractor was equipped with Fast Hitch with traction control and power steering. The sheet metal, chassis, and engines on Farmalls of this era were refined versions of those on the Letter Series tractors introduced in 1939.
Kristin Gall collection
Introduced in December 1954, the Hundred series, hailed as an entirely new line of tractors, would provide a sales increase in 1955. This wouldn't cover the costs of other divisions, however. The refrigerator line was sold to Sears for pennies on the dollar of investment, and the construction division saw drops in sales volume and profitability.
In February 1956, McCaffrey made an appearance at IHC's Memphis Works plant to discuss moving production of the cotton picker drums from Evansville to Memphis. "I can't see anything but continued expansion for Harvester in Memphis," he said. "We try to do anything that will help the farmer replace hand labor, but we're not trying so much to find another world to conquer as to do a better job of what we're doing now."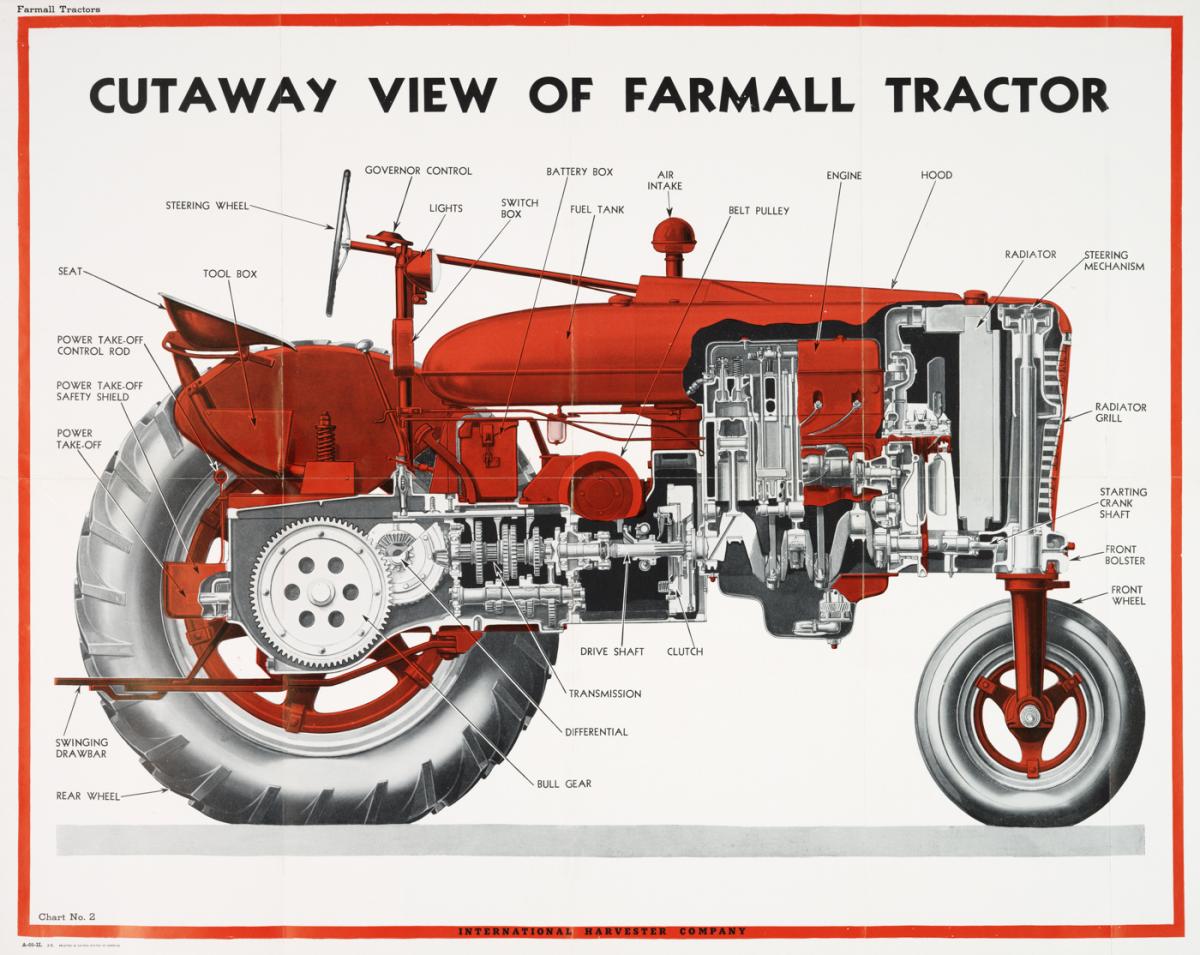 The Letter Series Farmalls were produced in vast numbers, and their introduction represented a massive shift in the level of technology available to the farmer. Harvester sold them in incredible numbers after World War II, further establishing the company as the world's number one farm equipment manufacturer.
Wisconsin Historical Society / 48305
The son of a blacksmith had grown into a tremendous salesman and a key leader of one of the world's largest companies. During his time, Harvester played a pivotal role in mechanizing the farm, expanded their presence around the world, and saw annual sales grow from $70 million to more than $1 billion.
McCaffrey retired from the position of chairman of the board and CEO in 1958. He left IHC with a new line of tractors ready for introduction, as well as a massive debt. McCaffrey was a salesman who pushed hard for new products, and he presided during a time when investments were made in too many lines. IHC grew under his tenure, but the cost of the expansions was made at the expense of tractor development. This began to change in 1956, but by then the competition was starting to catch up.
In a 1958 an interview with
Harvester World
magazine, McCaffrey said, "The greatest challenge facing any company is the job of looking far enough ahead. Keeping ahead of competition requires foresight. It has to start with the product, with engineering. It's been said that the Harvester company can sell anything in greater quantities than anybody else—if the product is good."
McCaffrey certainly learned how to say the right things, but his influence on Harvester was diminishing. His career began when a day of fishing was interrupted by a company recruiter. After five decades of service battling everything from drought to wartime restrictions, he closed the door to the plant and headed out to pick up where left off—on a riverbank with a fishing pole in hand.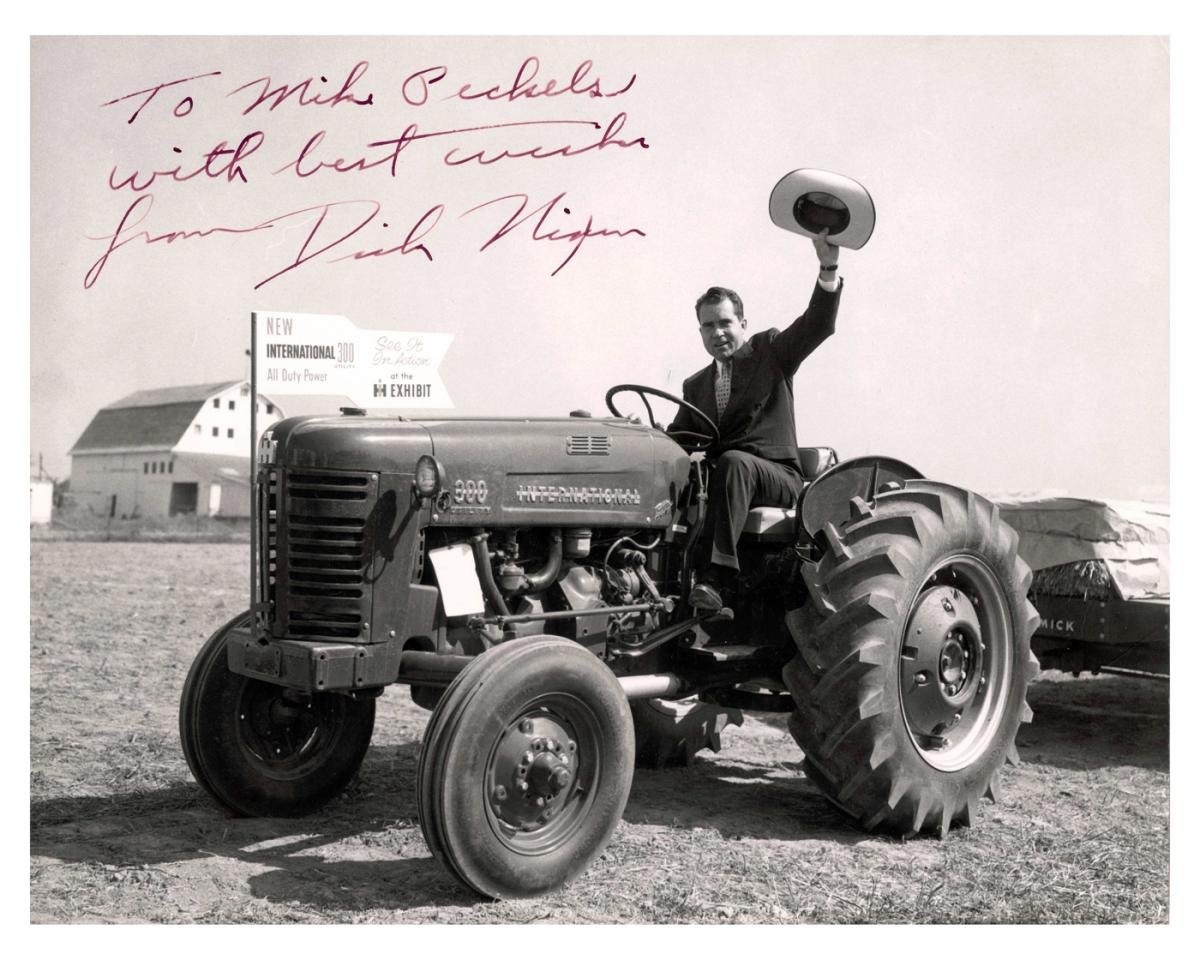 The Hundred Series' sleek lines and new features sparked sales for IHC. Low-profile utility machines like this 300 being assembled at Rock Island, Illinois, in the mid-1950s proved popular additions to the line.. 
Wisconsin Historical Society / 25911
"Harvester employees are more or less alike all over the world," McCaffrey said in 1958. "Every time one of them goes fishing or golfing during the week he feels like a thief. He feels as though he were stealing the time to go someplace and do something he shouldn't. From now on, I won't have to ask anybody or tell anybody. I'll go when I please and come when I please. Over the last 49 years I've missed a lot of good fishing."
To find out the rest of the incredible story of International Harvester, get your copy of Red Tractors 1958-2013 here!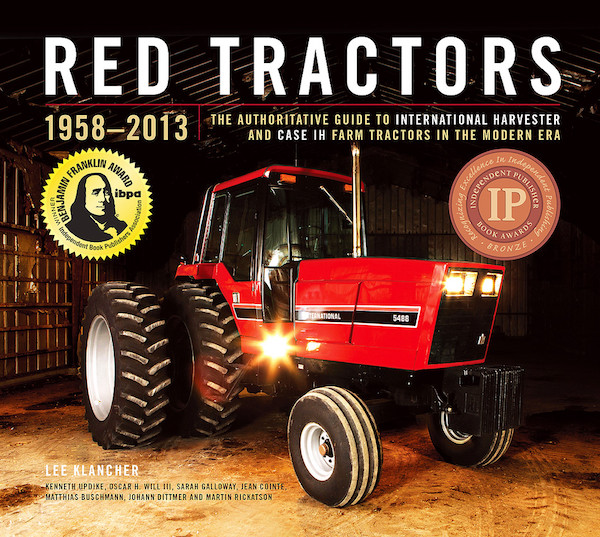 Next Excerpt