Designing the Daytona Coupe
Shelby American
Wednesday, March 10, 2021 - 06:18

Celebrate 60 years of iconic automotive designer and manufacturer Shelby American and watch the saga unfold from the men and women who lived it with the new book Shelby American: The Renegades Who Built the Cars, Won the Races, and Lived the Legend. The legendary shop didn't last long, but it was a flame that burned incandescently before being extinguished by corporate politics. In less than a decade, it created a legacy that will be revered as long as cars still roar around racetracks. In this excerpt from the book, read about the genius behind the design of the Daytona Coupe.
The backstory behind the greatest achievement in the Cobra's illustrious competition history began in 1957 in the General Motors Styling Section in Warren, Michigan. This magnificent technical complex, created by car design czar Harley Earl and celebrated architect Eero Saarinen, dedicated a small space to an automotive design library. Here, young car designer Peter Brock would satisfy his boundless curiosity by rummaging aimlessly through the stacks. Brock had been attending the Art Center School in Los Angeles when, at nineteen, he was headhunted by GM Styling. An after-hours conversation with Earl led to Brock conceptualizing and styling a tiny rear-engine commuter car that would later take shape as the Corvair. At the direction of Earl's successor, Bill Mitchell, Brock also drew the initial sketch for what eventually went into production as the Corvette Sting Ray. Now, killing time during lunch hour, he stumbled across a fascinating document written by German aerodynamicist Reinhard Freiherr von Koenig-Fachsenfeld in the 1930s and confiscated by US troops after World War II.
"There were six or eight mimeographed pages, purple on gelatin," Brock recalled. "All the writing was in German, and the drawings were super crude, like little hen scratches. But the coefficient of drag numbers were there. And I thought, 'Hmm. That's kind of interesting.' The drawings showed that the roof couldn't slope down more than seven degrees or you'd get turbulence off the back end. There were examples of conventional cars versus their ideal form. It was strange looking. I took their stuff, and I modified it a little bit and changed the window pattern around so that it didn't look like a giant lump of clay."
Brock showed his sketch to Mitchell. "That's the ugliest shit I've ever seen," Mitchell told him, and Brock shelved the idea for future reference. Fast-forward to 1963. While continuing to work at Shelby's driving school, Brock was also handling most of Shelby American's design work—badges, logos, apparel, even letterhead stationery. But racing was still his thing, and he stayed abreast of developments in the world of motorsports. He knew, for example, that a loophole in Appendix J of the FIA rulebook allowed GT cars that had already been homologated to be fitted with a new body. If ever there was a race car that would benefit from updated bodywork, he realized, it was the Cobra.
With its blunt nose and open cockpit, the Cobra was saddled with the aerodynamic qualities of a one-ton two-by-four. "The windshield acted like a huge air brake," Dan Gurney explained. "At Daytona, we angled it so much that we would look over the windscreen." Even with a 289 that put out 385 honest horsepower at the flywheel, the car hit a figurative brick wall at about 165 miles per hour. That was high cotton for a roadster, and not an issue in the States, where races were run on purpose-built tracks with relatively short straightaways whose length limited top speed no matter how powerful the engine or slippery the bodywork. But many of the classic circuits in Europe were fashioned out of public roads or designed to mimic them—places like Spa-Francorchamps, Reims, Monza, the Nürburgring, and, most important of all, Le Mans, which were full of endlessly long straights and daunting high-speed sweepers. Here in America, Cobras had been able to use their superior acceleration and braking to outrun Ferrari 250 GTOs. But at Le Mans and the other continental racetracks, the roadsters would be gobbled up on the straights by the more aerodynamically efficient Italian coupes.
Brock saw an opportunity to use the aerodynamic insights he'd discovered in the German documents in the GM library six years earlier as the basis for a sleek new skin transforming the Cobra into a coupe. Shelby was skeptical. The previous year, Ed Hugus and AC Cars had raced a couple of roadsters with rudimentary hardtops at Le Mans, and they hadn't set the world on fire. Also, for a variety of reasons, Remington wasn't interested in devoting shop resources to such a speculative project, and Shelby usually took his advice on technical matters. But Ken Miles immediately recognized the possibilities a brand-new body offered, and he persuaded Shelby to take a flier on building a coupe.
Now, for the record, the notion that Shelby created the Cobra to settle a score with Enzo is revisionist history, if not outright bullshit. "I had no idea about beating Ferrari," Shelby said. "All I wanted to do was build one hundred cars so that the Cobra would be a production car." And as a production car, the Cobra could then compete against— and shellac—the Corvette, which was the principal selling point in his pitch to Ford. But Shelby was a racer, which is to say competitive as hell, and as he put it, "Who wouldn't want to kick Number One in the ass if he had the chance?" Despite his misgivings, he gave Brock his marching orders.
"How much money and how much time [do we have]?" Brock asked him.
"No money and no time," Shelby said.
"I'm going to build this thing like an airplane. It's going to be functional first and beautiful second."
"I don't care what the hell it looks like as long as it goes fast."
This was music to Brock's ears.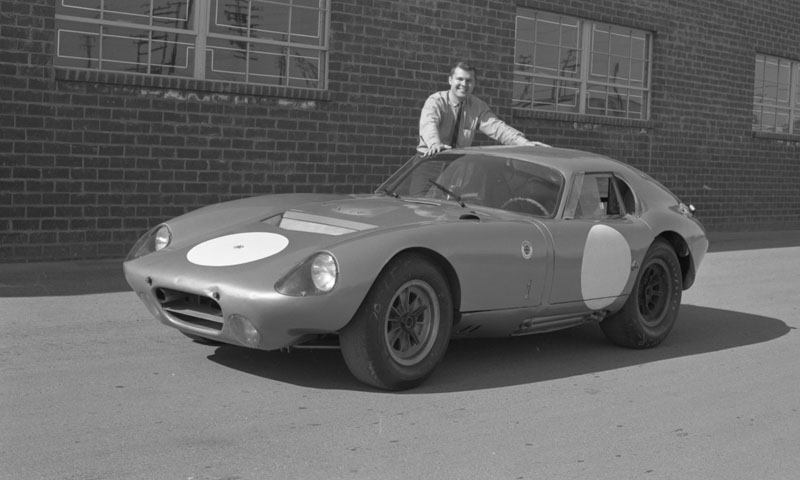 Brock wore many hats at Shelby American, from serving as the first driving instructor at his school at Riverside to creating the graphics for the original GT350. But his most enduring claim to fame was designing the Daytona Coupe. By clothing the clunky roadster in sleek, aerodynamic bodywork, Brock transformed the Cobra into a car able to beat the Ferrari 250 GTO at Le Mans—and everywhere else. Photo courtesy of Peter Brock Collection