The Lost Chapter series is from Jim Allen and John Glancy's book, International Scout Encyclopedia; one so thorough it couldn't all fit into the final cut. Pre-order the second edition, coming August 1, 2020! Join our mailing list for pre-order specials and exclusive content.
​
For this series, author and historian Jim Allen is sharing extra material with photographs from John Glancy's extensive collection as well as photographs from the Wisconsin Historical Society. 
The K series was a big jump for the International Harvester Company, and it would lead them into the war effort. The K-Line would debut midway into 1940, and so would share the market with the last of the D-Line trucks. The array of 42 models with the widest variety of load ratings in the company's history led to this being the largest offering to date by the International Harvester Company (IHC). While most civilian production would stop for the war effort and IHC factories would convert to war production, the K-Line light trucks would continue into 1942, resume on a limited basis in 1945, and continue through 1946. Some of the larger civilian K-Line trucks would see production throughout the war.
As in previous years, the K-1 pickup would provide the half-ton foundation of the line. It would come in both a short 113 inch wheelbase model and as a longer 125-incher. An interesting alternative was the K-1-M, which could be had in a super short 102 inch wheelbase. As before both a "full-sized" six and a smaller displacement economy version were offered. The K-Line is where the diamond naming system came into favor and the old HD-213 became the Green Diamond 214 (GRD-214). The same treatment was given to the small-bore 175 six. The K-Line would take International to WWII and through it. A limited array of K-Line trucks would emerge for sale in 1945 and 1946 but IHC was working on a refreshed model. In 1947, desperate for a new model, IHC would debut the KB line. They would tout the trucks as having a large number of changes versus the K-line, but the changes were really very few. A bit more chrome, a slight restyle of the front wrap and the elimination of the 175 ci economy six would highlight the list in the light line realm. Most of the models and model divisions would remain largely the same, but at least the lineup had expanded back to something near prewar levels.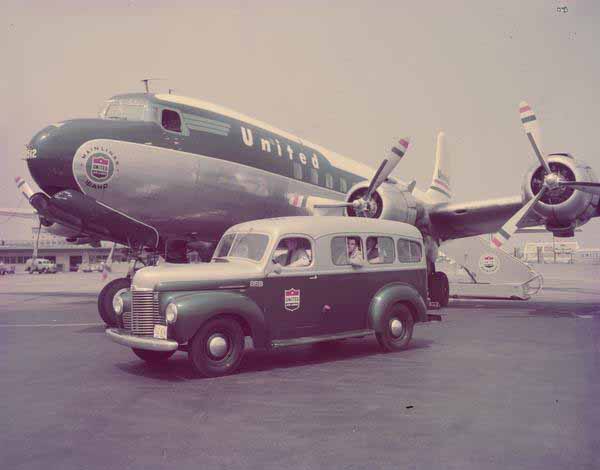 The KB line appeared in 1947 with a few upgrades. This 1949 KB-2 pictured above was one of several ordered by United Airlines with a coach-built conversion to carry passengers. It would be a precursor to the legendary Travelall that would appear just a few years later and become another International icon. This photograph was provided by the Wisconsin Historical Society, image 26376.
Previous Lost Chapter
-
Next Lost Chapter