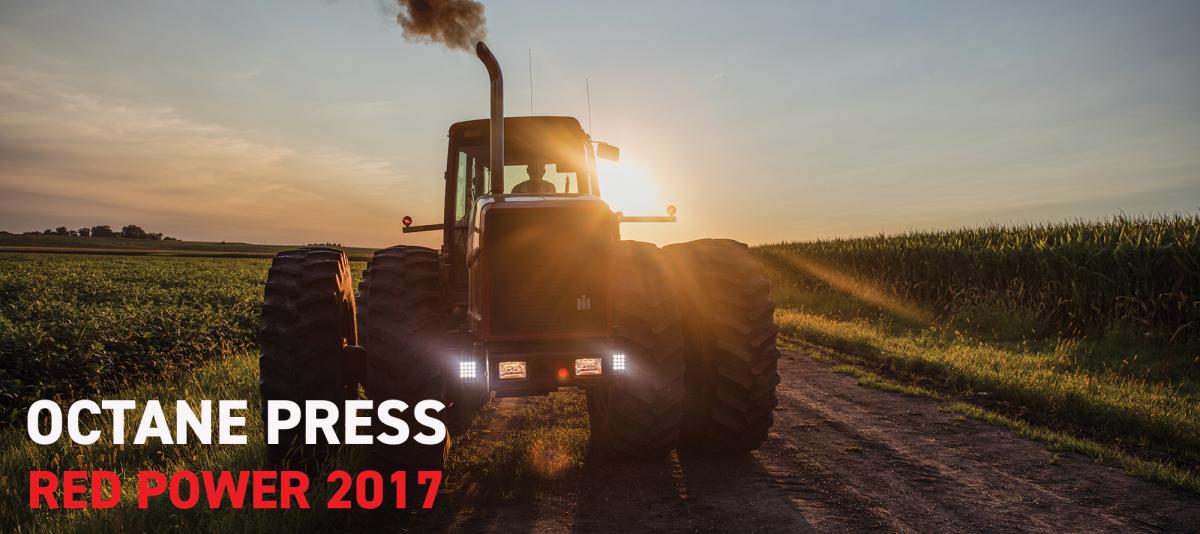 Octane Press – Booth & Events Schedule
Red Power Round Up  / June 15—17, 2017 / Iowa State Fairgrounds / Des Moines, Iowa
Octane Press Booth Location: Varied Industries Building

RED 4WD TRACTORS - WORLDWIDE DEBUT:  A few copies of the new book Red 4WD Tractors will be available at RPRU. If you would like to reserve one of these first books, you can do so by contacting Mary Ham at [email protected] or 512-334-9441. Cost for books picked up at the show is $75.00. 

Thursday, June 15, 2017
1:00—1:45 pm                       FEATURED PRESENTATION: "Deep Inside the International 2+2 Tractor" with
                                               Bud YOULE, Gerry SALZMAN, Bill SCHUBERT, and Lee KLANCHER, 
                                               Moderated panel discussion of design and evolution of 2+2 / Varied Industries Building, Iowa State Fairgrounds

2:15–3:00 pm                         SIGNING: Octane Booth, ALL AUTHORS (KLANCHER, SALZMAN, ALLEN, Sherry SCHAEFER, TOMAC, and GUESTS) Red Tractors series books
2:30—3:15 pm                       PRESENTATION: "It's Femineered with Irma Harding" by Marilyn MCCRAY  /  Varied Industries Building

Friday, June 16, 2017
11:00–11:45 am                     SIGNING:  Marilyn McCRAY / Octane Booth / Canning, Pickling and Freezing with Irma Harding

1:00–1:45 pm                        FEATURED PRESENTATION: "Untold Stories of Machine Development at IH"
                                                Paul NYSTUEN, Gerry SALZMAN, and  Lee KLANCHER 
                                                Moderated panel on Steiger-built tractors and last days of IH / Varied Industries Building

 2:30—3:15 pm                       PRESENTATION: "International Scout Secrets" by  author Jim ALLEN / Varied Industries Building
 4:00–5:00 pm                        SIGNING: Octane Booth, ALL AUTHORS / (KLANCHER, ALLEN, Sherry SCHAEFER, TOMAC, and GUESTS) / Red Tractors series books
 
Saturday, June 17, 2017
10:00—11:00 am                    SIGNING & IRMA RAFFLE: Marilyn McCRAY / Octane Booth / Canning, Pickling and Freezing with Irma Harding
12:30—1:30 pm                      SIGNING: ALL AUTHORS / (KLANCHER, ALLEN, TOMAC, and GUESTS) / Red Combines 1915—2015 and Red Tractors 1958—2013
ABOUT OUR AUTHORS
Jim Allen has been a soldier, a sailor, an auto technician, an off-road driving instructor, a farmer and a writer/photographer. For the past 24 years, he has been writing for magazines and writing books. The award-winning International Scout Encyclopedia is his 12th book if you count second editions. He also contributed the J. I. Case history to Red 4WD Tractors. Jim thought he knew a fair bit about Scouts when he started this project but soon learned differently and happily trudged up the Scout history learning curve.

Lee Klancher is the author and photographer of the Red Tractors series of books, and also writes about engineering and science of motorcycles, and photographs travel. He has authored more than 20 books. 

Marilyn McCray is a popular regular speaker at Red Power Roundups, and her presentations discuss issues related to women in farming and the lore behind Irma Harding, the fictional IHC spokewoman from the 1950s. She is the author of Canning, Pickling and Freezing with Irma Harding. She is also deeply involved in the organic food movement and local farming community within Austin, Texas. She is a self-confessed foodie and has contributed to publications including edibleAustin, Austin Woman, and more.

ABOUT OUR SPEAKERS & PANELISTS

Gerry Salzman spent 42 years working for International Harvester and Case IH, and the co-author of Red Combines. He retired in 2014 as Senior Director, Global Marketing, after playing key roles in product development and marketing, primarily with combines and harvesting equipment lines. He was a long-time board member with the U.S. Grains Council (USGC). In 2012, Salzman received the Lifetime Achievement award from the USGC and was only the sixth recipient in 50 years. As a graduate of the Illinois Agricultural Leadership Program he was honored with the inaugural Torch of Leadership award in 2014. He also has served six years in the U.S. Army Reserves, and is a patent award recipient. Gerry and Judy have two children, Amanda and Adam, and four grandchildren.

John William "Bud" Youle worked for the International Harvester Company at many levels starting as a Zone Manager in Kansas all the way to the Worldwide Corporate Marketing group. He is known in IH circles as the "Farmall Marketeer". His presentation titled, Amazing Challenges, included a number of varied experiences from his storied career with both International Harvester and Case IH. Mr Youle was a frequent company representative and speaker at State Fairs across the Midwest, often working with various entertainers such as Jerry Clower. He contributed heavily to Red 4WD Tractors. 

Paul Nystuen was an engineer for Steiger and Case IH from the early 1970s into the 1980s, eventually becoming the chief engineer. He holds a large number of patents, and he was one of the creative minds behind some of the most interesting agricultural machines ever created, including "Big Jack," the triple-engined Steiger, and the original Quadtrac. He contributed heavily to Red 4WD Tractors. 

Bill Schubert was an engineer for International Harvester from 1961-1985, and for Case IH from 1985-2000. He played key roles in the development of several new machines, including being the lead engineer in the 50 series tractors introduced in 1981. He also was the lead engineer on the Magnum 2+2 project. He contributed heavily to Red 4WD Tractors.