Scout Lost Chapter Part 1: Auto Buggy & Wagon
International Harvester on Wheels
Wednesday, May 4, 2016 - 16:15
The Lost Chapter series is from Jim Allen and John Glancy's book, International Scout Encyclopedia; one so thorough it couldn't all fit into the final cut. Pre-order the second edition, coming August 1, 2020! Join our mailing list for pre-order specials and exclusive content.
​
For this series, author and historian Jim Allen is sharing extra material with photographs from John Glancy's extensive collection as well as photographs from the Wisconsin Historical Society. 

With the International Harvester Company's acquisition of McCormick and Deering in 1902 came rapid developments on several fronts, including their implements, stationary engines, and motor transport. Both McCormick and Deering had experimented with internal combustion engines and powered machinery: Deering engineer George Ellis had produced a motor vehicle in 1892, while McCormick engineer Edward Johnston designed a two-cylinder powerplant around 1898 and later installed it into a car. From 1902 through 1905 he built two cars and experimented a great deal with automotive technology. Johnston's basic designs would form the pattern for the first line of motor vehicles from IHC.

By 1907 the first International Harvester Company (IHC) motor vehicles were being sold. The IHC Auto Buggy had the appearance of a horse-drawn passenger buggy.  They were an immediate sales success and production quickly ramped up. The first Model A (two-seat) and Model B (four-seat) Auto Buggy used a tiller instead of a steering wheel. They had 14-bhp engines and the catalogs sometimes listed them as a "Farmer's Auto." A steering wheel replaced the tiller early on and the IHC cars, which have long been known as the "Highwheelers," advanced their technology quickly while retaining that horse-wagon-like character that has ​often been credited with helping farmers transition from hay-burners to gas-burners.  

The Auto Buggy was simplicity itself, even when judged by the technology of the day. The two-cylinder air-cooled engine sat athwartships and amidships, to use two nautical terms. The two-speed planetary transmission mounted in line with the crankshaft and a chain fed power to a small differential and chain driveshaft that powered each of the rear wheels via long Renold-type chains. The chassis was more like a buggy than anything.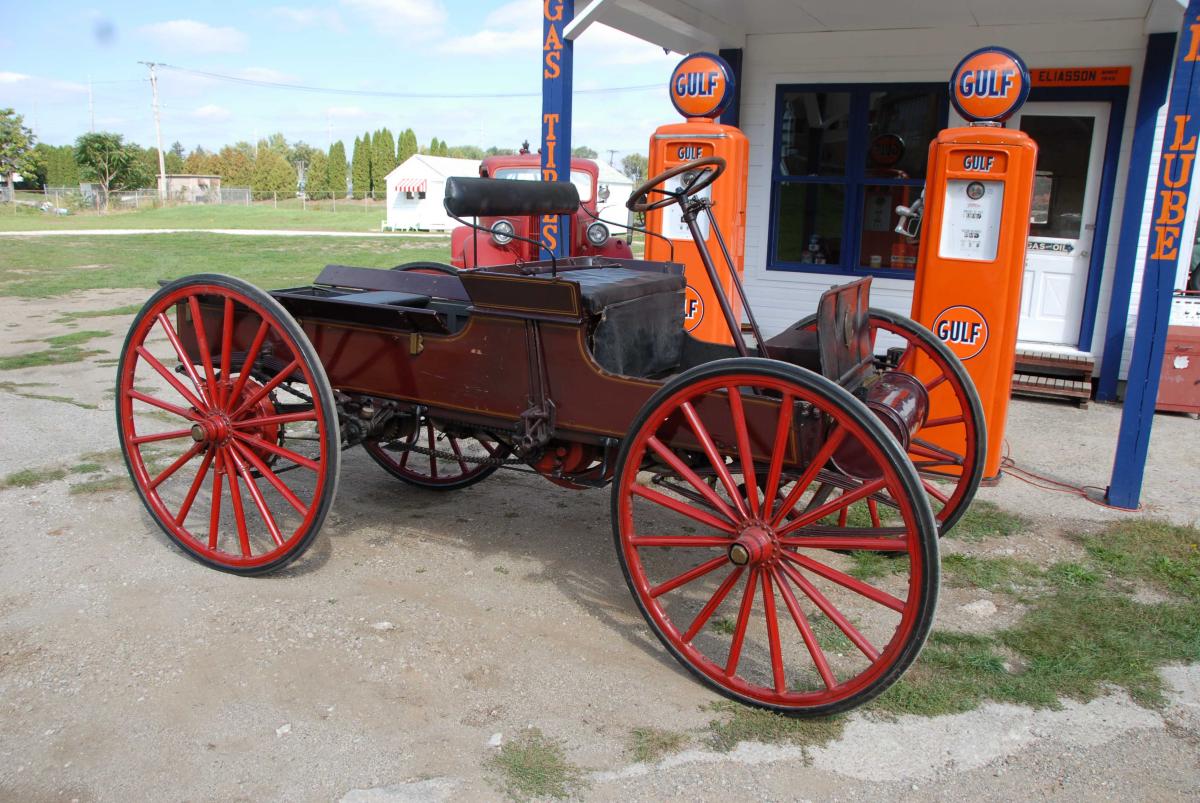 The Auto Buggy was joined by the Auto Wagon 1909, which was an austere light truck version on a similar chassis. It was intended as a farm hauler. The Auto Buggy and Wagon evolved into the 'teens but after 1911 the Auto Buggy was dropped from the lineup, but the Auto Wagon had an optional second seat arrangement that more or less took its place. The Auto Wagon emerged in 1912 with a new water-cooled engine option and during that year IHC began referring to it as an "Auto Truck."  In the last years of production for this platform, 1915 and 1916, a new high capacity (1,500 lbs.) model E was introduced and it almost doubled the capacity of the AW and MW models. The Auto Wagons went out with a bang and nearly 20,000 were built.

IHC also had a brief foray into conventional automobile manufacture. Starting in 1908 they began working on a passenger car design, and the Model G roadster was the first to emerge in 1910. Less than a handful were built as prototypes. The Model F roadsters were built in larger numbers (418 units) and powered by very unique four-cylinder, overhead cam, air-cooled, vertical engines designed by IHC. The Model J-30 touring car was the most numerously built IHC car with just over 1,100 built. Unlike the Model J it featured a water-cooled engine designed and built by British-American Motors. About 20 shorter-wheelbase roadsters similar to the Model J-30 were built and called the Model K. Production of the cars continued into 1911 but was stopped after only about 1,500 cars of all types were built. They were quality cars that had sales potential but they really didn't match the corporation's general focus, which was agricultural and commercial. On top of that the truck side of the business was growing, and that was where IHC wanted to focus.

Here is the cornerstone of the International Harvester Company's reputation and long history in motor vehicles, the Auto Wagon. This is a 1909 Model A Auto Wagon that's in the National Auto & Truck Museum in Auburn, Indiana. Designed as a light truck, it provided farmers (and others) powered transport for people and goods in a format that was easy to grasp. Most of the systems in this vehicle were not far ahead of other technology with which farmers were already familiar. That might be one of the secrets to its success and popularity; being within the technology curve of their customers.

Next Lost Chapter